Harden's regular round-up of the restaurant critics' musings, from the week ending 20 October 2019.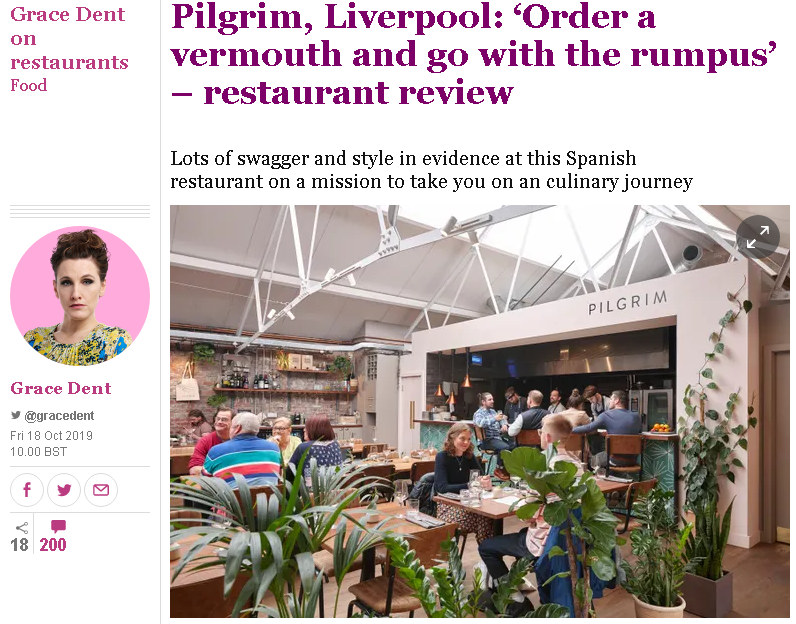 For Grace Dent of The Guardian, "2019 has been a year of loitering confusedly in food halls, gob ajar, trying to decipher where one eats, sits, orders and pays". Her latest (but less confused) visit was to Duke Street in Manchester, a converted "19th-century warehouse with exposed brick walls and a thunderous sound system". There's food stalls downstairs, and a proper restaurant – Pilgrim – on the mezzanine upstairs.
As 'concepts' go, this one made Grace "smile many months before I'd booked a table". It's on "a higher, more godly level" – based geographically around the northern Camino pilgrimage route (hence the name) towards Santiago de Compostela, where the remains of St James were found in the ninth century. "OK, it's a Spanish restaurant. And some of the stuff is on small plates, so you could even say it's tapas, but I like Pilgrim's swagger."
"The trick is to order a large red vermouth on ice as a pre-starter and go with the rumpus." Grace ate (after the mandatory-these-days fresh house bread with fancy butter) some "defiantly al dente runner beans… on a puddle of the deepest, oiliest, most garlicky sofrito" ("Green beans on red sauce shouldn't taste that good.") Equally al dente leeks were swiftly "demolished", as was the "huge success" of rare sirloin with Castilian salsa, and the unpretty pudding of St James tart "despite being, dare I say it, 'deconstructed' – was one of the greatest things I've tasted this year".
"I can't pretend the food at Pilgrim was perfect" or "worth walking 825km in sandals for" – there was monkfish tail in "a vivid orange pimiento glaze" that was "overcooked and slightly bizarre-tasting" – but it's a place "I want to return to again and again out of sheer curiosity". (26/30)
---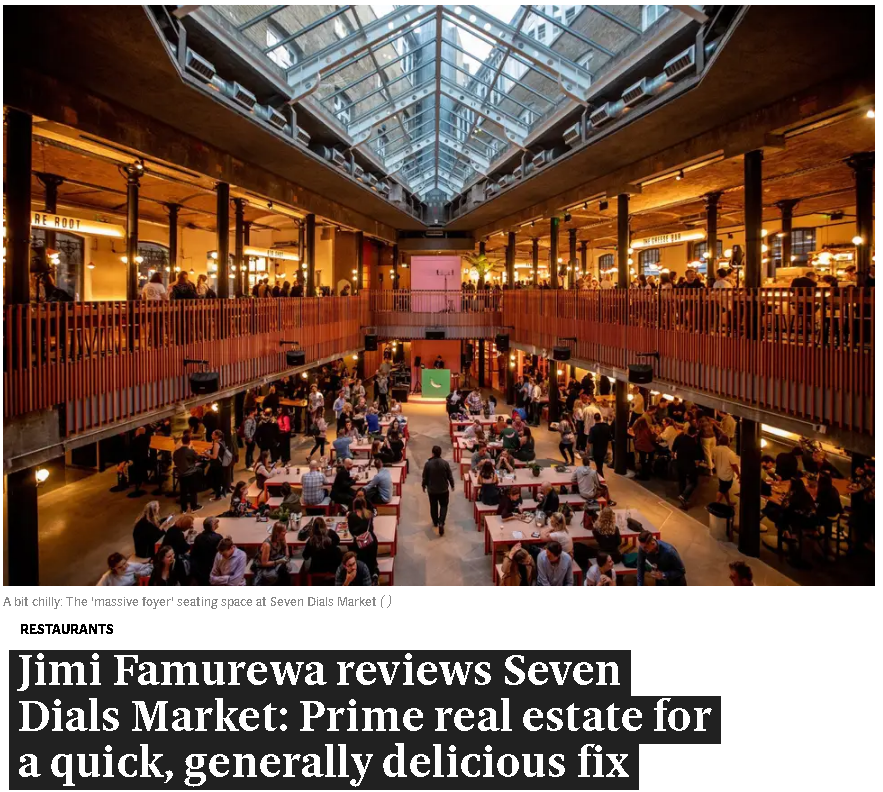 Jimi Famurewa for The Evening Standard was also in a food hall. He visited "Kerb street food collective's capacious new permanent mothership in Covent Garden" with friends one evening. He's "usually very into the messy clatter of these places", but they all felt that this new venture "somehow managed to be both noisily busy and atmospherically hollow". As a caveat, he's also visited at lunchtime, which had a "livelier, looser vibe".
Despite the "massive foyer" feel, "the food we ordered was mostly good and, occasionally, terrific". They sampled delights from Ink (whitebait, "fryer-puffed, golden mini Zeppelins coated in pungent, spiced seaweed salt"), El Pollote (the "guava-glazed fried chicken was… flavoursome, dramatically cragged"), Yum Bun (the 'bao wow' – "an intricately spiced, tamarind-laced northern Thai hot dog" – took Jimi on a "helter-skelter of sweetness and heat") and Franco Manca spin-off Strozzapretti (both the eponymous dish and wild rabbit pappardelle "packed nuance, punch and maximum comfort"). Only the "sickly, dense" doughnut holes from Big Shot weren't up to the same standard.
While it's not a place to build an entire night out around, Seven Dials and the other food halls popping up everywhere are "vast, high-grade canteens that offer small operations prime real estate, and harried Londoners a quick, generally delicious fix". (6/10)
---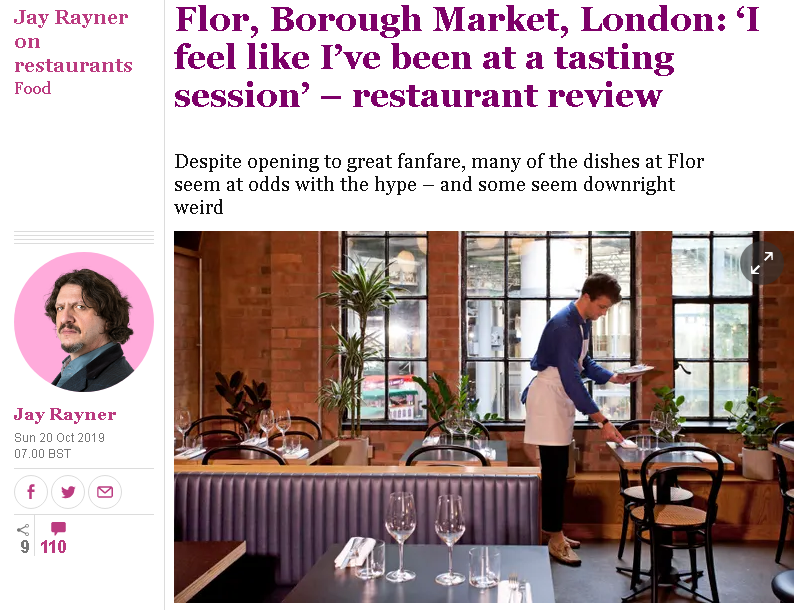 Jay Rayner from The Observer followed a long stream of critics and commentators to Borough Market's Flor, which opened in July. It was never "just any old opening" – Flor is "the second restaurant from the team behind the high-flying, adored Lyle's". And however much the duo running it claim that Flor is "an ever so humble bakery-led dining room", it's been subject to "a chorus of wet-lipped hallelujahs and aerated dribble for the concise menu of idiosyncratic dishes".
So the stakes were high – Jay felt "burdened by high expectations". Were they met? Spoiler alert: no. While there was "some very good food", the tables were too small to contain the small plates food, which "comes in whatever order the kitchen deigns, even if there isn't enough space to place the crockery".
A roasted tomato tart, "dotted with snowy peaks of feta" was "summery loveliness… in a miraculously short, crisp pastry shell… a serious looker" (but "eating it quickly justifies the desecration of its beauty"). Fat raw prawns were served with their roasted heads "for maximum suckage" and the clam flatbread "is a cracking idea, which I would happily meet again".
And so on to the disappointments: anchovies on toast with lardo sounded "like all the good salty fatty things in one place". But the lardo was "cut so thickly it's less a silky shimmer than a duvet" (there's a picture on Jay's Insta feed, it's not for the squeamish). Salad with "a thick brown satay-like dressing of hazelnuts and preserved lemons" was "simply odd" and crudités, while "artfully chosen", needed "fire and bite", not a tahini dip. "The £9 price tag for a plate of veg and a lacklustre dressing feels like the price you pay for eating out in London right now."
"It simply doesn't hang together as a meal. It's a bunch of edible things, corralled together on one piece of paper, with very little to say to one another. A well-written menu should be a matrix that you can plot a route through in any direction, and still come up with something that makes sense. Instead, I feel like I've been at a tasting session."
The Observer also featured their annual awards, with a lifetime achievement award for Claudia Rosen, and Jamie Oliver as the (surprise?) public-voted winner of the best food personality. Best Restaurant went to The Oystermen in Covent Garden.
---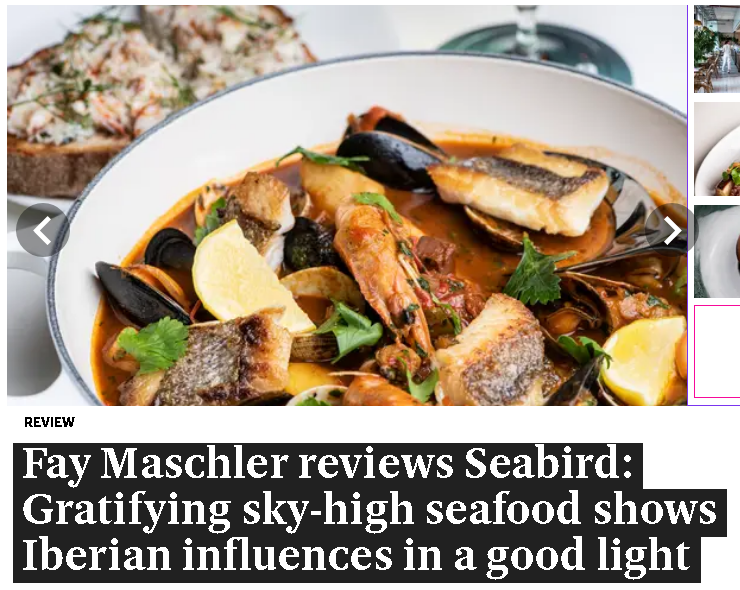 Fay Maschler for The Evening Standard may have discovered that rarest of restaurants: one that has a view, but also good food. Yes, it's a hotel dining room (part of the confusingly-named Hoxton chain, although located just off the South Bank), yes it's pricey (but it is serving London's widest selection of oysters, apparently – hardly a budget enterprise), but her review had barely a bad note, if you can excuse the small plates concept "explained at pedantic length", some "distressingly gritty" clams and the "gastronomic tinnitus of quite loud background music".
"Lighting is flattering, planting abundant, staff buoyant, cushions plump, skyline views captivating especially from the deep terraces (heated)" in the 14th floor room – "and in the centre… is an altar dedicated to the worship of shellfish".
Treats from the "Iberian-influenced menu" included pan con tomate ("a markedly good specimen"), and octopus roll ("a grilled tentacle clasped in a baton of soft glazed bread laced like a sneaker with spicy aioli… Cameras out, everyone".) There were "inventive vegetable assemblies" including "wedges of charred gem lettuce bothered with crisped jamón".
We are treated to some vintage Fay-speak in the sentence: "Two from Plancha that unreservedly gratify are Iberico pork presa served with celeriac purée, apple and mushrooms within an exhilarating natural gravy, and a Basque stew served for two composed of clams, mussels, red snapper and prawns and their emanations in the form of sauce."
She also enjoyed the wines, and name-dropping MPW's daughter who works there. Why only three stars? Who knows. (***)
---
PizzaExpress
Tom Parker Bowles for The Mail on Sunday had a meal "seasoned with a fistful of nostalgia" in the Banbury branch of Pizza Express, mourning the possible loss of the chain "with reports of the company's £1.1 billion debt, is it the end of La Reine, one last dough ball for the road?"
"The very prospect of an American Hot, cold Coke and even colder salad made me drool like Pavlov's dogs. Still does."
They've made mistakes over the years (including "The Venezia… where 25p was donated to the Venice in Peril fund… a pizza of such vile and venal filth (pine kernels and sultanas! On a pizza! The horror!) that I always felt it was created by someone who wanted Venice to sink") but somehow endured in a market flooded with "puffed and blistered" sourdough alternatives.
"The place is running on empty, a gaunt shadow of its former self. Too many promotions and discounts show desperation."
"I do hope they live to bake another day. The world would be a sadder place without Pizza Express. Albeit a slice of our past, rather than a taste of the future."
---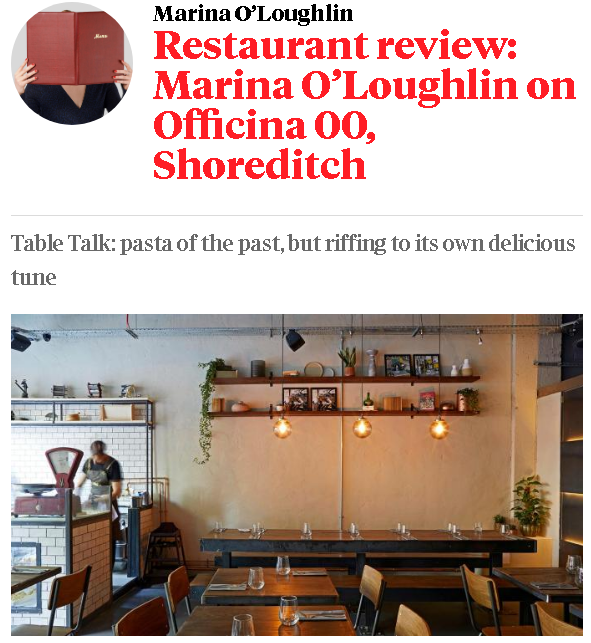 After three visits to Italy in the space of a month, Marina O'Loughlin for The Sunday Times wan't very keen on reviewing a pasta restaurant, especially one on "a traffic-choked stretch of Old Street". But Officina 00 ("Italian for workshop, plus a nod towards the most refined pasta flour type") surprised her by not being terribly authentic, in a very good way (the "raging culinary chauvinism" of Italy was still bothering her).
The owners are from Naples, so they can "take the classics as the base note, then go riffing away wildly", coming up with a sharing plates menu (very un-Italian in itself) of "delicious discoveries" like pumpkin gnocchi with smoked ricotta, occhi ("a kind of round ravioli that look like a child's drawing of flying saucers") stuffed with pork alla Genovese, and fritto misto made with pollock that becomes more like "Chinese-style salt-and-pepper… served with the glossiest squid ink mayo". "If this is the result, wheel on the inauthenticity any time."
The room itself is "warmer and more appealing" than the usual "raw wood, backless-stool aesthetic… rampant round these parts", and there's both an open kitchen and pasta-making station for visual entertainment. (Marina was quite taken with the "butch-aproned dudes" as they "roll and fold and pinch and stuff and tweak a whole series of pasta shapes".)
"There's serious industry at play here, and not just the pasta making." Some of the prices are "a teeny bit steep" but there are "wines on tap to compensate" from a "neat, intelligently chosen wine list".
"Officina 00 comes across as a pasta restaurant that's way more Manhattan than Modena. It allows them to extend the vocabulary of pasta, and us to explore more of the menu."
---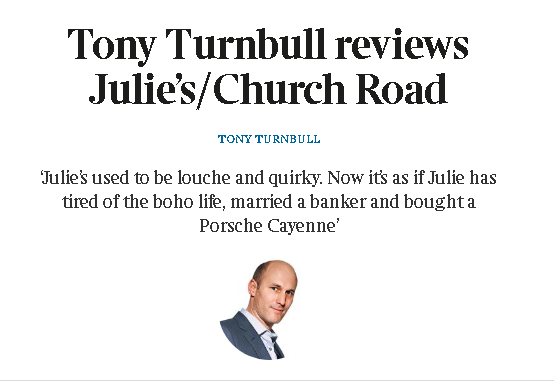 Standing in for Giles Coren of The Times this week was his boss Tony Turnbull, who took friends to "Holland Park institution" Julie's. They liked the food, but he was less enamoured (possibly because it was his second dinner of the evening).
They did all agree on one thing: "Julie's used to be louche and quirky, a honeycomb of rooms full of dark nooks and crannies, the kind of place you popped into at 5pm for a quick glass of something and rolled out of at midnight. There was something for everyone." The new management have "completely sucked the fun" out of it.
Inside, it's now a "plush, overlit moneyed space, as if Julie has tired of the boho rock'n'roll life, married a banker, moved to Chelsea and bought herself a Porsche Cayenne". Some of the old features remain "but they look ill at ease in this newly polished corporate pleasure dome".
You're in the "safe hands" of ex-Goring Shay Cooper, food-wise, which means "highly accomplished" food, albeit "still hostage to his posh hotel roots… small, polite portions marooned in expanses of white plate that leave you hungry", but only the "top notch" puddings garnered any kind of real excitement. (7/10)
Tony also visited the relaunched Sonny's, now called Church Road but "still owned by Rebecca Mascarenhas and Phil Howard… is basically "Sonny's: the next generation". Why they didn't call it Grandsonny's is beyond me".
He was with a friend of the owners and got a free meal, so didn't officially review it, but enjoyed it far more than Julie's: "there's a sense of a restaurant that knows just the kind of food people want to eat and the way they want to eat it". There's a £22 lunch and pre-theatre menu that uses up ugly veg and gives a cut to a local children's garden charity, a "communal table, proper neighbourhood restaurant stuff" and a "warm salad of wood pigeon with root vegetables and blackberries, like a tapestry of an autumn day". But he didn't tell you any of that. (8/10)
---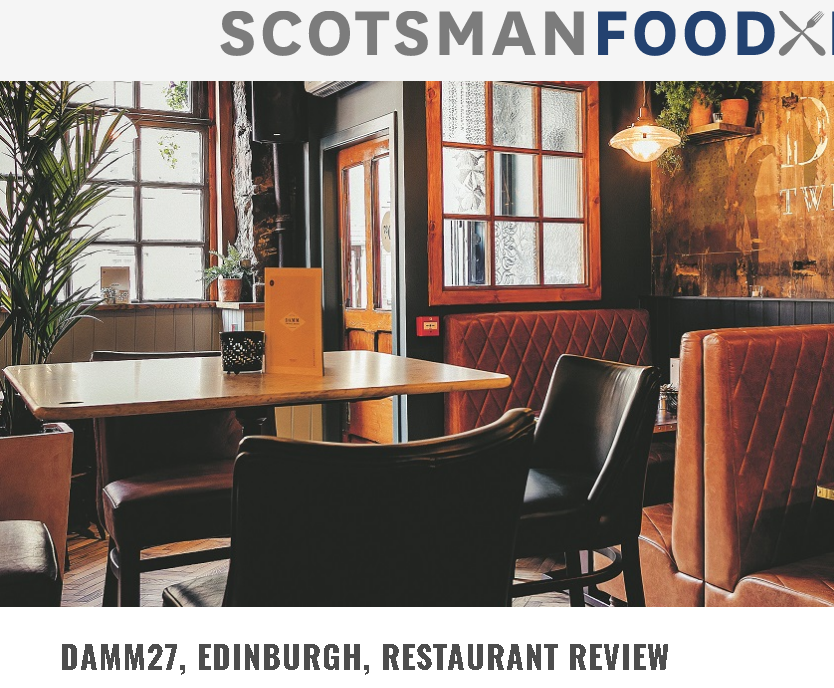 Gaby Soutar for The Scotsman visited "punk band-ish" sounding neighbourhood gastropub, Damm27 on Causewayside. It's family friendly during the day, so she took her nieces, who have impressive appetites.
The menu has "burgers and sarnies, but also an interesting selection of small plates with a pan European vibe" – "homely and rustic" dishes like caponata, choucroute garnie and ham hock croquettes. They tried "bouncily fresh" (although soggy-bottomed) calamari and "were a bit confused by the charred pickled fennel dish, which seemed rather out of place amongst all the other generally hearty stuff". Mussel pots come in four flavours. Puddings included a geyser-hot sticky toffee pear pudding and a "frothily light" crème brûlée cheesecake.
"This place offers better food and service than the average boozer." (70%)
And also…
Nicholas Lander for The Financial Times reviewed Wild Honey St James, and enjoyed its "particular cross-Channel style of cooking"; "the bouillabaisse is really four dishes — the fish, the soup, the rouille and the bread. It scarcely fits on the table".
---
Kathryn Flett for The Telegraph brunched at Vardo, an "all-day diner with an international flavour in a spectacular modern space", which "immediately makes you smile and slough away your cares". (****)
---
William Sitwell for The Telegraph reviewed Indian restaurant Voujon in Long Buckby, Northamptonshire, which he declared should be famous on the basis of the lamb chops alone.
---
Bristol Live reviewed the relaunch of Stokes Croft bistro The Arts Theatre as Caper & Cure; owners Craig Summers and Giles Coram met working at Wallfish (RIP) and have owned and run the site successfully for a few years. They have now "truly stamped their identity on Caper and Cure, which is serving high quality food at kind prices".
---
Birmingham Live reported on a "food plagiarism" row brewing between the chefs at city restaurants Opheem and Lasan: Aktar Islam, chef patron of Opheem (who made his name working at Lasan) has said his former bosses "live off my legacy and profit from being associated with me" and accused them of directly copying one of his dishes, by posting pictures on his Instagram feed.
---
Emily Heward in the Manchester Evening News reviewed the new (and 50th) branch of Franco Manca. Disinterested service, an at-odds-with-the-building industrial decor and burnt pizza didn't make her warm to the brand: "Franco Manca has the Byron Hamburgers feel of a London chain that's arrived too late to the party, with too little to bring to a Manchester market already crowded with homegrown, independent restaurants doing it better."
Recent News from Harden's