Our weekly round-up of what the national and local restaurant critics are writing about, for the week ending 13 September 2020.
Restaurants, pubs, bars and cafes in England are still re-opening after lockdown, and we are seeing an impressive number of new restaurants starting up. The government's 'Eat Out to Help Out' scheme successfully boosted the restaurant sector during August; several restaurants are choosing to continue the discounts this month, without the government subsidy.
The new 'rule of six' guidance applies to restaurants, which The Evening Standard claims could be a "hammer blow" to the industry that could "wipe out the boost from Eat Out To Help Out last month", especially in the run-up to Christmas, usually a restaurant's "bread-and-butter business".
Check with your local and favourite restaurants before heading there; many are still operating strict timings due to reduced cover numbers and social distancing requirement, with reduced menus and booking systems (even if they didn't take bookings before); look at their social media pages for details – all available via hardens.com.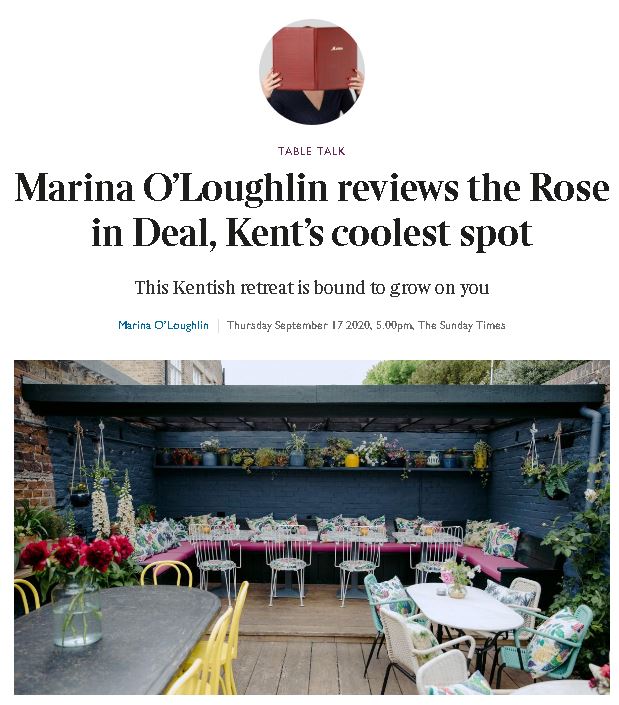 The Sunday Times
Marina O'Loughlin stayed close to home this week, and tried out boutique pub with rooms The Rose in Deal, Kent.
"There has always been a handful of good restaurants hereabouts — but the ambition stepped up a touch when the former Wallpaper* (yes, that asterisk does tell you all you need to know) design editor Alex Bagner and her husband, Christopher Hicks, took over the Rose." Marina describes the place as "a gnarly old Victorian boozer on the main shopping drag" and its subsequent transformation as "a reinvention involving acres of desirable art — including Emins, of course; we're in Kent, innit? — and peacock-plumage modernist furnishing".
They re-launched the pub in 2018 and "after a number of relative minnows" as chefs, the couple have "landed a coup, a whopper: none other than the Portuguese superchef Nuno Mendes" who is "better known for feeding the constant throng of slebs who pile into Chiltern Firehouse in London than Deal locals tuckered out after a morning's arduous antiquing".
Of course, he's only really in a "consultant/exec role, not coalface" but the menu has "his trademarks are all over it" (and includes the Chiltern Firehouse "stalwart" of crab doughnuts) and is "very creditably" delivered by the staff "without his hands actually being on". The "delicacy, the playfulness, the painterly touches and gleam of viridian herb oils" is all him.
"Cleverly", they have also kept "a selection of the crowd-pleasers from previous incarnations. So while you can go edgier, you can also stay defiantly normcore" and event the desserts "swivel between ultimate comfort" and "verging on challenging" (such as "blackberry-leaf ice cream, almost salty and vegetal with sorrel").
"It's a fine lunch, punctuated by just the right sort of wine… and the right sort of arguments. The Rose is just the perfect, slightly eccentric joint this slightly eccentric town needs" and has "been welcomed by locals as well as pilgrims".
*****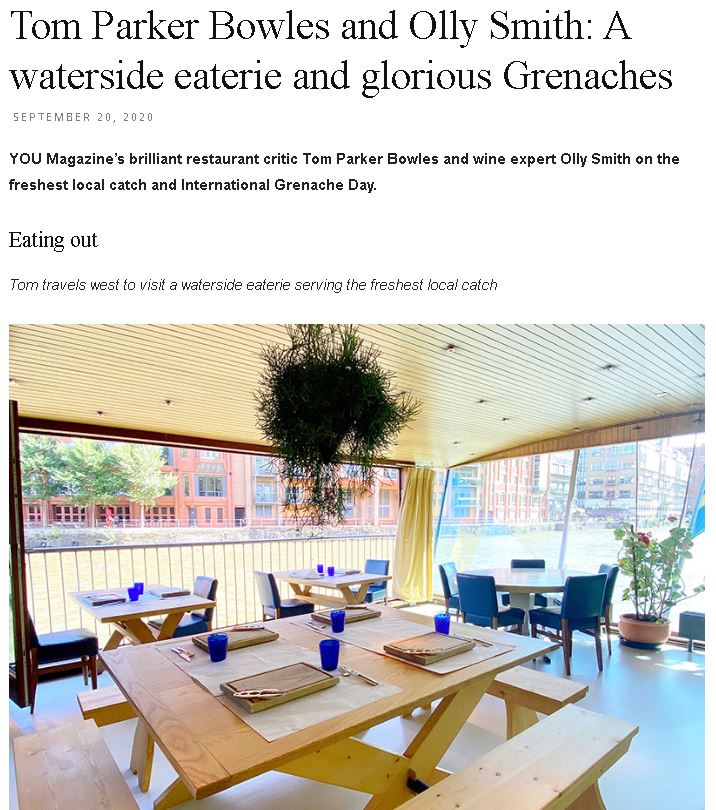 The Mail on Sunday
Tom Parker Bowles (in his new column with wine expert Olly Smith) in The Mail's YOU magazine was in Bristol, first to try out the new incarnation of the "hugely respected" Glassboat (from the same owners). "Things seem a little more laid back" at Fish, with "takeaway fish and chips at one end, and a longer menu, featuring lots of sustainably caught West Country fish, in the main cabin".
Starters of devilled whitebait, boiled prawns and scallops were "so far, so simple. And gloriously so", followed by "a fish soup of startling beauty" with "gentle but bracing depth" (Tom's companion recognised the recipe at Stephen Markwick's; the chef at Fish, Jake Platt, trained under him).
Main courses of lemon sole ("every bit as fresh as you'd hope, and cooked just right") and "gloriously old school" salmon fishcakes were chased by "an immaculate crème brûlée".
"Service is lovely, prices sensible and Bristol, once again, finds itself with another cracking place to eat."
*****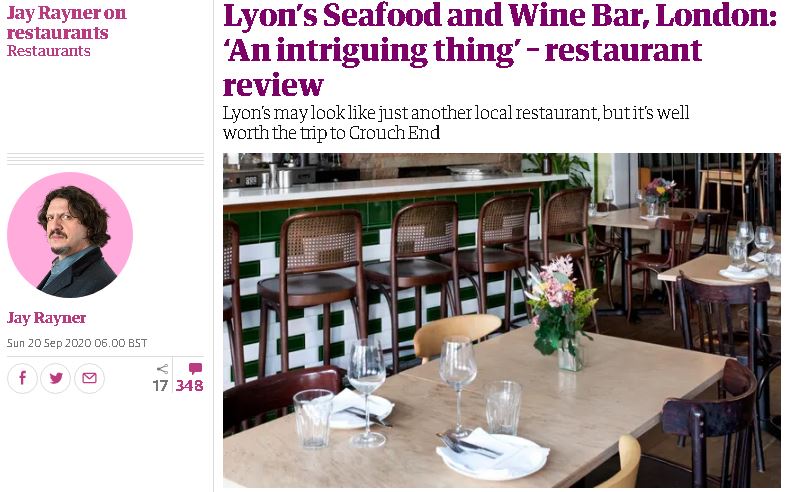 The Observer
"The site occupied by Lyon's Seafood and Wine Bar has been many things over the years. The white tiling behind the bar, with its old-school jade green and floral edging, hints at a past as a butcher's" and most recently, "a series of neighbourhood restaurants".
Jay Rayner was in Crouch End ("a right pain in the arse to get to" by tube or train and the locals "like it this way"), checking out year-old Lyon's, which is definitely a cut above just the "great local standby" of the site's predecessors. "There is rather more going on here." Owner Anthony Lyon has worked at Hix, The Wolseley and Colbert.
The proposition of the "moody, globe-lit, wood-floored dining room" ("built for social distancing") is "fin-to-tail seafood and small-batch wines", which is lived up to in a dish of salmon collars. "You can roll your eyes at a restaurant flogging what might once have been scraps, or recognise the war on waste and the work that's gone into making it something much more than itself. "
Jay enjoyed an oyster dressed with taramasalata and a scoop of caviar ("the oceanic version of denim on denim, but in a good way"), prawns in "chilli and garlic-spiked butter" ("head suckage is mandatory") and some "strikingly precise" small plates, of smoked eel with apple ("two spectacular mouthfuls ") and salmon cured in nori. Deep-fried soft-shell crabs on "a bold mess of turnip and kimchi" complete the mains.
Furthermore, "the wine offering really is as diverting as they promise", although desserts are disappointingly pre-assembled ("their heart really isn't in it"). Overall, the "locals of Crouch End have an intriguing thing on their doorstep. The rest of us should consider getting on the bus."
*****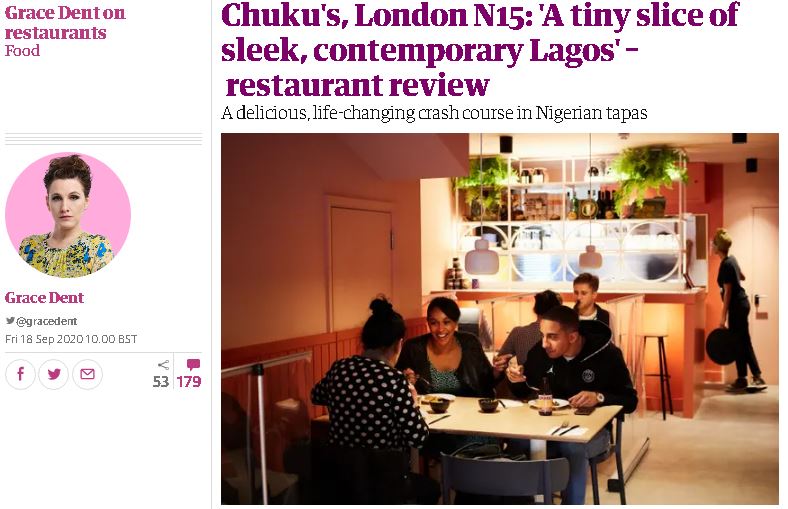 The Guardian
Grace Dent finally made it to Chuku's, having been following brother-and-sister chefs Emeka and Ifeyinwa Frederick since their "supperclub era" – intrigued by the claims to be the "the world's first Nigerian tapas restaurant" and their motto of "chop, chat, chill".
It "has about it the sense of a blue-sky dream turned into bricks and mortar". How exactly do you "distil a cuisine eaten by 200 million people, yet in the UK understood by relatively few, into a delicious, life-changing crash course in moi moi, suya and sinasir"?
The "vivid, modern, coral-pink interior", "charming" welcome and "triumphantly loud" music greet diners with a "tiny slice of sleek, contemporary Lagos".
"I went with two friends on a Saturday lunchtime, and we ordered everything. The lot. All of it. There is no better way to deal with Chuku's – just sit back and let them feed you."
"Newcomers to moi moi (a savoury, steamed bean pudding) wonder why they left it so long." At Chuku's, it "comes in small, inconspicuous squares that, at first mouthful, are comfortingly bland, but then, like all the best carbohydrates, reveal themselves to be compelling".
There's spice too – Grace couldn't finish her chicken ata din din "because the capsaicin levels were quietly, determinedly assassinating me, but which was also far too delicious to stop picking at" – and "more mellow propositions" like chicken wings in a caramel and crushed peanut kuli-kuli-style marinade.
"This is certainly a modern spin on Nigerian tastes and traditions, and there will no doubt be some customers looking for a taste of home comfort who will find Chuku's loud, tangential and puzzling… But if the Fredericks' mission was to celebrate, trail-blaze and speak loudly the truths of what modern Nigerian-British food looks like in 2020, they've certainly achieved that."
*****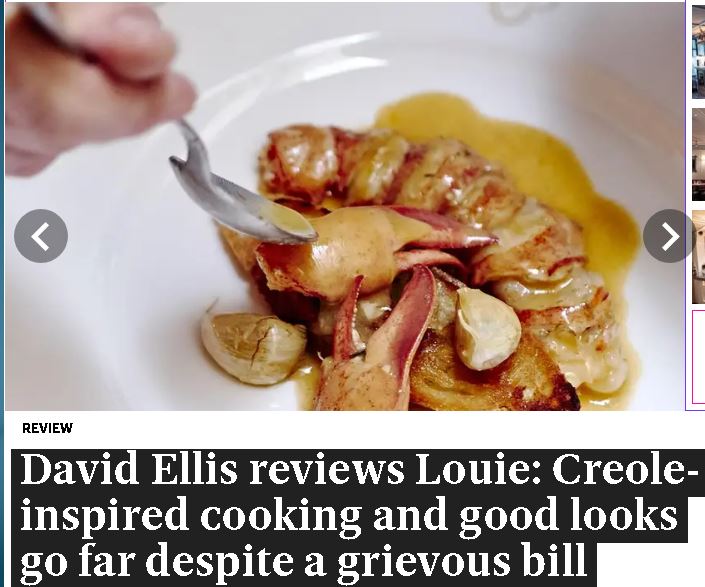 The Evening Standard
David Ellis provided (along with The FT) the first review of Louie. Co-owners Guillaume Glipa and Laurent de Gourcuff (" both Gallic, gallant types")"have found startling success with the sort of places you feel that, if the food really failed, might still pay the bills rented out as film sets"; they also "know the game and make a fine pair to inherit L'Atelier de Joël Robuchon's old home, even if, really, they're looking to nick half the crowd from The Ivy… next door".
Their New Orleans- inspired venture "has been exquisitely done and evidently at enormous cost"; "it pulled to mind a Gucci hoodie; relaxed, but not really".
"Decorated chef" Slade Rushing left "New Orleans institution Brennan's" to do "his warming, Creole-inflected thing" here, and "his expertise has travelled well". His signature Iberico pig cheeks with langoustine is "a heartily-spiced swamp of flavour" that's truly "gladdening" – although the bill might wipe a smile off anyone's face.
The Standard also interviewed Richard Corrigan in an entertaining, no-holds-barred, conversation covering Covid, Brexit, politicans, racism and sexism in kitchens, rents and Deliveroo; "you want to be seriously off your rocker to open a restaurant now".
*****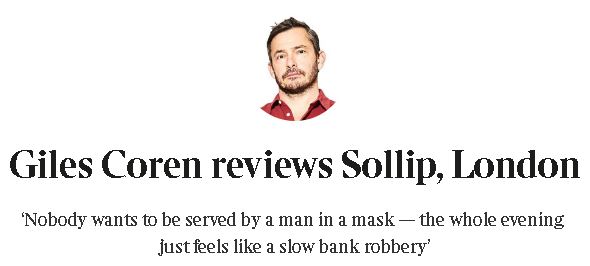 The Times
"I am old and tired and grumpy and full of the memory of how restaurants used to be, before all this. Sollip is clearly at the beginning of a journey towards full function, like all of us, and must, like all of us, be given time to adjust."
Giles Coren's closing paragraph (above) is proof that he just wasn't in the right frame of mind to be reviewing – the strapline in the picture ("nobody wants to be served by a man in a mask – the whole evening just feels like a slow bank robbery") speaks volumes of the man who was about to ditch the restaurant reviewing for good when Covid hit. It hasn't taken him long to get back there.
A tiresome rant about mask-wearing (apparently they "don't at Soutine in St John's Wood") and a skit about 'restaurants forgetting how to do it all' took up over half of his review. Essentially, he misses the "glorious gastronomic place we were in, in March 2020, when everything suddenly stopped", and wished we could be back, exactly there, with nothing any different.
It's not an entirely grumpy review – Giles does admit that he's "had glorious meals in places that used the downtime to redecorate, retrain, upscale, revitalise and come back better than ever, with staff delighted to be back in the game", although unhelpfully doesn't name them.
At Sollip, the hot new Korean in Bermondsey, however, he didn't like the decor ("sharp, angular surfaces" and "no soft furnishing at all") or the aesthetic ("clean and strict and confident, if not, altogether, especially comfortable"), or the lighting (which is "very, very bright and bounces off the undecorated magnolia walls") or the "delicious" free wine sample or the server's face mask (imported from Korea).
He admits that "the cooks can cook" and enjoyed several of the courses ("lovely" bass, "top-flight sourdough", "I loved the spicy beef tartare"), but then launched into an unwarranted attack on the Sollip cassoulet in order to make a point related to his earlier skit. And then refused to stay for dessert. (18/30)
*****
And also…
The Financial Times reviewed Sollip in Bermondsey, where "the menu is pitched as European fine dining with Korean influences" but "what actually occurs is all-out down-and-dirty fusion" and "just beautiful poetry". They also paid a visit to Louie ("Chiltern Firehouse, the sequel") to see if Guillaume Glipa can "repeat the hit".
*****
William Sitwell in The Telegraph visited The Potted Lobster in Bamburgh, and said he'd like to "go six times to eat the entire menu", having loved the " top-notch seafood and staff to match". (4/5)
*****
Bristol Live visited the fourth national branch of Purezza, now open on the Gloucester Road.
*****
The Manchester Evening News featured the forthcoming Prestwich restaurant from ex-L'Enclume and Maaemo (Oslo) chef Danielle Heron; Osma will serve "Scandinavian-style open sandwiches and hearty salads, with a frequently changing evening menu served four nights a week".
*****
Recent News from Harden's