Harden's regular round-up of the restaurant critics' musings, from the week ending 21 April 2019.
Happy Easter!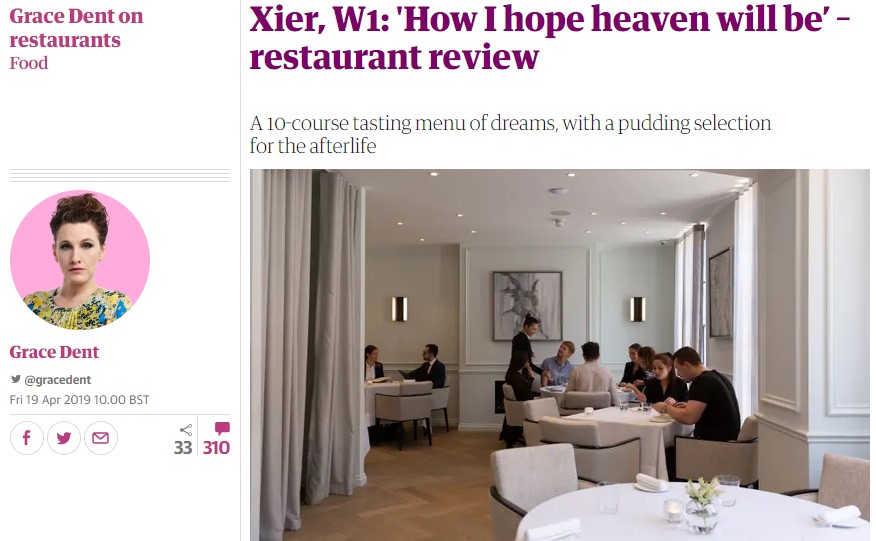 Grace Dent for The Guardian is always "questioning the entire point of modern haute cuisine" – especially lengthy tasting menus "often done badly: too pompous, too many petals, too few carbs, not a lot of laughs".
This week she had to eat her words alongside the 10-course tasting menu ("no shortcuts") from Xier ("upstairs at chef Carlo Scotto's new dual project"), which was packed with "British produce being cooked by an Italian who's clearly influenced by Japanese flavours".
The room is "singular, spacious yet intimate and rather romantic"; "a lot like how I hope heaven will be; a sort of tasteful, pale VIP room, away from the riff-raff, with a nook full of vintage cognacs".
Comparison with the Ledbury was almost inevitable: "Xier has all the plates spinning at once. It's surprising and challenging, but you're still at the reins". Combine that with "some of the greatest, magical front-of-house service in London right now" and you're onto a winner.
A red prawn crudo was "uplifted… with teases of raspberry, red caviar and yuzu" while the arancino on "a sticky, compelling kohlrabi jus" was "orgasmic". Her favourite course was "a rich bianchetto truffle risotto deftly laced with sumac".
"I want eternity to be somewhere where… when it's time, staff triumphantly appear with not one, not two, but five separate desserts, contrasting but complementing each other." (She mentions the baba twice)
"Xier could be the best opening of 2019. On all your behalves, though, I will enjoy being proved wrong." (29/30)
---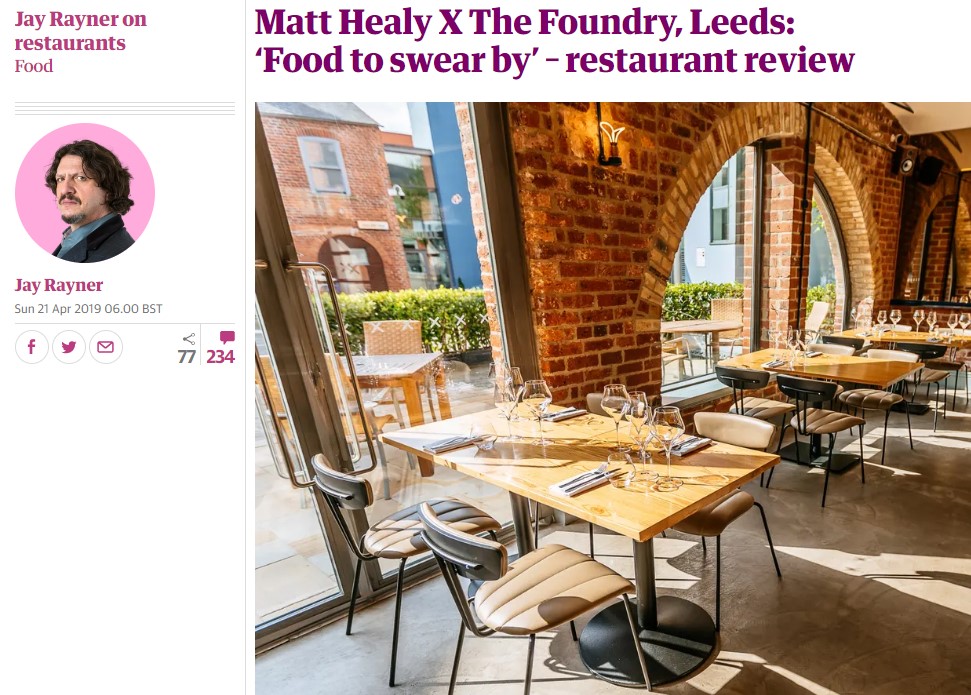 Jay Rayner for The Observer is on a cheese toastie roll. After epic sandwiches in St Andrews (at The Cheesy Toast Shack) and in Kirkgate Market in Leeds (at OWT), he visited Matt Healey's new place at The Foundry, also in Leeds, where he encountered "a precision engineered number, sliced so that every angle is at 90 degrees, bronzed in all the right places and filled with the punchy, paunchy umami of blue cheese and caramelised onions" that accompanied steak tartare "topped with the sunshine promise of an egg yolk".
Matt is "the inked and bearded Leeds-born chef who came runner-up on MasterChef: The Professionals in 2016"; his restaurant is all "raw brick, concrete floors, filament light bulbs and nowness", and the food is "a collection of well-trodden paths, walked with precision and care, and all at an extremely good price".
There's sharing platters and nibbles, small plates, main courses and ("the most cheffy moments") desserts – "a proposition that can work in many ways". Smoked eel with "perfectly made" celeriac remoulade was "in no way radical, but it is special", while a tart with peanut brittle and salted caramel ice cream was "a plate of shadow and sweetened light"
Jay pointed out that "this was all tried in the first days of the first week of an entirely new menu. It didn't show."
---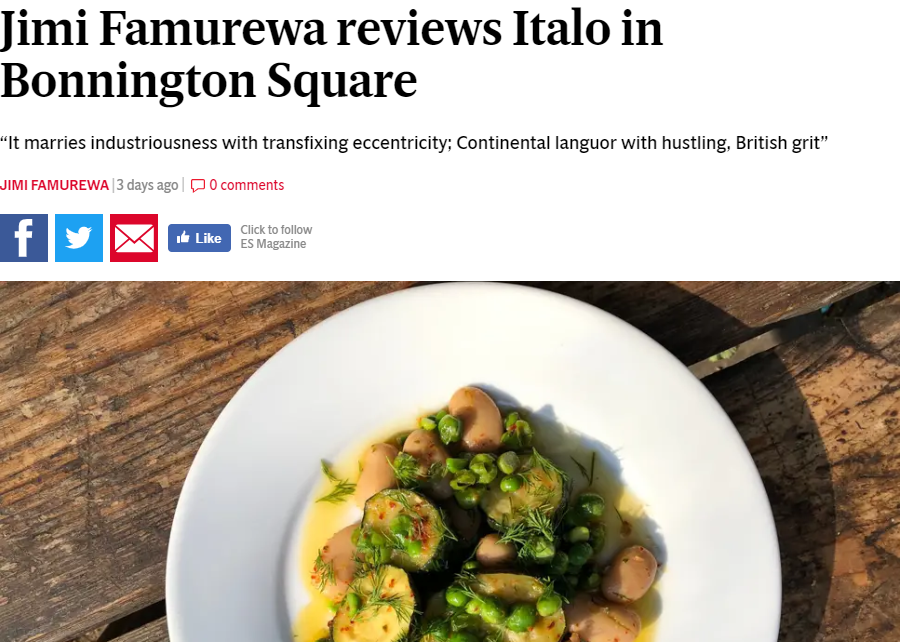 Jimi Famuwera for The Evening Standard had been "dimly aware of Italo deli and café in Vauxhall for years" before he finally visited – and then when he did go, "it took me all of 30 seconds to fall in love… to a hopeless, obsessional degree," with its "twinkly, contagious magic".
Co-founded by Charlie Boxer ("son of cookery writer Arabella, dad of new-wave culinary princes Jackson and Frank"), Italo has maintained its "dishevelled uniqueness" for over a decade, and seen many now-famous faces at the stoves. The current chefs produced food that "possessed a kind of Rochelle Canteen-grade, European simplicity"; Jimi detected "an unwavering core philosophy of delivering hearty, affordable pleasure".
Ordering almost everything on the menu, Jimi and his friend indulged in "balanced and bright" confit garlic and burratina on toast, "gently gamey" orecchiette in spiced rabbit ragu and then "duelled over proper grown-up scoops of La Grotta grappa and damson ice cream".
Italo "marries industriousness with transfixing eccentricity; Continental languor with hustling, British grit".
The "cramped, pasta-piled shop interior" only has a few inside seats, so you're best to head there on a sunny day, or take away: "you'd have to acknowledge that Italo's appeal dwindles sharply in bad weather". (9/10)
---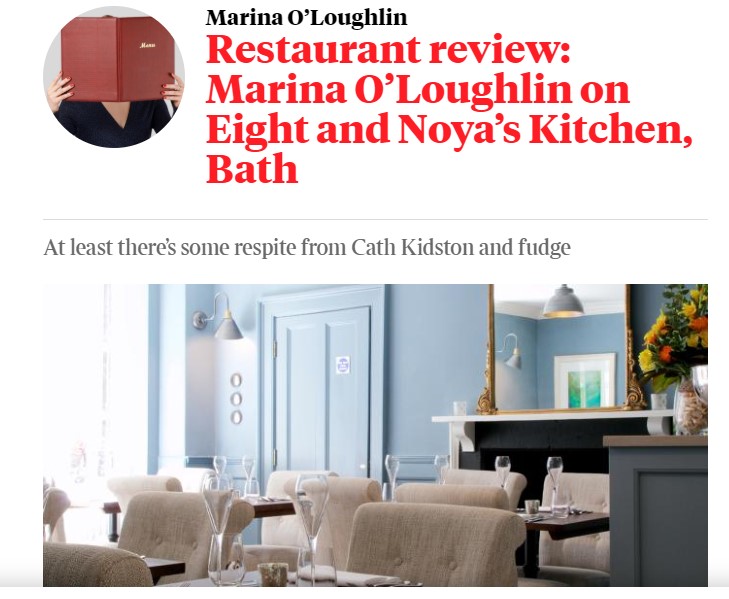 Having successfully upset the entire town of Gullane recently, by calling it twee, Marina O'Loughlin of The Sunday Times was hesitant to visit Bath ("never top of my cities for playing gastrotourist in") without a seriously good reason. (Mind you, as she quite rightly pointed out "my esteemed predecessor trolled the whole of Wales, so as far as creating outrage, I've still got training wheels on".)
So when she received not one, but two, hot tips for Bath, she took the opportunity to fill a column without having to resort to too many paragraphs about the "full Palladian beauty of the place". She also took a young friend from "culinary upstart" Bristol, and quoted his snarky comments throughout (the best being "All the shops should be called Buns & Fudge").
Eight, her first stop, was a "tiny, thoroughly upholstered dining room in an equally tiny boutique hotel of ancient uneven floors and wonky staircase", serving eight seasonal not-quite-small plates (it also has eight rooms, do you see what they did there?). The concept "succeeds in muddling me" – do you have two plates (too much) or just one (not enough)? Her first dish, a "hefty" courgette number, was "so try-hard, haute vegetarian that it makes me want to gnaw on a T-bone in protest" left no room (or willpower) for the "excellent slab of hake on a black squid-ink risotto".
"The kitchen clearly has ambition, but they might like to rein it in a touch?"
Noya's Kitchen, on the other hand, was "to be celebrated" – a supper club turned café and cookery school, everything here had "the pleasing, hand-knitted quality of a talented Vietnamese home cook". Starters in particular were "a joy" (although mains were "less endearing"); all "fresh and vibrant and done with love".
The room was "captivating", with its "dark blue walls, floral wallpaper and sepia family photos", staff "couldn't be lovelier" and – especially for this city – it's "terrifically well priced".
---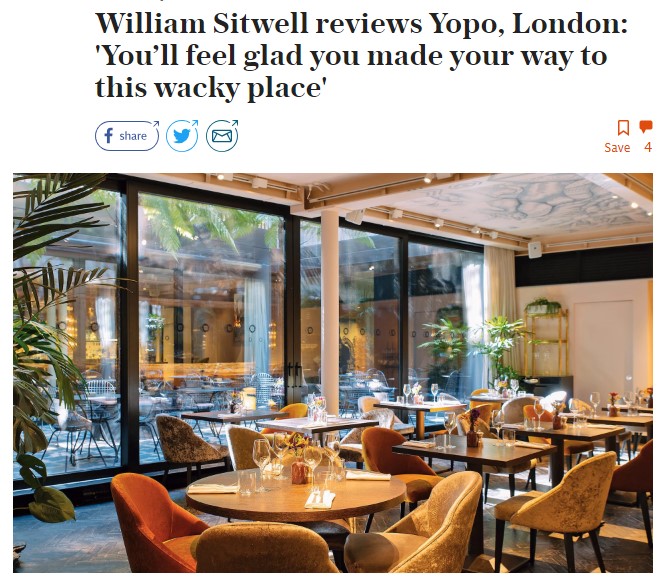 For The Telegraph, William Sitwell tried out the dining space at The Mandrake – what was Serge et Le Phoque (RIP) has become Yopo. Telegraph readers should firmly ignore the "weird and sexy art" in the doorway (as well as the fact that Yopo is named after a South American hallucinogen).
Inside, there's a "menu of fantastic inventiveness delivered with authentically enthusiastic service"; this is fusion, not confusion, food – "a new and beautiful order".
Oysters were served "surrounded by not ice but champagne granita", sourdough toasts with anchovies were "achingly, beautifully, naughtily moreish bites of salty paradise" and duck with quince and braised endive was "harmonious".
The design is loosely jungle-themed; "the whole place feels a bit like an Amazonian trip" (the toilets are a "sort of Indiana Jones temple of mystery", and just as hard to find). William found Yopo delightfully "wacky": they "will take you by the hand and lead you on a path of enlightened discovery". (****1/2)
---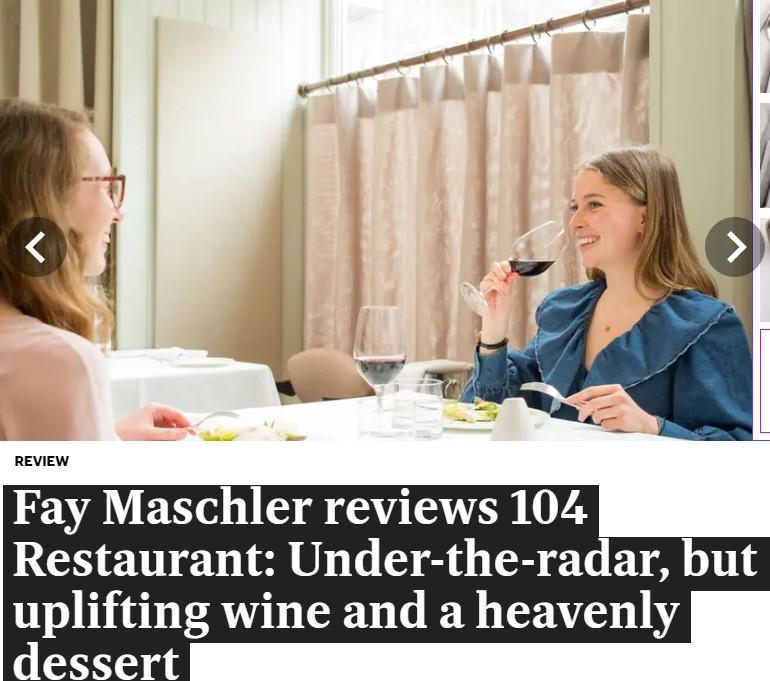 Fay Maschler for The Evening Standard once again beat everyone to a hot new opening; this one, from chef Richard Wilkins in the "diminutive" spot that was formerly Marianne (RIP, although the "Farrow & Ballsy decor" lives on) opened completely under the radar. She was tipped off by Zeren Wilson, sommelier and writer of the Bitten & Written Instagram feed; Fay and Zeren met at 104 for lunch.
"Scrupulous buying" was "evidenced throughout" their meal from the £55 set menu, with "uplifting" wines. A scallop ceviche starter came with sides "in pale green shades of spring" and the dessert of Chocolate moelleux with passion fruit sorbet was "a shiny dark log of pure contentment". Only the roast lamb failed to inspire, although the side dish of Ratte potatoes Grenobloise with the cod was "the star of the assembly".
A second visit with her late husband Reg's daughter (who liked the "Alice in Wonderland room") saw them dine alone (not surprising given the lack of publicity), from a similar menu (sadly it's the duck this time that isn't quite right) but with equally "heavenly" desserts. (***)
---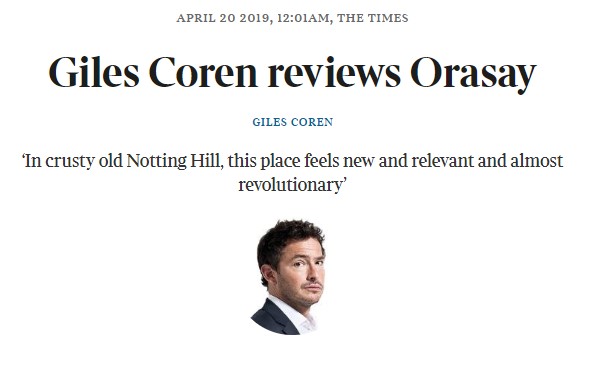 Giles Coren for The Times' Saturday Magazine just loves the hipster food movement – although he once derided it for being all "queues, beards, tats, mateyness, drinks in jam jars and a general sense of the staff having a better time than the diners". He now embraces it, loves "the loud music and shocking acoustics", loves "the short menu and sharing principle", admires all of "the home curing, drying, pickling, baking and fermenting" and firmly respects the "responsible sourcing, wines by the glass, recycling and waste management, inclusive hiring… urban regeneration".
But he, like Kathryn Flett in this week's Telegraph review of Gloria, has a thing to say about older diners; Giles is now almost 50, and is no longer one of those diners "who want mad new shit to blow their minds" – he'd rather have "a bit of peace and quiet, a nice glass of something, a smackerel and somewhere soft to rest". And there's not many new places opening that cater to those needs these days.
Until now: Jackson Boxer "sexpot hipster king of east London, whose polished concrete and fire-food… St Leonards, is right at the epicentre of all that is good and new" has opened up Orasay in west London, of all places. It's a "classic, old-fashioned, small… restaurant" – but it's also a bit different". Yes, it's "well lit and cosy", the chairs are "soft and comfy", staff are "gentle and friendly" and the food is "modest and humble and mostly very good", but it's also "hipsterish enough to feel relevant (but nothing to scare the horses)". In "Portobello it feels new and relevant and youthful and British and thus almost revolutionary".
Giles took his mum along, and was clearly so relieved to find somewhere she liked that he waxed lyrical about "the northward creep of spring through Europe… represented on London restaurant plates" (or as he said, "foodwank").
Grilled fish dishes were "delicious and spring-feeling", his pasta dish "less thrilling"; there's some serious meat on the menu, too, and even the "exotic east London specialty known as roast cauliflower".
Orasay is "young and new and lovely" – let's "hope the well-heeled multilingual locals in their sparkly mansions and expensive shoes speak enough basic hipster to understand it". (21/30)
---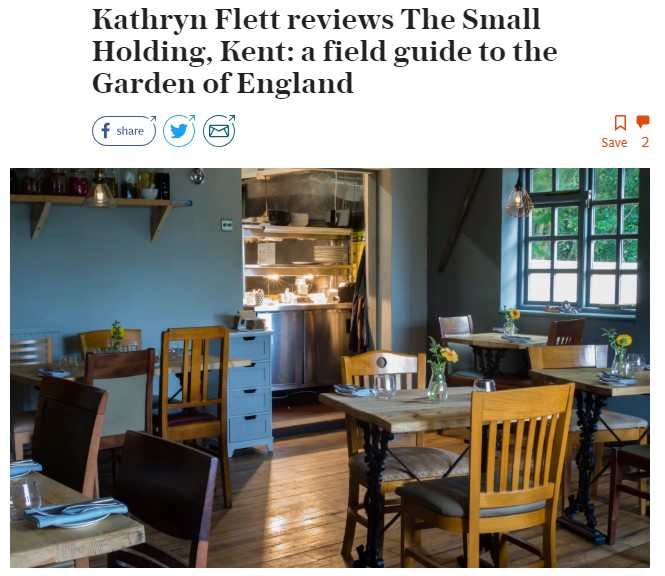 Kathryn Flett for The Telegraph has been busy on our behalf, with two reviews published this week. Her first trip was to Kent farm and restaurant The Small Holding; a "pleasingly ambitious little" place in the "A21's Britcheese/Britfizz Corridor" offering "field-to-forky" fare in a range of tasting menus.
"Haiku-lite minimalist menu descriptions were compensated for by smiley Will Devlin… chefsplaining everything tableside." "Flavours and textures (notably "Broccoli, Blue Cheese, Yeast" and "Pork, Onion, Mustard") were pleasing without pushing the envelope." A local cheese course made Kathryn very happy.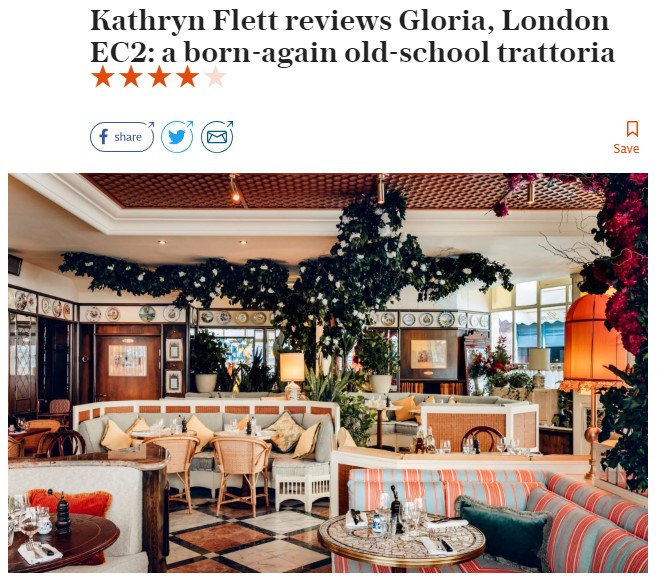 Her second review was a visit to Gloria, the Shoreditch newcomer which "looks as though it's been sitting comfortably on the corner of Great Eastern Street… since about 1968"; it's a "stunningly staged backdrop" that pays homage to London's first trattoria, Spaghetti House on Goodge Street.
Despite being (and feeling) "demographically at least two decades outside Gloria's customer comfort zone," Kathryn and her lunch companion India Knight demolished their starters; mains, named with "faux-naff playfulness" were also "very good without in any way being intrusive" – the '10 level lasagne' was both "densely delicious" and so "substantial" that she took half home in a doggy bag.
"In modish, binary fashion, Gloria turns out to be not only the perfect place in which to embrace 2019, but also to escape it."
---
And also…
In The Financial Times, Nicholas Lander had nothing but praise for the "expert precision" at Emily Roux's Caractère; she ''combines the essential criteria for a restaurateur — a love of food, wine and people'
---
Any other critic posting a steak review containing the word "sublime" and phrases "absolute consistency", "gentle carnivorous worship" and "never lets you down" would be doling out top scores to match. Not so Tom Parker Bowles for The Mail on Sunday, who served up yet another four-star review to Hawksmoor's Air Street branch (they've been open since 2006 in Spitalfields, so he's not even reviewing anywhere new, he just fancied a steak).
As is usual with a TPB review, especially a meaty one, there was plenty of "kick and honk" and "deep bovine base notes". He enjoyed his steak (actually a "a vast 120g slab of Chateaubriand"), but the fish there is excellent too ("the turbot is a thing of piscine beauty") and his beef fries were "a touch undercooked". (****)
---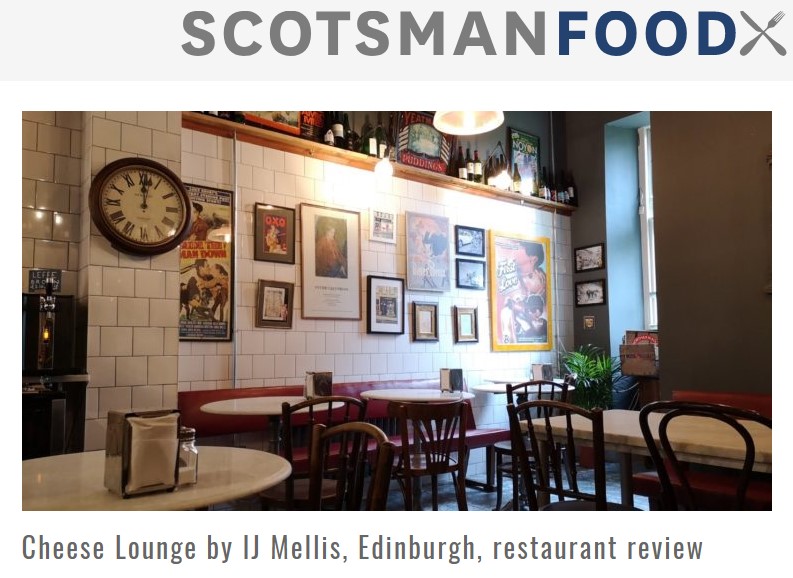 Catriona Thomson for The Scotsman visited the deliciously named Cheese Lounge, at the back if IJ Mellis' Morningside cheese shop (he's run the business or over 25 years and now has five stores across Scotland)
The "whiff of le fromage" hits you instantly as you enter, but "you could be in a bar in rural France" once you've passed through the glass door. Within the "bijou room", she sampled a veggie Scotch egg ("layered treasure") with Cashel Blue, "spot on" French onion soup, roasted feta ("softly yielding and… delicious. This is a dish that I would return for.") and finished with "a flaky, buttery delight" of a pastel de nata.
"If dairy is your thing, you must get along to Morningside for a slice of the good stuff."
*****
Recent News from Harden's