Our weekly round-up of what the national and local restaurant critics are writing about, for the week ending 16 August 2020.
Restaurants, pubs, bars and cafes in England were permitted to re-open on Saturday 4 July after over 100 days of enforced closure; Scotland and Wales followed a few weeks later. Some establishments remain closed – the owner of the three Market Halls, for example, has decided to remain closed until social distancing has ended.
For the month of August, the government 'Eat Out to Help Out' scheme, aimed at boosting the restaurant sector, is offering a 50 per cent discount, up to a maximum of £10 per person, on food and non-alcoholic drinks, any Monday to Wednesday. The first week was hailed as a success by the industry (see our article here) although the future is by no means secure, with insolvency a very real threat for many restaurants.
Check with your local and favourite restaurants before heading there; many are operating strict timings, reduced menus and booking systems, even if they didn't before; look at their social media pages for details (all available via hardens.com).
*****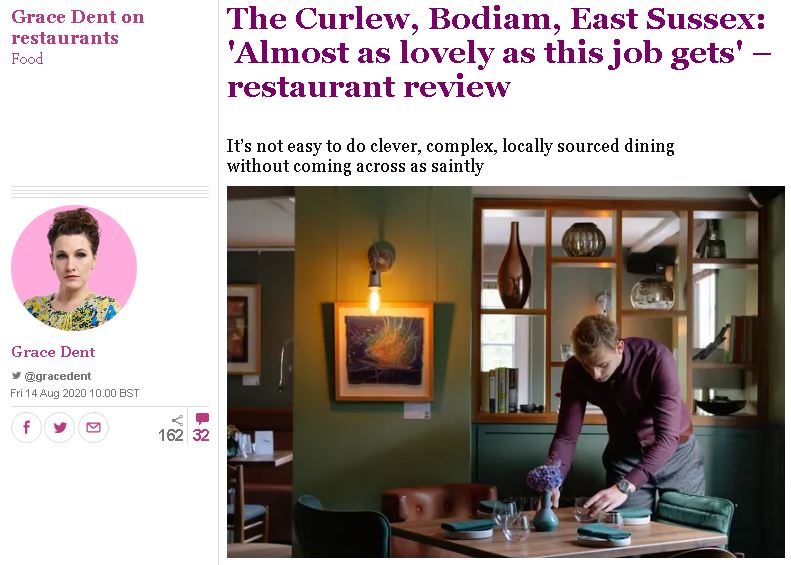 The Guardian
"On a very warm, midweek August evening, with only a handful of customers in and joys such as smoked mackerel and bronze fennel paté, and crispy duck farm salad on the menu, my two hours at The Curlew was almost as lovely as this job gets."
Grace Dent was in Bodiam, East Sussex, checking out the new addition to The Small Holding stable (brothers Will and Matt Devlin, who transformed the Cranbrook, Kent pub into the talk of the county).
"The Devlins seem to have honed the formula for painting big, barn-like pubs in tasteful, taupe shades, festooning them with flowers from their farm, then offering the locals lovely things without a jot of pretension."
Unlike its sibling, there's no set menu here, just "a single-sheet, ever-shifting, à la carte affair" serving up delights like Grace's "monkfish tail, which came with a heavenly jug of curried butter sauce… a delicious, earthy bowl of spelt steamed in stock with fresh broad beans and peas and a side of baked squash".
"The cooking is precise, balanced and generous; if The Curlew has a signature dish, it's the miso roasted cod, which tastes of blissful umami caramel and comes topped with samphire and the rather ominously named leaf salty fingers."
Dessert was "a warm cherry bakewell-style tart", or there's a cheese selection which Grace believes is "possibly the most highfalutin offering being served in Great Britain today".
Other highlights included the "good, diligent, passionate yet unobtrusive service" and "tables spaced so gloriously far apart, I felt a bit like I'd bought the pub". The locals might not be happy that Grace has shared this new gem, but we're sure the Devlins will.
*****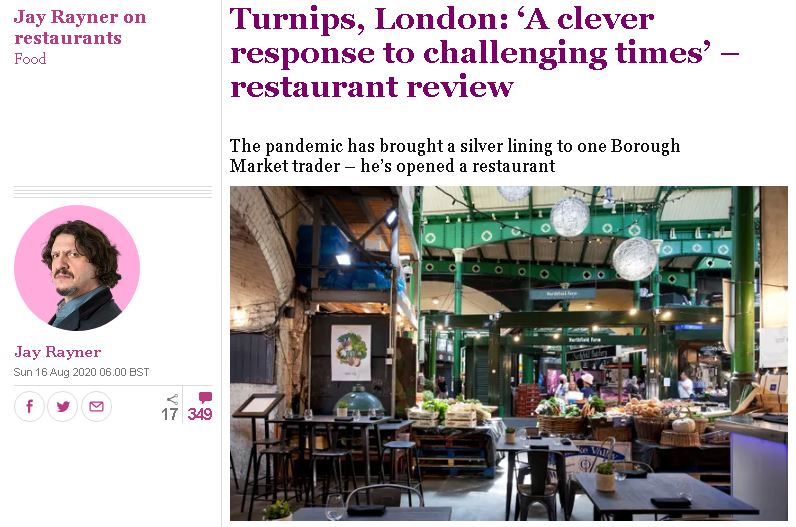 The Observer
Turnips vegetable stall in Borough Market has long been a "brazen, shameless display of what plants can do given the right encouragement… one of those places you go to gawp". During lockdown owner Fred Foster realised the dream of a lifetime and opened not just one, but two, restaurants.
Across the aisle there's a fine dining section from chef Tomas Lidakevicius ("one-time executive chef at Jason Atherton's City Social") where you're served a "five-course tasting menu for £65 a head" by "recruits from the grander of London's still-sleeping restaurants, who are clearly delighted to be working". It's "designed to show off the produce at hand to its best advantage, with flourish and bravado".
Jay Rayner visited the other restaurant; every day once the stall has closed, the space is transformed with the help of black cloths and a few tables in to a small plates restaurant, with a kitchen staff of one, a "young Scot with killer hair, also formerly from City Social, called Scott Murray, who works minor miracles with the most minimal of kit".
From the "short menu of dishes priced at between £5 and £9", Jay sampled a "rough-hewn, punchy hummus" with fresh veggies, " long rectangles of bread which have been deep-fried to a shattering, come-hither golden, alongside an airy, whipped and still warm sauce of cheddar and garlic", bruschetta "piled with a sea-green pesto made with cavolo nero" and a baked stuffed Provençal courgette.
"Very pretty" croquettas made from sweet potato and lentils were both " extravagantly moreish" and actually "Moorish" and the fish balls gave Jay a "semi-Proustian" moment, reminding him of the " short-lived Saturday job" he had as a child. Only two dishes "miss the mark", an undercooked pork belly and a sweet-sour caramelised cauliflower that was "just a little wan and uninteresting".
The sole dessert ("a pleasing mess of chia seeds, in a coconut milk pudding with diced and puréed mango")was "like so much here, a reminder of the lovely things they sell at Turnips". He also persuaded the chef to bring him a dessert (an "extremely pleasing compendium of chocolate and cherries ") from the tasting menu section.
There is "something lovely about what they're doing here. Borough Market can't quite be itself at the moment. Nowhere can… this feels like a clever response to these challenging circumstances."
*****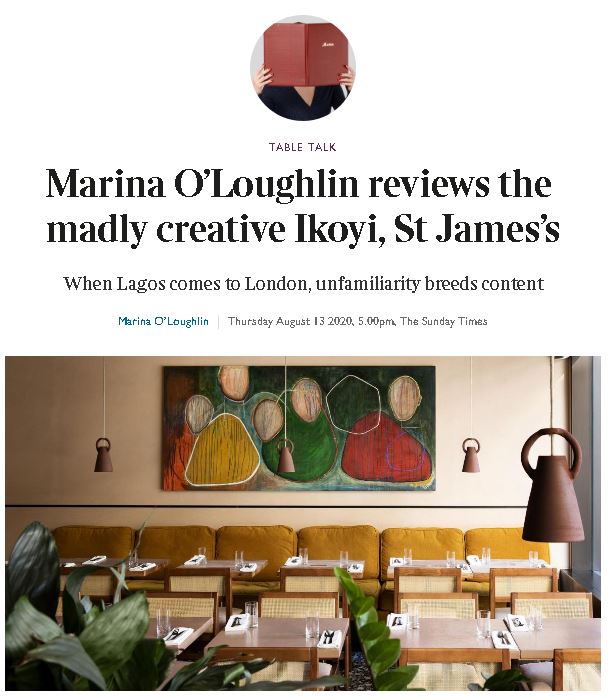 The Sunday Times
After her trip to France last week, Marina O'Loughlin was in West Africa this week. Except she wasn't really, just at Ikoyi off Regent Street, the result of Jereny Chan's "madly creative vision" that bemused most guests when it first opened.
The menu has been "recently tweaked" to pivot towards "a focus on comfort and familiarity", apparently. This translates as "fried chicken, beef rib suya (a riff on a popular west African street food of spice and peanut powder-crusted barbecued meat) and frill-free plantain".
That plantain tasted miles away from frill-free, however – "a bite into one, the palate flooding with its fragrant fudginess, and it's obvious Chan is still playing with flavours, here ginger and kombu (kelp) in a dish that dances smartly between sweet and savoury".
"It's impossible to parse everything we eat. The dishes can taste quite dramatically unusual: resinous and insistent, with musky notes here, floral there… But each mouthful is a trip."
"Inevitably there's the continent's beloved jollof rice, a controversial dish with as many recipes as there are regions, neighbourhoods, households. This one… is a sensory overload that manages to screech on the brakes seconds before hitting overkill." Just don't' mention the #jollofwars
Ikoyi "isn't really an African restaurant (though the clientele is diverse and the room, even during the current fearful climate, is packed). Nor does it pretend to be." It is, however, "always intriguing, often genuinely thrilling", its menu "a captivating form of fusion" ("a word frequently shorthand for "international expensive"").
*****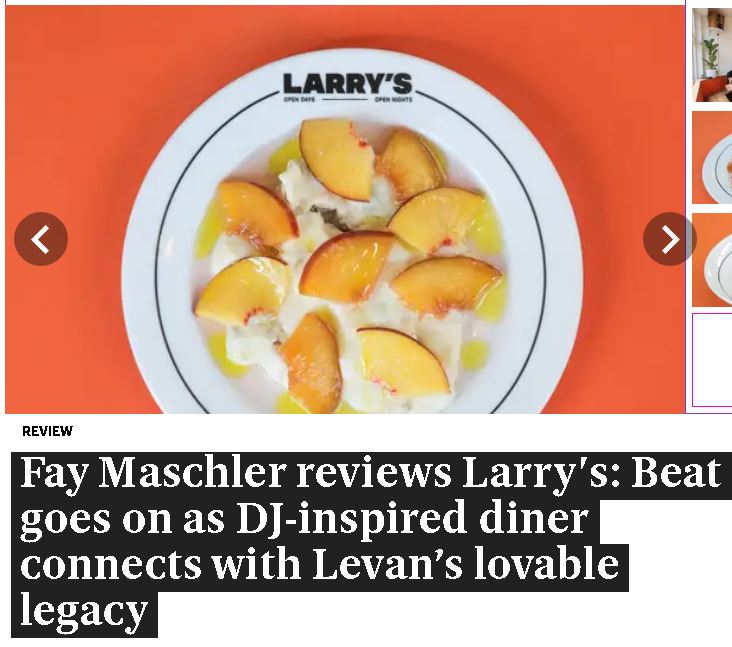 The Evening Standard
Fay Maschler this week voyaged to Peckham and the new venture from the (and next door to) Levan team. Larry's is inspired "by the corner bars, diners and delis of New York" (and named in homage to 70s NYC DJ Larry Levan, as was the original restaurant, and also – fun fact – the now-closed Paradise Garage in Bethnal Green).
The decor "has the air of a child's reception classroom but with reclaimed emerald green Eames chairs that clash nicely with tables laminated in bright orange"; menus are displayed in lightboxes ("which, as well as being evocative, admirably suits these distancing times") and staff are "incredibly genial".
Food -wise, Fay described "a slowish start" with potato latkes of "chilly stodginess" that "lack enough schmaltz in both senses of the word", but "'nduja focaccia revs up momentum". Main courses were all enlivened by "exotic beats" and desserts by the "gifted notion" of pairing Gorgonzola with nectarines.
*****
Fay's regular week in food page included a home-cook kit from Kricket ("Keralan Fried Chicken Naan Wrap"), a gossipy lunch at Fischer's and roast chicken at The Gunton Arms in Norfolk
The Standard has published a list of restaurants offering the best Eat Out to Help Out deals in August, as well as the numerous other promotion and deals available to get punters back into restaurants.
The pedestrianisation of Soho ("17 streets across the district are now temporarily car free") has proved a success, with 90% of dining establishments re-opening; "restaurants themselves have managed to marshall the barriers to ensure cars keep clear of the roads, burdening the cost themselves", and extending al fresco dining areas.
*****
David Ellis in The Evening Standard reported on the soft opening (17 August, 25% off until 1 September) of Rondo at The Hoxton Holborn, a project of "two former St. John alumni… reunited almost 17 years after they met to open… a brand new all-day restaurant". Restuarateur (and former St John bartender) Will Lander and chef Chris Gillard have teamed up to "create exactly the type of restaurant we ourselves love going to". Rondo will focus on "modern British cooking using high-quality, seasonal suppliers".
More St John news; a branch of the bakery will feature in the new Boulevard Market opening in Islington Square on September 4 (Friday – Sunday until October 18, islingtonsquare.com)
*****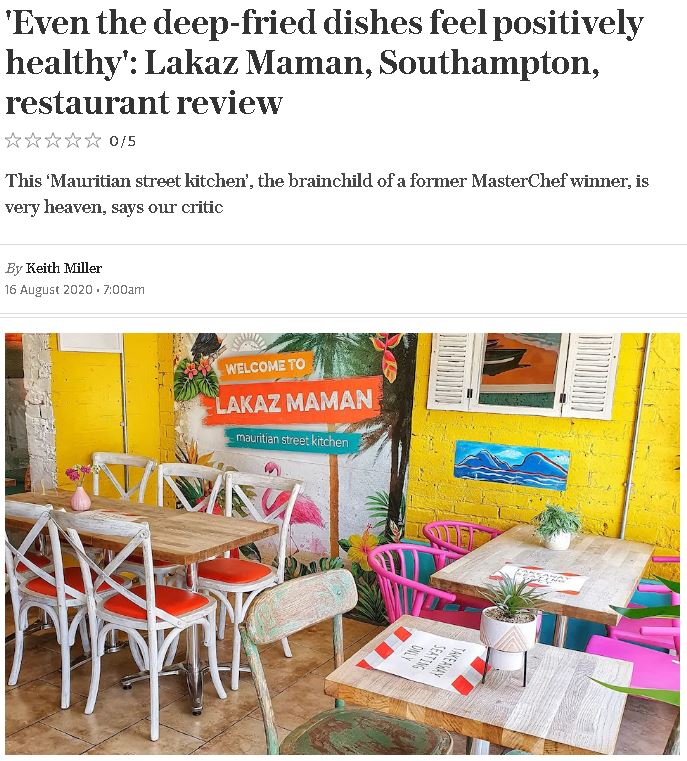 The Telegraph
Keith Miller was in Southampton, the first national reviewer we can remember to actually visit Lakaz Maman, the debut restaurant from MasterChef winner Shelina Permalloo. Her Mauritian street food has been delighting the regulars for several years now, with consistent raves in our survey.
"After six months of essentially living out the same day over and over again, the idea of Lakaz Maman, with its joyful colour scheme, shack-attack decor (driftwood, storm lanterns, toucans) and larger-than-life menu, looked like very heaven to me."
Dishes from brunch to burgers via "curries and rougailles" are "more street-foody than the chimerical beauties" offered up on MasterChef, and "there are many veggie and vegan dishes, not all of them involving jackfruit".
"Everything we had, we loved: the salad, little battered cauliflower florets, spicy mini-cakes called gato piment, a mellow coconut-creamy fish curry".
Here, "spicing is almost diffident compared with India; even the deep-fried dishes feel positively healthy… sweetness and acidity come from lashings of fruit… applied either directly… or via some fantastic sauces (which are available to buy)". It was "intriguing to note parallels with Caribbean food (dumplings, curry with roti, plenty of chili) given that the Caribbean is, by any reckoning, a fair schlep from Mauritius".
"Even if we weren't still under wartime rules and striving to be extra-nice about everyone, I'd happily recommend Lakaz Maman. It's full of personality and charm, and the food is vivid and exuberant." Keith encourages visitors to support Lakaz Maman, "not least because they had to put their reopening back after a robbery in July".
*****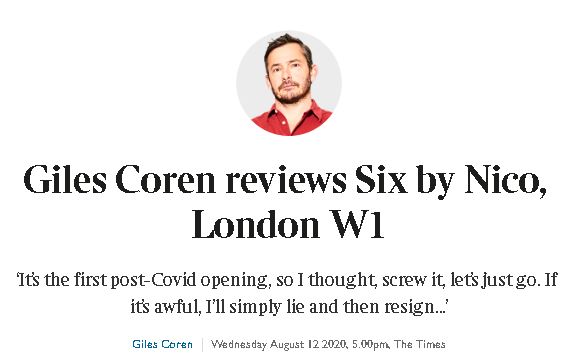 The Times
Giles Coren's column this week was a long ramble about how his meals are paid for, and how he never reads restaurant press releases, having been told not to by a restaurant PR many moons ago.
But then he started feeling for the PR people having nothing to do right now, so he called them up and asked for somewhere new to visit. They mostly drew a blank, but one took him to the new London branch of Six By Nico, which they believed was "almost certainly the first new restaurant opening of the post-Covid era". (He certainly wasn't the first reviewer, as ever, Fay Maschler of The Evening Standard got there over a week before him.)
The PR team weren't keen on a bad review, so he promised that "if it's awful I'll simply lie and then resign". Luckily for his job, he liked it, despite not really liking tasting menus ("They make me feel trapped. Held somewhat hostage.") and also not understanding how a restaurant can start in Glasgow and branch out towards London ("Wrong direction of travel.").
Or at least, we presume he liked it – if he lied and as a result is not in The Times next week, we'll print a retraction. For now, we'll assume that his opinion is that Six by Nico London really is "great. The Scottish-Italian chef, Nico Simeone, whose place this is, can really cook. Or whoever is cooking for him can. And the pricing principle brought in from the boondocks is very winning."
"This menu is called "the Chippie" and is a paean to Nico's Glasgow heritage. There is a fair bit of autobiographical menu-making about at the moment (Tom Aikens' Muse was featured here quite recently) and a lot of it is a little bit silly, but this is good fun and great eating."
The interior ("that we didn't sit in") was "chic and spacious and the service from a black-masked Glaswegian alumna of the original restaurant was attentive and jolly"; he and the PR sat outside "looking down the length of ghost-like, empty Charlotte Street – what is wrong with people? What are they afraid of?" (7.67/10)
*****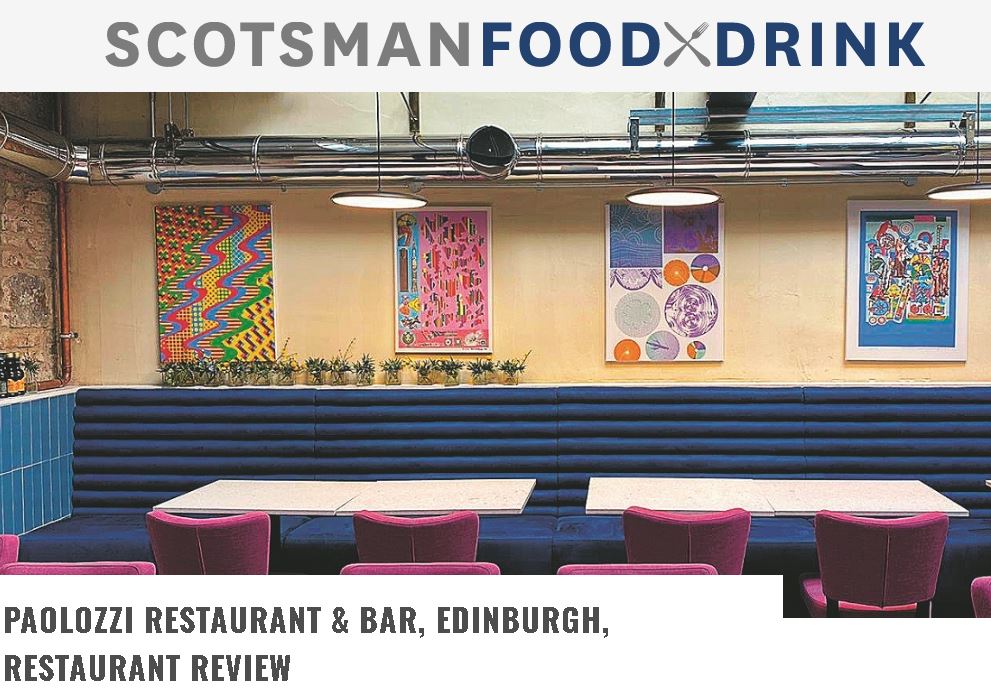 The Scotsman
"I feel like I am now re-entering civilisation, one pizza and chocolate mousse at a time."
For her first real bricks-and-mortar review since the end of lockdown, Gaby Soutar was at the colourful Paolozzi, which debuted just a week before lockdown, switching to home delivery and collections. It's a "partnership between Edinburgh Beer Factory, who make Paolozzi Lager, and restaurateur Gino Stornaiuolo, who also owns Nonna's Kitchen at Morningside".
The space has "prints on the walls and an industrial-looking mezzanine area" – "Eduardo would have been very into the futuristic look" – and all the required Covid prevention measures. ("You couldn't feel safer if you were swaddled in cotton wool and bubble wrap.")
Starters of arancini and mussels were "homely, reminiscent of the heart-coddling grub at Nonna's". Her pizza patate salsiccia was "super filling" and the spaghetti aglio oglio dish was "a tangle of chilli heat, with chunks of walnut"; a "carb-loading winner of a dinner". Dessert, as mentioned above, was " a thick, slick chocolate and orange mousse, its bubbly sweetness tempered by a blob of bitter orangey compote". (75%)
And also…
Ironically for a week which ended with renewed quarantine for anyone visiting France from the UK, The Financial Times reviewed Domaine du Météore in Cabrerolles, a French restaurant situated in a meteor crater, offering "stunning views, food and wine"; "the scene was breathtaking".
*****
The Manchester Evening News listed restaurants going above and beyond the Eat Out to Help Out scheme, by offering bigger discounts or extending the deal to other days of the week.
*****
Recent News from Harden's