Harden's weekly update of where the critics are eating, recommending and avoiding, for the week ending 15 December 2019.
This week's Christmas article / 'best of the year' round-up came from Nicholas Lander in The Financial Times, who gave us his list of favourites ("in 2020, restaurateurs must offer the hospitality many of us crave").
---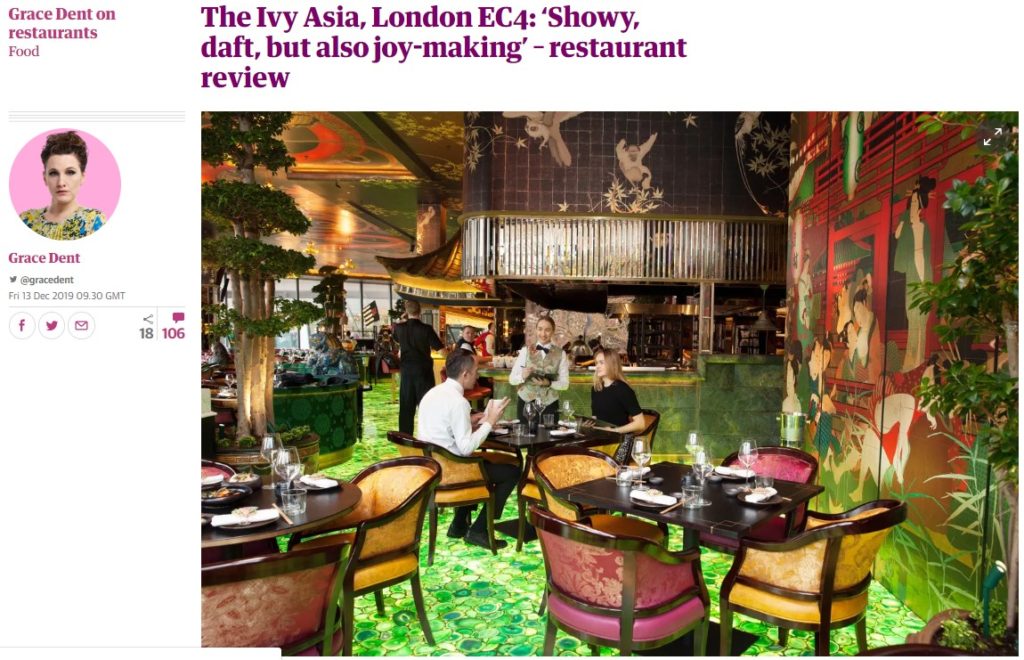 The Ivy, "once so headily glamorous and très exclusive, has spawned babies from Edinburgh to Bath". Grace Dent for The Guardian visited the newest branch, an unexpected foray into Asian food. The first was in Manchester, and the London branch opened in the former Jamie Oliver restaurant Barbecoa recently.
Most of The Ivy's spin-offs are "pleasant, dependable brasseries… not roaringly different from a Côte"; The Ivy Asia – with its "Shrek-green, bubbling Vesuvius glass floor and bowls of Mongolian cheese" is "ostentatious, incongruous, showy and daft". It's "got a candyfloss-pink glass stairway. And lifesized models of samurai warriors by the urinals in the gents".
"Eating here requires the same mindset as when watching a Jason Statham film: thinking is not going to help. Just enjoy the spectacle." Don't, for example, wonder which part of Asia (all 44,579,000 km2 of it) your food is from.
Eating on a quiet, half-empty Sunday, Grace was served by legions of chefs, managers and waiters, and yet "service was hysterically slow". When it arrived, though, the food was "fairly decent". "Soft-shell crab bang bang salad had enough peanut, sesame and fresh crustacean to make it a star of the show." But everything here comes with a price – "the large dishes whisked us off to whopping bill land, coming in mostly at between £25 and £48 a pop".
"Relax your brain; enjoy the glacial, emerald floor. No one can say, in difficult times, that The Ivy group saved its skin by being boring." (22/30)
---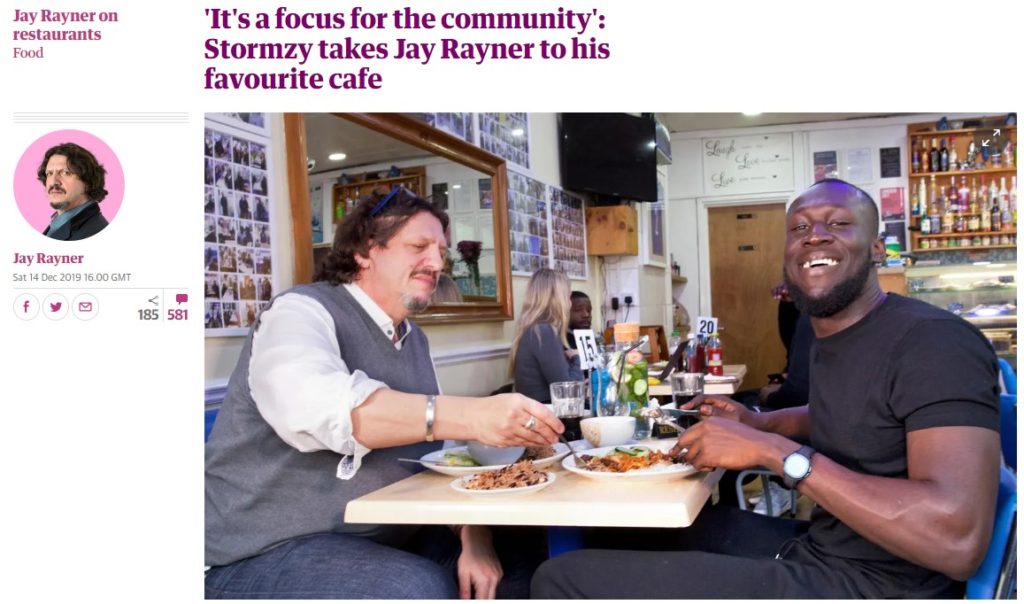 Not a standard review this week: Jay Rayner for The Observer went for a meal with Stormzy (there's sentence we never thought we'd write) at his favourite café in South Norwood – apparently the Caribbean breakfast "is a classic. Perfect for hangovers". The man formerly known as Micheal Owuo was guest editing the magazine for the day.
Places like this are "a focus for community; a way of reasserting cultural identity, one heaving plateful of the familiar at a time". They are also "an extension of the domestic, which means they can be unfairly overlooked and underestimated".
Drinking his first-ever glass of Mighty Malt (it is dark, and batters you around the head with huge caramel flavours. It's like cola, in knuckle dusters), Jay let Stormzy over-order, and enjoyed "fingers of salt fish fritter, both crisp and soft", "glossy oxtail stew", curry goat ("never goat curry") with its "a powerful kick of allspice and Scotch bonnet" and jerk chicken in pasta.
---
Tom Parker Bowles for The Mail on Sunday saved the best till (almost) last this year. Not only has he reviewed a place before any of the other national critics, but it was his first five-star review in months.
Chef Merlin Labron-Johnson cooked at Clipstone and is "one hell of a chef". His new Somerset restaurant is a tiny farm-to-fork venue, but it's not "shoved down one's throat" nor is there "pious lectures on saving the Earth. Just lovely service, and food that truly thrills".
"The room is artily discreet, with elegant teal walls, butcher's tiles, old beams and bare patches where the original stone has been left alone."
Tom ate a selection of starters, including "intense" duck broth, "beautifully baked" financiers and home-cured "alabaster" lardo. "Labron-Johnson knows the power of texture, and uses those contrasts again and again." Jerusalem artichoke velouté was "one hell of a dish". His main course was "a just-pink mallard breast, wrapped in cabbage, good porky sausage meat and joyously burnished puff pastry. Ye gods, it's a masterpiece, highly technical, classically French yet, somehow, completely Labron-Johnson".
"The paint might still be wet on the front door" but Osip has "hit the ground running" and is already "booked solid" into the new year. "Seasonable and sustainable it may be, but smug it ain't. Somerset has a brand new star." (*****)
---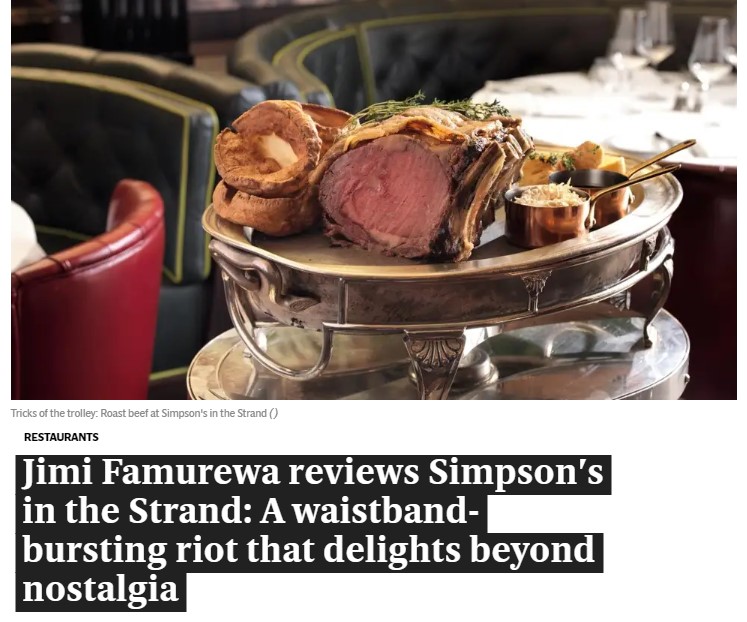 Jimi Famurewa for The Evening Standard is on a nostalgia trip; last week he was at Meson don Felipe, and this week he was at Simpson's in the Strand (with his mum, bless him), the "wood-panelled, justifiably legendary institution that has been happily inducing beef-dazed postprandial naps for 191 years" (although he's actually never been before).
"It doesn't really get more Christmassy, reliable and comforting than Simpson's in the Strand."
Devilled eggs to start may have been old-fashioned, but were brought up to date by "decisively spiced mayonnaise… the double crunch of chicken skin and a scrim of melba toast". And then (for his mum) came the "fabled antique carving trolley" which "did not disappoint" with "tender and flavoursome beef". Jimi's choice of "hefty, luscious" beef Wellington "was no slouch, either".
"Even as an enjoyably daft, mint chocolate baked Alaska was set ablaze at the table", they couldn't stop talking about the beef. Not even the £160 bill could dampen their enthusiasm.
"It was completely worth it… for the exceptional cooking, worth it for the thrumming, unstuffy atmosphere and worth it for that glow-giving, Yuletide sense of occasion." (8/10)
---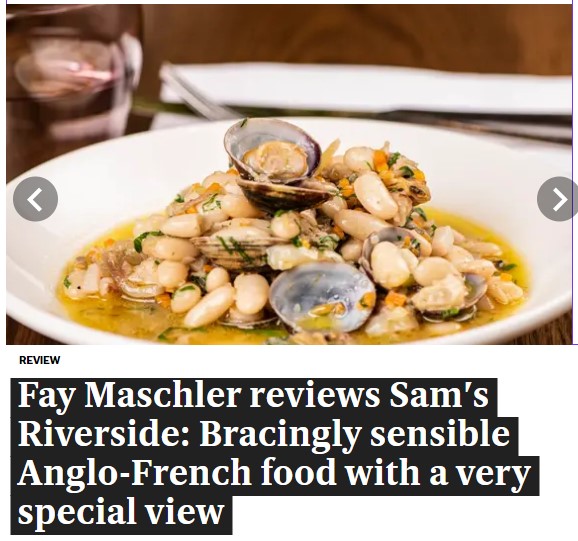 Fay Maschler for The Evening Standard recommends a walk along the Thames Path (maybe not all 184 miles though) before or after eating at Sam's, "in the same building as Riverside Studios, the Hammersmith arts centre happily due to reopen next month".
Sam Harrison's latest opening has chef Harvey Trollope in charge. He's "worked for John Williams at The Ritz and here has Rowley Leigh as culinary director — two of the best in the business". His "bracingly sensible Anglo-French menu sports some creative curlicues and… can with some deft footwork deliver a reasonably priced meal, one with a very special view"
Fay's dish of "clams, braised trotter, white beans" was a "mellifluous mix of meatiness" and many of the side dishes were worth a mention. "Hake with crab bisque and Beluga lentils, a recommendation from the server, proves the server right."
There were some criticisms, for the "characterless" veal dish, overly charred octopus tentacles and a Queen of Puddings that inexplicably contained fruit. (***)
---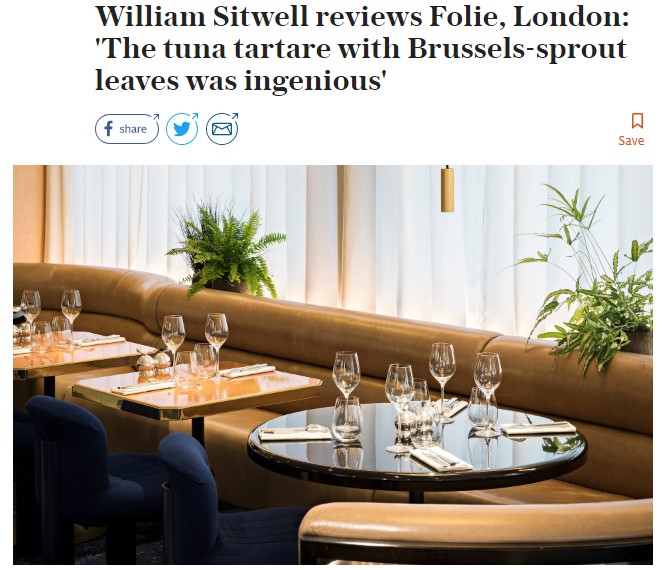 William Sitwell for The Telegraph was at Folie, a "Mayfair incursion into Soho", reaching out like a "chi-chi lifeline" to any of those suits in Soho who "can't be bothered to cross Regent Street". It's a "brave move" – not least because rumours suggest "the refit cost some £5 million, and that the young French restaurateur behind it may have a couple of years of rent liberation, but then he's locked in for 25 years, and doubtless had to stump up a chunky deposit".
It's also a "comfortable" place, with the "distinct feel of a club: of guest lists, of VIP ropes", and which was "already draped with beautiful people" on William's early-days visit.
The menu is direct from the "south of France", complete with "salty nibbles" to encourage drinking – and the cheapest Bordeaux on the list was "£45, sharp and unfriendly". Charcoal-roasted octopus was "excellent" (although paired oddly with butternut squash) and the "tuna tartare, served with Brussels-sprout leaves… was ingenious".
"Folie has atmosphere and the confident, sophisticated service of a grown-up establishment at ease with itself. Courage mon brave, and bon chance." (***1/2)
---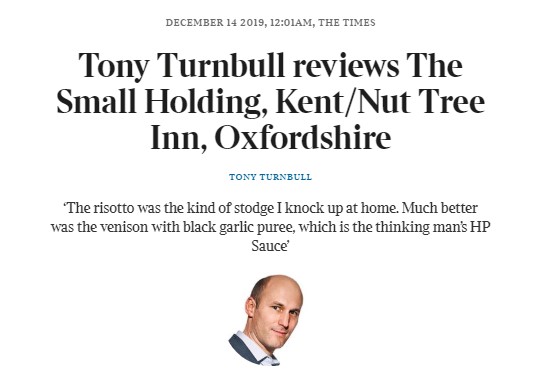 Tony Turnbull was once again standing in for Giles Coren in Saturday's Style magazine in The Times. After reading a report that pubs have "21 per cent chance of making it through the year", he decided to support two Great British Gastropubs. Even after he found out that the report was "The top 10 fictitious franchises most likely to succeed", and the pub data was based on The Winchester from Shaun of the Dead.
Carrying on regardless, the two gastropubs Tony chose are "both chef-owned and confidently priced, and they were so busy I had to take tables for the earliest hour I've eaten since I was in short trousers".
At The Small Holding, the approach is "self-sufficiency, careful sourcing, purity of intent, and an absolute focus on flavour" – dishes are listed with just three ingredients (not the "Allotment, Beards, Pickling" Tony made up – a joke he ran with throughout his review, which we'll ignore).
He and his friend chose the "nine-course Full Acre tasting menu" – "snacks of pig's head bonbons" came first. Highlights of the menu included a "deeply flavoured velouté of cauliflower", a pearly white raw scallop ("garnished with wood ants") a two "stunning" dishes of hake with home-cured bacon in a pickled walnut sauce, and venison with cabbage and chestnut. The dessert of apple, pastry, goat's cheese ice cream and brandy-flavoured crème pâtissière "quite restored my faith in deconstructed puds".
"Only a couple of dishes… stood in the way of out-and-out rhapsody" but The Small Holding is "very easy to fall in love with, for the warmth of the staff, its good intent and deft execution". (8/10)
He'd never heard of The Nut Tree Inn before, and chose it for its proximity to Bicester – "the ambitious cooking was welcome fortification for the travails ahead". They had the "friendliest of welcomes, to the cosy, low-beamed bar… and were only slightly disappointed to be led into the modern, featureless extension". Again, not all of the dishes worked, but some were "delicious" and left him no room for pudding. (7/10)
---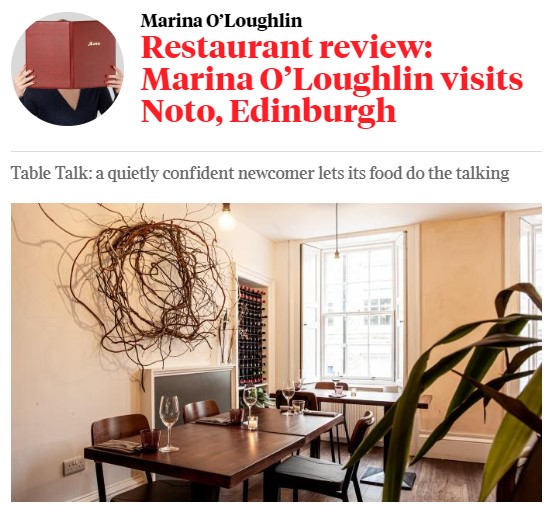 Marina O'Loughlin for The Sunday Times knew she was in for "something special" at Noto; the "almost imperceptible" design and "homemade English muffins, fat and toasty, winking at me from its Instagram feed" gave her the assurance that this was "a place that took the right things seriously".
The informal offer is "small plates of no fixed constituency" washed down with an "intriguing wine list and smart cocktails", served by "charming and equally clever people". Officially, though, they call themselves a "New York-inspired restaurant with a love for Asian cuisine".
"Whatever their thing is, they do it beautifully." Crabmeat served in a shell "brimming with butter" with local sourdough was a "knockout piece of unfussy pleasure"; the beef tartare's "mineral richness" was "given a bump via yuzu kosho".
"Chicken and waffles are gorgeously faux-trashy" and the partridge sausage roll was equally "deliciously dissolute, totally extra". It's all "stealthily clever, quietly subversive" stuff "the kind of dishes that would thrill street-food fans", but served "in a sophisticated "full service" restaurant" (but one where you can still just pop in for a ciabatta at lunch).
"Not every dish comes off as the kitchen hoped" but the pudding nails it with a fried apple pie "like the celestial version of McD's".
"Noto isn't doing anything too radical or risk-taking (other than the obvious gamble of opening a restaurant in a capital city), but gives the impression that it is…They sweat the small stuff at Noto and the result is immense."
---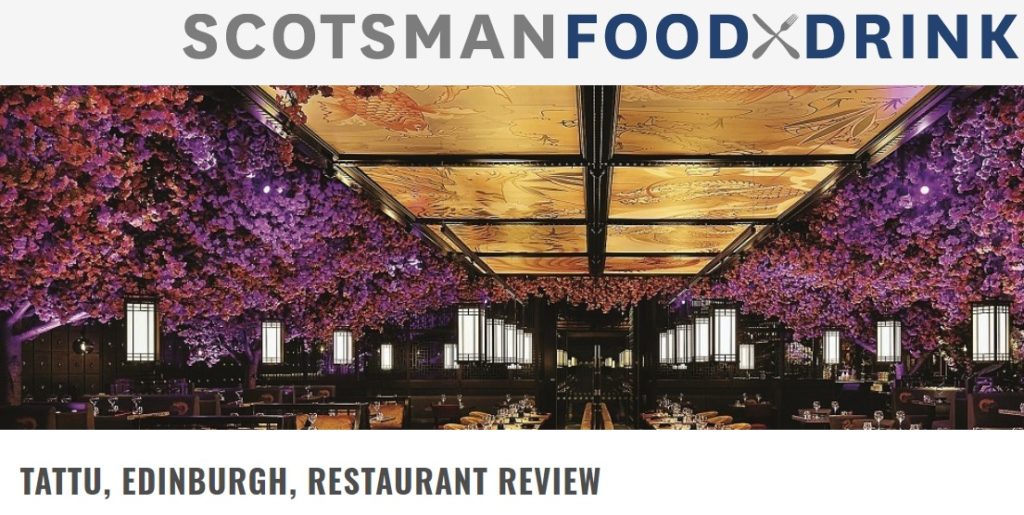 Gaby Soutar for The Scotsman visited two restaurants this week. Firstly Tattu, Edinburgh's "upmarket new launch" (from a small national chain), decorated with a "canopy of faux cherry blossoms", which make it "eminently Instagrammable" (other diners "were snapping selfies and pictures of everything, from the koi carp painting on the ceiling, to the golden Buddha en route to the toilets").
The menu is "expensive fusion", from which starters were "a mixed bag" – salmon sashizza ("a Snoop Doggy Dogg-esque portmanteau of sashimi and pizza") were enjoyable, but the chicken truffle shumai (dumplings) were "four dense bollards… topped by black fungi frisbees".
Wok-fired angry bird had as much heat as "Rod Hull's Emu", and duck egg fried rice was "was dry, with bits of spongy sausage in the mix". Cherry blossom pudding came with an embarrassingly attention-grabbing mist of dry ice.
"The food is visually fun, tastes average, but the bill was one of my biggest of the year" and she's not planning a return visit. (68%)
Le Monde, her second visit, has been around for 13 years, but a £1 million refurbishment has given this hotel restaurant "circular and marble-topped Laurent Perrier Champagne bar, another bar fringed in UFO-like blue lights, emerald velvet booths, pink neon artwork and a herringbone floor" that makes it "a cocktaily kind of place".
"They've changed the food offerings from a standard fish and chips-ish line up to small plates, with a global feel" ("still pretty safe though"). Overall it's "nice, and the grub was perfectly adequate, but this isn't really a foodie destination". (75%)
---
Recent News from Harden's