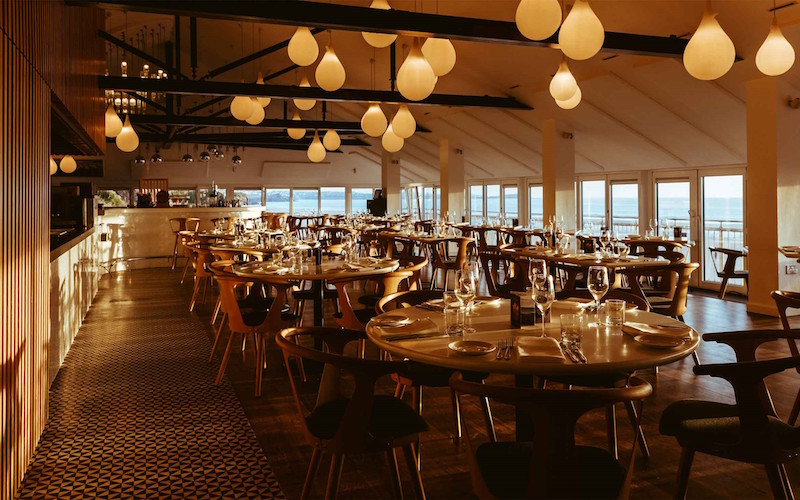 The last 'Fifteen' stemming from Jamie Oliver's 2002 TV documentay series on Channel 4 has ceased trading with immediate effect, putting 100 jobs at risk.
Although the woes of the Naked Chef's restaurant empire and closure of his Jamie's Italian chain have been well publicised over the last year, this closure is not in fact related to Oliver's finances. The restaurant, which opened in 2006, was always run semi-independently from the main Jamie Oliver Empire, using the 'Fifteen' name to promote its similar aims.
In the forthcoming Harden's Best UK Restaurants 2020 (launched next week) the restaurant scores 2/5 for food and service but 5/5 for atmosphere. For posterity's sake, the review reads:
"With the sun setting over the Atlantic, what better place to woo someone", query fans of this sleek and "relaxed" venue, with gorgeous beach vistas from its large windows. Don't book it if you're trying to score with a foodie, though – it does an OK brunch, but strike unlucky and more complex meals here can turn out to "a bit of an expensive disappointment", and that seemed somewhat more of a risk this year. Famous for its connections with Jamie Oliver, it has, in fact, always been under separate ownership, and has always been operated semi-autonomously. Now – ironically given the collapse of the TV chef's dining empire – it's the only surviving bearer of the 'Fifteen' name and the charitable mission associated with it.
In a statement on its website, the charitable Cornwall Food Foundation (CFF) said it was "deeply saddened to announce that, following an independent financial review, both the restaurant and charity will cease trading today with immediate effect. The boards have taken the necessary steps towards liquidating both companies and our nominated liquidators will communicate with creditors and all affected parties as soon as possible."
We are talking with partners to find a way for the support for people we work with to continue, including those on the Fifteen training programme and Food for Change."
Matthew Thomson, Cornwall Food Foundation, Chief Executive, said:
"This is an incredibly sad day for everyone and we will try our best to support those who have been impacted. I am profoundly sorry for the hurt, loss and distress this announcement will undoubtedly cause.
We are extremely grateful to all our loyal customers and amazing suppliers and to the partners, staff and trainees that have made Fifteen Cornwall and the Cornwall Food Foundation so special for almost 14 years."
All future bookings have been cancelled with immediate effect and any deposit for future bookings or credit related to a gift voucher for the restaurant is now under the control of the liquidators.
Anyone who has paid for either by credit card, may be able to make a claim via their credit card provider.