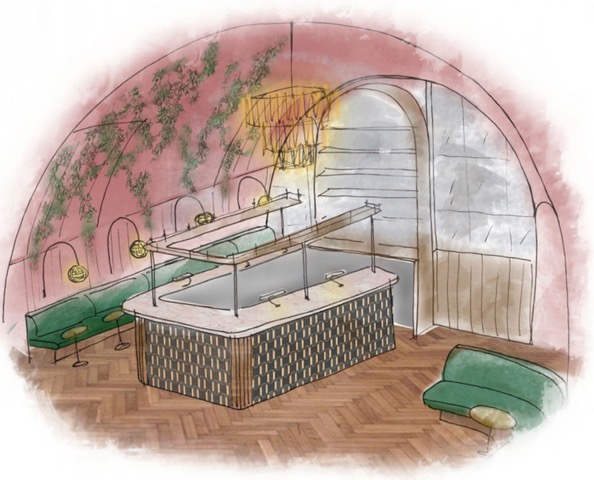 Amy Corbin and Patrick Williams, the couple behind Peckham restaurant Kudu, will open two new neighbourhood sites in early 2020.
Smokey Kudu, described as a "chic cocktail bar", will launch in January under the arches by Queens Road station. And then Little Kudu, focusing on smaller dishes and tapas, will open in March next to the original restaurant, which has been a huge hit with reporters.
Smokey Kudu will revolve around a central horseshoe bar set against a large antique mirror. Green velvet booths with red marble topped tables will seat 37 and offer table service. The drinks list will feature 15 cocktails with subtle South African influences and a few snacks such as biltong. Smokey Kudu will be open Wednesday to Sunday from January 15.
Little Kudu will be a no-reservations tapas restaurant and wine bar serving affordable modern European tapas with South African influences. With a similar design to Kudu, it will consist of 32 covers, an open plan kitchen and high, marble-topped tables.
Dishes will include potato flatbreads with smoked fresh curd or smoked mackerel mousse; whole braai (South African barbecue) fish with homemade roti and market greens; lamb belly with panko crumbs and glazed onions; cockles, ember oil, broth, sea greens and Braaibroodjies (cheese toastie).
Fellow South African Mike Shier has now taken on the head chef role at Kudu, while Eloise Dawes will head up the kitchen at Little Kudu with Patrick overseeing both kitchens as executive chef.
Recent News from Harden's