Our summary of what the national and local restaurant critics were writing about this week.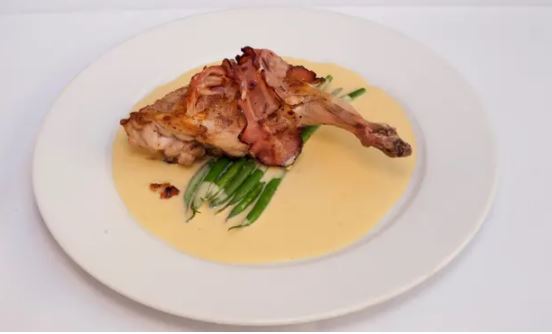 The Observer
"The joyful rebirth of chef Henry Harris's restaurant Racine."
Jay Rayner is one of the first of the critics to review Bouchon Racine; even before going, as a "huge, dribbling admirer of all the people involved and all the food they serve", he knew he was going to love it.
"I was stone cold certain in advance that the restaurant would be very good indeed and… I was proved absolutely right."
Now teamed up with Dave Strauss ("another industry veteran, with a gift for service and a beard that Zeus himself must envy") on service, Henry Harris has taken over the Three Compasses in Farringdon to revive his classical French cooking, or as Jay puts it, "the older things, done as well as they can be done".
As at the original, Bouchon Racine is "an unashamed celebration of the bourgeois, marinated in the very best of Bordeaux, fair doused in Armagnac".
*****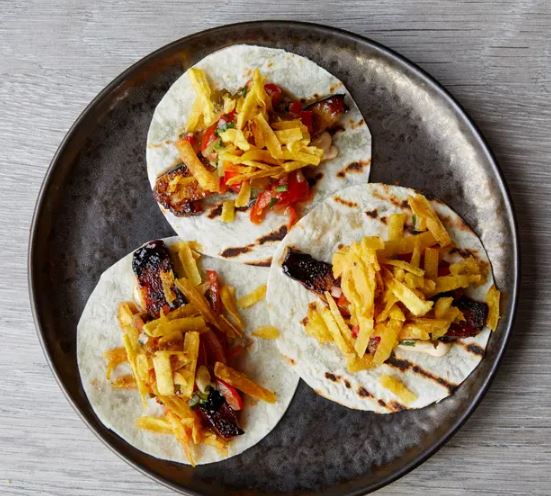 The Guardian
"Hearty, spicy, accomplished and memorable cooking."
"On a miserable Tuesday night in January", Grace Dent found herself at "hectic" Jam Delish, a "glitzy independent down an Islington back street" serving up "fake goat curry, barbecue jerk plantain and saltfish that is certainly not fish".
Following lockdown delivery, market stalls and residencies, co-founder Jordan Johnson has teamed up with "Jamie Oliver's Fifteen alumnus Nathan Collymore" ("a vibrant talent and a gamechanger for the vegan cooking scene") to serve "complex, visually lovely, yet hearty plates" alongside "a sophisticated cocktail menu".
"Good plant-based dining is about textures, contrasts, balance, plating and, above all, making natural items such as lentils, plantains and oyster mushrooms the stars of the show."
*****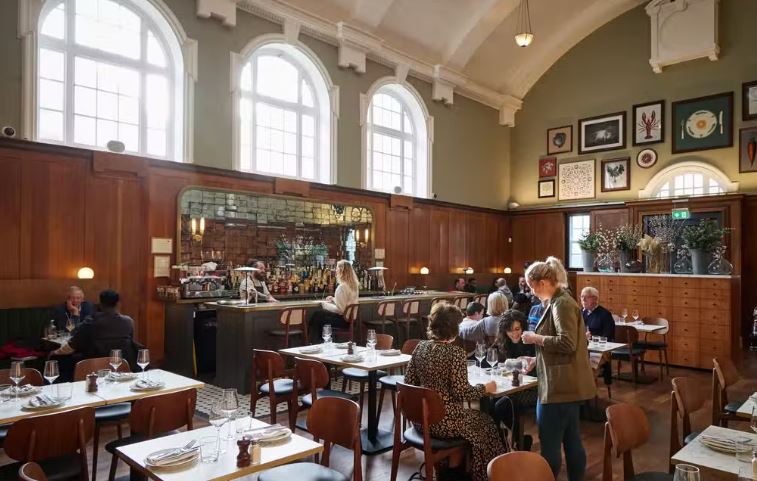 The Evening Standard
Jimi Famurewa ventured to Bromley to try out "new all-day spot" Dorothy & Marshall in the "handsomely restored" Old Town Hall, all "glistening marble, fluted columns" and "triple-height, barrel-vaulted ceilings".
It's a "timely, well-intentioned attempt to bring some hearty affordable luxury and Zone 1 swagger to the chain-swamped suburbs", run "with an eager friendliness by a likeable team".
Sadly, Jimi's lunch there "was one of unforced errors, imbalanced flavours and a haunting lack of options" from the "oddly thin" menu.
"I genuinely hope Dorothy and Marshall will improve as it beds in." (**)
*****
On the back of the news of Julie's closure, David Ellis implores readers to support their favourite restaurants: "if you love somewhere, go".
David also reported on the London restaurants highlighted in the launch of our Best UK Restaurants 2023 – cheers, David!
*****
Also in The Standard, a round-up of the best restaurants for celebrating Burns Night on January 25th.
*****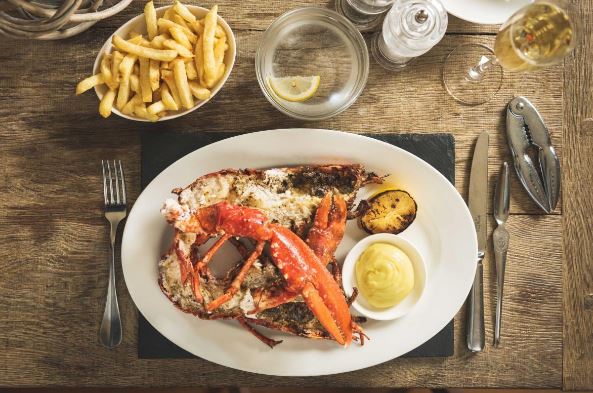 The Times
Visiting Padstow between Christmas and New Year, Giles Coren took nine family members to eat in a private room at St Petroc's Bistro, housed in "an ancient and rambling stone building said to be the fifth oldest in town".
"One of the great benefits of treating nine members of your family to lunch being the opportunity to really get across the menu. Except they all ordered the moules marinière." Eight of them ordered the burger next.
With ice cream for dessert on the quay at Padstow, he even managed to keep to his £40-a-head budget, which was impressive with a £55 bottle of Saint-Émilion in the mix.
*****
The Telegraph
William Sitwell had a disappointing visit to The Bailiwick in Englefield Green, on the edge of Windsor Great Park; it "yearns for gastropub glory wth smartly dressed and excellent serving staff" but "misses the mark" with odd dishes and poor cooking. (**)
Aiming for a new audience, or just keeping up with the times, there were two articles in The Telegraph this week rating Aldi against readers' favourite Waitrose; William wrote one of the articles, having "never set foot" in an Aldi before, and was impressed with the range of fruit and veg (less so the cheese selection, "an insult to our great cheese-making nation") as well as the significant savings. Ultimately, though, he'll stick with Waitrose for the baby courgettes and "smiling service".
A 'big shop taste test' by Lisa Markwell also came out raving for Aldi.
*****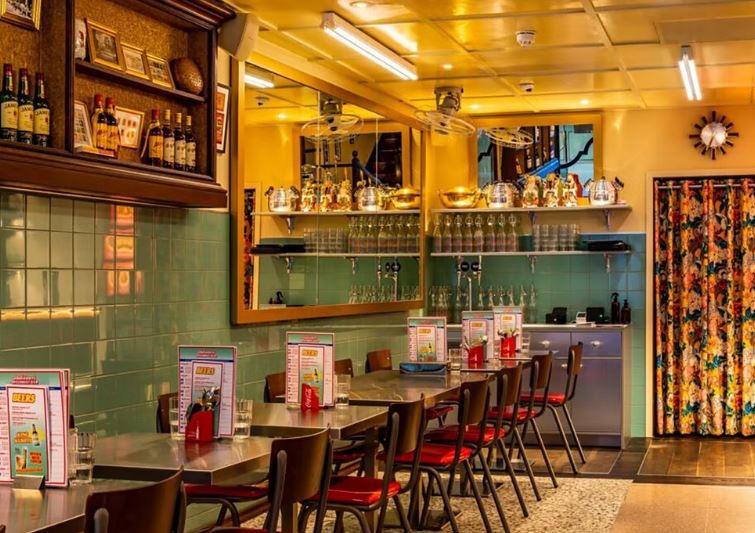 The Independent
Hannah Twiggs reviewed Speedboat Bar, which is steadily gaining more attention from national reviewers, several months after opening. She was "extremely hungover" and the "sweet, salty and sour" food was the "perfect antidote".
Luke Farrell's fourth opening in a year (with JKS Restaurants) serves up the same unapologetically "sinus-searing, lava-hot food" as its siblings – "fast, furious and not for the faint of heart is the name of the game".
It's a "great fun" place of "clashing but oddly harmonious" decor, with a "concise and simple" menu (plus a "gargantuan" set menu) and an "eclectic drinks menu featuring cocktails anyone who went on a gap yah will recognise, such as beer slushies".
"At Speedboat Bar, Farrell has built on what he started in 2021, but with bolder flavours that pack bigger punches. Couple that with good vibes and great cocktails, and you've got a great night out…. or, indeed, a hangover remedy."
*****
The Scotsman
Rosalind Erskine popped into a new "insta-friendly" neighbourhood deli with dining near the Botanic Gardens; Cuku is also "dog-friendly" and has "become a busy spot for brunch", offering small plates (starter size), large plates (mains) and sharing boards. (13/20)
Meanwhile, Gaby Soutar reviewed Singapore Coffee House, a tiny, eight-seat kopitiam from "half Singaporean chef patron, Dylan Qureshi-Smith, who has experience at restaurants including Six by Nico". Her breakfast of kaya toast, "which showcases the Indian, Chinese, Malaysian and Indonesian influences" of the cuisine, was "definitely worth getting out of bed for… my daily muesli is going to seem depressingly dull in comparison". (17/20)
*****
And also…
Tim Hayward in The FT Magazine reviewed the "breathtaking" St John, Marylebone: "Can the cult restaurant's new branch pass the rarebit test? Of course it can."
*****
Marina O'Loughlin is still busy reviewing amazing-looking meals and posting them on her Instagram, including a big-round-up this week, a highlight being her one-line review of Notting Hill newcomer Dorian: "superb, simple food…  but Christ the bellowing noise levels from the capital's most self–obsessed punters would make your ears bleed".
*****
The Bristol Post reported on several new openings: vegan pasta restaurant Pastan, opening in the city centre this week; an Indian takeaway outlet opening a 100% vegan Indian restaurant in Bishopston; and family-owned restaurant Aqua has announced it will be opening a new 'Grand Café' concept in Clifton.
*****
Manchester Evening News reported on the two Manchester restaurants listed in the Top 100 of our Best UK Restaurants 2023.
*****
Birmingham Mail celebrated that the city has "the most restaurants outside London featured in Harden's Top 100 in the UK".
*****
The Liverpool Echo also featured the city's entries in the Top 100, and reported on upcoming new openings, which include Hawksmoor and Hooters!
*****