Here is our weekly round-up of what the national and local restaurant critics are writing about, for the week ending 10 January 2021; the first few round-ups of the year are often short due to reviews being replaced by articles on Veganuary and Dry January, but reviews are especially thin this year with so many restaurants closed.
England is now in a new national lockdown, with restaurants and pubs closed (many are operating a takeaway or delivery service): https://www.gov.uk/find-coronavirus-local-restrictions.
All of Wales is at alert level 4, with similar restrictions to full lockdown: https://gov.wales/coronavirus-regulations-guidance#section-48600
Mainland Scotland is also in a national lockdown https://www.gov.scot/publications/coronavirus-covid-19-protection-levels/
Northern Ireland is under strict restrictions until 6 February: https://www.nidirect.gov.uk/articles/coronavirus-covid-19-regulations-guidance-what-restrictions-mean-you#toc-9
Please continue to ordering takeaways, DIY kits and deliveries from your favourite restaurants if you can; the restaurant industry and everyone involved in it need our support in what is usually their busiest time.
*****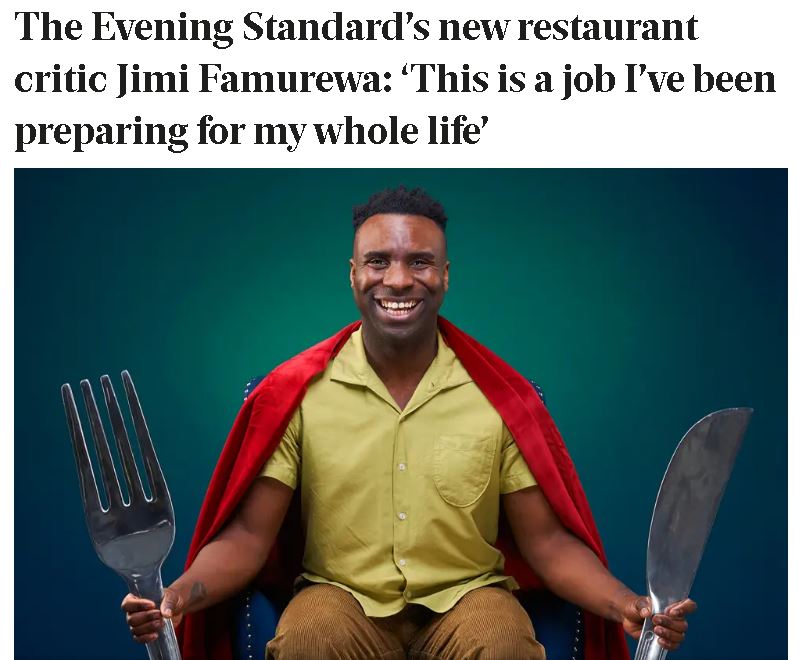 The Evening Standard
A huge welcome to the paper's new chief restaurant critic, Jimi Famurewa!
"This is a job I've been preparing for almost all my life."
Jimi described his diner lunch "inside the modish fever dream of Mourad Mazouz's Mo Diner" as not only his last dine-in experience of the 2020, but also (incredibly) the first time he met his predecessor Fay Maschler, "following five years of occasional email correspondence and social near-misses".
Jimi and Fay's meal was "an extremely fun, two-hour whirl of unprintable gossip, generously dispensed wisdom and a shared portion of crispy potatoes, hit with a zinging aerial bombardment of mojo verde and saffron aioli".
Describing the journey to his new job, Jimi covered his "British-Nigerian upbringing" by his mother, a "formidable, tireless little woman" who "is one of the most innately talented cooks I know", and who raised him and his brothers on "a kind of freeform Anglo-African fusion", with trips to markets, food stands and family parties, but precious few actual restaurants. This gave him space "to find my own way; to discover what I liked unencumbered by any parental baggage and become, in essence, a self-taught restaurant obsessive".
"I see how lucky I was to grow up in an environment where food represented something sacred, free and joyful: a time for generosity, cultural celebration and dexterously seasoned magic coaxed from unpromising raw ingredients."
He also touched on "the significance of taking up this exalted space as a black man" ("my heritage is just one element of what shapes my response to any given restaurant"), the pandemic ("to be handed this dream job at a time when Londoners are dying and our restaurants are mortally imperilled… feels like the stuff of a fairytale curse"), his food memories of 2020 and his hopes for the future of London's restaurants. "One of the more heartening features of a bleak, largely restaurantless 2020 was that it made us truly cherish what we had — and also encouraged a sleeves-up innovation and creativity in both restaurateurs and diners that bordered on compulsion."
"My hope, ultimately, is to emulate the knowledgeable precision, curiosity, courage and sense of fun that always struck me as the defining characteristics of Fay's reviews; to continue to reflect the thrumming, surprising, truly diverse dining city that I love and am desperate to see back on its feet."
*****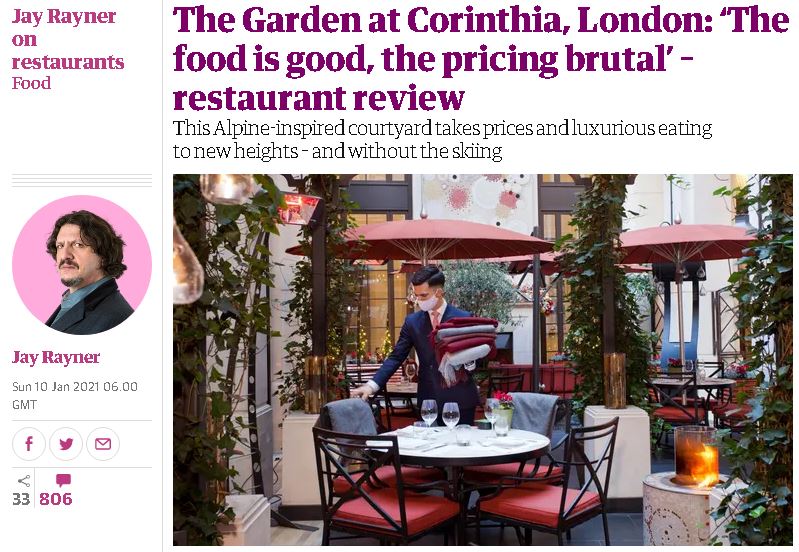 The Observer
Jay Rayner visited The Garden at Corinthia on a chilly night a few days before London entered Tier 3 last year, and described it as "a spendy après-ski experience, only without the tiresome bother of any skiing" with "Alpine cooking by way of Mayfair, at Mayfair prices".
The Garden occupies "a deep, curving gash of a courtyard in the middle of the building, strung with evergreen garlands intertwined with fairy lights", decorated with "huge patio umbrellas" and "a marble fireplace" – "clearly the prime spot in this brave new alfresco world".
His dishes were was mostly "belters", marred by one "poor dish", the starter of rosti which was "undercooked" and "flabby", and made more so by the luxury toppings ("You understand the depths of my struggle. My caviar is simply ruining my rosti.")
Main courses are "designed to help you slip gently into a polite stupor, until rescue comes" – venison stew, fish pie and octopus cassoulet. There's a £25 mac 'n' cheese for two , but it's "mac 'n' cheese that's been to Swiss finishing school", with lobster or truffles ("luscious and comforting, rich and luxurious, intense and compelling")
"I am not for a moment suggesting you should actually go to the Garden for dinner, should Covid-19 restrictions allow. Heavens no. Sure, most of the food is, of its type, very good indeed. The staff are delightful in the face of a short straw, gallantly pulled. And it's weirdly fun to eat outside when it's 4C. But the pricing redefines brutal…"
*****
The Mail on Sunday
In The Mail's You magazine, Tom Parker Bowles reviewed Kol, the new Mexican from "chef patron Santiago Lastra [who] headed up René Redzepi's Noma Mexico in Tulum, Mexico in 2017". Everything here seems unsurprisingly "Noma-esque", from the "open, central kitchen, where chefs toil with a quiet intensity" to the "bespoke uniforms, in tasteful shades of beige and umber" and the "specially designed tableware".
"Mexican food, in terms of depth, technique and regional breadth, is one of the world's greats" – here, British ingredients (like quince) are used to replaced traditional Miexican ones, "but everything makes sound culinary sense, and his cooking is miles removed from the prissy, often soulless offerings of the tweezer obsessed. Flavours whoop, swagger and holler, Mexican to their core."
"London is, at long last, getting a taste of Mexico's eternal allure."
In the same article, wine expert Olly Smith predicts that Muscadet, canned wines, urban vineyards and Bulgarian wines are going to be the wine trends for 2021.
*****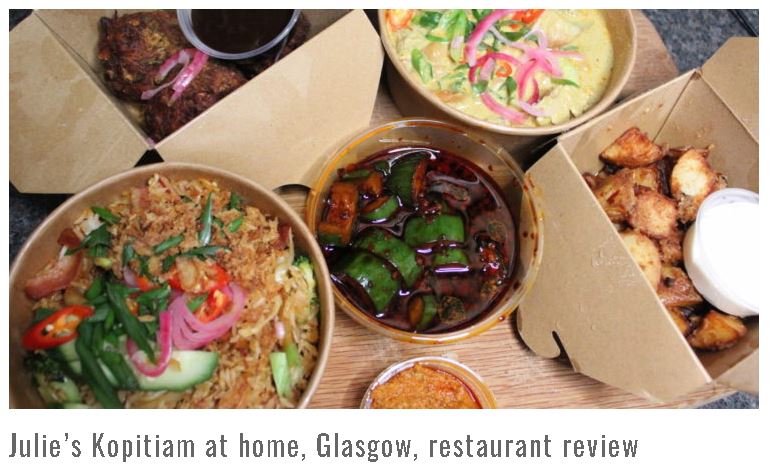 The Scotsman
Rosalind Erskine reviewed the 'click and collect' meal from Julie's Kopitiam in Glasgow, ordering a selection of their Malay and south Asian dishes to satisfy her post-Christmas craving for "something that's the polar opposite of roast turkey, roast potatoes and huge, heaped leftover sandwiches".
Starters were enriched by tamarind chutney and the curries were "bowl food at its best". "Like putting on a favourite woolly jumper, this is the type of food that seems to be made for cold winter nights, bringing an air of warmer climes and a comfort that beats leftover turkey sandwiches."
*****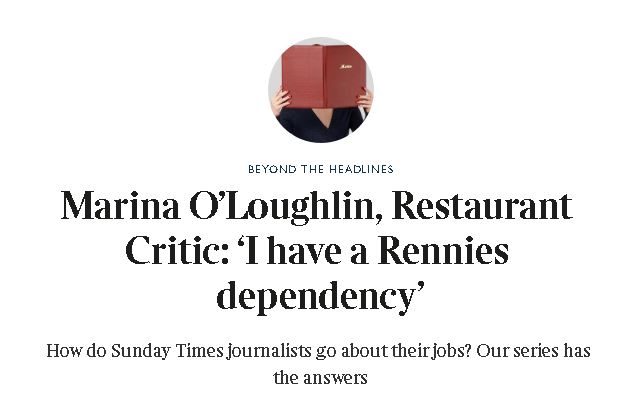 The Sunday Times
No review, but an interesting article featuring Marina O'Loughlin, in a series on how Times journalists go about their jobs. She believes the most important skills for a restaurant critic include being able to "tell an interesting story while knowing what they're talking about" alongside "a love of the subject — or in my case, all-consuming passion" (she adds that the latter "appears not to be mandatory" in a possible dig at some of her industry peers).
As you'd expect, there's no 'typical day' – sometimes she's researching all day, other days she has "three restaurants in a row, and a quantity of Rennies". And, like most other critics, it's not the reviews of the PR-splashed mega-money places she enjoys most – "sometimes you hear mutterings and get a sixth sense.. these finds are the ones that give me the most satisfaction".
Which article is she most proud of? "The one I submitted last. But I'd be lying if I said I didn't enjoy the eviscerations of awful places that truly deserved it. Karma, babez."
"I love restaurants. Twenty years of being paid to eat in them hasn't dented this love. Being in a restaurant is still what I'd rather be doing rather than anything else: the thrill of opening the menu for the first time. (I rarely look beforehand.) I will never stop appreciating the immense privilege of doing what I love most for a living."
And also…
Bristol Live reported on the huge numbers of Bristol pubs that are being closed down and converted into flats.
*****
The Manchester Evening News commiserated on the temporary closure of Common; the Northern Quarter stalwart is closed for the first time in 16 years after the third lockdown plus the ban on alcohol sales created a "massive disincentive to open". Co-founder Johnny Heyes said that hospitality has been " the whipping boy of this whole debacle".
Also online from the Manchester Evening News, a report that Mana, the city's only Michelin-starred restaurant, has started serving takeaway burgers, and "plans to add tacos to its takeaway menu next, and is considering a foray into fried chicken too". Chef Simon Martin has "worked with his most senior chefs to create what he promises is the 'best burger we've ever had'". In other burger news, the owner of Big Grillie Burger has plans to open three new restaurants after selling burgers turned his business around in lockdown.
*****
Birmingham Live reported on the permanent closure of Chung Ying's central branch, which had been closed since March 2020. "Owner James Wong said the closure was due to a combination of factors resulting from the pandemic but ongoing restrictions were the" final nail in the coffin" for the restaurant."
*****
The Liverpool Echo asked readers what Merseyside restaurants they are most looking forward to visiting after lockdown is over.
*****