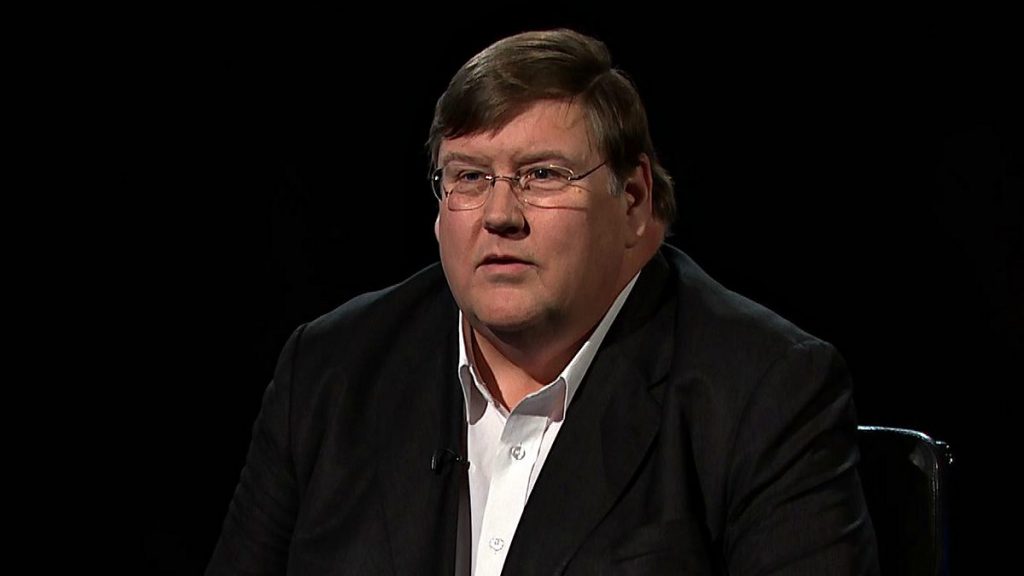 Harden's briefly shut up shop over Christmas, as is customary, but we all quickly became aware of the sad death of the food critic Charles Campion, which was announced during the holidays.
Campion died aged 69 on December 23 and on Boxing Day his family made the news public.
The writer and broadcaster was best known for his restaurant criticism in the Evening Standard, though he wrote for other publications over the course of his career, including The Times and The Independent.
Campion also appeared on MasterChef, and co-presented Great Dishes of the World on Sky, having opened a restaurant at a Derbyshire country house with his wife in the years before.
He was a funny, acerbic, and honest food personality in the industry and was respected by all who met him. Campion's talent was in his straightforward approach and enjoyment was found aplenty in his almost bored tone – behind it was passion, care, and a love of food and restaurants.
Here, our co-founder Peter Harden, and BBC and Scala Radio broadcaster Nigel Barden (who presents Harden's annual London Restaurant Awards in happier times) share their memories of one of the industry's best characters.
Peter Harden
"Charles Campion's first encounters with Harden's was as a deadly rival. It was in his new role as editor of the Rough Guide to London Restaurants. Rough Guide first published a London Restaurant guide in 2000 and put an enormous push behind entering the market in competition with ourselves and Time Out.
"I recall walking into Tesco in Covent Garden – at the time a curiously fashionable location as Tesco had only recently started moving into town centre locations – to see dump-bins of Rough Guide's London Restaurant Guide by every till. At the time, this was dream retail positioning aimed at establishing the book as the go-to source for London diners (and echoed with big dump bins in all the capital's bookshops at the time). His big network of journalist friends ensured a steady stream of adulatory quotes to be employed on the cover.
"Fortunately (for us anyway) Charles's great strength was also the Rough Guide's downfall. Charles felt uncomfortable reviewing any restaurant he had not visited personally in the last year or two. It was also written from a very personal perspective, so there was little chance of him recruiting a network of anonymous little helpers to give the book greater reach.
"A man who loved beer and a curry, his selection was excellent – especially regarding relatively unknown outlying restaurants – but limited if you approached the book with a more fashionista mindset. So the guide never had the comprehensive nature which allowed it to compete successfully in a big, fashion-driven market like London, while our own survey-driven publication by curating the feedback of others was able to cover four times the number of establishments of every variety.
"Rough Guide gave up on the project after huge investment in 2005, for the title to be taken over by Profile Books for a couple of years (a savvy publisher who would have made a go of it if anyone could) before it gave up the ghost.
"Rubbing shoulders with Charles at industry events was no easy matter as he was such a big guy. Affable, he didn't suffer fools gladly, but he was admirably down-to-earth and – unlike some in the trade – managed to keep his ego well under control.
"Throughout the highs and the lows of the Rough Guide project, and his own increasing profile at the time writing for The Evening Standard, he was a friendly competitor and didn't see the rivalry as a zero-sum game as so many people do. Fay Maschler's tight grip on the gig as main restaurant critic at the Standard, however, meant that he was only ever to fill in for her occasionally and, I was led to believe, was at one point forbidden to issue stars: that prerogative being reserved for Fay.
"His even temper wasn't without limits, though. While enjoying supper in the West End, he was once confronted by the then-head of a very high profile London restaurant group, upset at something Charles had written or said about them. The restaurateur in question was, Charles later confided in me, very aggressive and quite threatening… until Charles stood up. Built like the proverbial brick shit-house, with many hours spent on the rugby pitch, I would not have fancied many people's chances taking Charles on physically.
"Few restaurant writers enjoyed such high peer respect: aided by the fact that he was such a good guy. I recall an industry drinks with AA Gill making a rare appearance amongst all the restaurant PRs and luvvies of the foodie world, and noted with interest that it was Campion who Gill made a beeline for through the fray for a chat."
Nigel Barden
"Charles Campion was a big presence in the food and drink world, in every sense, and he developed an excellent palate, while cooking in the kitchen of his own country house hotel in the Peak District, and then during a decade of eating his way around the London dining scene, as he wrote an annual guide to the Capital's eateries.
"He scribed six cookery books with a couple of my favourites being 'Food from Fire' and 'Fifty Recipes to Stake Your Life On'. He brought a great food knowledge & gravitas as a judge on MasterChef. Charles was a big sports fan and played for the London French Rugby Club, and had a stint playing American football.
"His early days were spent in the world of advertising, having turned down a place at Cambridge University. He appeared on Celebrity Mastermind in 2007, with his specialist subject being Kenneth Grahame and 'The Wind in the Willows'.
"Charles brought a lot to the food and drink party and was the inaugural awardee of the Guild of Fine Food's snappily titled 'Champion of Food and Drink Producers, for promoting artisanal ingredients & good farming practices.' For fifteen years he was on the senior judging panel for the Great Taste & World Cheese Awards.
"I was luckily enough to spend many an hour quaffing a beer or three with Charlie and he'll be much missed by many in the food & drink community. We're all thinking of Sylvia, his wife and children, Geoff and Ashley."