Here's our regular summary of what the national and local restaurant critics have been writing about in the week ending 6 March 2022.
*****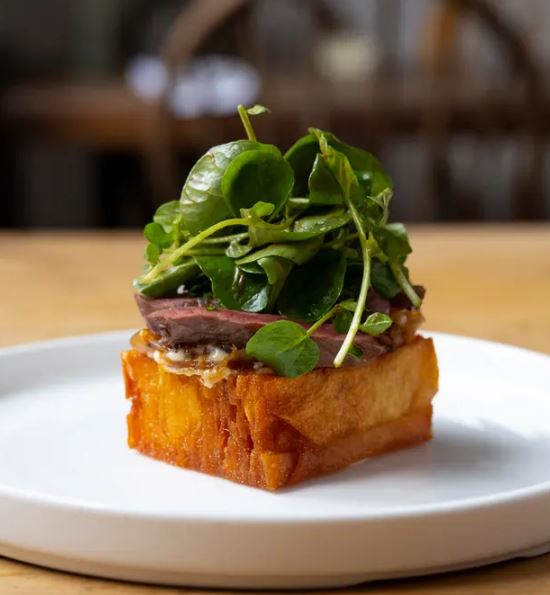 The Observer
"The strength of a country's food culture is not defined by a handful of gilded gastro-palaces… but by the presence of those places you'd keep going to repeatedly, because you just want something nice to eat."
Jay Rayner was playing nice in Wales, having been accused of being an "insufferable snob" after a Cardiff review in 2016 suggested there were few places of note in the capital. "Happily, a number of interesting-looking restaurants… have opened in Cardiff since."
The Heathcock, "a reassuringly solid lump of a pub, located amid the tree-lined lanes of Llandaff to the city's north" is one of those places (and one to which he would return); it's "a second venture from the team behind the Hare & Hounds at Aberthin" and has a "pleasingly straightforward approach to the business of feeding people well".
There's also more than "a touch of St John about it" too ("white, utilitarian spaces", offal, ox heart, pickled walnuts, duck fat, etc), but it remains "very much a pub which also has a dining room" – there's even an 'ale flight' on offer. Small plates at lunch are replaced with starters and mains in the evening; all "thoughtful and thoroughly satisfying cooking", resulting in several plates licked clean.
"After a lunch like this I can't fail but be delighted I've returned" to Cardiff.
*****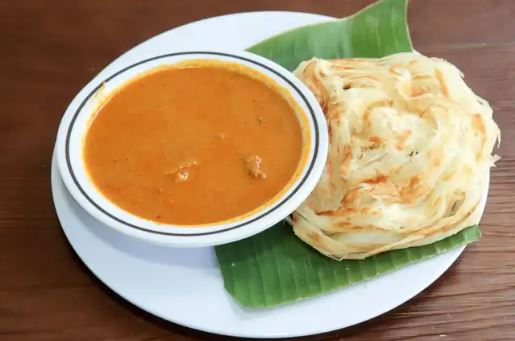 The Evening Standard
Back on "the professional gluttony beat" after a few weeks locked away writing a book, Jimi Famurewa reviewed Hawker's Kitchen in King's Cross, which has been "open for a little while now and steadily amassing a good deal of hype".
"Dunking torn scraps of puffed, buttery roti canai in hypnotically rich, warming curries" reminded Jimi of Roti King – where Hawker's founder Mano Muthu worked for many years – but it "doesn't take long to distinguish itself as more than merely an overflow car park for its more famous antecedent".
Thanks to the "pan-Asian menu's broader emphasis shift towards South India" there are dosas as well as roti, plus a "thrilling" nasi lemak ("that Singaporean and Malay institution").
"Muthu and his team are building an empire founded on care, value and the sort of uncompromising deliciousness that is there just when you need it."
*****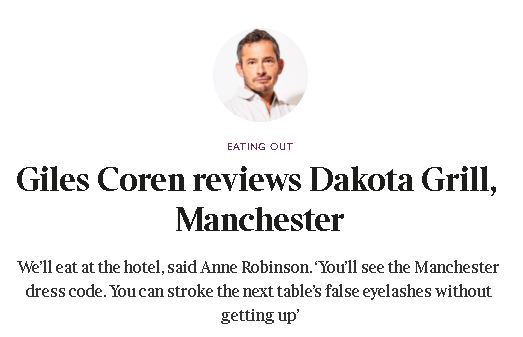 The Times
Under duress from Anne Robinson herself, Giles Coren headed to Manchester to guest on Countdown, on condition that she accompanied him to dinner afterwards. She mentioned she'd been to Dakota Grill, and loved the hotel, but didn't think he'd want to review it.
Rather than find somewhere else that fitted her criteria ("I hate spices, noise and anyone explaining the bread"), he "looked at the menu and decided I quite wanted to eat all of it". And quite accurately, he told her that "It'll be 1,200 words about you, anyway, and then 300 more bolted on at the end about whatever I swallowed".
They both ignored her recommendations on the Manchester dress code ("spray tan, stick-on tattoos and stilettos"; basically dress like you're "going to the carnival in Rio"), and headed into the restaurant, which has "shadowy Hakkasan vibes". The menu has steaks, grills and fish with "excellent" sauces and "great" wines.
"The food is unexpectedly great… absolutely worth the detour if you're in these parts and done with Hawksmoor." He'll go again if he's invited back to Countdown. (25/30)
*****
The Guardian
Grace Dent took a trip to Canary Wharf to investigate the latest branch of Hawksmoor, a "vast, shimmering restaurant " at Wood Wharf that's in an eco-friendly floating pavilion ("half steakhouse, half love boat" with "the air of a New Orleans steam cruiser that has mated with an All Bar One").
Canary Wharf has "never been anyone's idea of a charming dining destination, despite being in parts twinkly, luxurious and curiously Blade Runner-ish", but has, post-pandemic, "become the focus of big players" like this new Hawksmoor, as well as "Caravan, Marugame Udon and a new hulking Market Halls", with more chalked in to arrive soon.
"A subtle repurposing of Hawksmoor seems to have gone on, almost undetected, over the past few years" – there's less obvious "now-departed cow" around, and even "very good" fish and vegan options on the menu. It's clearly successful, given that Grace could only get a 5.30pm booking on a Wednesday night on a table that was "promptly turned" when the bill was settled.
"A visit to Hawksmoor may not be the glittering, braggable occasion it was 15 years ago" but "there is still something reassuringly special about a secluded, flatteringly-lit table for two".
*****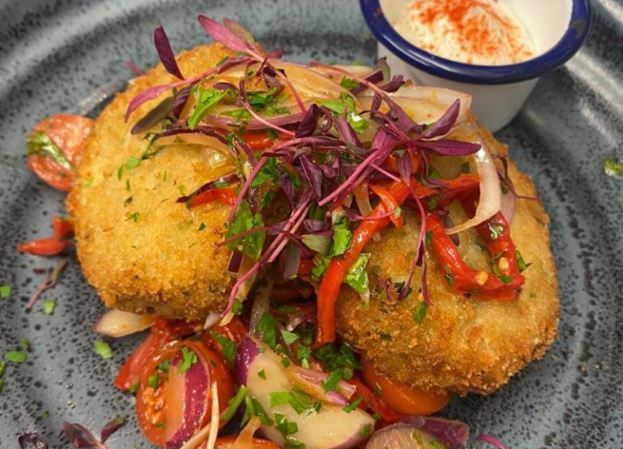 The Mail on Sunday
"Worthing on a wan Wednesday afternoon. Sorrento, it ain't."
Tom Parker Bowles in YOU Magazine went to Crabshack and embraced the "genteel, faded charm" of the seaside town where the "fish is as fresh as prices are keen" and "service is as swift, sweet and warm as an illicit South Coast embrace".
Set back from the beach, inside it's "all bare bricks, distressed wooden flotsam and piles of paper napkins", with "knives and forks… in the middle of the table… in an old sardine tin". Tom's lunch was "a seaside symphony of blessed simplicity".
"Worthing's gilded age may have long passed. But who needs society when there's Crabshack."
*****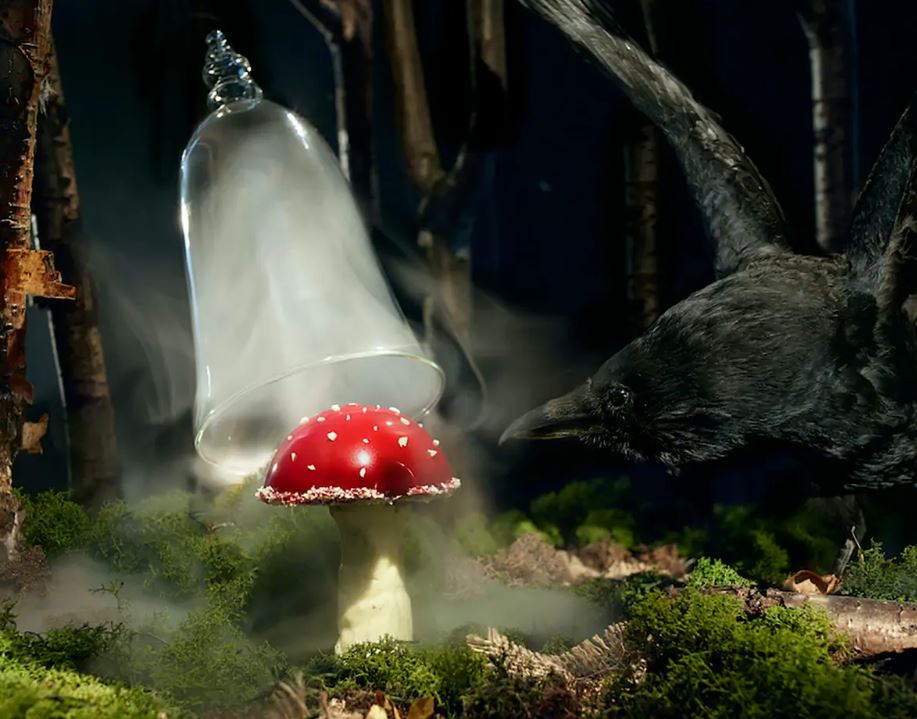 The Independent
It's "one part gimmick and one part serious food – and together they make quite the gourmet combination".
Qin Xie dined at Monarch Theatre – one of the five restaurants at Park Row, the DC Universe-themed "gastronomic amusement park" near Piccadilly Circus.
The most expensive of the dining options, Monarch is "hidden behind a pair of heavy mirrored doors… intimate, exclusive and designed to be a performance". A "fairground fortune teller" decides which drink you'll have before you enter the 20-seat dining room with "floor-to-ceiling light projection".
"It's the stuff of Instagrammers' dreams." Each of the 11 courses "is based around a DC character, with the light projections, sounds and the food changing to reflect their personality or storyline". And the food is "good" but no more than that; it's "just a tasting menu made up of the sort of food that made Heston Blumenthal famous more than a decade ago".
The £195 price tag is certainly "premium" pricing, but compared to the "handful" of other, similar dining experiences around the world, it's a snip – Ibiza's Sublimotion is "upwards of £1,500 a head".
*****
The Scotsman
Gaby Soutar regularly finds herself drawn to Edinburgh's St James Quarter shopping centre (which "has become its own metropolis"), but this time she stopped and tried a meal at Noon; "it takes chutzpah to open up right opposite this behemoth".
The "double level spot… owned by the people behind Forrest Road healthy fast food place, Kauai, was rammed on our Saturday visit"; the "casual menu is quite large, and healthy-ish, with all-day breakfast and brunch dishes".
"Noon does the casual dining thing pretty well, and is exerting its own small, but efficient, gravitational pull" – "a good alternative for those who don't want to find themselves in the St James Quarter again".
*****
And also…
In The FT, a review of Hawksmoor's new opening in Canary Wharf which had "terrific delivery": "what delighted me about this latest incarnation was the quality of everything else"; see also Grace Dent's review in The Guardian.
Also, in an not-unconnected article, "why large-scale grills are the latest restaurant must-have": "once the preserve of the meat chef, these spectacular looking grills are highly flexible and ubiquitous".
*****
Koffmann & Vines reviewed Wild Honey St James, "a restaurant of low-key excellence, serving some of the best food in the city" with "reasonable prices"; "a restaurant for food lovers, not dedicated followers of culinary fashion".
Chef Anthony Demetre – "an industry veteran with quiet authority" who has "been cooking first-class food for decades" – was recognised by the tyre men last month, which should help Wild Honey achieve "the prominence it deserves".
*****
Bristol Live reported on the ITV Saturday Night Takeaway segment that saw Neighbours star Jason Donovan visit the veteran Bristol kebab van, Jason Donervan; he later gave it a five-star review.
*****