Our weekly round-up of what the national and local restaurant critics are writing about, for the week ending 5 July 2020.
Restaurants, pubs, bars and cafes in England were permitted to re-open on Saturday 4 July after over 100 days of enforced closure. Some establishments remain closed – the owner of the three Market Halls, for example, has decided to remain closed until social distancing has ended.
Several restaurants – including high-profile names such as Nathan Outlaw's Siren, Le Caprice and Sardine – will not be re-opening; one estimate that "50% of restaurants, cafes and pubs will not re-open" predicts a very different future for the hospitality industry.
Check with your local and favourite restaurants before heading there; many are operating strict timings, reduced menus and booking systems, even if they didn't before; look at their social media pages for details (all available via hardens.com).
*****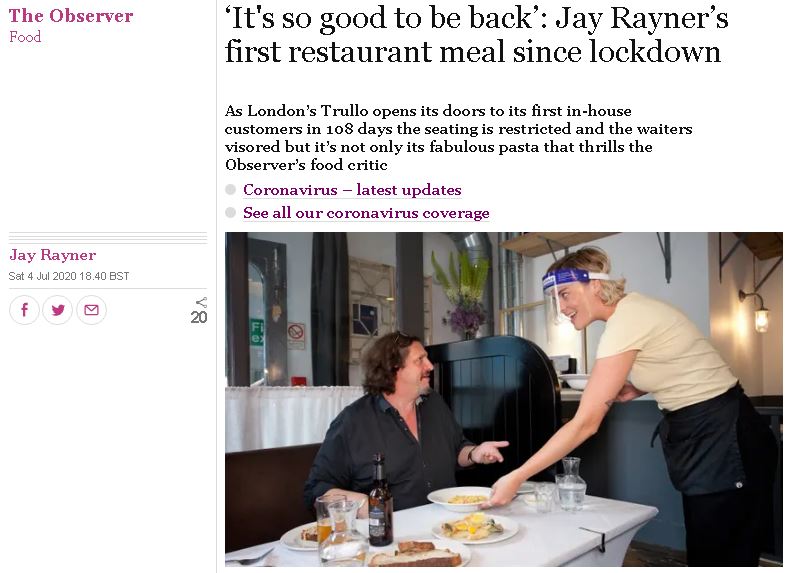 The Guardian
"It's so good to be back."
At noon on Saturday 4 July, the day that restaurants were permitted to re-open, Jay Rayner was waiting at the door of Trullo in Highbury Corner, "the first customer to cross that threshold in 108 days". By 4pm, he'd submitted his first proper restaurant review in over three months.
"There I am, with a menu of rustic Italian dishes in my hand. I choose. They bring. And then they do the washing up. After over three months of the lockdown and an awful lot of my own cooking, it is frankly thrilling."
It's not all plain sailing and 'business as usual', however – Trullo's covers have been reduced by almost a half to allow for social distancing, "screens have been inserted between tables making them into booths, and all the waiters wear visors". The furlough scheme "came to the rescue" and saved the restaurant, its two Padella siblings ("Shoreditch had been open only a month") and the 150 staff members during lockdown. They also delivered pasta kits locally, but from now they are reliant on customers coming back, and are already expecting a loss for the year.
Jay mentioned the survey by industry body UK Hospitality, which found that "47% of England's 20,000 or so restaurants were planning to reopen this weekend [4-5 July], with another 40% to follow by September".
"I first visited Trullo almost exactly a decade ago, and raved in my review about a boisterous dish of buttercup-yellow pasta with nutty brown shrimps, shredded courgettes, chilli and lemon, and here it is back in front of me. It's just as fabulous as it was back then."
*****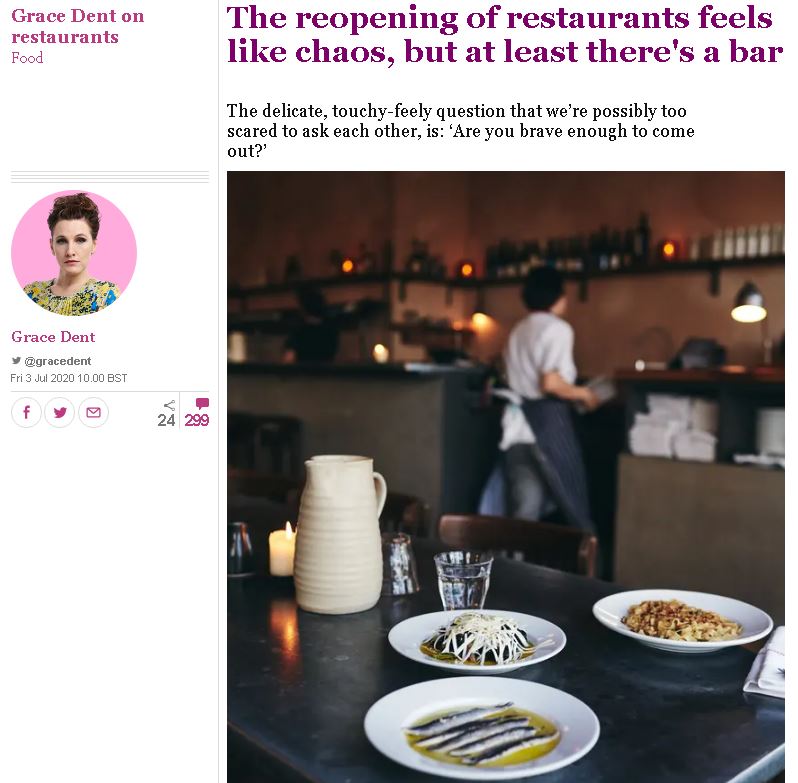 "As a restaurant critic, I've decided, possibly controversially, to live without fear and to treat death as an occupational hazard."
Grace Dent has also looked forward to the re-opening of restaurants, but realises there's a flip side, of the people still not quite ready to return; people "who have been scared witless for months by stark thoughts about mortality, germ spread and second waves; the diners for whom restaurants will never again feel safe enough", let along the journey there and home on public transport. Her own mother, housebound since the start of lockdown, is technically allowed to go out, but hasn't done so. ("Her freedom has been granted, but in her head I fear she'll be forever trapped.")
She's looked through the 47 pages of guidelines from the government, and realises that they really are just guidelines, "none of them obligatory or legislated for", with local authorities being in charge of monitoring how they are followed.
"This feels like chaos, but at least it's chaos with an serving bar, which is the epitome of Britishness. Our fine nation is built on centuries of wild ideas, blind optimism and half-baked plans fuelled largely by daytime drinking."
For Grace, though, "dinner will have shape again and, afterwards, the plates will be whisked away. Also – and this will be the best part for some – we can dine with other people again."
*****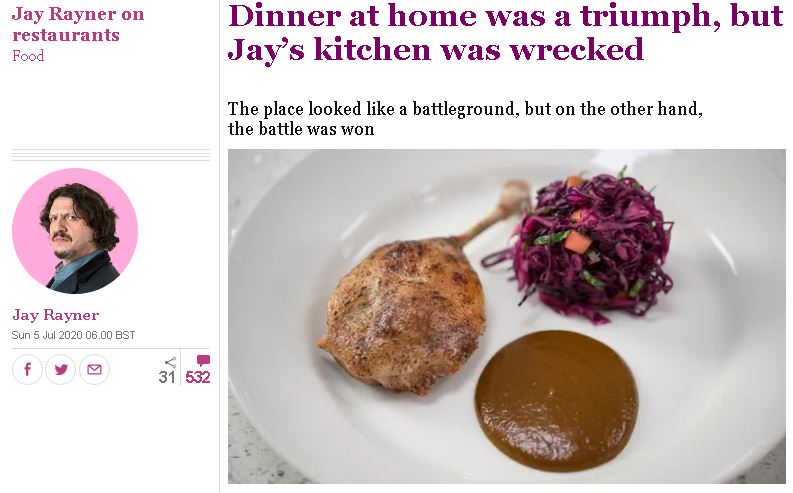 The Observer
"This column is delivered two weeks in advance. It's like the light from a star, a snapshot of the past… All of which explains why restaurants might now be open, but I'm still writing about food kits at home. Expect chaos for a little longer."
Jay Rayner's regular Sunday column covered possibly his final 'cook at home' lockdown experience; not because restaurants are indeed now able to open, but because "at the end of a dinner compiled from kits supplied by Elite Bistros in the English northwest, my kitchen looked like a war zone".
There's no real reason to mention it, but we loved Jay's mental skit of "some northern matriarch by Les Dawson… muttering, "About bloody time that filthy, entitled food-hoover learned a thing or two"".
Even so, he got to eat "Gary Usher's crowd-pleasing food, while sitting at my table at home in south London" – although he warns "do not order this if you want a break from the kitchen". "My dozen dishes had at least 60 elements." But everything came with "beautifully designed instruction sheets. Read them. Then come up with a robust plan of action. Perhaps call a therapist for support."
The meal was declared "very good", despite the fact that "none of those purées were whipped in a saucepan after being heated in the water as advised because I have only two hands, six hob rings, and limited patience." The Yorkshire parkin pudding "was just as good at my table as at Usher's". Jay even did the washing up.
*****
The Evening Standard
The newspaper's list of London's confirmed re-openings is being regularly updated, and they've now added a handy etiquette guide for what to expect from post-lockdown pubs, from 'one-in-one-out' bathrooms to app-only payment and social signposting.
Of course, "not every door is being thrown open on July 4"; an introspective, and slightly gloomy view in an article on the future of "an industry in crisis" from Nick Curtis. He spoke with many restaurateurs who "believe that a second spike and lockdown would be fatal for their restaurants" and another who "reckons a million jobs are already lost in the UK, with another million at stake" in hospitality alone. "No one knows if the reduced capacity will enable restaurants to turn a profit or generate a buzz."
*****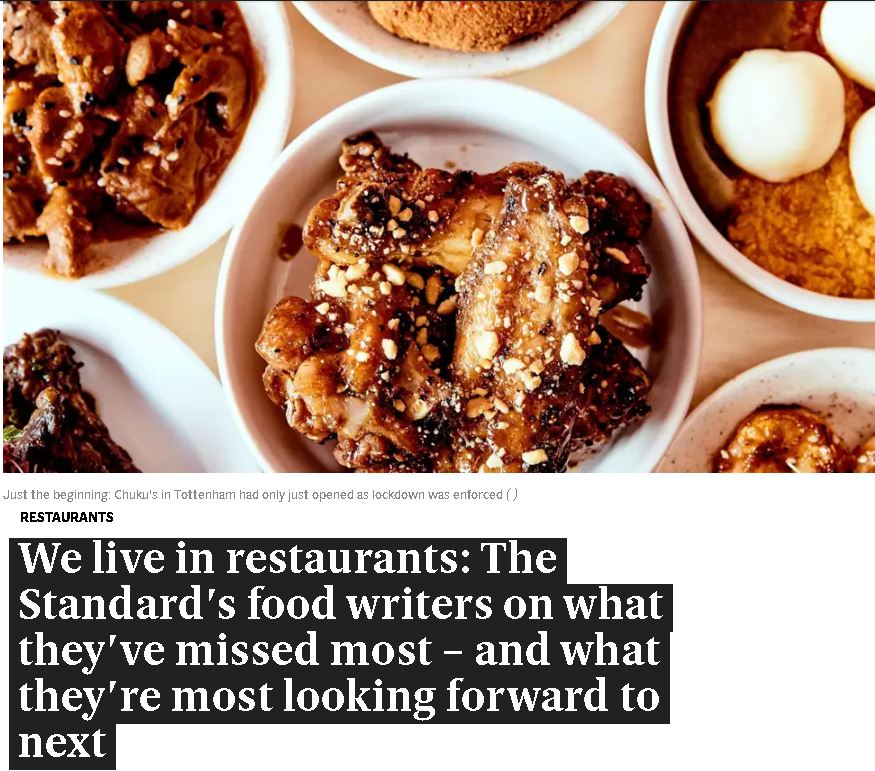 The Standard's host of restaurant critics banded together to share "what they've missed most – and what they're most looking forward to next":
Fay Maschler: "When asked for favourite restaurants – it happens – I usually say I am most enthusiastic about pastures new; who is going to surprise or comfort us next. And how." But she has a booking at Otto's – she won't find anything new there.
Jimi Famurewa: "It is the relative straightforwardness of restaurants that I am craving most… after three fretful, haphazard months of shifting culinary goalposts." Jimi's mind "has been drifting to Forza Wine's oasis on a Peckham rooftop, and memories of cauliflower friti lightly shawled in a puffed, greaseless batter" and he's also "slobbering at the prospect of Brat's terrace residency at Climpson's Arch: an innovative, elegant example of meeting the moment".
Ailis Brennan: "It was lockdown's implications for London's newest restaurants that broke" Ailis's heart. She "mourned uneaten meals at Townsend, Wildflower, Chuku's – for restaurants that had barely opened their doors, and would find it most difficult to do so again. I long to slurp noodles at Supa Ya Ramen, to chow down on schnitzel and latkes at Larry's. I will return to old favourites, but I hunger to fill up on new ones too."
David Ellis: "I love that feeling of catching a neighbouring table's eye, both of us overhearing something we shouldn't; I hope lunching gossips will use stage whispers to bridge the metre distancing." His view of the future? "As we head back, big places won't feel too odd – say Brasserie Zedel, Wild Honey St James, Darby's, the roomy Cornerstone, or upstairs in Kensington's Melabes. But smaller spots will benefit from a sheen of exclusivity; I will be queuing for Jackson Boxer's Orasay – brilliant during this whole thing – and while many expensive, showy spots will close, the innovative openings, especially ones growing their own and sourcing locally, will thrive, and rightly so."
*****
Fay Maschler cooked schnitzel, with a nod to Corbin & King's "Grand Cafés of Europe" ventures. It can be chicken, pork or veal (although Weiner Schnitzel must be veal) and her favourite style is Holstein; a true Maschlerian sentence described the Holstein style, which is "capped with a fried egg, on top of which anchovies are crossed like swords and surrounded by oily or buttery juices into which capers and a squirt of lemon juice have been stirred".
"Anyone weaned on fish fingers will take naturally to schnitzels and of course the cooking method can as easily be applied to fillets of cod, hake or any firm white variety of fish."
*****
Fay also produced an article on the chefs and restaurants that have kept her well-fed with deliveries during lockdown.
*****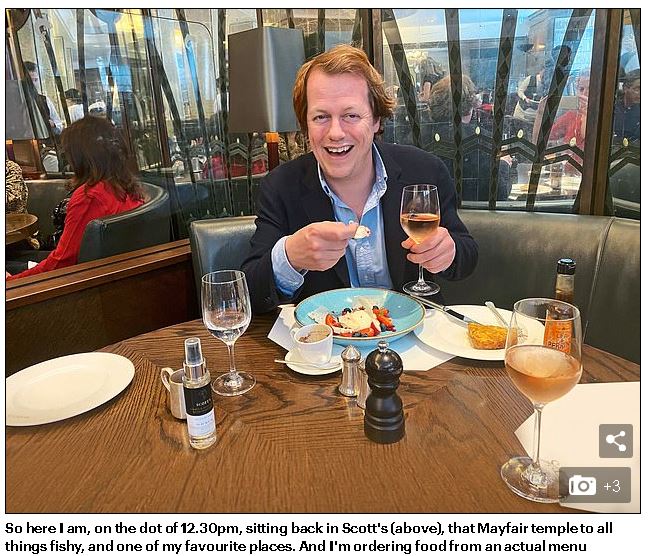 The Mail on Sunday
"Here I am, on the dot of 12.30pm, sitting back in Scott's, that Mayfair temple to all things fishy, and one of my favourite places on Earth. And I'm ordering food from an actual menu."
Tom Parker Bowles was another keen and early participant in 'Super Saturday', having spent lockdown reviewing takeaways. "Not so much 'Cry God for Harry, England and St George!' as a thundering hooray for a hospitality trade working so hard to ensure the safety of punters and workers alike."
"This is more than just going out to eat. It's an edible hand clap, a show of solidarity, an essential gesture in supporting an industry we love so much."
Scott's has responded to government guidelines with "smart glass panels embossed with fish" between tables, a "discreet temperature check upon entering" and, of course, fewer tables, each of which held a "Scott's branded bottle of sanitiser".
"Slowly, but surely, the old hubbub returns, the well-fed murmur of a great restaurant. The service is as slick and warm as ever. But today, it's like eating out for the first time. I feel indebted to all the staff, suffused with gratitude and joy. "
*****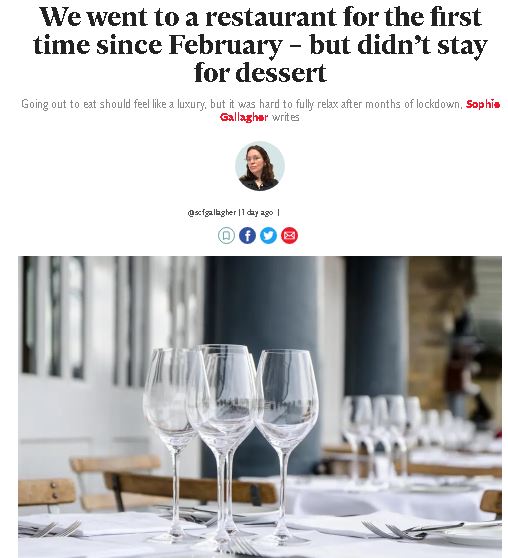 The Independent
Sophie Gallagher "went to a restaurant for the first time since February – but didn't stay for dessert". As she says, "going out to eat should feel like a luxury, but it was hard to fully relax after months of lockdown", and "the spectre of coronavirus followed us everywhere".
Not only did the new screens "make me feel slightly reassured", they also reduced "the ability to eavesdrop on other diners; obviously one of the biggest perks of eating out, along with not having to do the washing up". Staff were " chatty and welcoming but a little on edge" too; "watching as our menus were taken away and placed in quarantine for cleaning" was a strange experience.
"But it will take a while to get used to – not least remembering what is restaurant-appropriate conversation after months of only having ourselves to talk to – but also the feeling that simply by being out, enjoying yourself, you are taking a risk. Not just for yourself but for everyone else."
*****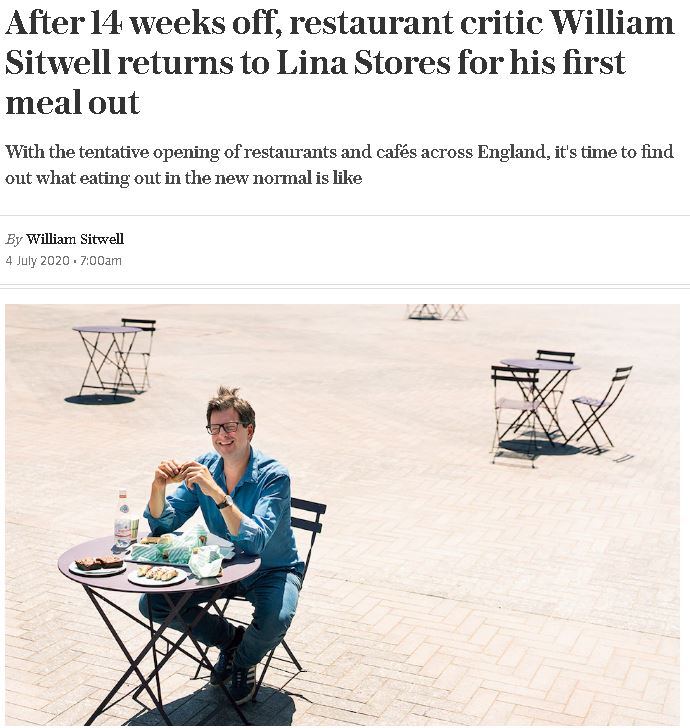 The Telegraph
William Sitwell waxed poetical about the woes of coronavirus, and praised those restaurateurs who "have been cooking for NHS staff", while admitting he's done nothing for 14 weeks.
His first outing was to the King's Cross branch of Lina Stores, selling "paninis, cakes and coffee, as well as packets of pasta, sliced meats, cheeses, olive oil and other Italian goodies" (the restaurant was still closed on his visit). He sat outside at socially distanced tables, having ordered behind a screen from a waitress in a mask, and enjoyed toasted sandwiches and continental desserts that made him yearn for a holiday.
"Lina Stores, with its charming staff, authentic Italian delights and bright, breezy decor enabled me to at last engage with a uniformed human in an exchange of prepared food for money. It gladdened my heart more than I can say."
*****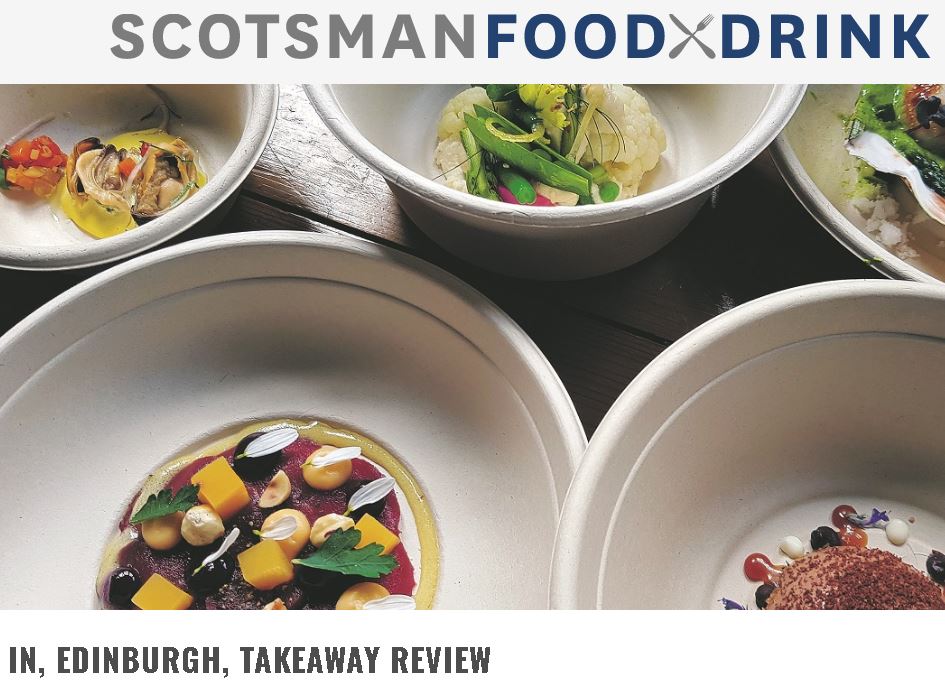 The Scotsman
Gaby Soutar had another takeaway this week (restaurants in Scotland can only re-open from 15 July), this time from IN "fine-dining takeaway" (from The Kitchin's Lachlan Archibald), where she claimed the food was so "spectacular" you need never eat out again.
"They've consistently been selling out their four course menu (£35pp), served from Thursday to Saturday, fuelled in part by swooningly gorgeous teaser photographs that appear on their Instagram account." Even better for Gaby, no plating up was required, as each dish was served in its own "dome-like container, with gravy and purées that had a little more viscosity, to secure each bonnie garnish in place. They were almost too ornamental to eat". Apart from the pithivier, which suffered slightly on the journey home.
Gaby ate "escabeche of two zingy west coast mussels", roe deer carpaccio, beef cheek pithivier ("deep, rich and comforting, like sinking into the fur of a recently awoken Yellowstone resident") and ended with a "chocolate-y mousse dome creation, which was injected with a gooey layer of salted caramel and topped by crumbled amaretto". She also "started to feel that my living room… was inadequate" and didn't match up to the food.
"We checked the time and realised, while a four course dinner in a restaurant would usually take a couple of hours, we'd eaten the lot in 37 minutes. Oops, but some things are too good for pauses. I'm amazed by what some restaurants have done to survive the last couple of months, and IN is a stroke of upmarket genius." (90%)
*****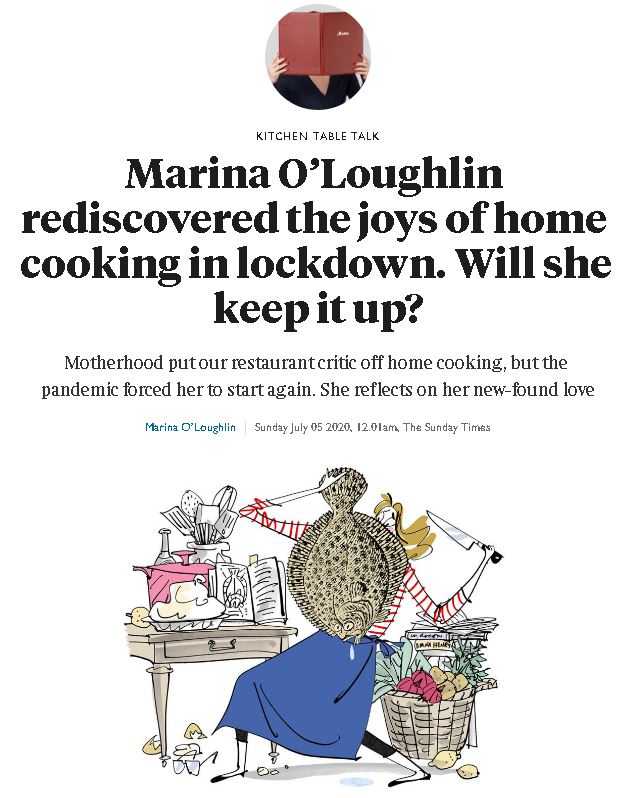 The Sunday Times
"What killed my enthusiasm for cooking once and for all was having children."
A husband who loves to cook and a job as a restaurant critic mat that Marina o'Loughlin hadn't spent much time in the kitchen over the past two decades. She was forced back in there during lockdown, partly as she'd morphed her column into 'an interview while cooking with a chef via Zoom' (which meant she also needed to cook) but also "cooking… helped punctuate the long, beige, nothingy days."
"All I've learnt can be filed under two column headings: Things I Love and, to slightly misquote David Foster Wallace, Supposedly Fun Things I Will Never Do Again."
She'll never again bone a chicken or a turbot ("God, I loved eating it, though") or tartare raw meat (until she's bought better knives, maybe). She's learnt "that you don't have to put garlic in everything" and that "acidity is addictive, becoming captivated by the different sorts and functions, by how they affect the final dishes". And that "there is no achievement more satisfying than successfully making your own pastry". She's also rediscovered baked potatoes and obsessed over the perfect focaccia.
"Almost everyone I cooked with asked me the same question: "Do you plan to keep going with the cooking when this is all over?" All things considered, the answer is a definitive "maybe"."
*****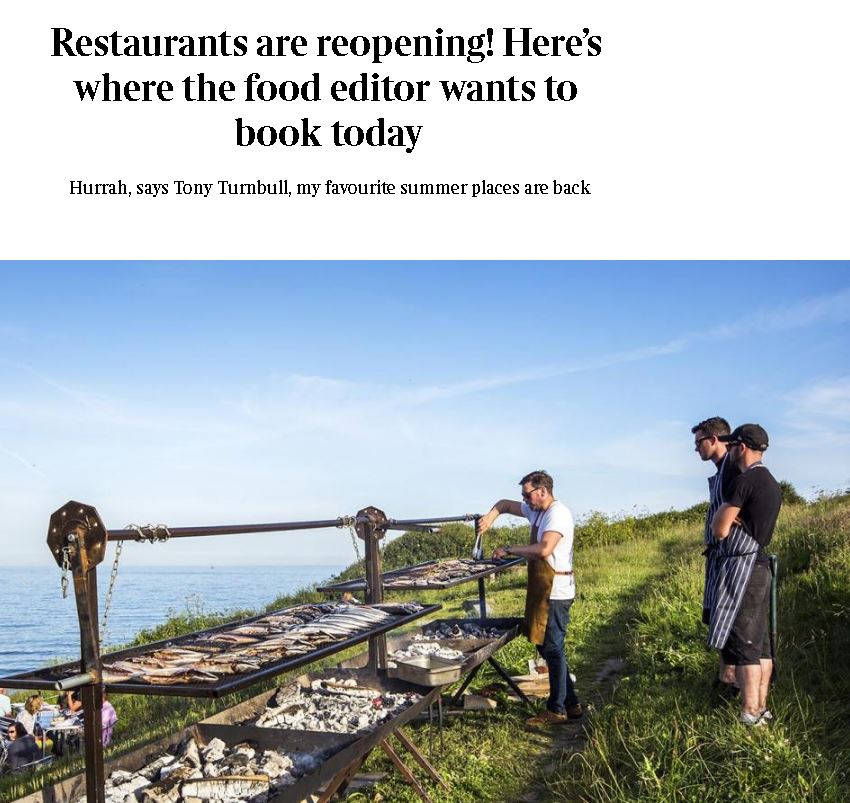 The Times
Food editor Tony Turnbull reveals his post-lockdown to-do list of restaurants, starting with the Hidden Hut in Cornwall (pictured above, but "sadly this year there will be none of the communal feast nights that this beach shack is famous for") and ending with The River Cafe ("the best outdoor terrace in London… there can be no better way of blowing all that money you saved by not eating out these past months").
*****
And also…
The Financial Times asked five chefs what they've been cooking while their restaurants have been closed, and posed the million-pound question "Can London's high-end restaurants survive the pandemic?", based on the fact that the current guidelines mean that opening may not be viable for the capital's most prestigious venues.
*****
Recent News from Harden's