Harden's says
Irish chef Adrian Martin was due to open his first London restaurant in March 2020, but was delayed, like so many others, by lockdown; now open again with a reduced seating of just 10 covers (usually 30) Wildflower will focus on seasonality, foraged food, and Irish traditions; the newcomer is housed in a shipping container in Camden's new eco market on Buck Street.
Summary
"It's amazing how much fun you can have dining in a shipping container!!" – Irish chef Adrian Martin's July 2020 newcomer may be thus housed in Camden Town's new eco market on Buck Street, but – with its incongruously posh decor and £65 eight-course menu (£110 if you go for the wine matching) – it's certainly not in the grungy, street food category (even if you do have to go outside to the loos in the market). As the name hints, the focus is on seasonality and foraged food, but early press reviews – while not writing the enterprise off – have given it a slightly bumpy ride. Some of our early reporters are much more upbeat, though, hailing "inspirational and outstanding cuisine" that its most ardent supporters would put "in the same class as Aulis and Story".
For 32 years we've been curating reviews of the UK's most notable restaurant. In a typical year, diners submit over 50,000 reviews to create the most authoritative restaurant guide in the UK. Each year, the guide is re-written from scratch based on this survey (although for the 2021 edition, reviews are little changed from 2020 as no survey could run for that year).
Have you eaten at Wildflower?
Owner's description
Simplicity. Using foraged natural ingredients.
Service. A passion for fine dining in a relaxed atmosphere.
Seasonality. Ingredients which are fished, foraged or grown
Based in Camden (Buck Street) Market, Wildflower is London's first fine dining restaurant in a shipping container. Wildflower focuses on sustainability, foraging and quality produce. Since opening Wildflower has featured as London's best new openings in 2020 by the Daily Telegraph, Hot Dinners, The Handbook and featured on The Murphia List 2020 & 2021. The restaurant is contained within the hustle and bustle of Camden Market, creating a complete contrast when you step inside. The dining room is very relaxed and the view of the market creates a comfortable atmosphere to enjoy the high quality food and overall experience. Our small restaurant allows guests to meet the full team, including our passionate chefs who explain the carefully chosen elements of each dish. We believe this is key to improving ourselves and giving our guests the best possible customer experience.
The Garden Terrace in Buck Street allows us to plant, grow and cook our own ingredients and put them straight on the table in only a few short steps.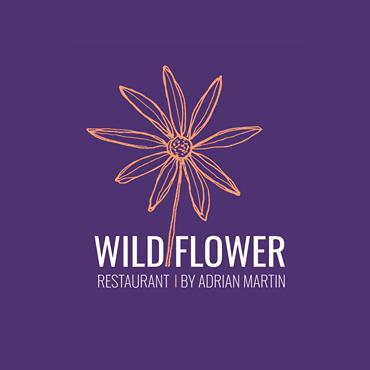 Prices
| Drinks | |
| --- | --- |
| Wine per bottle | £34.00 |
| Filter Coffee | £3.00 |
The chef
Hailing from Cavan in Ireland, Adrian Martin has worked in some of Ireland's top restaurants for 12 years including Mac Nean House and Michelin-starred restaurant, Bon Appetite in Malahide. Fresh from releasing 2 best-selling cookery books and being a regular on TV screens across Ireland and the UK.
Wildflower is Adrian's first solo venture that puts a strong emphasis on sustainability and cooking food that can be foraged, fished or grown. Wildflower offers that unique experience and plays a leading role in the busy food scene in Camden Markets on bringing it right back to nature.
Buck Street Market, 180-188 Camden High Street, London, NW1 8QP
Make A Booking
Number of Diners:
Required Time:
Powered by OpenTable
Opening hours
| | |
| --- | --- |
| Monday | CLOSED |
| Tuesday | CLOSED |
| Wednesday | 12 pm‑11 pm |
| Thursday | 12 pm‑11 pm |
| Friday | 12 pm‑11 pm |
| Saturday | 12 pm‑11 pm |
| Sunday | CLOSED |