Our weekly round-up of what the national and local restaurant critics are writing about, for the week ending 2 May 2021.
Some magazine articles that were written weeks ago are still trickling through, but there's plenty of excited reports of actual restaurant visits to read through.
*****
The UK's hospitality industry is finally open to outside dining at the least, with indoor dining starting from 17 May (24 May in Northern Ireland). If you make a reservation, please honour it, whatever the weather, or cancel in plenty of time; no-shows and late cancellations cause huge losses to restaurants.
Please continue to order takeaways, cook-at-home kits, vouchers, merchandise and deliveries from your favourite restaurants if you can (we include links to those mentioned); the restaurant industry and everyone involved in it need our continued support.
*****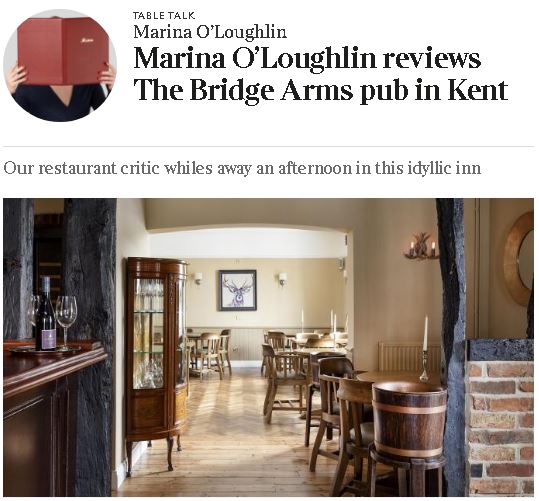 The Sunday Times
"Every fantasy country pub cliché made flesh."
Marina O'Loughlin paid a visit (no doubt to be followed by all of her peers) to The Bridge Arms near Canterbury, the brand-new venture from Daniel and Natasha Smith, who wowed everyone, critics, diners, Michelin, with their Fordwich Arms a few miles away".
It's a brave move in many ways; we're only just coming out of lockdown, and the "locals expect certain qualities from their boozers and fine dining ain't necessarily one of them". But the Smiths, who live in the village, have "ticked all the boxes marked "Tradition" — vast inglenooks and leather chesterfields, hops and herringbone parquet — while being fully contemporary".
The food is "very visual" and made with "elevated, delicious technique"; Marina had a few suggestions and tweaks for the "supposedly less formal baby sibling" of The Fordwich Arms, but all things considered, described it as "sheer buzzy bliss".
*****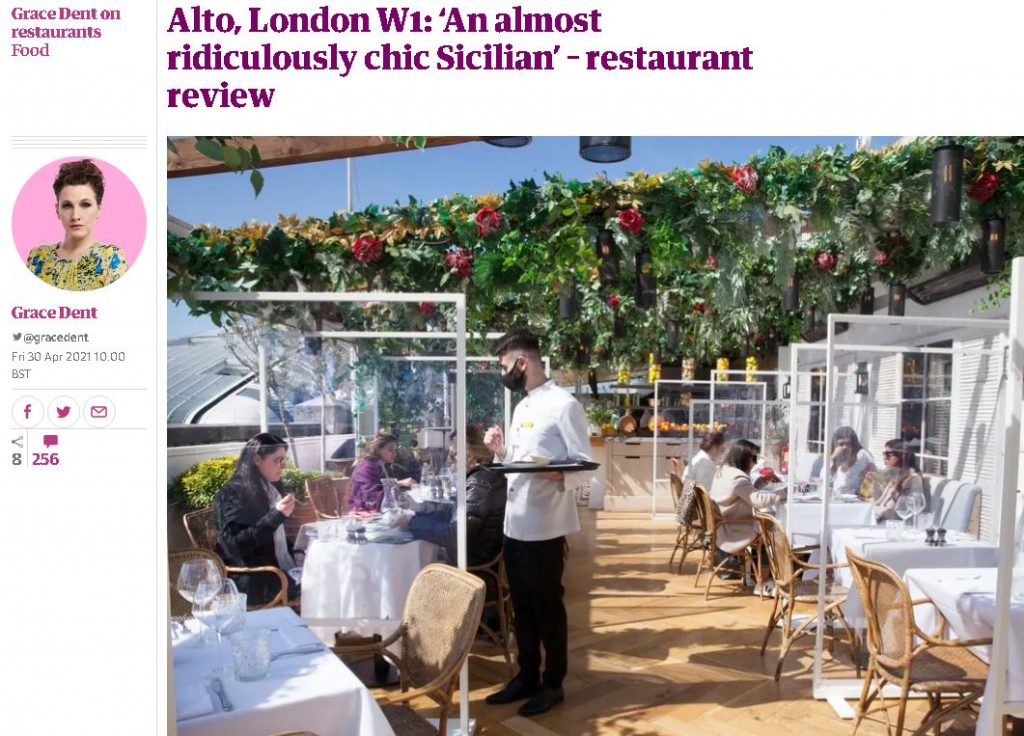 The Guardian
Grace Dent was at Alto, the latest pop-up to occupy the Selfridges rooftop, in partnership with the San Carlo group, a "£60m empire" with Italian restaurants across the UK. "Bringing a large, established, slightly faceless operator such as this to Selfridges feels a good fit", especially as they are equally "highly experienced in dealing with tourist groups and the high-end shopping crowd".
"For a long time eating in a department store was never anyone's idea of "destination dining"", but "judging by the lengthy queue of customers standing in Oxford Street waiting to board the special lift to Alto, the mood towards in-store dining has shifted". (Grace also noticed a similar queue for Native's new London outpost at the Browns store on Brook Street.)
Alto is an "almost ridiculously chic affair: a pseudo-Sicilian sun terrace flanked with fake floral displays, real lemon trees, white linen tablecloths and a large menu of cicchetti", and has " what we're asking restaurants to provide right now" in buckets: "not merely lunch, but a sort of Disneyland It's A Small World experience".
The "smooth Sicilian vibes at Alto" will hopefully "cushion the blow as you glance through the prices" on the cicchetti-based menu of small plates ("rather small plates indeed"). "There are flashes of excellence here" which is all "pulled off with glamorous aplomb", saving it from disaster.
*****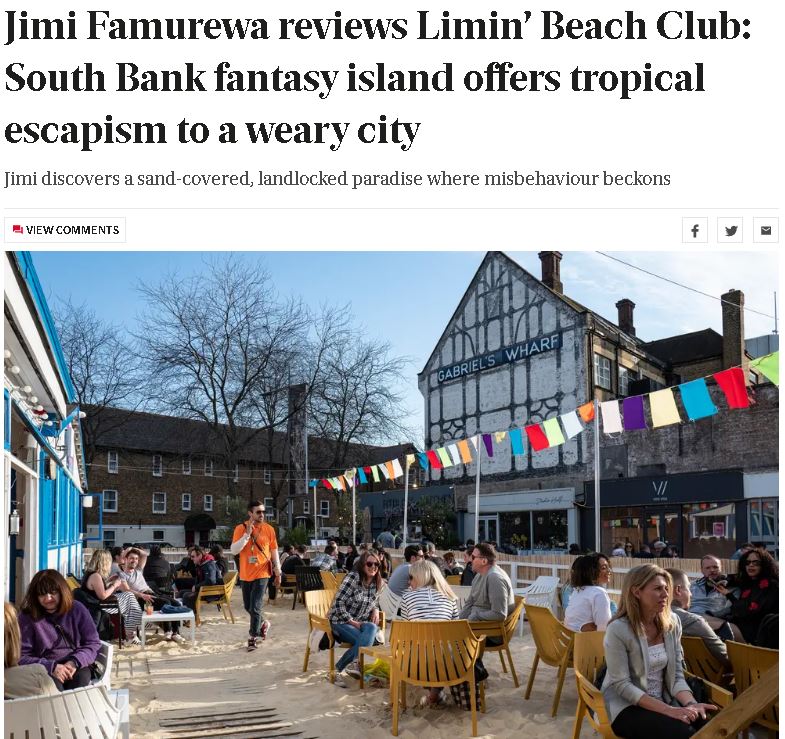 The Evening Standard
"Precisely the post-lockdown place to lose yourself and, perhaps, some of your possessions. A vivacious landlocked paradise where misbehaviour beckons…"
The Evening Standard's chief restaurant critic Jimi Famurewa reviewed the Trinidadian urban beach and restaurant that appeared at Gabriel's Wharf on the South Bank between lockdowns in 2020; Limin' Beach Club, founded by Sham Mahabir, had previously popped-up in Spitalifields in 2019.
24 tons of sand have transformed the outside area into a "mad, riotous fantasy island" that "feels perfectly attuned to the times".
It's "already gaining a cult following for its vividly rendered Indo-Caribbean dishes and weapons-grade rum cocktails served in hollowed-out pineapples", and the "irrepressible holiday vibe" that's "counterbalanced by a serious sense of cultural purpose".
The food, from the "specific, cross-cultural palate of Trinidad and Tobago — heavily flavoured by Indian settlement" might need some tweaks, but there's a "tricky audience balance" to please and there's also plenty of time "to sharpen, to tweak, and to continue expanding the collective understanding of the Trinidadian culinary canon".
*****
Also in The Standard, David Ellis lists the exciting goings-on planned for The Goring this summer; "a "lobster and fizz" garden launched in partnership with the Delevingne sisters, a Rick Stein pop-up and an Instagram-famous "pony in residence" are all on the agenda".
*****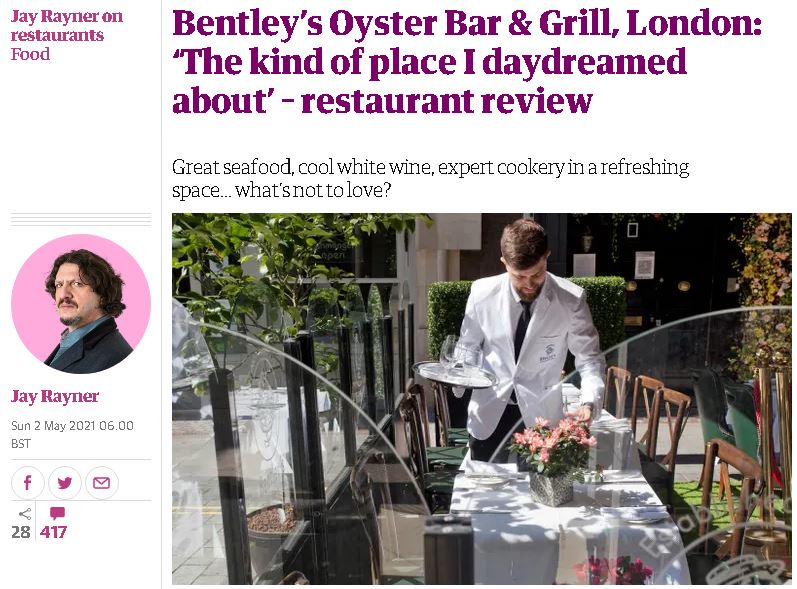 The Observer
Throughout lockdown, Jay Rayner dreamed about meals like the one he had at Bentley's oyster bar, where he was a regular in the days before Covid; so much so that he was able to bag an outside table by texting the chef, Richard Corrigan, with whom he had spoken several times since the start of the pandemic.
It was about time for an official re-visit; the last time he reviewed it was "2005, when the chef… had just taken over and restored it to its classy seafood glory".
What does he go for, apart from the joy of watching his oysters get shucked right in front of him? It's the "great seafood, treated with respect… the treacly soda bread… the green-flecked seaweed butter… The classics are always executed properly. The innovations are always considered. The fizz is cold." And the place is already "running on well-oiled tracks".
"It's been a bruising year, and [Richard Corrigan] carries those marks upon his back. But Bentley's is still standing as it has stood for over a century."
*****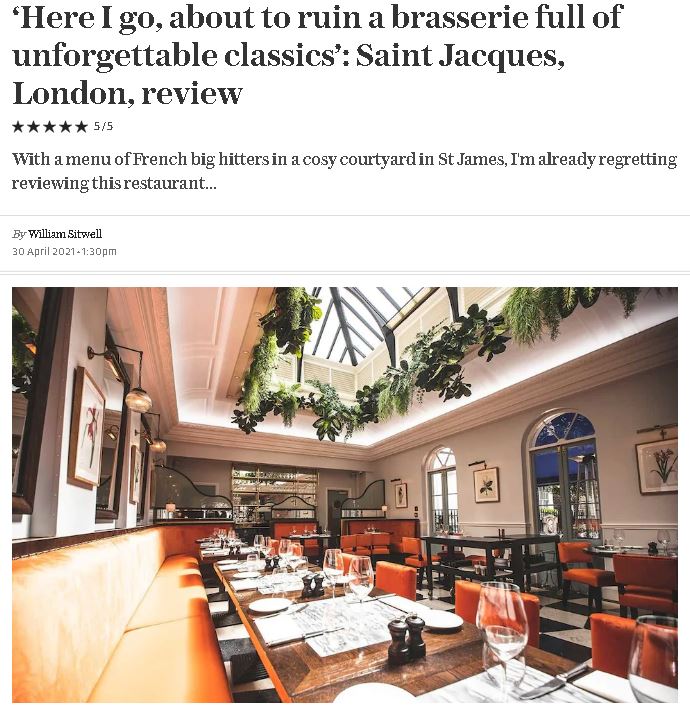 The Telegraph
"Rain or shine, howling gales, outdoor heaters or no, we must now always mark 12 April with a long al fresco lunch."
William Sitwell isn't pushing any culinary or geographical boundaries with his first post-lockdown reviews; Chelsea last week and now St James and the relative newcomer Saint Jacques, which he discovered while collecting a friend on the first day of outdoor dining (what he has re-named the new Glorious Twelfth).
His friend recommended a review of the place, then quickly retracted the recommendation, for fear of it being discovered and ruined.
It's "a traditional French brasserie that recently moved location down the hill to this part of swish Mayfair", serving a menu of "elegant French classics" and "presided over by the magnificent restaurateur Richard Weiss" who has that "Gallic bonhomie that makes you believe that having a good lunch is a serious, valiant and worthy endeavour".
"Everything about this place makes it a heavenly island paradise… But please don't go. 'Cos you'll ruin it."
*****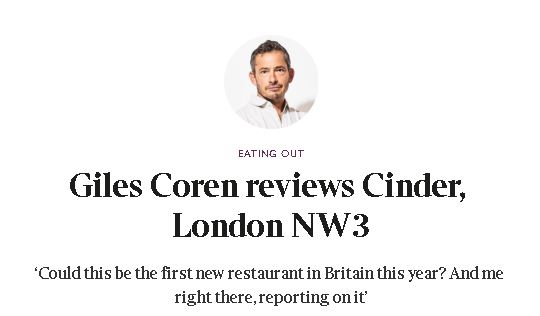 The Times
Back on reviewing, Giles Coren visited The River Café last week ("It is very good to be back. Even if it is outside") and this week went to Cinder, "a brand new, charcoal-driven north London Mediterranean restaurant". Or rather he went to the outside terrace, "inches from the whistling road" on a freezing Thursday evening, on day four of restaurants re-opening.
It was also day four for Cinder, from chef-proprietor Jake Finn; with a second-hand Josper grill, he's "very 2021" in his approach: "fire, but mainly with vegetables". Giles declared it "a brand new and very good restaurant by a young unknown chef with great things ahead of him".
Cinder is "old-fashioned in its local, friendly, personal touch" but "very modern in its use of fire and its vegetable-driven menu" in an area not known for "exciting start-ups".
*****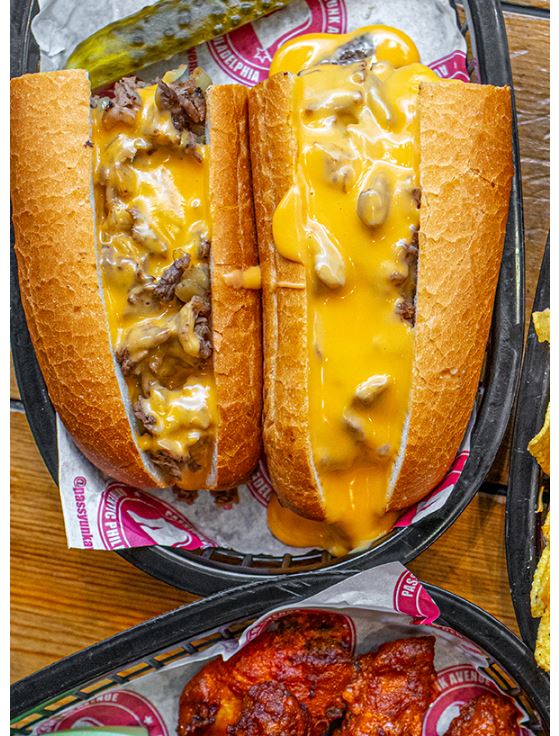 The Mail on Sunday
"Next week, Eating In becomes Eating Out once more. Hooray."
The last of Tom Parker Bowles' meal kit reviews  for YOU Magazine ("") focussed on American fast food. First up was Shake Shack; "I've grown to love their taut, pert hotdogs, cheese-drenched crinkle-cut fries and no-nonsense burgers" – in fact he think he's "ordered more DIY ShackBurger kits (plateaway.com; £25 for four burgers plus £4.95 delivery) than anything else over the past 12 months".
Heading down the "East coast to Philadelphia, and Passyunk Avenue's Philly Cheesesteak LoveBundle (passyunkavenue.com; £32.99 for four sandwiches plus £5 delivery)" (pictured here), complete with their homemade Cheez-Wiz. "Subtle it ain't, but heftily glorious it damned well is."
*****
The Scotsman
Making up for lost time, The Scotsman's team of reviewers have visited three restaurants over the past weeks.
Gaby Soutar reviewed Laila in Edinburgh, a "trendy Middle Eastern brunch joint" and then a "contemporary Vietnamese" called Sen, a "beautiful space" where the "grub is designed to be shared".
Meanwhile, Catriona Thomson paid a visit to The Park Hotel in Peebles, enjoying their "newly expanded well-spaced beer garden". She was pleased to see "good Borders ingredients being showcased front and centre"; " for a randomly selected, inaugural post lockdown outing", it "dished up with the goods".
*****
Also in The Scotsman, an interview with ex-Harwood Arms GM James Snowdon and ex-Spring chef Lloyd Morse, owners of The Palmerston, which opens in central Edinburgh in July.
*****
And also…
The Independent ran an interview with Tommy Banks of The Black Swan in Oldstead.
*****
Manchester Evening News reported on the Festival Square food and drink line-up at the forthcoming Manchester International Festival.
*****
Birmingham Mail revealed the site of a future Giggling Squid restaurant in Sutton Coldfield.
*****
Recent News from Harden's