Harden's regular round-up of the restaurant critics' musings, from the week ending 28 April 2019.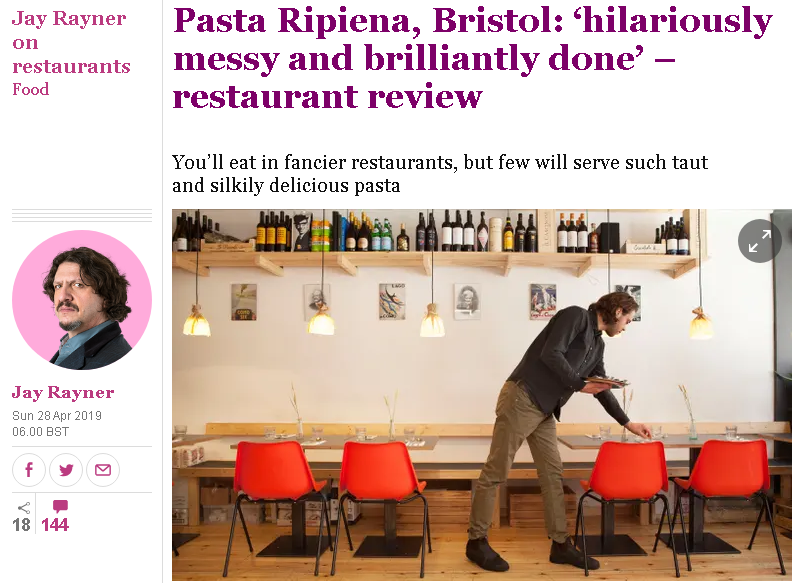 Jay Rayner for The Observer isn't afraid to say it: "the best things to eat are rarely the prettiest". He was in Bristol, eating plates of pasta that look like "paintings by one-year-olds that proud parents stick on the fridge" – "it's all hilariously messy – and brilliantly done".
At Pasta Ripiena, they have "nailed the prime ingredient: the pasta itself" – perfectly achieved "that virtuous combination of silkiness and tautness, a wonder of culinary engineering".
Top Jay Tip: "the bargain lies in slacking off and getting down there in the middle of the day", when you get two courses for less than the price of one dish at dinner. As a "selfless service" to his review and his readers, Jay ordered the entire lunchtime menu; mezzaluna with black truffle looked "like the mulch of a forest floor" but tasted "more intensely of wild mushrooms than almost any other pasta dish I have eaten", and ravioli "filled with sultry brown crab meat", served with "equally pleasing" support acts.
For pudding there was a "finely executed pistachio and olive oil panna cotta", an "Eton mess goes on its holidays and comes back much wiser" creation and a (less successful) chocolate torte
"There are prettier meals to be had in Bristol. There are certainly fancier dining rooms. But I doubt there are many places which will leave you feeling so well cared for."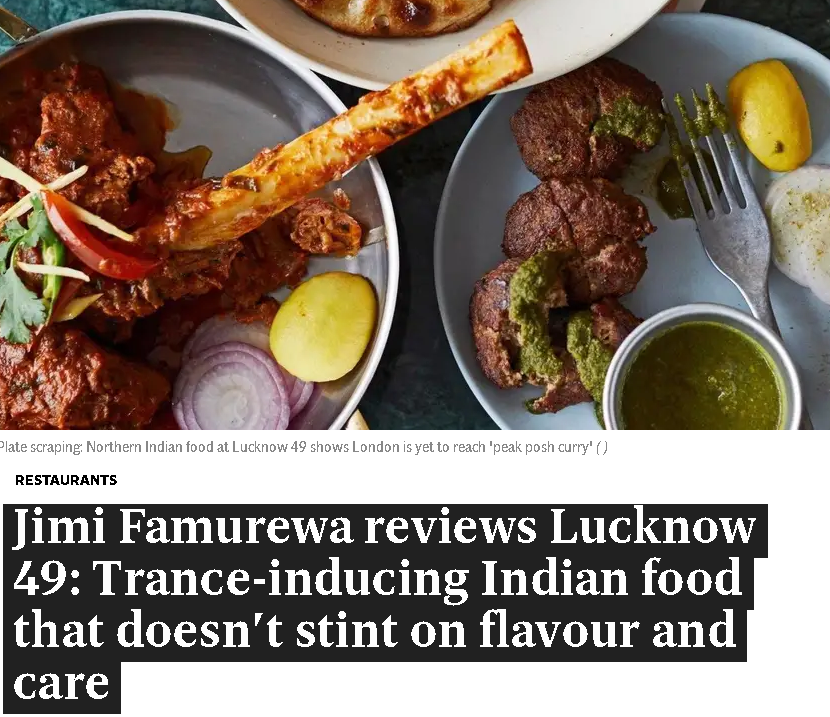 Jimi Famuwera for The Evening Standard admits to having complained (in a very London way) about "Too Many Nice Indian Places" opening up in the capital.
Lucknow 49, the new Mayfair restaurant from founder Dhruv Mittal (of Dum Biryani) "deftly proves that any talk of London hitting 'peak posh curry' is premature" – not least because "Indian food" is "a sprawling, regionally diverse canon of dishes" that's easily "varied enough to sustain many subtly distinct interpretations".
The Awadhi cuisine (influenced by the Mughal Empire) served here is "famed for its slow-cooked opulence" and "saffron-scented biryanis" but the restaurant itself is "compact and humble", a "chintzy room strewn with sari-print cushions".
After the initial taste of "crumbly lentil flatbread parcels" served with "tongue-zapping" yoghurt ("and all the other good things"), Jimi and his wife were brought all their dishes together, and "entered that head-bowed, plate scraping trance that accompanies good Indian food". An "insistent, face-dampening burn" and inventive use of ingredients like lotus root and lamb trotters were high points of a meal that didn't "stint on flavour and care".
There were a few disappointments, but the bill wasn't one of them: £70 for two (without alcohol) was "shockingly reasonable for Lucknow 49's postcode". (6/10)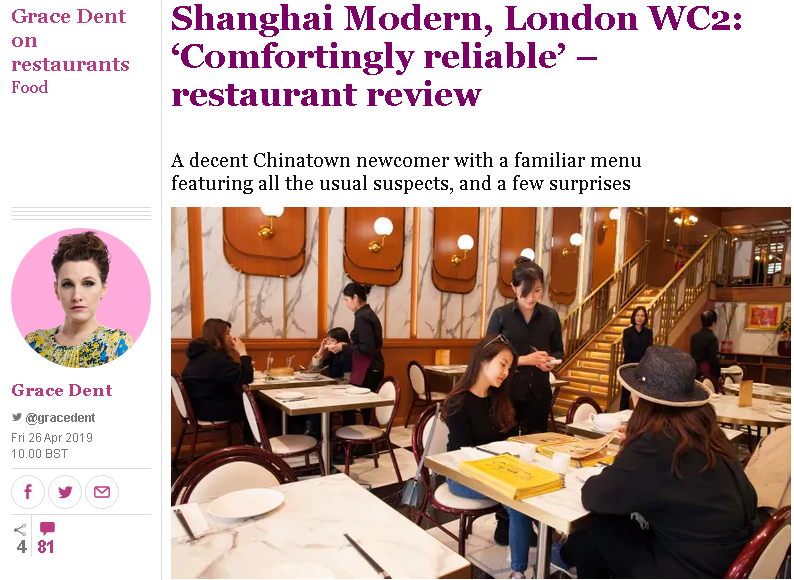 Grace Dent for The Guardian was at Central Cross, the "gleaming, 48,000 sq ft plaza just off Charing Cross Road" that planners decided was missing from Chinatown. Shanghai Modern is one of Central Cross's first openings, and (along with the new Jin Li) is hailed as "exactly the kind of Instagram-pretty, future-facing, 150-seat projects that Chinatown needs right now". But does it?
The "pretty, shiny, chessboard floor" and "vaguely comfortable seats" make Shanghai Modern "marginally nicer to hang around in than Din Tai Fung" (which looks like "a cavernous cruise ship that has been stripped down for parts"), although the "brusque" greeting falls short of welcoming.
She received a "shopping list" and pen by way of ordering (Grace kindly warns us not to mess with the tick list – there's a review on Google spelling out what happens to children who doodle!)
Converted to the "umami Hoover" that is roasted bran dough with assorted fungus ("a magical, slightly gothic-looking bowl of dank sponginess"), Shanghai buns "with bags of seasoning and colour" and "ebulliently numbing Sichuan fish broth", Grace already plans to return, when she can feel her ears again. The sweet red bean xiao long bao were "pristine gob-fillers stuffed with an irresistible, salty-sweet, burgundy sludge".
Despite the modern surroundings and planners' ambitions, Shanghai Modern is sticking to the "rich, four-decade-long Chinatown tradition of serving decent, fairly priced, unsentimentally served meals". (22/30)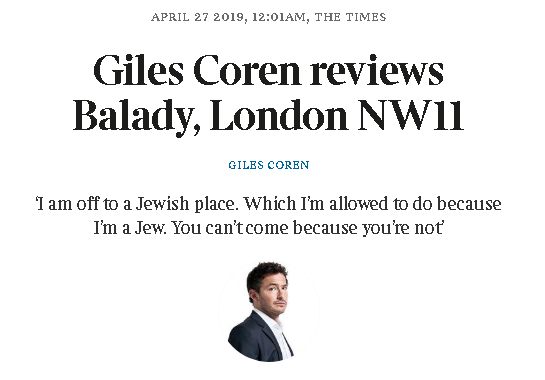 Giles Coren for The Times was on his high horse about the Gordon Ramsay Lucky Cat cultural appropriation kerfuffle ("IT IS ALL A LOAD OF BOLLOCKS!"), taking up half of his review describing the back and forth of insults and online abuse.
It clearly used up all his time and energy, because his review was of his favourite local Temple Fortune cafe, Balady ("it's small, it's cheap, it's kosher, it's mostly vegetarian and it serves the best falafels in the world. The. World."), run by two Israeli brothers.
The falafels in question are "hot and crispy on the golden brown outside, then soft and moist in the emerald green interior, fresh, aromatic, deeply sexual …", served with "superb tahini" and "spectacular homemade pickled vegetables". Balady also serves (in the World of Giles) "the best shakshuka in the world" and "the best hummus ever"
"The passion and the laughter and the joy" of the brothers is in every dish; you can take away but Giles implores you to eat in, where the beautiful tiles on the floor and walls make "a great backdrop for Instagram photos" and the "bantz" is king. (9/10, with 10/10 for the falafel)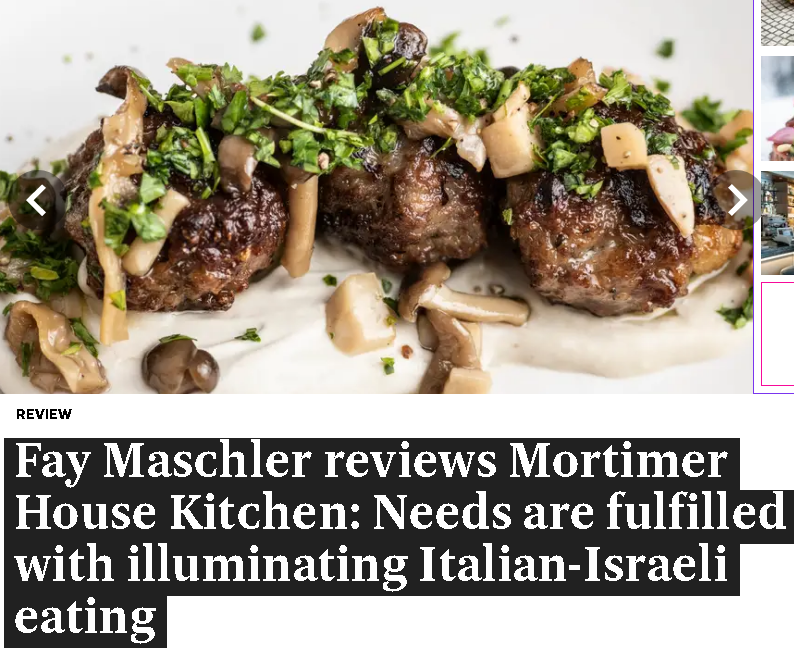 Fay Maschler of The Evening Standard met her agent for lunch at Mortimer  House Kitchen, the latest of the "burgeoning possibilities for rewarding eating in Fitzrovia". It's an "all-day operation" that's "the public face of a membership work-and-idling venue next door".
Fay's agent thought it was a Soho House place: it isn't, but the "sexy and practical" interior that feels like it's "been there forever" and the open kitchen with a cosy, "domestic set-up" make it an understandable error.
Chef Antonio "Lello" Favuzzi (formerly at L'Anima, RIP) is influenced both by his southern Italian roots and "recent travel to Tel Aviv" (the latter notable in "some of the vegan and vegetarian options").
Small plates of "precisely spiced" lamb meatballs and "soft-shell crab fritti piqued with yuzu" were marked "a definite success" on that occasion, but her second visit brought a few 'con-fused' dishes (tuna tartare with avocado, caponata with veal). Desserts were "the least dynamic section" being staunchly Italian (with a vegan cheesecake option).
A series of interesting guest residencies, starting with Elizabeth Haigh (previously at Pidgin in Hackney), who will be showcasing "the singular Anglo-Asian style of Kaizen House", should be a big draw for Mortimer House. (****)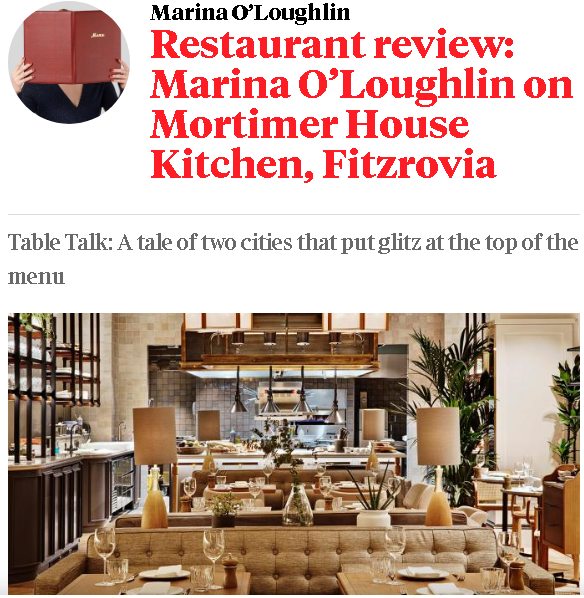 Marina O'Loughlin for The Sunday Times also visited Mortimer House Kitchen; she's been longing for a place just like this (glamour in restaurants is "an underrated quality these days"), where "as much effort has been put into lighting and acoustics as menu; where dinner feels like an event requiring glad rags and a full face of slap".
Her impression was that it's very NYC (possibly only because no-one can afford to open an "envelope-pushing indie outfit" in Manhattan), with its "twinkling open kitchen" and "conservatory space draped with pearly string lights";
Marina was very much in agreement with Fay about the food – the "catch-all" Mediterranean tag that allows the chef "to call on the contents of the Middle Eastern playbook" (with "the odd Asian touch too"), and a menu that "waxes fusiony without any particular rationale".
She even ate the same dishes as Fay: the crab fritti were "gorgeous" and the lamb meatballs were "one of the ugliest dishes I've seen for a while; refreshingly so" ("the flavours don't so much sing as give a full-throated bellow"), while the veal and caponata (and a "boring, boring, boring" chicken and pumpkin salad) drew similar criticism. "Brownie points" for hand-cut chips, though.
Overall, she was happy to "give in to the delicious frisson of a place that puts glamour at the top of the menu". A word of warning about the plates system, though – "before you know it, you have a bill the size of Beirut".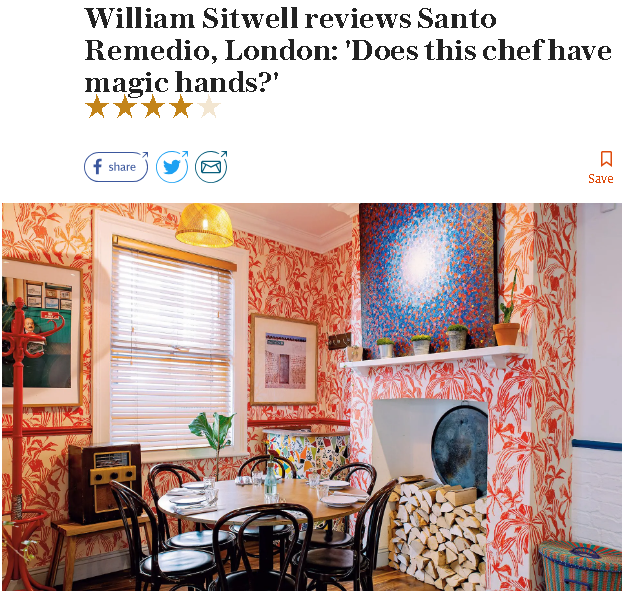 William Sitwell for The Telegraph followed chef Edson Diaz-Fuentes from his supper club to his short-lived Shoreditch joint to this "few very welcoming square feet" of London Bridge, where he has finally re-opened this "colourful and casual" Mexican concept.
The "merging of British ideas and [Mexican/international] ingredients" works well in dishes like pork belly tacos and tuna sashimi tostadas – and the fact that the tostada didn't shatter and spill the filling led William to ask if Edson has "magic hands".
Dessert ended the meal in style. A tamale (wrapped in a banana or corn husk) of "a sticky toffee cake with a fabulously sugary sauce" was "a perfectly naughty little Mexican/English union". (****)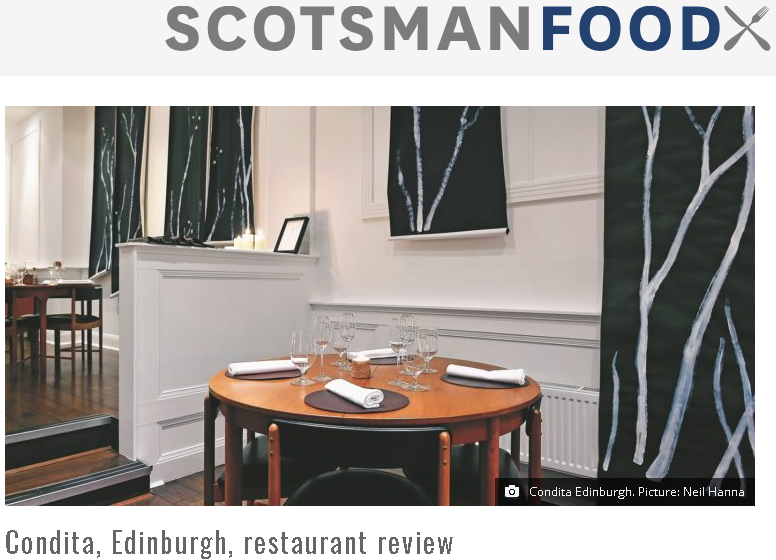 Gaby Soutar for The Scotsman enjoyed "the sort of fabulous food that memories are made of" at Condita, the no-choice, tasting-menu-only restaurant she reviewed this week.
Head chef Conor Toomey (previously at The Isle of Eriska Hotel) served up seasonal, "mostly organic " dishes, "with much of the produce sourced from a 19th century walled garden in the Scottish Borders". Even the decor subtly changes with the season.
There's no menu, just an illustrated list of ingredients, so Gaby's review was mostly about sensation and texture, thanks to her "nonsensical notes".
The 'snack' of Shetland mussel on top of a shell-shaped potato chip, tinted black with squid ink was "super savoury", with the single mussel "a glamorous ending, like Sleeping Beauty in her glass coffin". The first 'proper' course (just two bites) also "went for the jugular flavour-wise", a "mini sarnie" filled with poached haddock "flanked by planks of crispy chicken skin" ("Line 'em up on a conveyor belt, I want to eat 50.")
She devoured the "steamy hot" whole sourdough with "soft goat butter" before realising it was supposed to accompany the next course, of celeriac ("the fugliest of vegetable") many ways. Meat, cheese and pudding courses followed, each with exquisite details and "little geegaws". (85%)
Tom Parker Bowles for The Mail on Sunday was "dazzled" in Scotland, at a "full-throttle, dirk-wielding, Strip The Willow, Gay Gordons och aye Jimmy Highland fling" of a place, the public bar of The Fife Arms in Braemar, which has been "lavishly and lovingly refurbished by the Wirth family, giants of the contemporary art scene".
As with The Clunie Dining Room (and indeed the whole hotel), it's not for anyone with even the "merest aversion to tartan" – The Flying Stag is a "bold but rather brilliant room" decked out heavily in the stuff (walls, staff, portraits) as well as dead animals and incredible art. "It's both intensely regional and gloriously international."
There's "big flavours" to match, from the "silken Highland carpaccio" with shaved horseradish, to house-cured salmon with wild garlic mayonnaise; both starters that allow "the sheer quality of the local ingredients to shine".
Main courses were more of a pub grub bent, including burgers (served rare with "with a dollop of bone marrow, the quality of the beef superlative"), fish and chips ("one of the best batters I've ever demolished: crisp, golden and brittle") and a vegetable broth that was "rather more Italian than Scottish, more liquid salad than soup" topped off with puddings of "pitch-perfect lemon posset" and "a panacotta that wobbles in all the right ways".
"Good things done really, really well – scran to remember in a room you'll never forget." Surely that's worth more than four stars? No. (****)
And also…
In The Financial Times, Tim Hayward was at Ox Club in Leeds; did he have "the best cheesecake in the world?" "Leeds has many good restaurants — but this one is very close to the ideal."
In The Bristol Post, Mark Taylor reviewed Prego, an Italian near Westbury Park run by Olly Gallery and Julian Faiello, former floorlayers who became self-taught chefs almost a decade ago: "as fine an example of a well-supported neighbourhood restaurant as you'll find and if it were my local, I'd be tempted to sell the cooker and take the family there for supper every day instead" (*****)
Graham Young for Birmingham Live reported on Robert Ortiz (formerly at Lima) opening a Peruvian restaurant, Chakana, in an old bank building in Moseley.
More from Hardens