Here's our regular summary of what the national and local restaurant critics have been writing about in the week ending 26 June 2022.
*****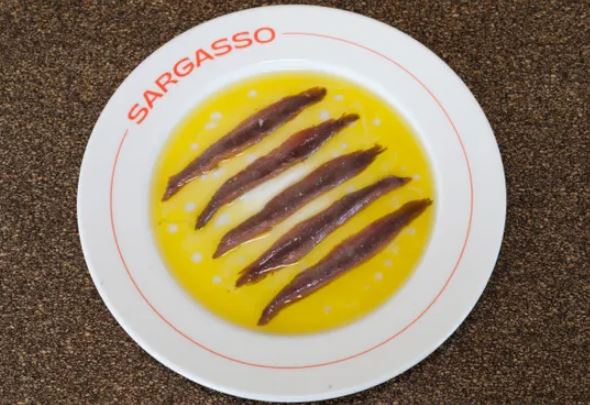 The Observer
Jay Rayner was in Margate, trying out the food at Sargasso,"the second restaurant from chef Ed Wilson and the team behind Brawn on London's Columbia Road".
From the plate of Cantabrian anchovies (pictured), onwards through the simple menu of "half a dozen small plates and a similar number of larger offerings", Sargasso "makes the very best things look very simple".
The fish dishes are "a sweet and funky expression" of the seaside air outside, and the wine list "is as careful and intriguing a selection as at Brawn".
"It will not be everybody's idea of good taste."Jay can "predict the reactions against it from those who flare their nostrils at what they regard as posturing. All that means is that they won't get to eat those anchovies… in that building with those sounds and that view".
*****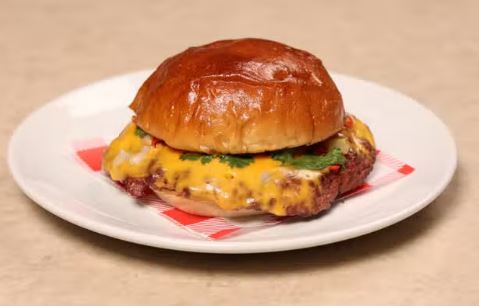 The Evening Standard
"An imperfect, tantalising glimpse of a more fully formed operation."
Jimi Famurewa reviewed the "kitchen residency in the dark, windowless confines of" Rondo La Cave in Holborn. Chet's is the "brainchild of fêted LA chef Kris Yenbamroong and a trial balloon for a permanent restaurant" (which will "launch at The Hoxton in Shepherd's Bush this autumn").
Yenbamroong's "Thai-American flavours" deliver "explosive irreverence" and "can slap a lip-tingled grin on your face", but Jimi "found that, over the course of two visits, occasional sloppiness made for a lasting impression that was more mixed".
The "murkily lit, bottle-lined, Parisian cellar" wasn't the best location either (especially on a sunny day), but Rondo La Cave is, "ultimately, a space for chefs to fine-tune their ideas ahead of a bigger roll-out within Ennismore's global network of hotels".
*****
Also in The Standard, round-ups of London's best brunch ("at once a deeply unifying and utterly individual meal") and Sunday lunch, "from cosy boozers to high-end hotels".
*****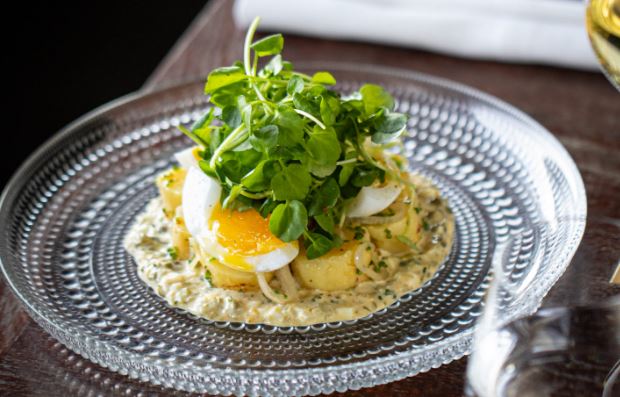 The Guardian
Grace Dent was unable to find Le Pont Bistro when she turned up to Sunday lunch there. Supposedly a "new space" at the former Conran gastrodome, it's actually just a re-naming of the old Bar & Grill.
"There is no "brand new" Le Pont Bistrot. It does not exist. It is an imaginary bistro." Furthermore, "it looked like all of 7p had been spent on this particular "refurbishment" – that being the cost of the ink to print out the new menu".
Grace (and the only two other tables that were occupied) endured wonky, dirty tables, overdone plaice, unseasoned food, "evaporating" staff and "someone else's cocktails" being added to her bill.
"For a bistro that doesn't wholly exist – or at least not in the manner expected – Le Pont still managed to prise £112.93 out of my purse, including £13.43 for service."
*****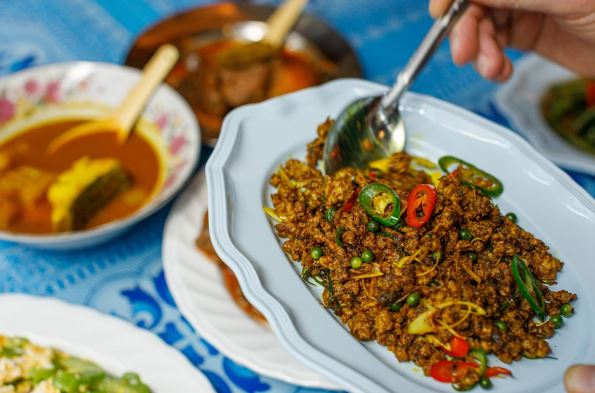 The Times
"So good I went back six times."
Giles Coren gave one of his rare 10/10 scores to Plaza Khao Gaeng at Arcade Food Hall this week; the "eight-dish £35 fixed menu supper [was]… not just good, but brave, focused, diverse and fiery chilli hot".
Even better, there's "nine other almost certainly brilliant restaurants just a floor beneath it, including north Indian, Indonesian and Nepalese street food joints, a Middle Eastern shawarma stand, sushi and an American diner" from the JKS restaurant group. ("They didn't build the Arcade though – someone else did, and got it wrong.")
Above the main floor of the food hall, Giles discovered a "perfect replica of the sort of places I've eaten in my limited but joyous experience of Thailand (well, Bangkok)", serving "bright, fresh, spicy, entirely uncompromising southern Thai cooking".
"It's a pastiche, but it feels real, like a Viennese café by Jeremy King."
"JKS is in collaboration with Luke Farrell here, the quietly superfamous "chef's chef"… his hand and palate are masterful."
Giles' return visits were to the outlets downstairs where you order, find a seat, and your meal "comes in a matter of minutes, piping hot, superfresh and Instagrammable as hell" ("this is indoor Deliveroo, when you get down to it").
"Food: 10. Service: 10. Everything: bloody 10."
*****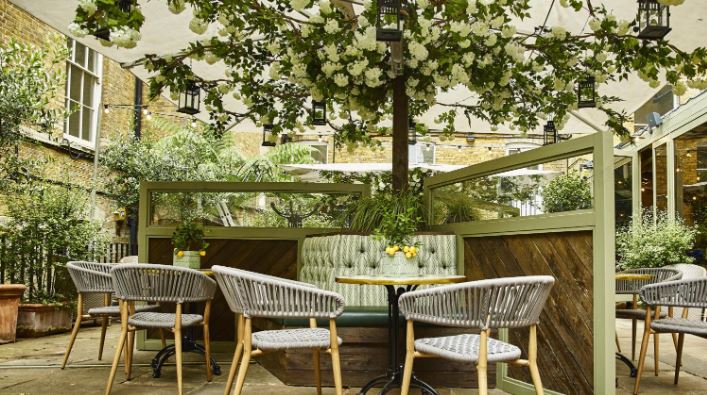 The Sunday Times
"Everything here is hit with the pretty stick."
Marina O'Loughlin was "deep in the Chelsea jungle" at the Flower Show when she stumbled across Stanley's and its "intriguing, flower-bedecked courtyard". ("The interior is quite different, darker, less Fragonard.")
Returning to review it, she realised that the (fake) flowers "are a permanent fixture", but also that "Stanley's is more interesting than its Instagram-ready appearance suggests".
Chef Olivia Burt is ex-Le Cordon Bleu ("very Chelsea"), appeared on MasterChef: The Professionals, and has also worked with Simon Rogan and Joël Robuchon; "the stamp of that pair of exacting chefs can be seen in her dishes: there's serious precision".
The menu is "deliberately compact" and while "nothing is being reinvented… it's an appealing collection". And "she's a whizz at puddings".
"I'm wrong-footed by Stanley's, expecting it to be a distillation of everything I dislike about this smuggest part of town. But I'm captivated."
*****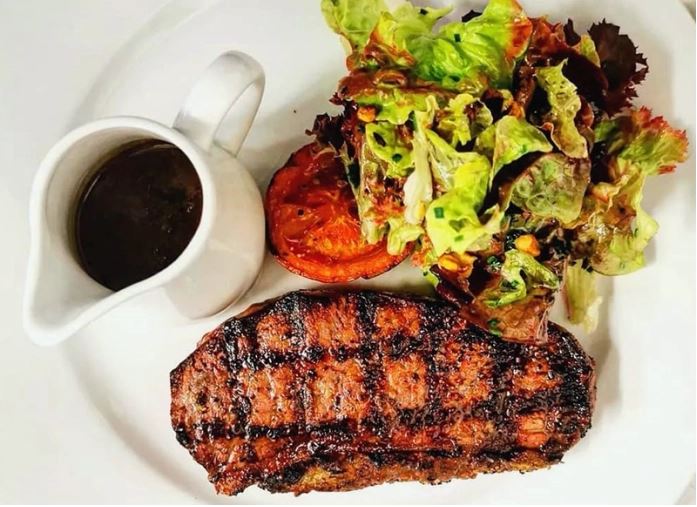 The Mail on Sunday
Tom Parker Bowles for YOU Magazine took his daughter to "upmarket steakhouse" The Porterhouse in Oxford, where the "meat is British, grass-fed and matured for up to 42 days before being cooked over charcoal".
He proudly watched his daughter order her steak medium rare for the first time, while his sirloin (done "not so much warm blushing pink as a cool mortuary blue" just as he likes it) was "quietly mighty" in an "understated, no-fuss and nonsense English sort of way".
*****
And also…
In The Financial Times, Tim Hayward reviewed Toklas, which he says is "more exciting than almost any other room in London": "gong-worthy dining at a modernist masterpiece".
Also in The FT, an article on fusion cuisine's revival and "five London restaurants marrying very different global cuisines"."Despite the culinary world's distaste for the F-word and its 1990s vibe, a vanguard of London-based chefs are remixing fusion for the 2020s — and creating a radical new food phenomenon."
*****
In The Scotsman, Gaby Soutar reviewed La Bocca, "named after the Italian word for mouth", which recently opened in Stockbridge. Her own bocca was "reasonably satisfied" with the meal of small plates.
*****
Birmingham Live reported on the "Yorkshire chip shop chain", Mother Hubbard's that opened a second branch in the city, and charged just 45p for fish 'n' chips on opening day – the price of the dish when the first branch opened in 1972. Also coming soon to Birmingham, a pop-up of the "infamous Aussie restaurant", Karen's Diner "where the staff are rude and you're expected to be rude back".
*****