Harden's weekly update of where the critics are eating, recommending and avoiding, for the week ending 26 January 2020.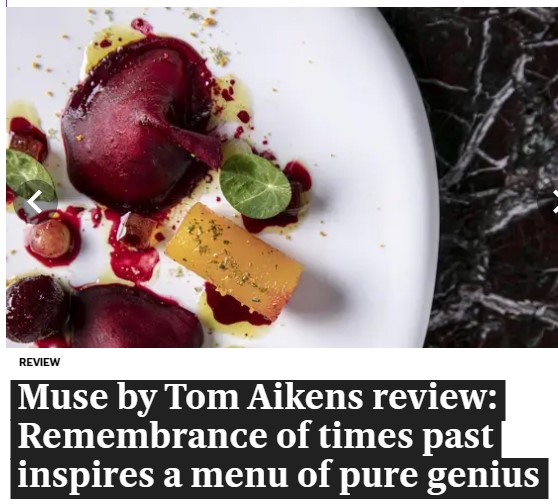 It wasn't just us then. "Tom Aikens's new bijou "experience-led" fine dining restaurant was greeted with snorts of derision as possibly the most pretentious ever."
But the last laugh is on us, as David Sexton for The Evening Standard reveals, as Muse is "ravishing".
It's located in "a small corner house in a mews in Belgravia, prettily designed… softly lit and sweetly coloured" with "just 25 covers altogether" with an "intimate and relaxed" feel ("even a bit studious").
David went at lunchtime for the £95 set menu (for which you need to pay a £50 deposit per person); each course "proved truly a memorable experience, intricately accomplished and beautifully presented, the intensity of the tastes easily living up to the poetic billing", from the "sensationally good bread" onwards.
"Muse is an absolute treat. For such an experience, it's not so expensive either. With four glasses of good wine and service, we paid £266.33 for two. You can pay more than that to go to The Lion King or a goalless north London derby." (*****)
---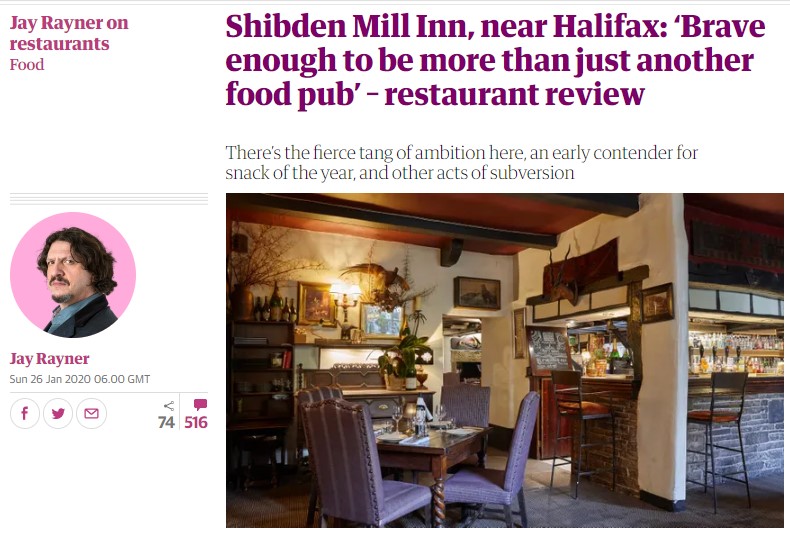 The Observer's Jay Rayner was musing on the concept of bravery at Shibden Mill Inn, a "low-slung, whitewashed collection of buildings", tucked into a "wooded, stream-babbled cleft just outside Halifax"… "very much an English country pub".
From the 'Nibbles' menu came a dish of crispy fried cod skin with horseradish cream and caviar. "It would be ludicrous hyperbole to call this the snack of 2020, what with it still being January and all. But it's extremely encouraging and its mine and no, you can't have any."
His starter of chicken liver parfait ("smooth… whipped and glossy") came with bacon jam ("a dense, sweet-savoury porky relish that makes me feel understood")
Main courses could have done better, and desserts "veer between the poised and the muscular", but "there's a lightness of touch to the service" and Jay didn't want to be unkind to the brave kitchen ("I only want the kitchen that can make that parfait to succeed").
"The Shibden Mill Inn could be just another food pub. Instead they've had the courage to become a lot more than that."
---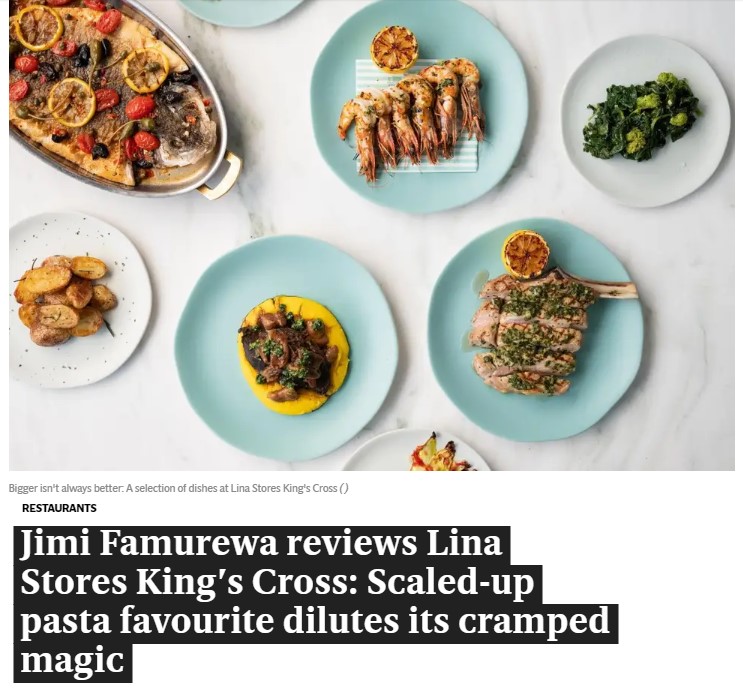 Spoiler alert: Jimi Famuwera for The Evening Standard "can confirm there is no dessert trolley" at the new Lina Stores in King's Cross. The trolley – along with the 100-cover space – was "hyped as one of the biggest draws" of the newcomer.
It's "otherwise highly likeable", all "seafoam green plates of beautifully sauced carbs" but Jimi had an abiding feeling of "wayward overpromising, operational blindspots and the slight dilution of the old, cramped Lina magic".
There are good parts: it's a "pistachio-accented swoon" and the fresh pasta "elicited… grunts of profound satisfaction".
But there was a jarring moment when – after the server filleted the "boisterously crisp, flaking brute" of roasted sea bass, the bones were whisked away, "an especially egregious and strange oversight" in this "age of zero waste" (and also, for Jimi, "anger at being denied a chance to pick at fish bones may be my most Nigerian take ever"). It feels like the Peking duck at Imperial Treasure all over again.
"Lina Stores King's Cross generally succeeds in conjuring the charm, atmosphere and careful cooking of its Greek Street predecessor. But it also serves, now and then, as an inadvertent reminder that bigger isn't always better." (7/10)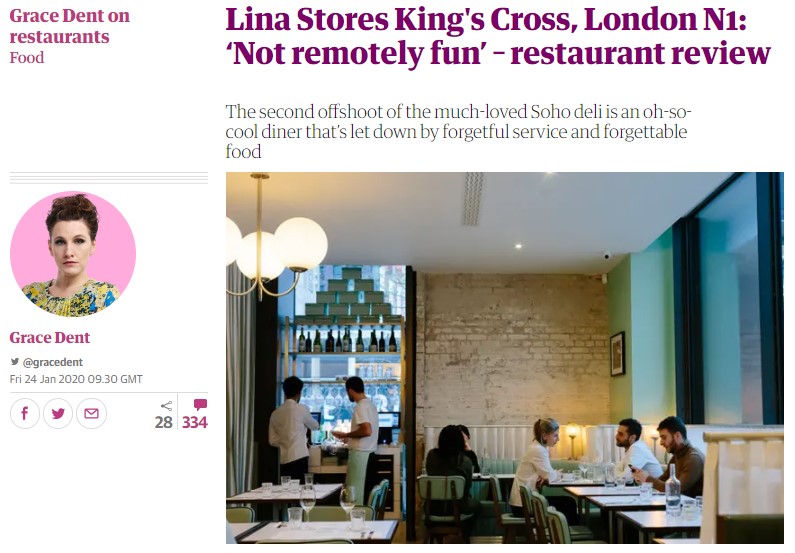 Grace Dent for The Guardian also reviewed Lina Stores; twice, in fact, as the first time she "refused to write a review, because I reasoned that almost all the staff would be fired by the end of the month". She was right, but sadly the second lot were no better than the first ("the mood of the staff was a war of attrition against the public").
The "whopping great space" is "undeniably beautiful… a cool, retro, mint-green diner with a lavish sit-up bar". But Grace's view of the person preparing the antipasti gave her "many clues as to why nothing is delicious". And the "pasta is disappointing, just as it was on my first visit" – it was a relief when her main courses weren't delivered.
"Sometimes, smaller really is better." (7/30)
---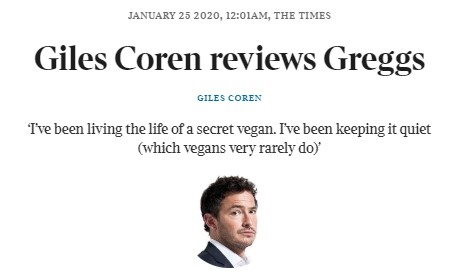 Greggs
Giles Coren for Saturday's Times magazine has gone public… he's now a vegan (but only until 6pm at night, and even then he's only eating "well-treated beasts").
He's fine with breakfast and black coffee, but lunch is now a meat-free zone and he was on the hunt for a decent vegan option. For some reason, he tried Greggs and McDonald's. The Greggs vegan sausage rolls were "a delight. The pastry was flaky and savoury, the filling was thick and reasonably meaty" and the steak bake (sold out by 9am) were "good… dark and meaty… with plenty of umami, more fun to eat than the blander sausage roll… as delicious as junk food really gets". McDonald's Veggie Bites were "no worse than a frozen crispy pancake… with that familiar flavour of wet carpet". (10/10 to Greggs)
---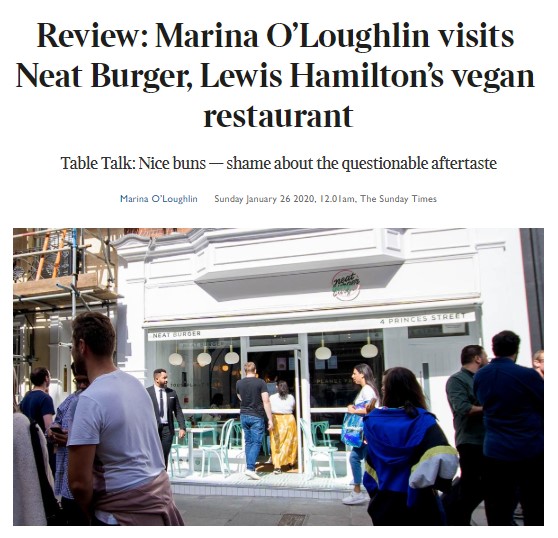 Marina O'Loughlin for The Sunday Times was also toying with veganism and what it means for the restaurant trade ("the great growth sector for vegan restaurants is in the junk food sector").
She's not a fan of the term 'plant-based' ("such a pusillanimous, meaningless, weaselly expression") and wonders exactly what is in all of the "ultra-processed" fast food that's labelled "organic" and "healthy" (hardly any of the restaurants are "open about ingredients").
Neat Burger is "fronted by vegan racer Lewis Hamilton (though how he reconciles "Better for Earth" with fuel-chomping racing cars is beyond me) and backed by the usual shadowy array of enigmatic money men". It's "Insta-cute" and staff "are bright-eyed and helpful", though.
The "the unnerving, "uncanny valley" quality of these flesh impersonators" disturbs Marina, from the "THIS Isn't Chicken, which hauntingly replicates the texture and grain of battery hens" to the "rubbery mutant" of a hot dog, a "particularly disturbing… pink, fleshy tube complete with grill marks (or are they?) on its bouncy skin".
And as for the claims to be Earth-friendly, a home delivery she orders "comes with enough packaging to reforest a small woodland".
"The winners here are the investors. And as for the people piling into these nouveau burger joints without questioning what they're eating? The word that springs to mind is, ironically, sheep."
---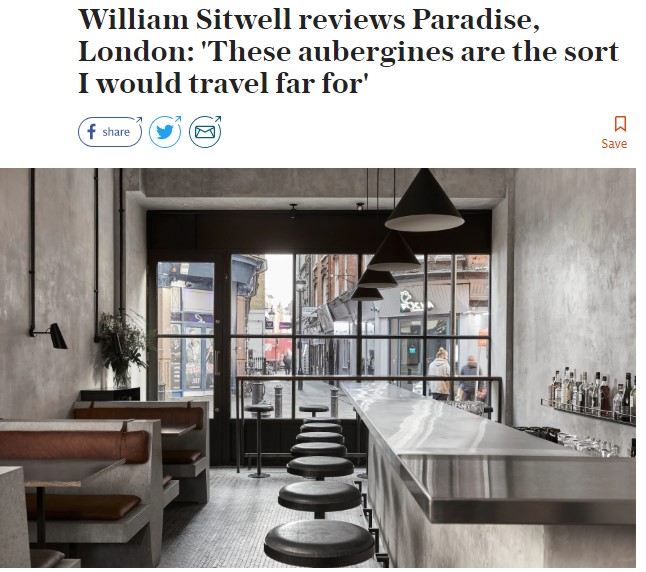 William Sitwell for The Telegraph was at the new Paradise restaurant in Soho, enjoying the unusual décor. "The design of the restaurant is a triumphant mixture of concrete and comfort" (despite being "a rural soul…  I've never felt so comfortable in such modern surroundings"). He was also a big fan of the toilets.
William described the menu as "a contemporary version of the street food of Sri Lanka, so there are hoppers – which are like crepes shaped like delicate earthenware pottery – little snacks such as lentil donuts, and a load of small plates". Dishes are "all piled onto the table at the same time".
There was an aubergine dish where "the chef did that miracle of making the skin edible but not burnt" – "these aubergines were the sort I would travel far for"; a "tender, pink, nicely spiced and very juicy" lamb chop was "a triumph". "Luxurious fulfilment."
"Paradise may be closer than you think." (****1/2)
---
Surprisingly, Tom Parker Bowles for The Mail on Sunday is a huge fan of Westfield (White City, naturally – we'd bet he's never set foot in the Stratford one). He loves the shops, the "the rapt and rabid consumerism, the dentist-bright lighting and the profusion of bland international chains", but is "less than enamoured" with the food options – only a handful of places stand out from "the legions of the drearily mediocre".
But now there's Pastaio, "the third branch of Stevie Parle's much-loved fresh pasta restaurant" that's "loud, bustling, cheerfully industrial and oozing pure, unfiltered hospitality" and that is "something to celebrate".
"Prices are at the sharper end of the mid-market, a brutal battleground at the best of times, but there's nothing average about Pastaio. It's the little touches that impress."
The pasta Tom and his son ate was "freshly made and alluringly silken"; the carbonara was "as good as I've eaten anywhere", the vongole was "generous with the clams" and linguine was "exceptional", in a "splendidly rich sauce".
"You certainly won't leave here hungry. Or unhappy. Because Pastaio is as big-hearted as it is generous, many miles removed from the centralised, cynical corporate likes of Zizzi and Ask. In a time of mid-market carnage, Pastaio shines." (****)
---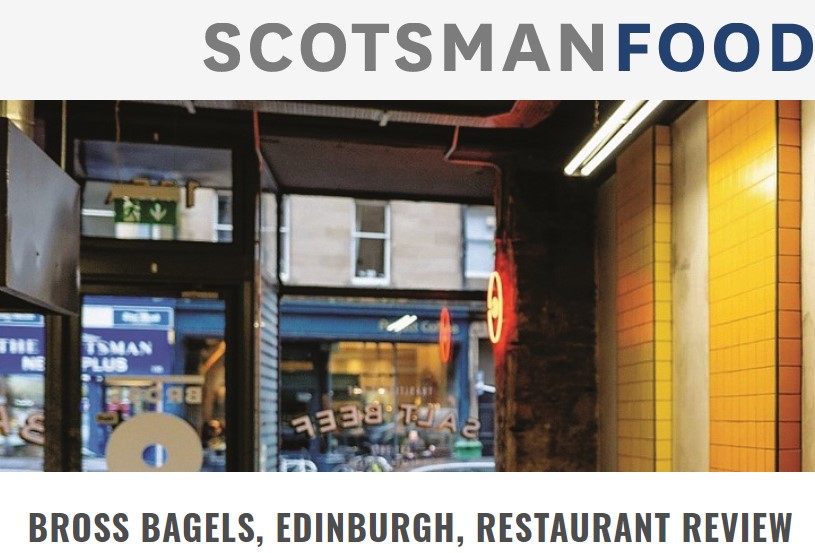 Gaby Soutar for The Scotsman was at Bross Bagels (pipped by several months by The Guardian's Grace Dent), a mini-chain now four branches strong; she doesn't do queues, so timed her visit for the end of the lunchtime line, and snuck in ahead of all the other "hungry hipster beaks".
Order at the counter and wait for your number to be called; the space is "rather low-fi", with "yellow, orange and magenta" tiled benches inspired "by Villa Maria Metro Station in Montreal – owner Larah Bross's hometown".
The 'Cluster Pluck' was deemed the best bagel from the hot or cold selection ("rated according to how silent its owner was") – you "almost had to unhinge your jaw, snake-like, to eat it"; the Brunchfield (a riff on this new branch's location in Bruntsfield) was a "smashing" salmon-based number, and she also tried the Reu-Bross and Hot Chick Club.
Cakes and coffee afterwards were eaten at 181 Delicatessen nearby. (80%)
And also…
In The Financial Times, Nicholas Lander reviewed Le Comptoir Robuchon: "this will instantly appeal to anyone who ever tasted Joël Robuchon's food — or appreciates the flavours of well-executed French cooking".
Recent News from Harden's