Harden's weekly update of where the critics are eating, recommending and avoiding, for the week ending 25 August 2019.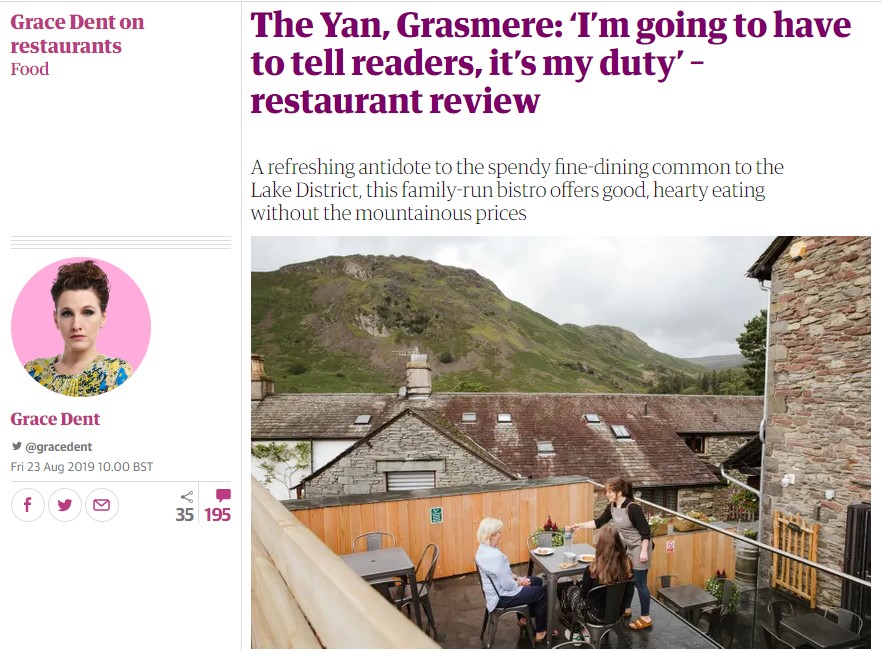 Grace Dent for The Guardian loves the Lake District, and visits a lot, but is constantly "in search of a big, reasonably priced and, above all, welcoming place to take normal folk" – and now she's found one in The Yan, she's very reluctant to share it with us, for fear of ruining it.
So "much of the notable dining and friendly service in the Lakes takes place in ultra-spendy luxury resorts". By contrast, The Yan, at Broadrayne Farm near Grasmere, is a "truly family-run affair" that "serves rustic stuff with finesse, but not too much finesse" and is "open more than 20 hours per week" and "the staff are jolly and not broken by 20 coaches of Beatrix Potter fans every day".
Grace and her family shared the "hummus of the day", a black-pudding scotch egg on pickled carrot salad, a board of home-smoked beef brisket, and a Cumberland sausage platter with "excellent creamy mash". Also "excellent" was the "veggie option of sweet potato with goat's cheese… in shortcrust… thoughtful veggie cooking despite being centre stage on a living farm". An "old-school summer pudding" thrilled her mother, while Grace shared a cookie stack for pudding.
"It does hurt my heart to reveal these things; like whenever I speak of places such as Syke Farm Tea Room at Buttermere, The Drunken Duck at Barngates or Baba Ganoush in Kendal. These places are tiny and special, and all of the world wants to visit the Lakes." (8/10)
---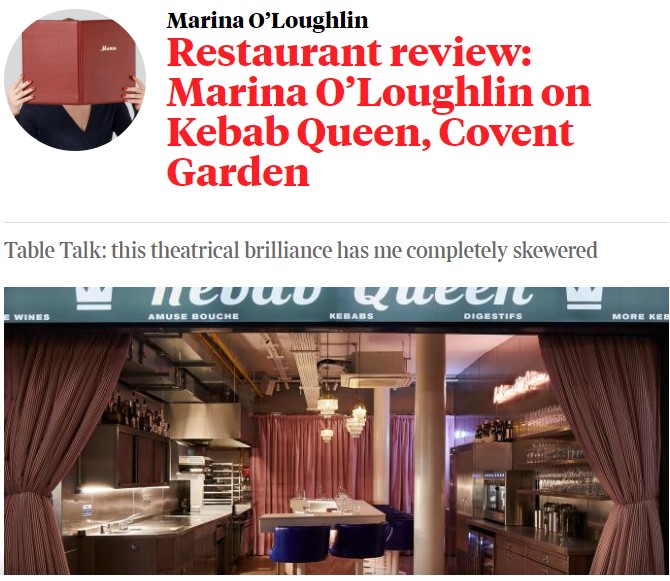 "I have eaten at some ludicrous restaurants in my time, but this one takes the fermented heme and moringa biscuit." Marina O'Loughlin for The Sunday Times was taken aback by the levels of bizarre reached by Kebab Queen, the new restaurant from the Maison Bab team, underneath the Covent Garden branch. It's "accessed via a mock-up of a kebab-shop street scene — and then through the upstairs posh kebab restaurant's kitchen".
There's no plates or cutlery – you eat from a heated quartz counter – and a £60, "no-choice, six-course tasting menu" based around kebabs, from ex-Gavroche chef Manu Canales. Marina arrived with "every cynical hair vibrating with appalled anticipation".
It could have been a disaster, but the meal was "nothing less than an adventure of delicious creativity that never lets up".
"What makes the place so fascinating is the element of surprise", so Marina doesn't go into too much detail, apart from describing how dishes are cooked and constructed in front of you on the heated slab, and you just pick it up and eat it however you want – "attempts to maintain either dignity or lipstick are pointless". "The whole experience is disinhibiting and comical in equal measure… funny and uplifting and genius and life-enhancing."
"When the owners first opened their Le Bab and Maison Bab restaurants, I unfairly dismissed them as posh white boys playing at kebabs. Turns out they're not playing at all."
"I genuinely don't know anywhere quite like this."
---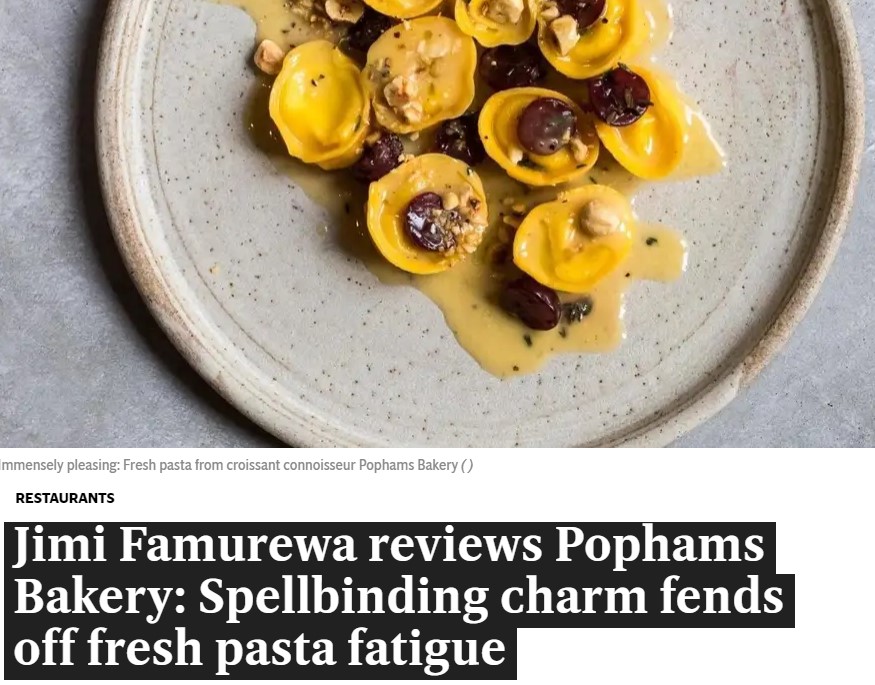 Jimi Famuwera for The Evening Standard wasn't alone in thinking that "London's fresh pasta renaissance would have lost some momentum by now" But we were all wrong – as he says, it's "extremely not over". With Padella and Lina opening new stores, and pizza-specialists Franco Manca jumping on board with Strozzapretti, there seems to be no stopping the pasta bandwagon, on which "Pophams is more than a mere passenger".
"This truly is the time of hand-rolled, lesser-known pasta shapes, silky sauces and the faint, percussive slap of cacio e pepe retracting into a million happy mouths."
Pophams Bakery, the "patisserie whisperer best known for its lacquered, interestingly flavoured croissants" has started pasta evenings at its Hackney branch (and also serves pasta from its stall in Arcade, the grown-up street market in Centrepoint). The food and atmosphere there make it a place of "spellbinding charm".
At the edge of London Fields, Pophams is "a spacious, softly industrial hall of long wooden tables and raw concrete, dotted with piled punchbags of flour". From the "slender" menu, Jimi ate pickled vegetables with bagna cauda, and was recommended the taleggio cappelletti by the server ("long story short, she is now in my will"). The "homburg hat-shaped pasta parcels" had "nuanced contrasts of sweetness and salt, crunch and chew".
He was a little "underwhelmed" by the 'ham and pea soup' ("pig cheek tortellini… in a deep, rich broth with peas") but the nduja scarpinocc redeemed, "sunshine-yellow… packing a feisty paprika heat… tossed in another shimmering cream emulsion that had me practically scraping a hole in the speckled artisanal earthenware".
The only sweet pudding – "yeasted semifreddo with hunks of fresh peach and a crunchy croissant brittle" was "pure joy; deceptive simplicity and the raw materials of a working bakery ingeniously alchemised into something unexpected".
---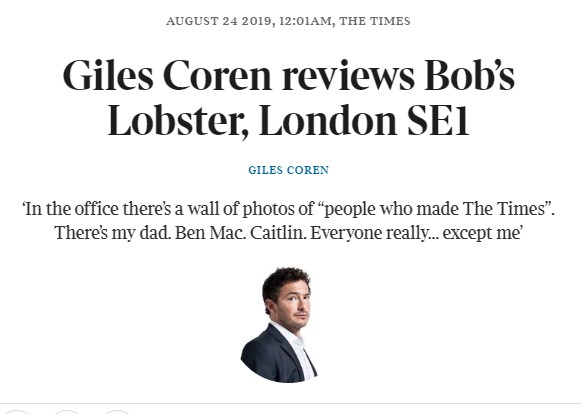 Giles Coren in The Times' Saturday magazine had another review stored up for us this week while he's on holiday, clearly dated from 5th August as there's a reference to Jay Rayner's Observer review of BOB's Lobster the day before.
Whenever he wrote it, his review is mostly about agreeing to take on Ayaat, a friend's daughter, for work experience so she can add it to her university application. He took her into the News UK office, where he apparently never goes, then on to lunch at BOB's, after they'd met several luminary journos and tried to find his name on the wall of "people who made The Times", which "features Matthew Parris, my dad, Ben Mac, Caitlin, Sathnam, basically anyone who has ever done so much as a weekend legal shift on the paper … except me".
BOB's Lobster is "modern and warehousey and American-looking" and reminded him of a food truck, which is how it started.
Ayaat was "underwhelmed" by the lobster, which she thought was "rubbery", and not the "salty magical deliciousness" she hoped for (she'd never eaten lobster before), but she loved the "wonderfully fresh and briny" deep-fried oyster. Giles also enjoyed the oysters, the sashimi-grade tuna tacos and "the weirdly moreish kale hush puppies, which is the hipster's favourite movement-inducing brassica". (22/30)
---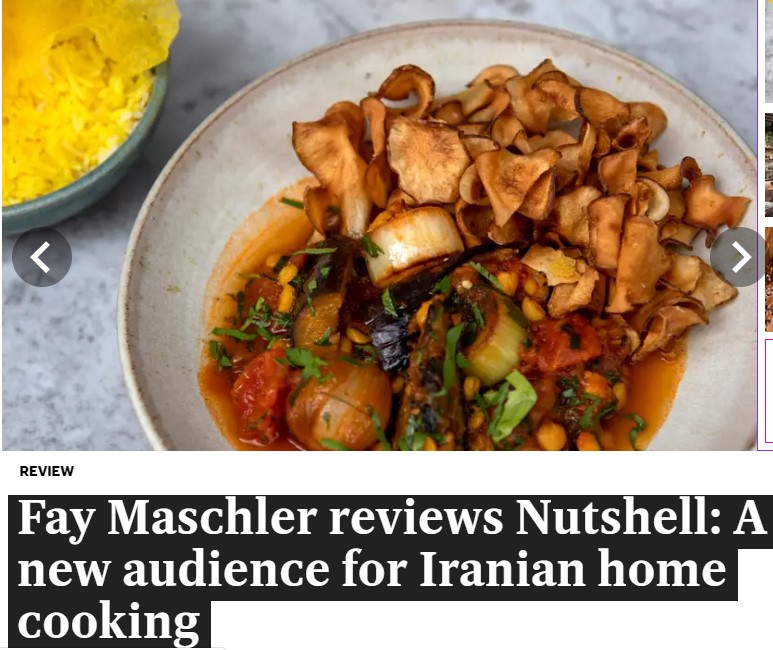 Fay Maschler for The Evening Standard was back after a break, reviewing Nutshell, a "venture loosely based on Iranian home cooking" which enjoyed a brief connection with ex-Noma chef Leonardo Pereira but now has ex-Palomar chef Jeremy Borrow at the stoves.
Her companion complained that the menu sounded like "the Azerbaijani first eleven in a world cup qualifier", although the servers were "delightful and informative" in translating – even if they did go a bit far when explaining how a small plates concept works.
After the bazaar bread ("a must") and dips, Fay and her companions ate "workmanlike… potato-filled samosas", Lebanese baba ganoush, octopus tentacle (which had "lost… some of its wily personality") and poussin kebab from the grill and zulubia ("something like diminutive churros") for dessert.
A word of caution: "a bill can, without much effort, rival in height the Mount of Olives". And also "noise, bouncing and head-butting off the tiled floor, is a problem". (***)
---
Tom Parker Bowles for The Mail on Sunday ate "some of the best roti in town" in "shabbily insalubrious" Euston premises which are "perennially packed, punters sitting hugger-mugger on communal tables" – "sometimes, it's necessary to wait your turn to bring spoon to mouth".
The roti are "rich, finger-singeing hot and blissfully buttery, dunked into a metal bowl of runny daal", the curries are "not shy with the chilli" and laksa is a "big-hearted, generous" bowl.
"Who needs million-pound refits, vast wine lists and tedious tasting menus when you can stagger up those grim steps, merry as a well-fed raja, lips oily, shirt stained and belly stuffed? For little more than the price of a couple of pints of beer." (****)
---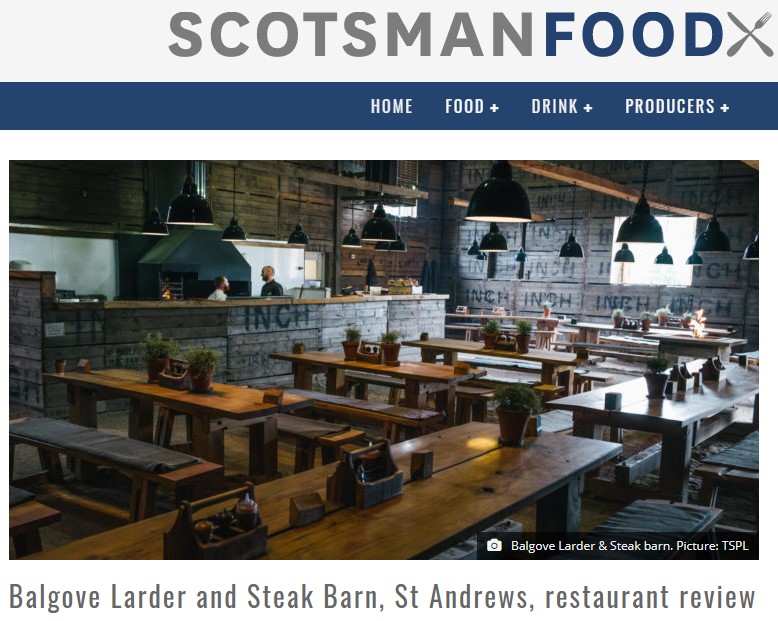 Catriona Thomson for The Scotsman reviewed a "very stylish barn, just outside St Andrews", where a "Country Life-style rural store is home to a café, florist and on-site butchery", with a "steak barn dining room… located in a former sawmill".
Inside the dining room, "it takes a minute for your eyes to become accustomed to the dimly lit gloom while the flaming grills blaze away like a forge in full swing. It's quite the theatrical experience".
A trio of vegetarian starters were "simple, moreish and sublime", and veggie burgers were a "treat". The main event, a flat iron steak, was "tenderised to perfection… medium rare, smoky and tender – delicious". "This place showcases the best of Fife, farm to fork." (90%)
And also…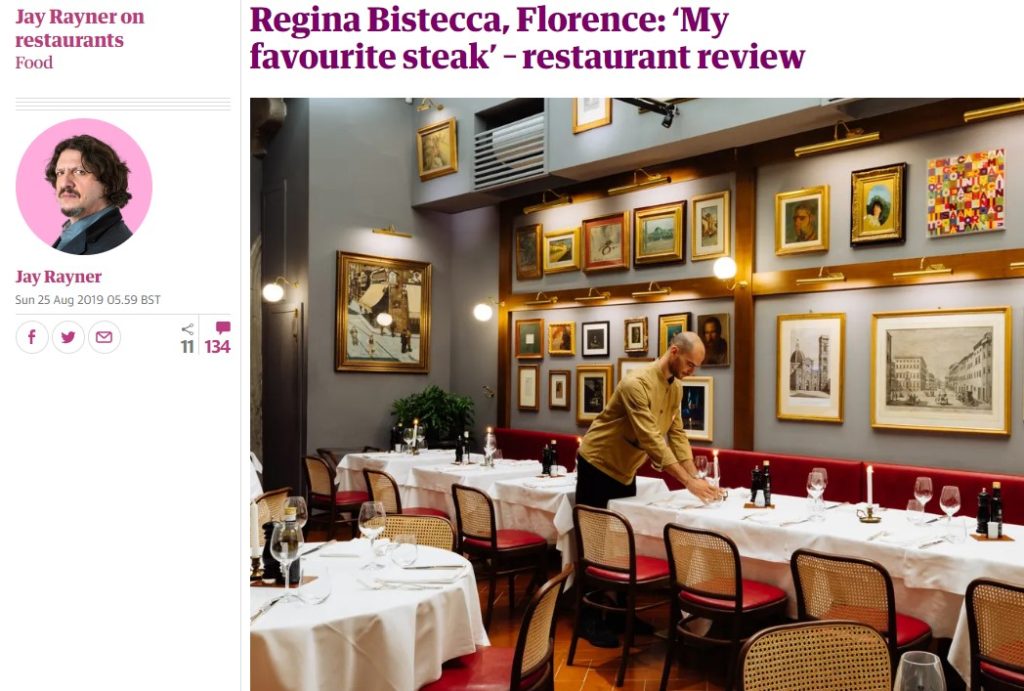 Jay Rayner for The Observer was in Florence, in search of the very best 'bistecca alla Fiorentina'. After a tourist trap rip-off experience, he'd avoided looking for a while, but he was recommended the "relatively new Regina Bistecca – literally Queen Steak" and he's found his favourite. "They served me one of the very best slabs of beef I have ever eaten."
"There is a ripe minerality to the meat… a crispness to the fat… frazzled bits along the bone that we shall not let escape… no gristly bits to be left discreetly on the side of the plate. It is all deeply flavoured and encouraging. It's bloody gorgeous, in both senses."
---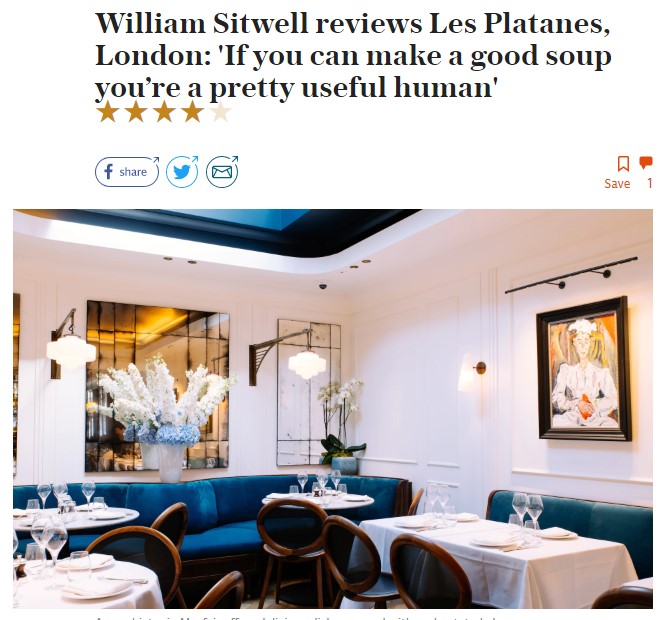 William Sitwell for The Telegraph reviewed the "upmarket, south-of-France style bistro" Les Platanes near the bottom of "posh cobbled rat run" Bruton Place in Mayfair, where there's "a collision of good restaurants piling up". (****)
---
Kathryn Flett for The Telegraph followed the herds visiting Nathan Outlaw's Siren at The Goring ("the last family-owned five-star hotel in London"), where she encountered "great cooking" with "fine ingredients". She describes the hotel as "ever-so-slightly glam while also being a very long way from Beyoncé". Her advice? "Fill your boots". (****)
---
Nicholas Lander for The Financial Times was travelling again, this time in Barcelona, where he visited Petit Comitè. "The bone marrow and steak tartare would be a fitting candidate for my Desert Island dish… I left feeling very happy indeed".
Recent News from Harden's