Harden's regular round-up of the restaurant critics' roamings, from the week ending 23 June 2019.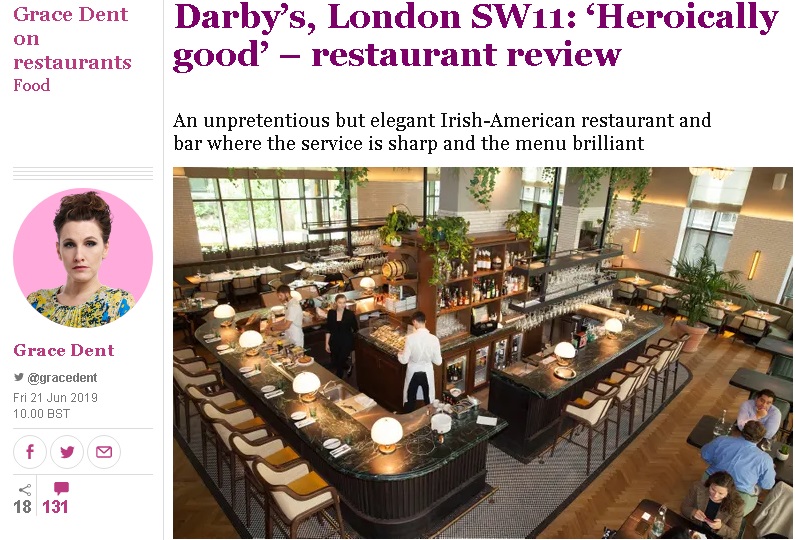 Grace Dent for The Guardian was the first critic to beat a path to Battersea to sample "Robin and Sarah Gill's new project" near the peculiarly placed new American embassy at Vauxhall ("a gargantuan, purpose-built, space-age fortress… resembling a cross between the Pompidou Centre and the Premier Inn Reading Central").
The Gills are "well-respected among food types for genuine, heartfelt, hard-earned reasons": The Dairy ("fancy-modern") and Sorella ("tipsy-Italian") being two. Darby's is "a culinary bear hug for Robin's dad, the late jazz musician Earl Darby Gill" occupying a "large space with subdued lighting and high ceilings" – there's also "a bakery, an oyster bar, an open grill and a large sun terrace".
Grace ate dayboat monkfish in seaweed butter that was "heroically good", served with beef-fat potatoes that were "SpongeBob SquarePants-shaped, concertina-style slices of heaven", followed by a Tia Maria affogato, after which "even the armed security guards holding semi-automatic 10-inch-barrel gas-piston-operated rifles outside the embassy seemed like "a great bunch of lads"". Move over Xier, this is Grace's new favourite restaurant of the year.
Darby's is "one to have up your sleeve for a multitude of eventualities: crowds, client dinners and date nights alike… classy, with fast, excellent, knowledgeable service". The "winning formula"? "Simply to take incredible produce and serve it carefully." (27/30)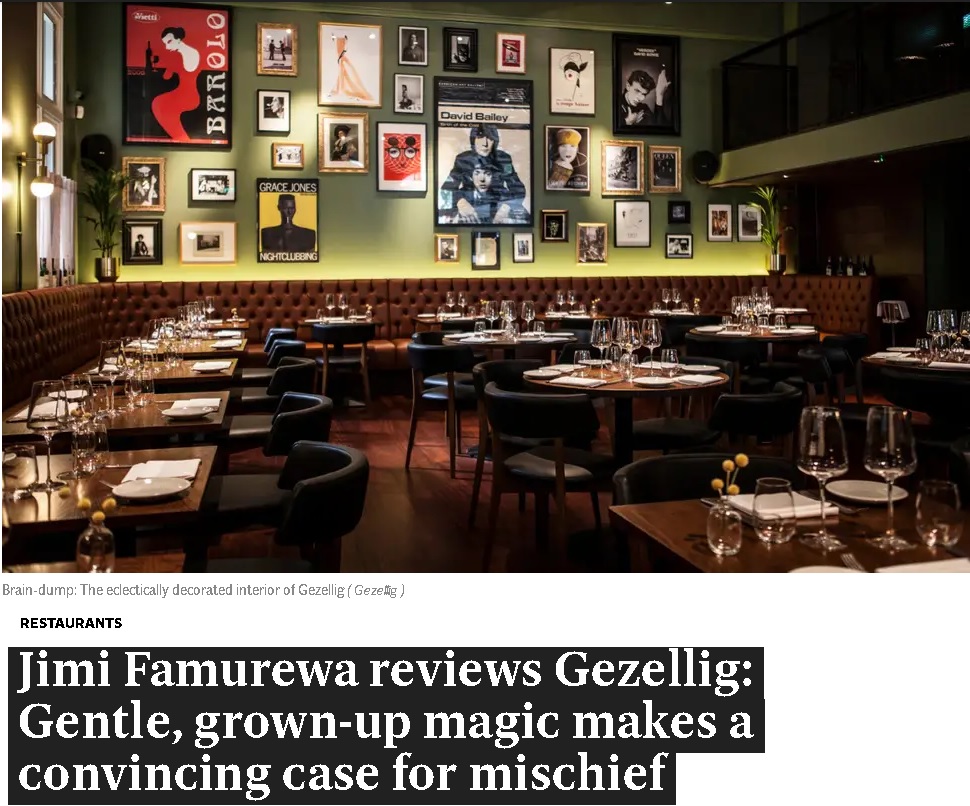 In Gezellig, a "nomadically European" spot "hidden in Holborn Town Hall", Jimi Famuwera for The Evening Standard has found "exactly the kind of useful, zone 1 place I can see myself returning to frequently".
It's a place that "embraces lamb fat and Wigmore cheese toasties, pecorino gnocchi with girolles and a dessert option that is literally a cup of tea and a housemade chocolate digestive biscuit… a happy pile-up of culinary ideas and influences, all anchored — for the most part — by precise, Michelin-grade cooking". All in "a hell of a space… a high-ceilinged, banquette-lined room" that's "already in possession of a clubby, lived-in air".
Jimi's companion ate pot roast turnip that was "a stormer: flawlessly cooked… accompanied by a mini jug of fragrant duck broth and a sexy little crostini". The "palate-blitzing joyfulness" continues in his lamb dish that was "swarmed by incredible things". But both of Jimi's dishes, including a "giant fish finger of poached plaice with a fantastic golden Comté crumb" felt "both expertly done and a little one-note, taste-wise".
"My overall impression was of a talented creative team, schooled in the cutlery-straightening rigours of fine dining but bold enough to make a convincing case for something a little less buttoned-up. Gezellig has that sprinkle of gently grown-up magic and a glint of wine-loosened mischief." (7/10)
The Evening Standard also reported on the proposed transformation of London's old Eurostar terminal at Waterloo into a restaurant hub with over 40 food outlets, bars and shops.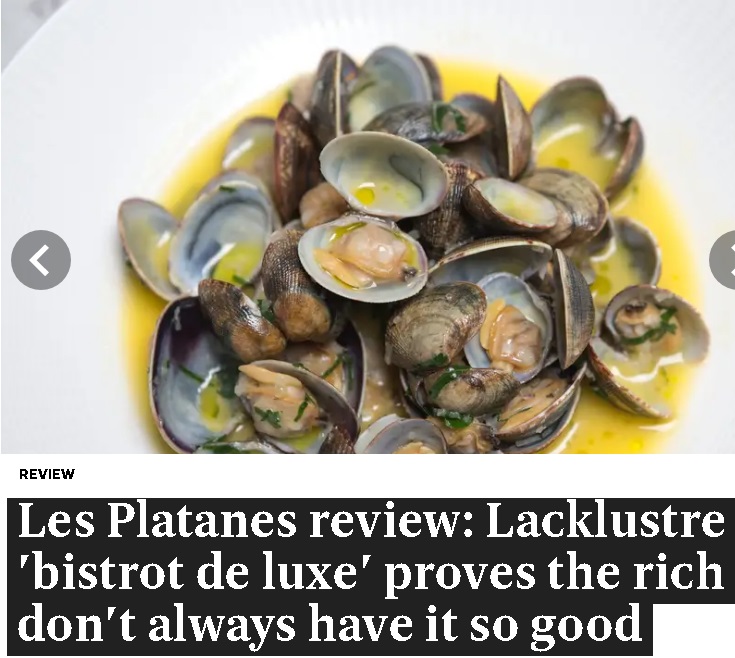 Les Platanes ("named after the wonderful plane trees in Berkeley Square") replaced a short-lived spot called Babel House. David Sexton for The Evening Standard paid it a visit on a rainy Wednesday.
He'd checked the menu online and thought that "prices seemed steep for bistro food" but remembered that it's Mayfair, "where the happy few find high prices to be a positive reassurance". The prices he saw were actually, once he got there, lower, having been unilaterally cut by 20% ("from the preposterous to the merely punchy"). Sadly, that didn't help the food, all of which was "mediocre or worse".
"Gritty" clams, "flavourless" lobster and the pelmeni was "thick and rubbery" ("a Russian dumpling, featured also at Babel House"). A "tired" and "over-cooked" pieced of turbot was "a sad end for a noble fish". And the lemon sorbet dessert was "too raw and acrid to finish".
Even the "impressive, carefully chosen wine list" and the freebie starters and digestifs (he was recognised) didn't improve a meal which just topped £200. (**)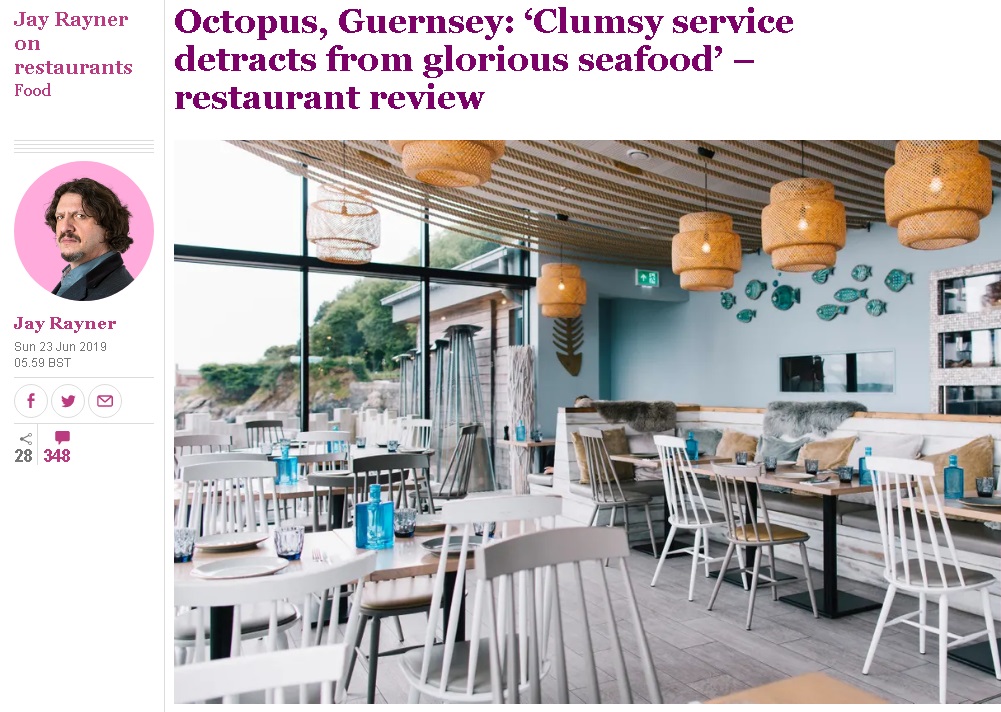 Octopus, St Peter Port, Guernsey
Jay Rayner for The Observer asked his taxi driver what they thought of his chosen restaurant for the evening. The response, that it "serves some great food, but the service can be a nightmare" was exactly what Jay experienced. Octopus "has an awful lot to recommend it, but it's also an amiable shambles".
The setting couldn't be lovelier (it's also home to Le Petit Bistro) – "a prime spot in the shadow of a forested hill… the view from the outside deck and the glass-fronted dining-room behind is across water to the castle and various outcrops and islands".
Menu wise, it could be described as the eponymous "many-legged creature" – or just as "completely nuts". Steaks, seafood, street food, lots of mussels… and ramen. To start with, Jay ate deep-fried scallop 'beards', a sausage roll and rock oysters "grilled under a champagne sabayon with spinach and seaweed… all cream and acidity and surf and hurrah".
For the main course, a 'hot seafood pot' was a "truly glorious mess of seafood. It's a huge dish to get up to your armpits in" – an "ocean-deep broth… spiced and ripe with tomato and chilli… completely engrossing, a single dish which for some is worth not only its own price, but also that of a flight".
But "waiters have to be flagged down like racing taxis as they attempt to skim, wild-eyed, past us", and "there's also some shameless upselling".
Researching for his trip, "Octopus stood out because it appeared to make an unstuffy virtue of the water at its door. Even allowing for the chaos, that's exactly what it does".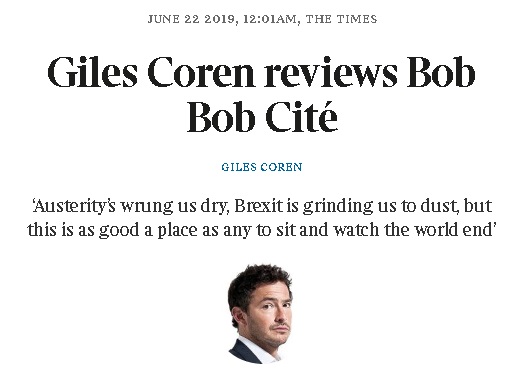 The opening of the original Bob Bob Ricard in Soho is forever entwined with the collapse of Lehman Brothers in Giles Coren's mind: "in the whole history of the world there could not have been a worse day on which to open a place with a champagne button."
So, to Giles, now seems to be exactly the right time to open its City sibling, Bob Bob Cité – "you can tell the time is right because austerity has wrung us dry, Brexit is grinding us into dust, the oceans are full of plastic and AI and robotics are predicted to kill off the human race by Christmas".
The new Bob Bob is equally "bonkers", but with Eric Chavot at the stoves, serving up "pretty wonderful, classical French" fare (if you can "pick your way around the daft-arse caviar and truffle-baked oyster options").
In the course of his review for The Times, Giles ate Eric's "superb" onion soup (with "a great cheesy belly-flop of a Comté crouton"), an "elegant steak tartare full of capers and gherkins and egg", a "delicious, rich, tarragony chicken" 'pie' (no pastry base) and "fat, angry lobster macaroni cheese with its golden crunchy crust".
There were a few drinks, too – ice-cold "eight times distilled, quartz filtered" vodka, "a very good, very old meursault" and a glass of 1988 armagnac. Although he could have just had the rhum baba (which "would have got us pissed even if we hadn't had that vodka already").
And the bill? "If you're asking, you don't want to know." They have to recoup that £25 million set-up cost somehow. (23/30)
Tom Parker Bowles for The Mail on Sunday also visited 'BBC' (with Grace Dent), and declared it "one hell of a handsome chap… a spectacle, a treat, and delight".
He also enjoyed "one of the greatest French onion soups to ever burn my tongue" from the "great and mildly mad Gallic genius Eric Chavot", the steak tartare and a tomato salad that was "the very essence of Provençal summer"; that chicken 'pie' was "magnificently sumptuous and sybaritic… the Louis IX of chicken pies".
"Service is as slick as the polished floor's sheen, yet discreet and unobtrusive too." Yes, the decor is gilded and opulent, but "the overall effect is one of knowing opulence rather than over-the-top kitsch… elegant rather than excessive, smart not showy. Most of all, it's fun". (****)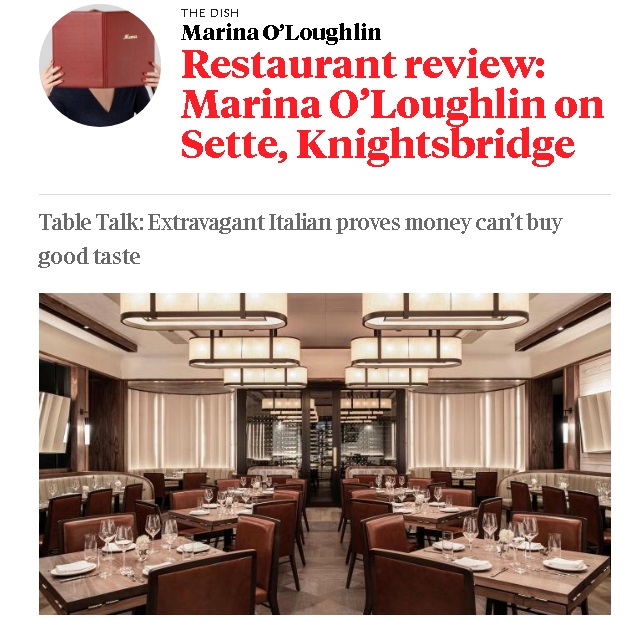 A simple plate of pasta had Marina O'Loughlin for The Sunday Times in a rage; for £16 she was served pasta "sauced in the American rather than Italian way: drowned rather than dressed, the pasta slightly flobby as a result… emulsified with lagoons of tastebud-clogging oil and butter".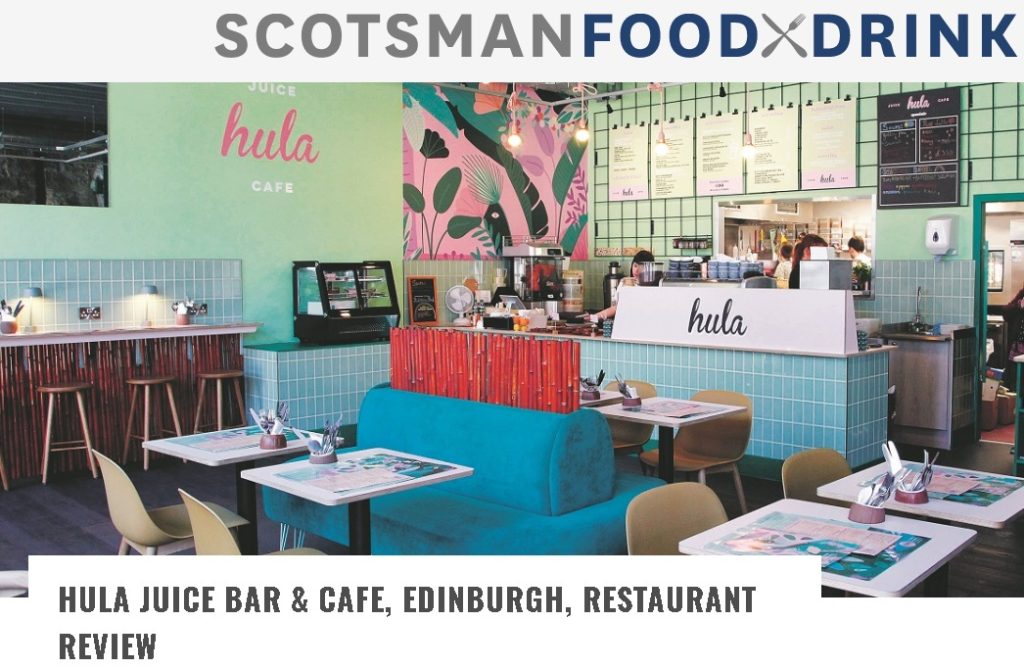 Gaby Soutar for The Scotsman had her five-a-day in a glass at new Edinburgh juice bar Hula this week – they've been open in the Grassmarket for 12 years, and have recently opened this second branch in Fountainbridge. "It smells of freshly pulped oranges", is "extremely photogenic" (social media is "littered with appreciative pics of Hula's wares") and has tip-top "hip credentials".
She tried a smoked salmon version of poke, a teriyaki jackfruit and kimchi bowl (gamely, for someone who normally avoids jackfruit – the "texture… reminds me of wet phonebook"), the peanut chicken and crushed potato bowl ("comfort eating kudos") and coconut bacon and kale caesar salad ("Was a comma missing? Nope, this consisted of shredded coconut that was salty and smokey with spices"). (78%)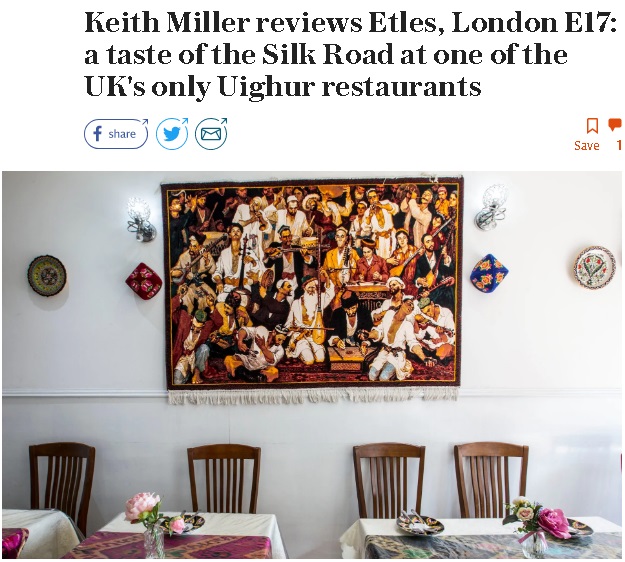 Keith Miller for The Telegraph visited "one of very, very few Uighur restaurants in the UK", in Walthamstow, where he made a good case for a geopolitical map of the evolution of foods like dumplings and noodles.
It's a "bright, glass-fronted dining room… decorated with silks and ceramics" serving up food that Keith describes as "homely and hearty, robustly flavoured and not, in truth, wildly subtle, but nurturing and comfort-bringing". Lots of lamb, and no pork.
Etles serves "Chinese crowd-pleasers like kung pao chicken" but mostly dishes from the owners' native region, "Xinjiang, a huge autonomous region of north-western China". Menu descriptions include "an admirable lack of folderol" – ingredients such as "chopped calf…cow stomach and lamb foot" are listed.
Keith ate dumplings, skewers, pulled noodles with lamb stew and "an unexpected delight – a side of shredded potato, briskly wokked with garlic, white vinegar and dried red chilli… one of the most transcendent things you can do with a spud". (***1/2)
And also…
Tim Hayward for The Financial Times gamely ate the full English breakfast at The Guinea Grill: "Every element exaggeratedly extra… if you thought the fry-up was an endangered species, try the Guinea's extravaganza".
Recent News from Harden's