Our weekly round-up of what the national and local restaurant critics were writing about in the week ending 20 June 2021.
*****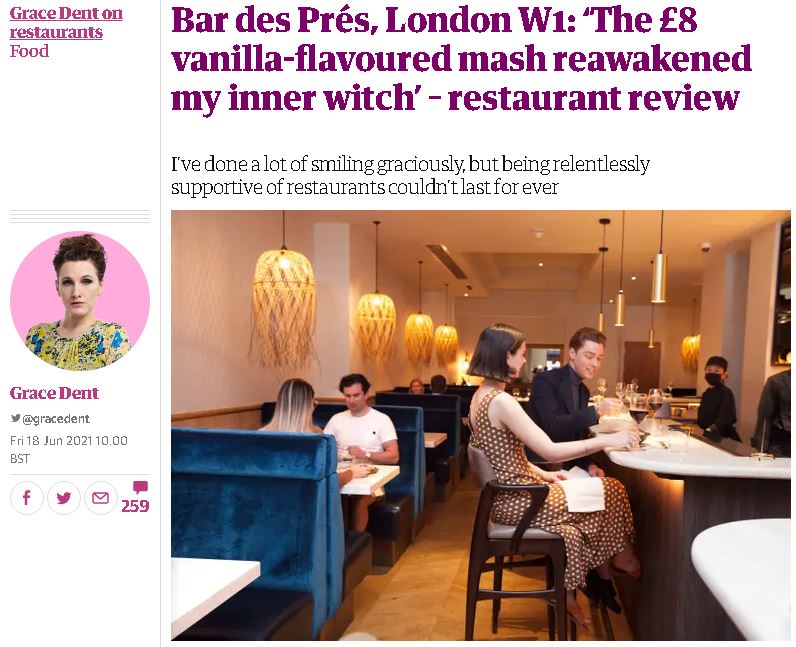 The Guardian
"I've done a lot of smiling graciously, but being relentlessly supportive of restaurants couldn't last forever… For the first time since the pandemic, I am openly narked about a not-very-good restaurant. I won't lie: feeling this bad feels quite good."
Welcome back, Grace Dent. It was Bar des Prés that finally reawakened the critical critic in her – or as she likes to say "the old pre-pandemic Fenella The Kettle Witch". "All it took to reawaken her was an eight-quid side of mash that tasted a bit like Birds Eye arctic roll." Ah yes, the vanilla mashed potato (we heard about this last week from David Ellis).
Fenella also thought that the celebrity chef swanning around the dining room and clearly not actually cooking was "n'est pas OK".
In a time of serious staff shortages (and "a plethora of untrained staff let loose" all over the industry), "Bar des Prés is actually a beautifully staffed, well-run joint" with "attentive, smiley, full-eye-contact" staff.
"Its main problem is that it is also a lavishly funded, Franco-east Asian restaurant that began life in Paris… to the naked eye, it's just another fancy Mayfair cocktail bar." Even Cyril Lignac's signature millefeuille dessert was "a plate of punishingly sweet tooth glue", and "burnt" to boot.
*****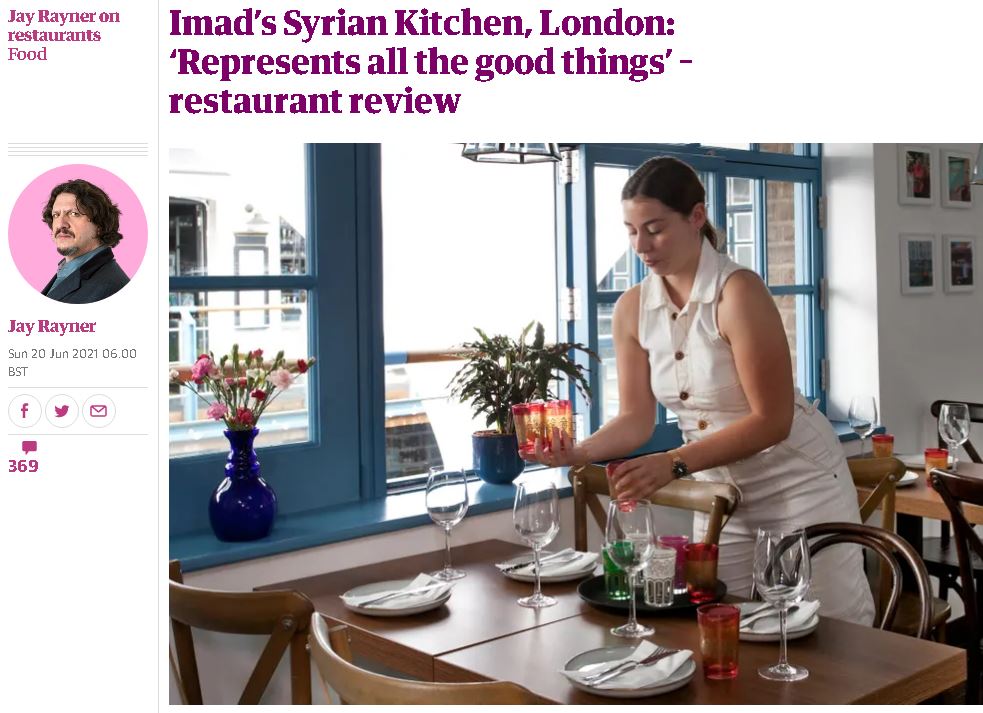 The Observer
Welcome back too, to Jay Rayner who returned to reviewing with a visit to Imad's Syrian Kitchen, the crowdfunded and much-delayed bricks-and-mortar restaurant (on the former site of Darjeeling Express) from chef Imad Alarnab who arrived in the UK as an asylum seeker after his restaurants in Syria were destroyed.
"Anybody reasonably versed in the Middle Eastern repertoire" will recognise the dishes on the menu, but they are all presented with delicious "idiosyncracies"; the dessert that's a "Damascene speciality" is "a childish delight".
"We do not have a more diverse restaurant sector than any other country in Europe by accident. It's the product of waves of immigration."
"With some restaurants, it's all about the story… Imad's Syrian Kitchen represents all the good things."
*****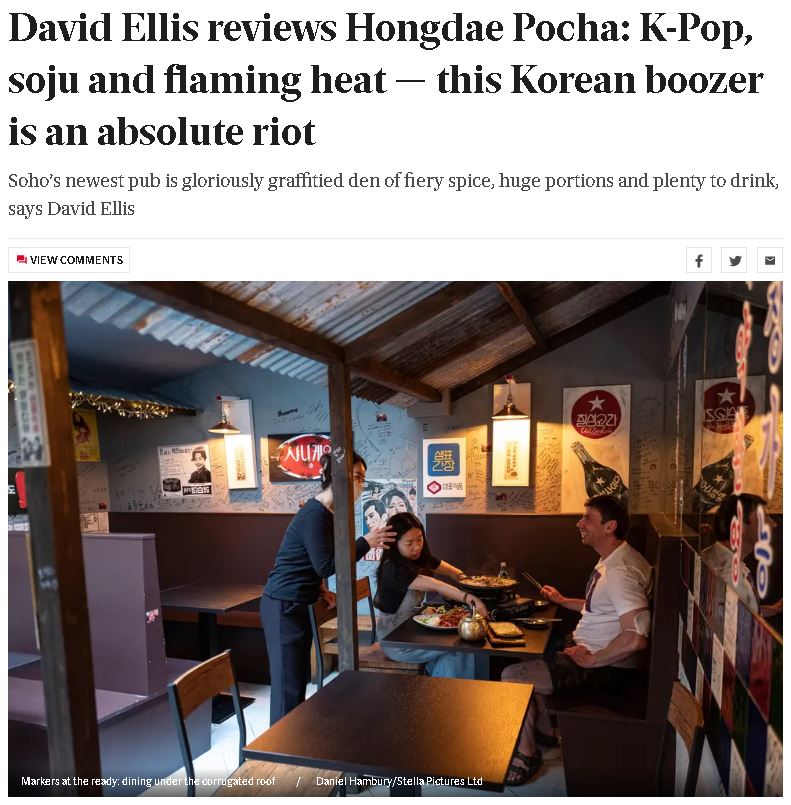 The Evening Standard
"It was a surprise to see the newborn Hongdae Pocha sat here" on Romilly Street — "it is, apparently, London's first pocha, or what might loosely be dubbed a Korean pub".
David Ellis, editor of the Reveller, reviewed Soho newcomer Hongdae Pocha with its graffiti-covered walls ("vandalism is cheerily encouraged with permanent markers tucked in beside the menus") and " self-effacing menu" of "snacks" of unknown size but delicious results, particularly the "beef and mushroom pot sat on its own gas stove" which could have fed four.
"K-Pop blasts and lights wink. Drink is poured." The "bubbling, ebullient crowd" almost tempted him to "stay late, be silly, and sink the stress of the last year with soju" but it was a Tuesday night and he was being sensible.
*****
Also from David Ellis, an article on the Drummond Streatery, an enterprise involving the South Asian (and other) restaurants based in Drummond Street, close by Euston Station, to revitalise the area after years of building works and pandemic-related lack of trade.. The first plan is "to partly pedestrianise the street, with brand new outdoor terrace space and al fresco booths", with future plans for a carnival, garden and summer parties.
*****
The Mail on Sunday
"Cool, crunch, hot, chew. Divine."
Tom Parker Bowles also went Korean this week, dining at Fitzrovia's Koba barbecue, where he revelled in "the joyous collective experience of eating out, together, on a busy weeknight" and went into "glorious carnivorous overload".
It was a sensory overload too, from the noise of the place ("a full-frontal assault on my tender senses, a cacophonous affront to a previously tranquil life"), the air of the "packed" room was "thick with smoke and desire", and "harried but friendly staff rushed and bustled" about.
*****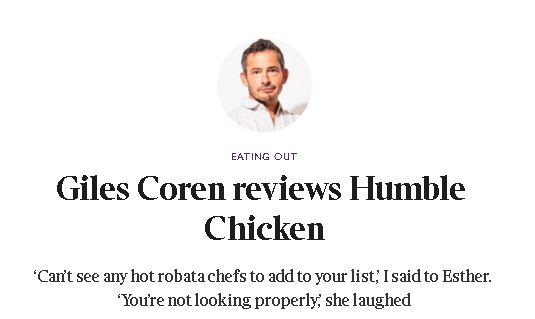 The Times
Giles Coren took his "enthusiastic spouse" along to Humble Chicken, the "comb-to-tail yakitori grill in Soho" from chef Angelo Sato, whose CV includes stints with Clare Smyth at Restaurant Gordon Ramsay, Adam Byatt at Trinity, Daniel Humm at Eleven Madison Park, and was most recently head chef at Restaurant Story. Esther happily agreed to go, because, apparently, "all robata chefs are hot".
The site was "once the original Barrafina" and the seating around the bar has been retained. After a "chilly" seafood starter, they ate a selection of parts of chicken on skewers, and "everything was lustrous and glossy, bold and full-flavoured and prettily plated with a splash of colour from a leaf or a powder, a fruit or a sauce".
"It's beer food. Izakaya snacks. Pub grub. And bloody good. Proper chickens too," grilled "stickily" and full of "salt and fire and intense umami".
And the hot robata chef got full Esther approval too.
*****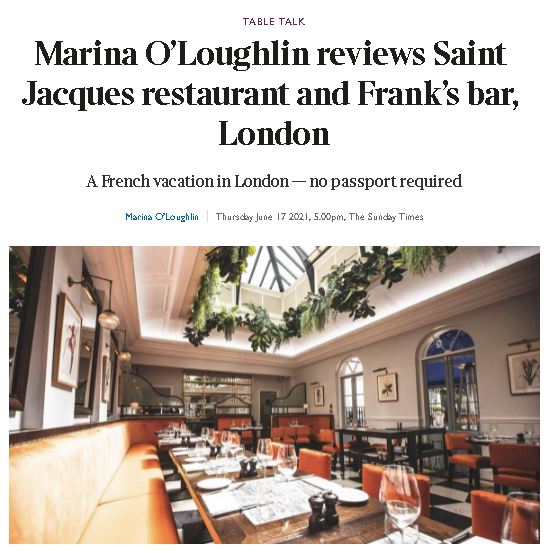 The Sunday Times
"I just can't see a cheese soufflé on a menu and not order it."
Marina O'Loughlin went on holiday to that "little part of France called St James's, a bit off the beaten Francophile track thanks to the fact that you can access it easily via the Piccadilly Line".
After breakfast at Maison Assouline on Piccadilly ("one of the world's most beautiful bookstores") and lunch at Maison Francois ("a twinkling palace of art deco-inspired loveliness"), Marina discovered that Boulestin ("the Frenchest of the French") has been replaced with Saint Jacques ("if possible, even Frencher") where there's an equal amount of "performative trolleying" when looking for an early dinner.
She even managed to squeeze in a late supper and a "KFC-style" brain bun ("an unholy thing… of appalling, lurid deliciousness") at the "super-chic" Frank's.
"Come August, fully double-jabbed, I might head to Italy via actual bloody Italy."
*****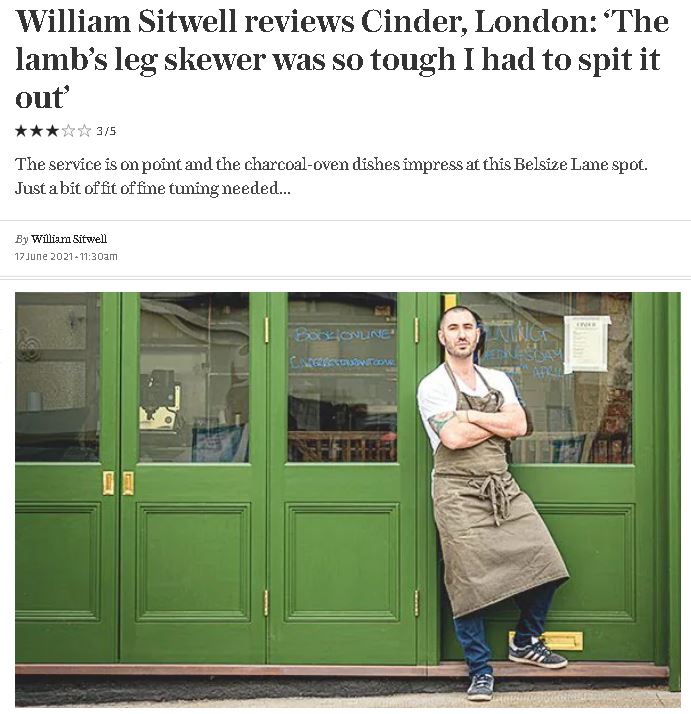 The Telegraph
William Sitwell visited Cinder (3/5), a new, tiny, restaurant "on Belsize Lane in that comfortably posh and villagey neck of the woods in north London" from chef Jake Finn and his beloved Josper. The headline and score makes it sound not worth a visit, but almost all of the dishes William had – apart from that lamb and a dish of mastelo cheese – he enjoyed.
Criticisms included dishes not turning up on time, but the review also included the works "sublime", "perfect" and "delightful".
"The service is on point, and with a wee bit of fine tuning he'll have a very nice restaurant." (3/5)
*****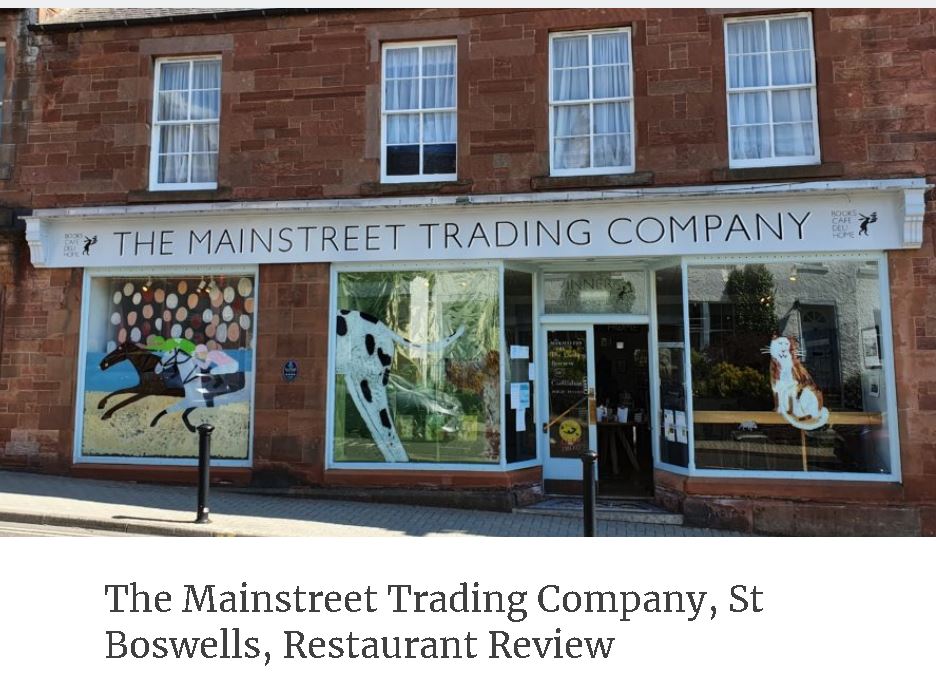 The Scotsman
Catriona Thomson headed to St Boswells to mooch around the "award-winning bookshop/cafe/deli and home store" Mainstreet Trading Company, which is "owned by Rosamund de la Hey, the former marketing director of children's literature at Bloomsbury and her husband Bill".
"She was one of the first people to read the manuscript for Harry Potter and the Philosopher's Stone, so you already know that this place will be pretty special."
The cafe had sold out of many items by their "2 pm Sunday lunch slot", but they still managed a hearty meal, with a choice from the "fullsome cabinet of cakes" for dessert.
*****
And also…
In The Financial Times, an article asked, "Is now a good time to open a new restaurant?" and reported on why some restaurateurs see the coronavirus pandemic as an opportunity.
*****
Bristol Live report on the closure of "hidden gem" Yurt Lush, which was housed in Mongolian tents.
*****
An article in the Birmingham Mail lists all the new venues opening up in the area over the next few months.
*****
Recent News from Harden's