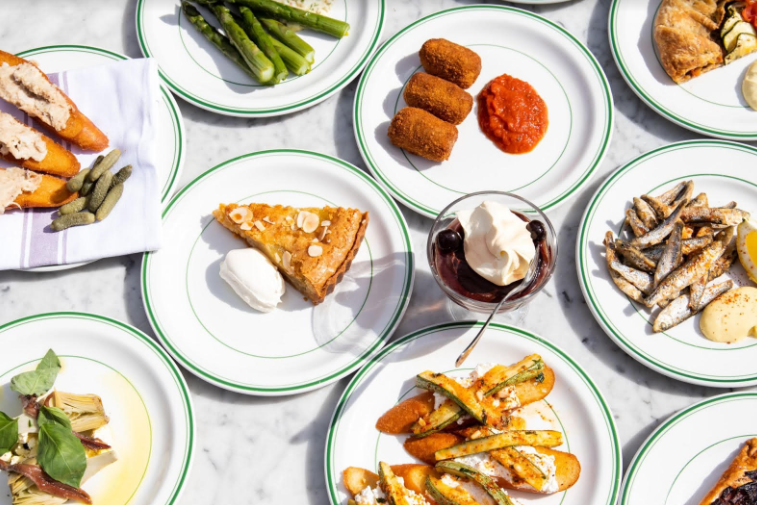 The team behind Leroy has launched a Provençal-style restaurant at the East London Liquor Co.
Royale, set among the canals, inspired in part by the legendary matriarch of Domaine Tempier, Lucie 'Lulu' Peyraud, and her 'cuisine de bonne femme'. 
Lulu – who died last year at the age of 102 – was "a true force of nature, advocating for both Provençal cooking and the regions' wines", the restaurant said.
"She was also known for hosting lavish dinner parties and entertaining thousands of visitors at her table in the Bandol region of southern France."
Royale will focus on a rustic menu designed to share, and was created by owner Ed Thaw and head chef Lucy Timm, previously of Sager & Wilde and Leroy. It has been designed to emulate 'joie de vivre'.
Dishes served on the terrace and in the dining room include whipped cod's roe with bonilla crisps, devilled white bait and aioli, and potato and courgette gratin with wild garlic pesto.
The centerpiece is a half or whole rotisserie chicken (a corn-fed bird, cooked on a vintage Rotiserol), served alongside jus-soaked potatoes and a simple mixed leaf salad with a mustard vinaigrette.
For dessert, there is a choice of a pear and almond tart with crème fraîche, or rum-infused chocolate mousse topped with chantilly cream and amarena cherries. There are plenty of French wines and cocktails, of course.
Recent News from Harden's