Here's our regular summary of what the national and local restaurant critics have been writing about in the week ending 20 March 2022.
*****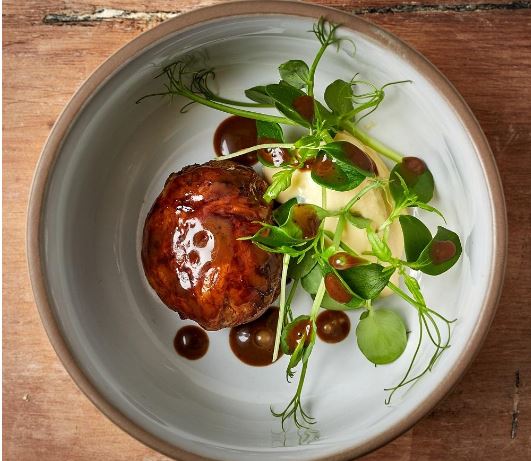 The Sunday Times
Marina O'Loughlin was in Cumbria, at Heft, which "has been reaping quite a bit of excited anticipation from restaurant spods — yes, me too — because of chef-patron Kevin Tickle's CV, a kind of greatest hits of the north's Michelin botherer".
Despite the puns on the menu (tasting only, one sitting per evening), "it's an ambitious restaurant, with centuries-thick, coolly monastic whitewashed walls framing a setting for us to worship at our plate". The front of the building is still genuinely "pubby", though.
Marina was in full restaurant critic mode: while "there are some godlike culinary powers at play here", she notes that "despite the artistry and technique, the cumulative effect is a little one-note" ("and that note is umami — blared through a loudspeaker").
And even though "each dish is gorgeous", there's also a considerable "cheese-and-alliums-cheese-and-alliums" rhythm, with a hit of smoke, which makes her long "for a spritz of citrus. Something green". "A bit of light and shade wouldn't go amiss. Tasting menus need shape and narrative, not just here's-another-sock-knock-off-er."
"Is it worth the pilgrimage? Even risking death by cheese, it really, really is."
*****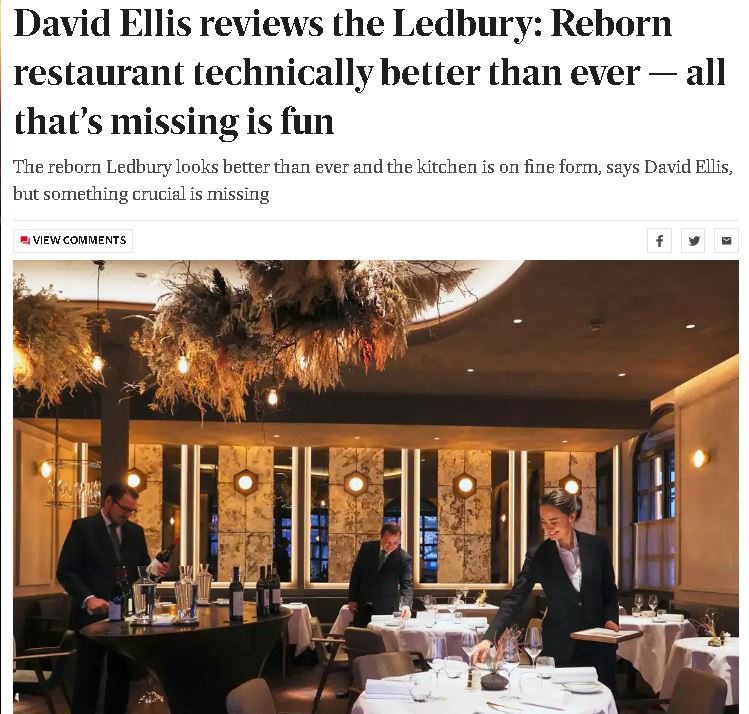 The Evening Standard
David Ellis is the first of the critics to review the new iteration of The Ledbury. He has great memories of a lunch there years ago; "food and service were faultless; the bill was horrendous. Luckily I let my friends pay."
The room has changed. Where it was once subtle, it's now "all mirrors and marble", much "sexier" – this is a "post-break-up Ledbury, glammed up and getting back at its ex".
Unfortunately, David left "feeling oddly hollow and very poor". Why? Service was "astonishingly good", the food was "cooked so well as to confound" with "nods to sustainability and seasonality" and "unashamed luxury". Some "moments suggested one of London's finest talents leading the kitchen".
He concluded that "somewhere in all this striving for greatness, the idea of a meal as a joyful thing seems to have been forgotten".
*****
Also by David Ellis, an article on the kitchens signed up for the revamped Arcade Food Hall from JKS Restaurants. There's also going to be a flagship restaurant, Plaza Khao Gaeng, a permanent project from Việtpopulaire chef and founder Luke Farrell.
*****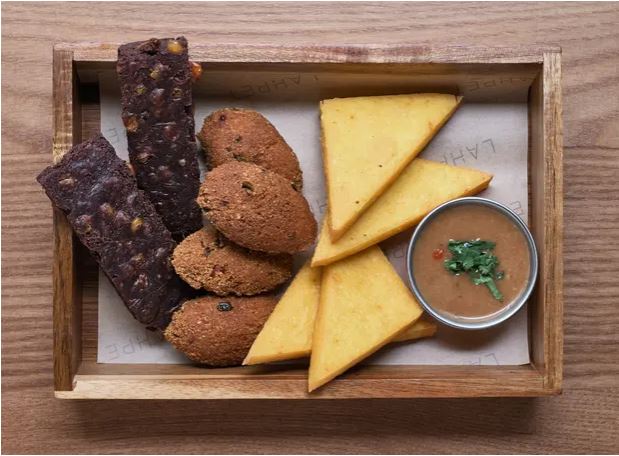 The Guardian
Now that "full high-octane tourist bedlam has now been restored" to Covent Garden, Grace Dent visited the "all-new Lahpet," a "cool, casual, modern restaurant" that's "a welcome addition to the Yards, Covent Garden's spanking new shopping precinct".
Lahpet, which serves "Burmese comfort food," began life as a stall on Maltby Street , "before moving first into an arch in Hackney and then to a popular restaurant in Shoreditch"; this "new, double-floored affair on Slingsby Place is their most ambitious project to date".
The pickled tea salad had "delightful funkiness" (and enough caffeine to keep you awake all night), the grilled skewers were "frankly incredible" and "the place was heaving with families, children, gossiping friends and giggling groups" cheered by a "heroically 1980s" soundtrack.
"If you're passing and just want a cuddle in a bowl… go for the coconut noodles with chicken… [it's] officially one of my safe places."
*****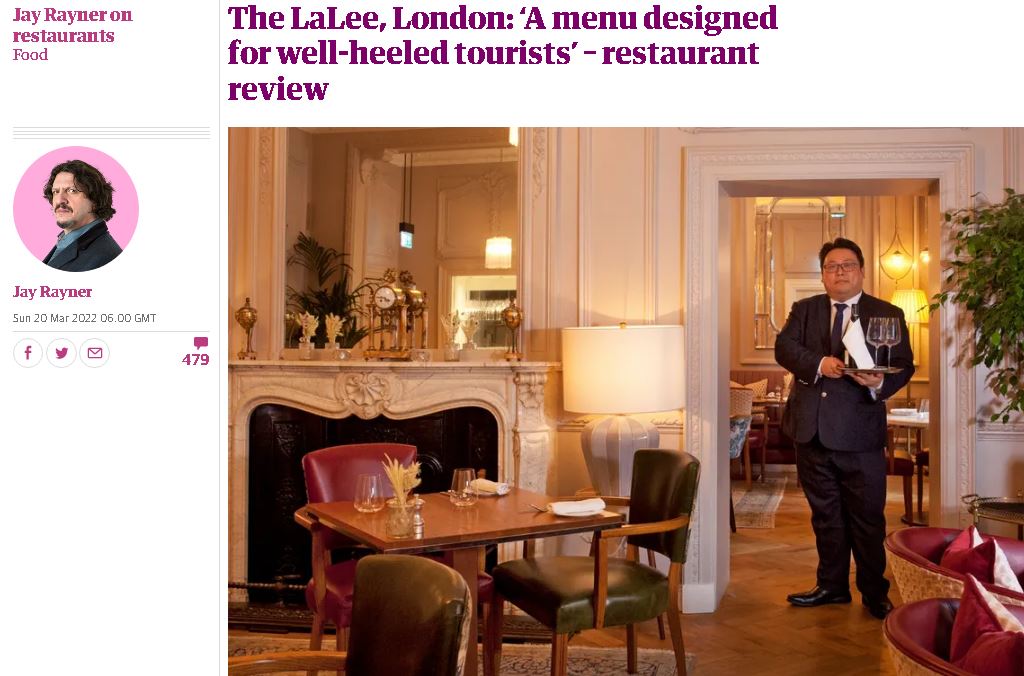 The Observer
Jay Rayner booked a meal at The LaLee, the Lily Langtry-themed restaurant at The Cadogan on the promise of "culinary tableside theatre". "I'm a complete sucker for this. I love it when a skilled waiter turns up next to my table with a box of tricks and some killer moves to prepare my dinner in front of me."
The waiters "do a truly beautiful job" of preparing Caesar salad and steak tartare, but – thanks to the awkward design and table layout – it isn't exactly tableside. This wasn't the only misfire in design; "restaurants aren't merely dining rooms with kitchens attached. They are complex machines with invisible moving parts".
The open kitchen is another example; The LaLee is "a mildly chintzy place of quiet, civilised conversation, constantly broken by the head chef barking orders at his crew, as if the kitchen is behind a door".
Beyond the meals prepared in front him, the rest of Jay's meal consisted of "humdrum" and "serviceable" dishes, and "dessert is just unfortunate".
The LaLee is "attempting to be a thrilling destination restaurant, when in truth it should just be the utilitarian dining option in a fancy boutique London hotel. As a result, it's neither."
*****
In the 250th edition of Observer Food Monthly, Jay listed the things he'll miss when they disappear from restaurants, like "invisible cheque-writing" to ask for the bill, cutlet frills and fish knives. "Ditto melba toast and ridged curls of butter."
*****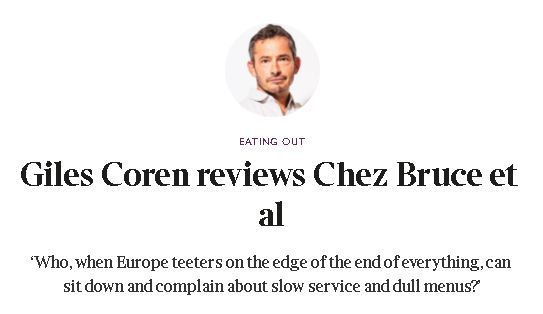 The Times
"And to think that I worried about restaurant writing in the time of Covid… I didn't worry that they might not be read at all, because there would be no one to read them. A mere pandemic? We didn't know we were born."
Giles Coren has eaten in a number of restaurants recently, and "each time came home to even worse news on the radio than I'd heard that morning, and just never felt like writing them up".
These included Chez Bruce ("go there when this is over, if it is ever over, and eat and drink incomparably well"), Jeru ("don't go to Jeru. It isn't very good… globetrotting Middle Eastern fusion… that is very expensive and doesn't work at all"), and Trivet ("precise and imaginative").
He's also visited a handful of pubs "within falling-down distance of my front door" (because "they are where I plan to spend the next few weeks") and each time "hurried quickly home to check my children were still alive".
He visited The Red Lion & Sun in Highgate ("north London's highest-rated entry in the new Estrella Damm Top 50 Gastropubs list"), The Gatehouse, also in Highgate ("no longer a Wetherspoons but a locally well-regarded Spanish restaurant… excellent tapas"), The Pineapple in Kentish Town for Thai food ("a proper pub of unsurpassable buzz and hustle") and The Broadcaster, "newly opened on Wood Lane" ("pretty good burgers and loaded flatbreads").
*****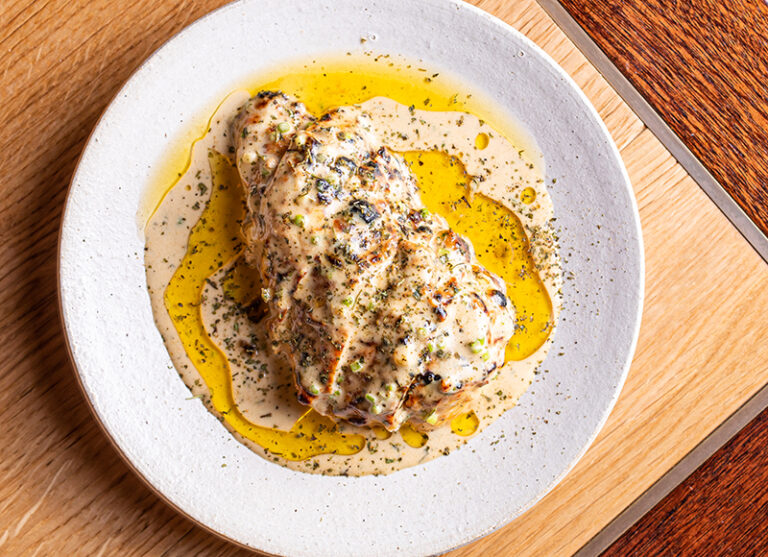 The Mail on Sunday
Tom Parker Bowles in YOU Magazine was in Mayfair, nostalgic for the days "a few centuries back" when it was "little more than boggy fields, and home to the May Fair"; no "over-cold sashimi platters" or "rank truffle-oil dressing" there.
But now he's discovered Bibi, "the newest venture from the JKS group", his opinion of the place might change: it's "something rather special". The "small and narrow" room is "all easy charm and handsome, unpretentious comfort".
Chef Chet Sharma's "precise plating and pretty presentation" belies the cooking that's "wildly inventive, yet grounded in tradition, inspired but never faddish".
"Give me any excuse to return. This is a restaurant to adore."
*****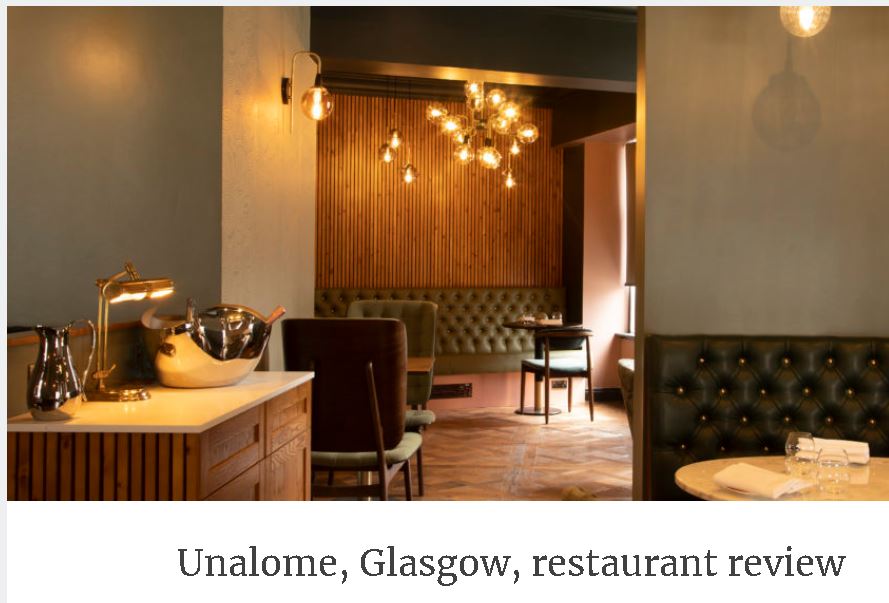 The Scotsman
Rosalind Erskine ventured to Glasgow and ate lunch at Unalome, which recently brought a second Michelin star to the city (Cail Bruich earned one last year for the first time since Gordon Ramsay's Amaryllis closed in 2004).
Part of chef-patron Graeme Cheevers' "plan to make the restaurant accessible, and not turn off those that think Michelin Stars equal an extortionate meal" includes a £35 three-course lunch menu, which started off with "well-balanced drinks and snacks".
"From the decor, music service, and most importantly, the food, it's easy to see why Unalome has caught the eye, and star of the Michelin Guide." This lunch deal is "an accessible option that turns an occasion restaurant into somewhere you'd happily while away an afternoon with friends and family. And, for me, that's worth the trip".
*****
And also…
Koffmann & Vines reviewed the relaunched Richoux, a "place that you would be wise to get on your radar now" – a "first-class brasserie with elevated cooking, outstanding service and prices that are low for Mayfair".
The "formula of simple dishes properly cooked sounds an easy one but it's difficult to pull off" and "service was very friendly and attentive, without being intrusive"; "the wine list is friendly, too".
*****