Our weekly round-up of what the national and local restaurant critics are writing about, for the week ending 19 July 2020.
Restaurants, pubs, bars and cafes in England were permitted to re-open on Saturday 4 July after over 100 days of enforced closure. Some establishments remain closed – the owner of the three Market Halls, for example, has decided to remain closed until social distancing has ended.
Several restaurants – including high-profile names such as Nathan Outlaw's Siren, Le Caprice and Sardine – will not be re-opening; one estimate that "50% of restaurants, cafes and pubs will not re-open" predicts a very different future for the hospitality industry.
Check with your local and favourite restaurants before heading there; many are operating strict timings, reduced menus and booking systems, even if they didn't before; look at their social media pages for details (all available via hardens.com).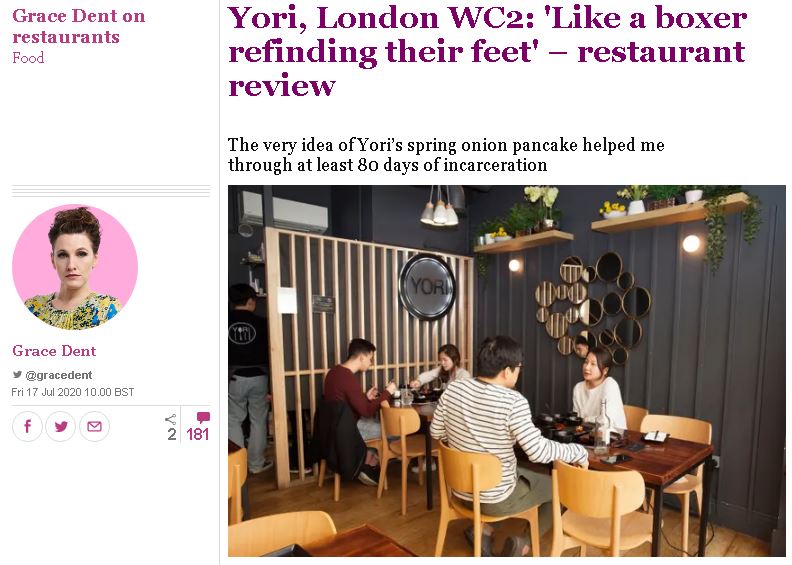 The Guardian
"The very idea of Yori's spring onion pancake helped me through at least 80 days of incarceration."
Grace Dent has been wandering the streets of Soho again, finding it despairingly quiet, despite the "strategically taken photographs of bustling Soho nightlife"; in actuality, "there are pockets of buzz… but midweek, from Holborn to Drury Lane, the lights are off".
She was thrilled to find out that Covent Garden's branch of Yori is open again: pre-lockdown, it was "one of my favourite solo hideouts: low-key, dimly lit, dependably good". Now, it's all masks, sanitiser and ordering by QR code (tough when the reception is patchy).
"Serving staff across the country must be thoroughly exhausted by trying to make this situation jolly."
The longed-for spring onion pancake was "still spongey-centred and crisp in all the right places" (although smaller) and Grace shared "a good, spicy-as-heck shrimp and calamari jeongol stew ", but several dishes don't match up to their previous form.
"Yori feels slightly more slapdash than it did in the old days, a bit like a boxer finding their feet again, but I'm grateful they made me dinner. Nothing is perfect anywhere right now, but at least hobs are on and front doors are open. This is only the start."
*****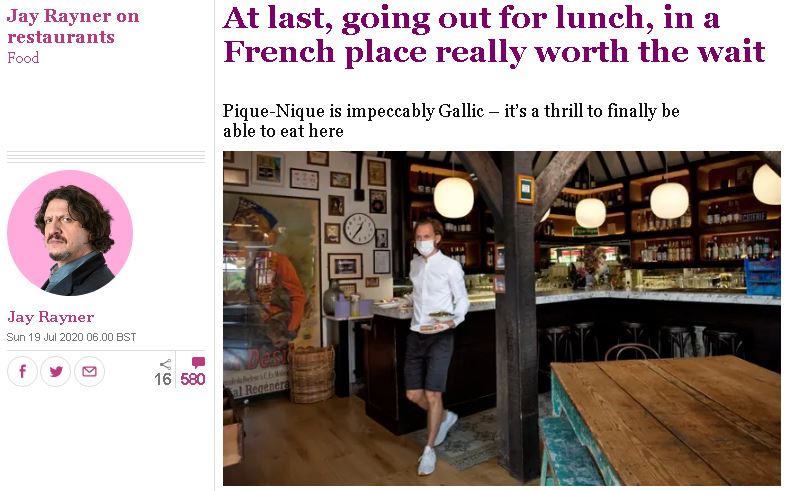 The Observer
Never let it be said that Jay Rayner doesn't work hard. Not only was he first in line for lunch at Trullo on 'Super Saturday', but he also went out for dinner that same night, to "a flashy London restaurant" that offered him a booking weeks before.
Unfortunately, the meal was "various kinds of awful". Normally he'd happily name and shame the penny-pinching, "underportioned servings of overengineered food at ludicrous prices", but he "had recently tweeted that, for the foreseeable future, I wouldn't be publishing negative reviews" (which made Newsnight, apparently, "portrayed as an outbreak of kindness"). So he had to find somewhere new – and good – the very next day in order to have a column to write.
So Sunday found him bellied up to the "socially distanced marble-topped counter" at the "impeccably French" Pique-Nique in Bermondsey, tucking into several "plates of loveliness".
The re-opening has been "thought through", all of the "waiters wear masks, and there's no paper because both the food menu and the short wine list are on blackboards" and there's al fresco dining in good weather.
"There is a balance to be struck between the health impacts of the virus and those of lockdown. Right now, that balance leans towards restaurants being open, though it may change. I want the restaurant sector to survive. That means going to them."
*****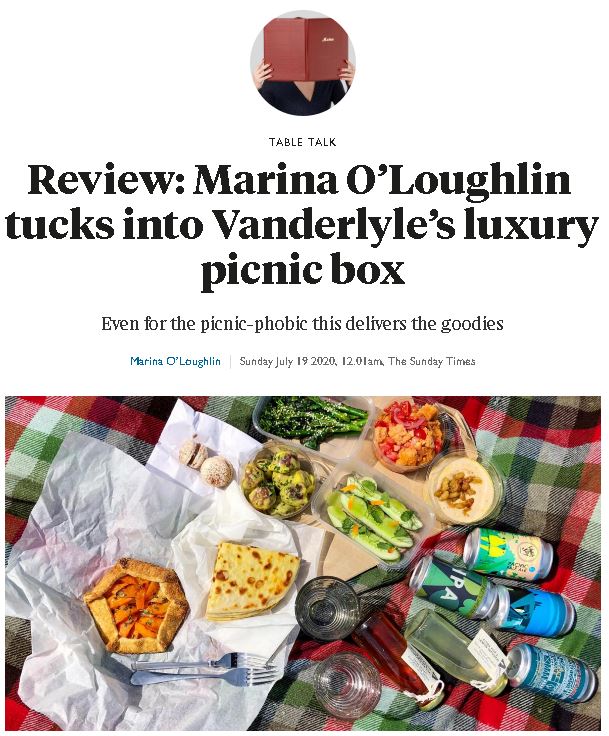 The Sunday Times
Marina O'Loughlin announced in her column this week that "this year, with grim inevitability, will be the year of the picnic". She's " always loathed the things", but grudgingly admitted "there are some fantastic offerings around now, from renowned chefs and restaurants such as Richard Corrigan, Clipstone and Padstow Townhouse", and gamely took delivery of a Vanderlyle picnic to review for us.
She'd had Vanderlyle in her sights for a while; the "ambitious and popular indie in Cambridge" ran such a successful takeaway and delivery business (Vanderlyle To Go) during lockdown, that they announced that "they had no intention of reopening anytime soon".
Marina took her picnic to the beach and dodged the day-tripper-deprived seagulls; she ended up retreating to her house. "The food, beautifully composed in compostable plastic pots, looks almost poetic."
"White waxed paper packages tied up with string" and bottles "tagged with their contents in an Alice in Wonderland way" opened up to reveal delights including "Maldon salt flatbreads, perfect for swooping through a velvety cannellini bean and rosemary "hummus" dotted with fudgy, whole confit beans", tubs of salads. "delicate sesame-seeded broccolettes" in XO sauce, "heritage potatoes in an egg-yolk yellow, mustard-rich mayonnaise" and, to finish, "the most divine apricot galette" and "cloud-delicate praline macarons".
"It's only afterwards it dawns on me that the whole thing is entirely vegetarian."
"No, it's not cheap but, as ever, you get what you pay for… I may remain a picnic sceptic, but I'm an absolute believer in the beauty of Vanderlyle's food."
*****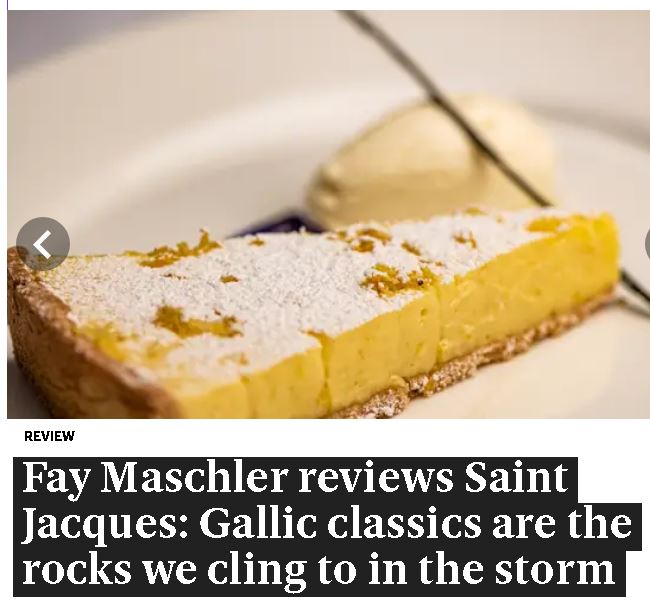 The Evening Standard
A proper review in London's evening paper, from Fay Maschler. She chose newly opened Saint Jacques for her first official visit; a safe choice in the "classic French tradition" that's "spiritually and gastronomically speaking, coming from a similar place" as its predecessor Boulestin on the same site.
Furthermore, "Richard Weiss, who is leading the operation, worked at and then took over Brasserie St Jacques when it traded at the address that now houses Café Murano up the road" – are you confused yet?
"Chef here is David Collard who… helped launch Brasserie Zédel, a different French formula with distinct appeal in its pricing and much else." But his "execution of assemblies such as the foie gras terrine… is faultless" and he showed "an ability to move gracefully with the times".
The menu is a laundry list of reliable Gallic classics, with Weiss (also a "highly experienced and garlanded sommelier") on the trolley serving steak tartare and crêpes Suzette, Saint Jacques is "confident, tried and tested; these are attributes we yearn for right now".
"There is no problem with social distancing — and tables are anyway widely spaced — but even with the tumbleweed streets of the West End I dare say this will soon change." With "an ideal outdoor retreat" in the quiet courtyard, Saint Jacques looks set for success.
Fay took time at the end of her review to plead with restaurant goers: "when you book, please honour it or call to cancel. No-shows are wreaking havoc in the restaurant business where havoc has already been quite enough." (A separate article outlined exactly what no-shows are costing already fragile restaurants right now.)
*****
The newspaper's list of London's confirmed re-openings is being regularly updated (also here), and they've added a handy etiquette guide for what to expect from post-lockdown pubs, from 'one-in-one-out' bathrooms to app-only payment and social signposting. For those of you who are heading to the pub instead of a restaurant, there's also a list of places offering delivery after 10pm.
The list of closures grows ever longer, too, with Milk & Honey announcing that they are re-opening, only to close by the end of September because they can't renew their lease.
*****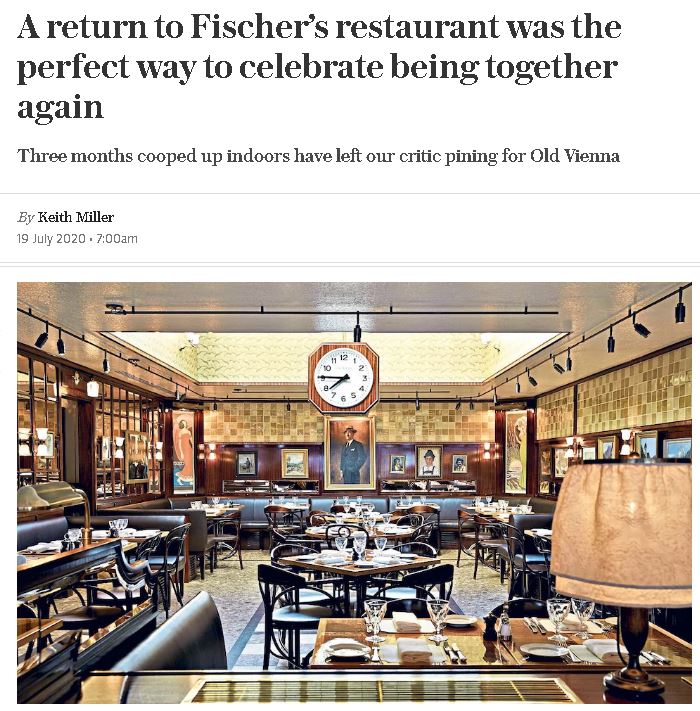 The Telegraph
This "is no time for the jaded boulevardier shtick of the traditional broadsheet restaurant review. These guys need our support. "
"Anyone opening or reopening at the moment, facing the prospect of reduced footfall while also having to shell out on all sorts of additional measures to keep staff and diners feeling, and ideally being, reasonably safe, needs a medal, not a hilarious riff on their calamari."
Keith Miller's first post-lockdown meal was at Fischer's, "Chris Corbin and Jeremy King's Austro-Hungarian fantasia in Mary­lebone High Street" which he'd been dreaming about for weeks. Possibly "an unadventurous choice", but one almost of all the critics have made, to go somewhere familiar and soothing.
"Apart from ampoules of sanitiser and reassuringly vigorous air-conditioning, Covid precautions are discreet, once you've done the initial temperature check (which is highly theatrical, in true C&K style). The tables are roughly as they were, all set but only half occupied. This lends a not unpleasant weekday feeling ."
Keith and his family ate their favourite dishes (it's a regular celebration haunt for them), shared puddings (but not the "candle-studded Sachertorte") and it was "all unimpeachably good".
"One of the things I like about Corbin & King's restaurants is that the food is generally better than it needs to be for the theatre to work."
*****
Elsewhere in The Telegraph, Michel Roux Jr "accused Sadiq Khan of "killing" Central London's restaurant trade by introducing a late night and weekend congestion charge around the West End".
*****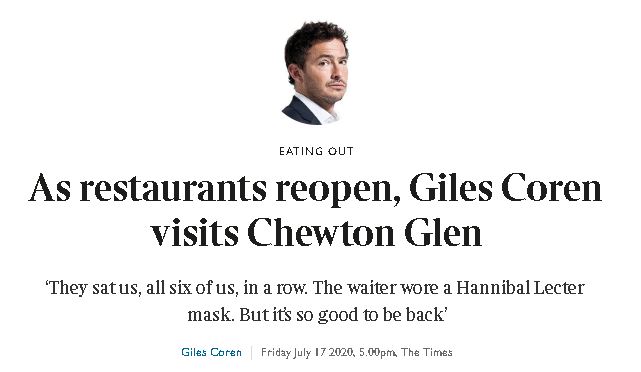 The Times
Having promised us faithfully that he wasn't going to return to restaurant reviewing, Giles Coren reviewed Chewton Glen this week, for his first post-lockdown review. He actually went on July 4, but there's always a lag in producing the glossy magazines.
At lunch in the Kitchen, seated rather oddly in a long line of six "like game show contestants", none of whom could understand the heavily masked waiter (although "grateful for these precautions and respectful of the need for them"), Giles and his family enjoyed their first meal out in months.
Chef James Martin (yes, that one, "the handsome fellow with the long television track record (Saturday Kitchen, etc) and the famous car collection") was at the stoves and explained to Giles that the seating was for social distancing from other tables.
They were less prepared than could be ideally hoped for – no screens (James was planning to visit B&Q later) and deliveries hadn't arrived because of suppliers pivoting to supply the public, but the menus were available via app or disposable paper and the fresh was fresh "up from Brixham".
But "none of it mattered" because waiters brought them drinks and other people cooked them food and "the food was all great. Best meal I'd had in months."
Later, they ate again at the main house, which "was, if anything, more exciting. Because there was linen napery and posh tableware and flowers and people in fancy clothes and ladies wearing jewels. And the food was just beautiful, straight off."
Giles and Esther ordered soufflé and ceviche, because they hadn't made them at home during lockdown. Then alongside "the soles – one grilled, one meunière – we had a mild, sweet lobster curry and lamb cutlets, martinis, negronis, and a bottle of Brunello di Montalcino, and it was all very Evelyn Waugh".
"We'll get used to it again. The new normal will start to feel very much like the old normal. And it's ever so good to be back."
No score, as "I've got nothing to compare it with. And I can't tell you the prices because we were treating my mother and she's not to know."
*****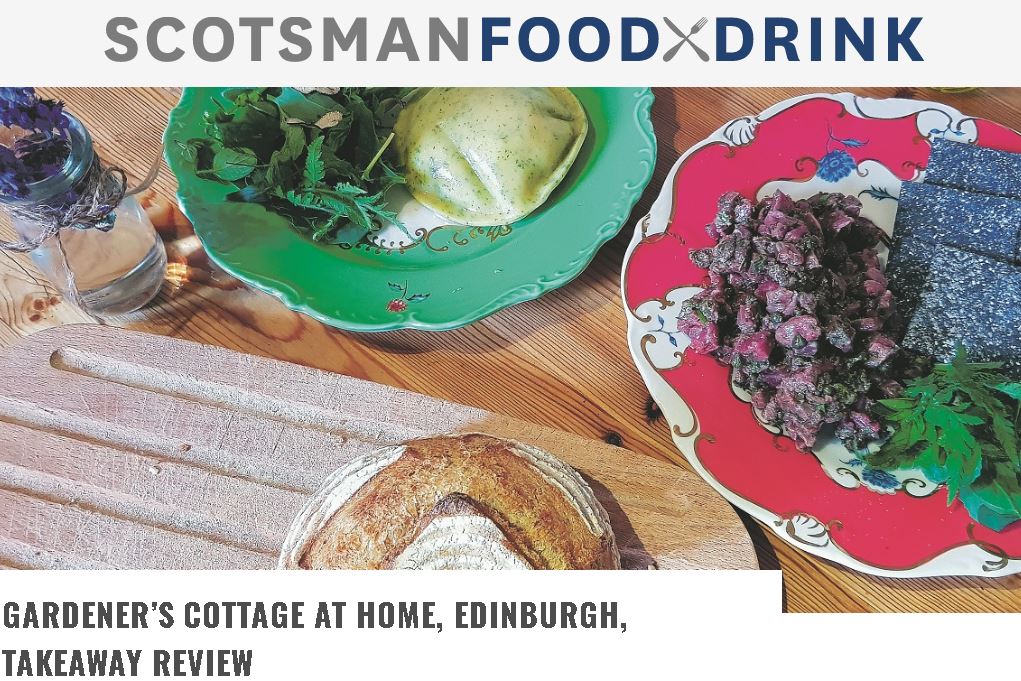 The Scotsman
Gaby Soutar has done a thorough job of testing Edinburgh's takeaways during lockdown, and this week's review from Gardener's Cottage At Home, was another winner, altough slightly testing for the diners.
"30 unlabelled vacuum bags, five or so of which are in various shades of snow white, from nicotine stained polar bear to virgin drift" made up the four-course takeaway, collected from a "masked manned table of goodies-to-go" in the garden.
"No wonder Gardener's Cottage provides lavender shortbread as an amuse bouche… you need a blood-sugar-boosting precursor" to all the cooking which is like "assembling a jigsaw puzzle of an Arctic landscape".
But "it was all such good quality" that even a bit of overcooking didn't spoil the meal. "Their signature is so strong that all the flavours reminded me of the good old days at a busy Gardener's Cottage, with candles lit and LPs spinning on their turntable."
"Most excellent and definitely worth the concentration required" but "I'm marking them down on ambience for the label shenanigans". (78%)
*****
And also…
The Financial Times Analysis report looked at how Lyle's, "a Michelin star restaurant, copes with coronavirus"; Lyle's "has pivoted from fine dining to pizza".
*****
Despite a review from Super Saturday, this week again produced nothing from Tom Parker Bowles in The Mail on Sunday.
*****
Bristol Live reported that Wilks has permanently closed; the restaurant was put up for sale last year after the owners were offered an opportunity overseas.
*****
The Birmingham Mail interviewed chef Aktar Islam about the changes being made at Opheem and Pulperia.
*****
Manchester Evening News heralded the opening of Madre, a collaboration between Breddos Tacos and Belzan in Liverpool, opening soon in a converted VW van at the new Escape to Freight Island dining hub opposite Piccadilly station.
Recent News from Harden's