Summary
"Elegant and imaginative cuisine" and an excellent standard of service again won nothing but rave reviews for James Wilkins & Christine Vayssade's small restaurant in a Redland sidestreet, whose ambiance was "greatly improved" a couple of years ago "with a new feature street-art wall and intimate décor". But in October 2019, the pair put it up for sale in order to pursue an opportunity overseas: hence we've removed the rating for now.
Summary
"From the unassuming shop-front style entrance, one passes into an attractive, well laid-out dining room with stylish artworks lining the walls" at James Wilkins's Redland HQ, where the "welcoming service" and "outstanding" cuisine (with a five-course tasting menu as the top option, but usually with à la carte or prix fixe alternatives) have placed it near the pinnacle of the city's culinary pecking order. "After a decor makeover, the styling now matches the brilliant food and service" according to its most ardent fans (but overall the ambience is still the least highly rated element of the operation).
Summary
James Wilkins's "world class" food delights a committed fanclub of his backstreet Redland HQ, where "classical cuisine with imaginative flavouring" is "impeccably served, but in a manner that's in no way stuffy". If there's a reservation it's the "slightly dull room" – but in a better location this could rival Casamia as Bristol's most highly rated destination.
Summary
"James Wilkins is one of the best chefs in Bristol" and his backstreet Redland haunt "goes from strength to strength". The site is a modest one ambience-wise, but pepped up by its superb service ("welcoming, courteous, knowledgeable, efficient, discreet!") and "his cuisine is exceptional, both in presentation and combination of flavours".
Owner's description
Situated on Chandos Road in Redland, Bristol, we are a modern & vibrant restaurant offering creative, refined cooking, as well as an attentive, knowledgeable service from friendly staff in a relaxed, elegant dining room.
We champion all that is local - farmers, growers, suppliers - even local artists who show their work in our restaurant.
Inaugurated in August 2012, it took wilks restaurant only one year to gain recognition, earning a Michelin star in September 2013.
Under the dedicated direction of its two owners James & Christine & with the help of a small professional team, wilks awaits to welcome you to a dining experience you won't ever forget.
Please Note:
For the enjoyment of our other guests meal, children under the age of 6 are not allowed for dinner, however children of all age are welcome for lunch. Highchair available on request.
We do not cater for vegan
We cater for vegetarians with 48h notice.
Maximum number of guests on a table is 6.
Booking arrangement: Credit card number requested.
Very importantly please note:
Thank you for your reservation, your booking will be confirmed once the restaurant has been in contact with you. Thank you for your understanding.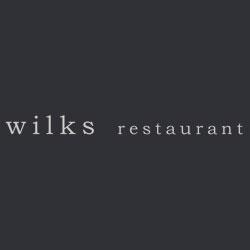 Prices
| Drinks | |
| --- | --- |
| Wine per bottle | £18.00 |
| Filter Coffee | £5.00 |
| Extras | |
| --- | --- |
| Service | 10.00% |
Private dining
We cater for private function for a minimum of 25 guests and a maximum of 34 guests. For more details please contact us directly by email info@wilksrestaurant.co.uk Thank you
1 Chandos Rd, Bristol, BS6 6PG
Opening hours
| | |
| --- | --- |
| Monday | CLOSED |
| Tuesday | CLOSED |
| Wednesday | 6 pm‑9 pm |
| Thursday | 6 pm‑9 pm |
| Friday | 12 pm‑1:30 pm, 6 pm‑9 pm |
| Saturday | 12 pm‑1:30 pm, 6 pm‑9 pm |
| Sunday | 12 pm‑1:30 pm, 6 pm‑9 pm |
What social media is saying