Harden's regular round-up of the restaurant critics' musings, from the week ending 19 May 2019.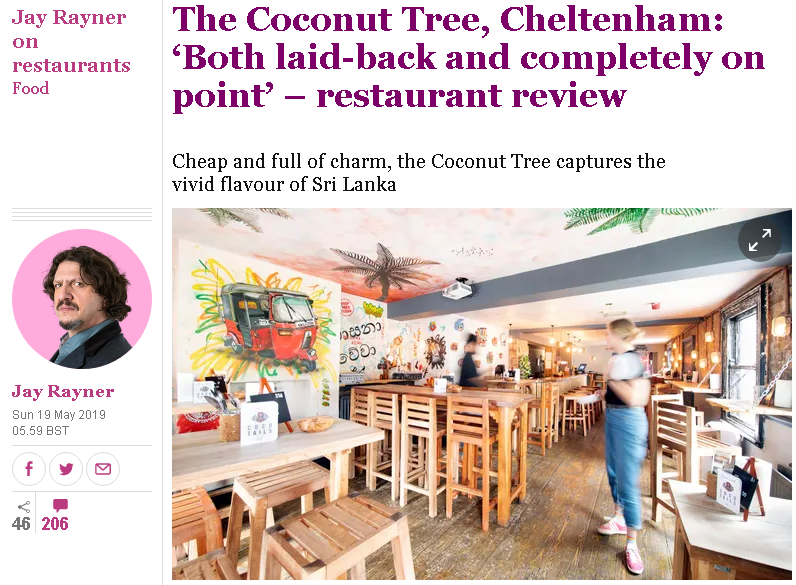 "Eating well is an expression of normality." Jay Rayner for The Observer was in the Cotswolds, seeking out normality in the form of Sri Lankan street food, as a way of re-establishing what's good after the recent atrocities. "Talking about the country's vivid food – its way with coconut, turmeric, cardamom and chillies – is so very much better than talking about all the other stuff we've heard from Sri Lanka recently."
The Coconut Tree is a "bare-bones fit-out" of "a knackered old pub on the St Paul's Road in the student area", owned by five friends from Colombo (via Croydon). It's "cheap and resoundingly cheerful, as are the staff" – and clearly successful as there are "two more outlets in Bristol and one in Oxford, with another due to open in Cardiff shortly".
The food has "raucous, rough-edged enthusiasm", served up "at great speed in white and blue prison-style enamelware", with the most expensive dish just £8. There's a "hefty pumpkin curry" alongside a "strong fish offering" – Jay admits to licking the bowl ("until the enamel glaze is at risk") of his hot battered spicy cuttlefish and 18-spice black pork ("made with belly in a fighty sauce the colour of night, after lights out") dishes.
"The Coconut Tree manages that rare trick of being totally laid-back and completely on point at the same time."
---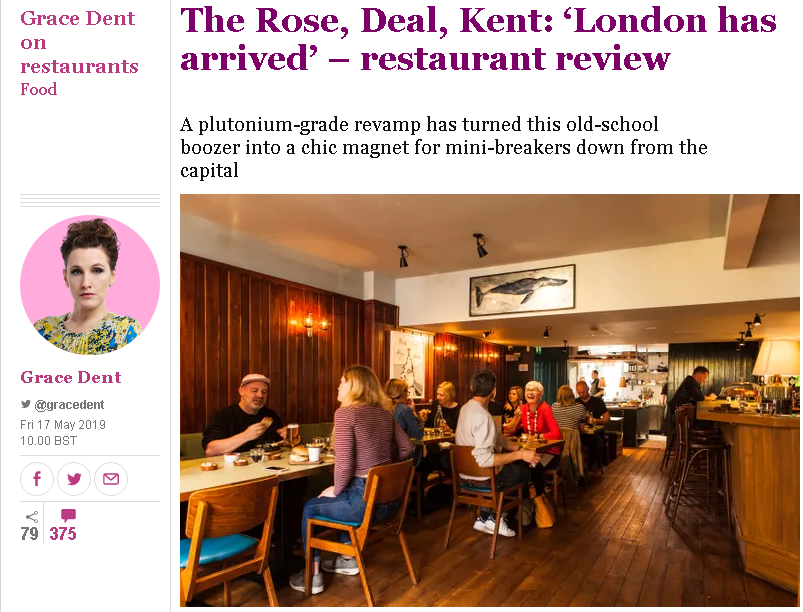 Grace Dent for The Guardian was at The Rose in Deal, a "recently tarted-up pub, restaurant and boutique hotel" that's proof positive that London has arrived in the seaside town.
It's a "plutonium-grade revampment… from rough-and-ready… old-school boozer to chic magnet for mini-breakers", although locals may not agree. Maybe they're just not ready for £200-a-night establishments serving "rhubarb mezcal cocktails, tiny bowls of Marcona almonds… [and] wild nettle soup".
Sadly, the "Mr & Mrs Smith audience-focused marketing" promise didn't quite deliver. Staff were warm and kind, but executive chef Rachel O'Sullivan (previously of Polpo and Spuntino), whose name "flavoured all the opening coverage of The Rose last year" wasn't in evidence, nor was the "delicious, complex" menu Grace had seen on Instagram.
Those dishes that were on the menu were a letdown, too, from "hugely overdone smoked haddock" to "bland" skordalia (Greek garlic and potato mash), while puddings were of the type that "contestants choose on MasterChef when they either cannot cook or are being strong-armed into making a pudding".
Visiting Londoners will have "very little to write home about." (18/30)
---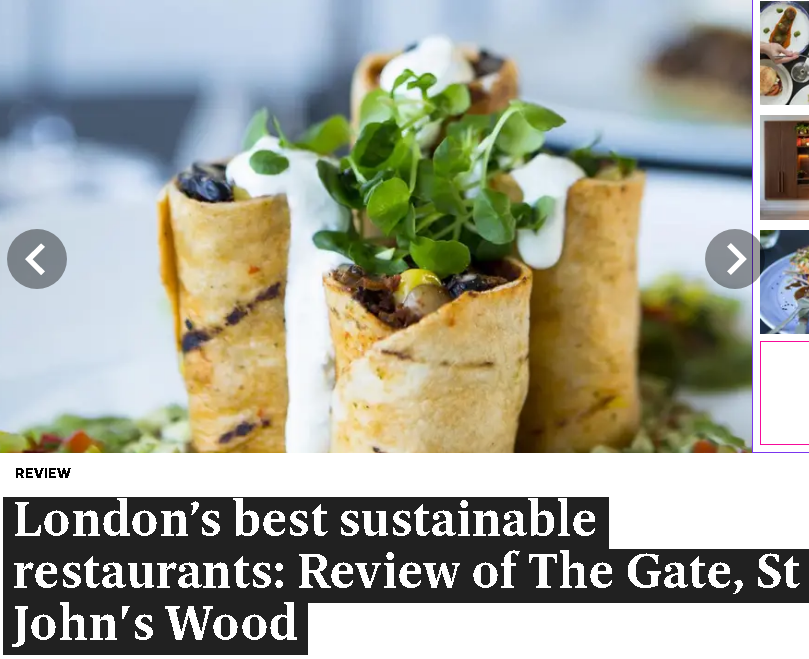 It was to St John's Wood and the latest branch of plant-based stalwart The Gate for Lizzie Rivera in The Evening Standard. After three decades and three additional restaurants since the Hammersmith original, "the group has stayed true to its vision on seriously tasty food".
With both vegetarian and vegan options, and "Indo-Iraqi Jewish" ingredients, "the skill and dedication… elevates the dishes above most vegetarian feasts across the capital". For meat lovers dipping their toes in vegetarianism, Lizzie recommends the "aubergine schnitzel layered with smoked cheddar" or the "stunning root vegetable rotolo", which would "win over just about anyone". A vegan tiramisu was "proof of just how good vegan alternatives can really be". (4/5)
---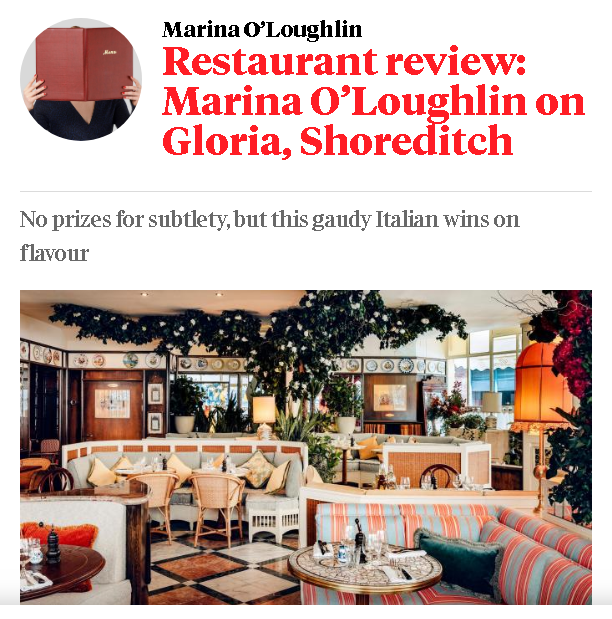 Marina O'Loughlin for The Sunday Times wanted – and expected – to dislike Gloria, a "great, fat fake, not so much restaurant as stage set, a cod-Italian import from a French company called the Big Mamma Group". The "expensively trashy" fakery is rampant, from the waiters' "stripey houseboy uniforms" to the "vintage" posters, it's all an "over-upholstered, overdecorated, over the top, a shrieking hen-party antithesis to contemporary style".
It's not just the decor: "food arrives in lurid ceramics, too big for tiny tables and in vast portions, so you're permanently in a state of slightly panicky over-stimulation". Menu descriptions are "buttock-clenchingly" corny – but the food itself "isn't bad at all" with "quality of produce that's genuinely surprising".
"Serious isn't the house style" – and Marina was sucked in on both her visits, diving right in to the "larger than life" attitude and decoration. It's "all pretty affordable" too ("you'd probably spend not much less at Zizzi and have a thoroughly miserable time"). And the bonus? Its "flashily extra" arrival in east London "hammers the final nail into the coffin of Shoreditch's hackneyed hipsterdom".
---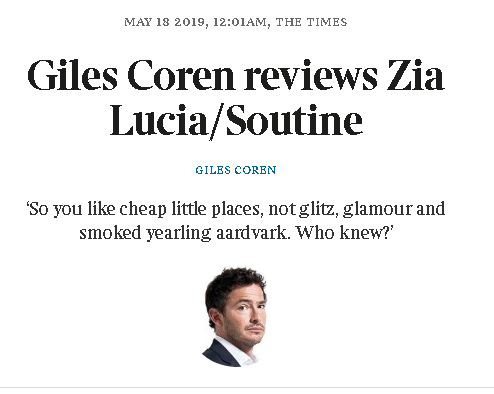 Giles Coren for The Times has had great feedback on some of the "keenly priced, accessible, local little places" he's featured recently, so this week, as well as taking his wife to Soutine, the new Corbin & King arrival, on a pre-launch visit, he also visited "an inconspicuous little pizza joint" in the Holloway Road (listed in Harden's since 2017. Just saying.), where he had "a really great, unpretentious, delicious, simple meal that I can't even finish for about 11 quid".
Zia Lucia is an authentically rustic, bare-brick, high-ceilinged joint with muscular staff "like extras in some Scorsese Neapolitan gangland epic"; it all "feels quite Italian". ("For Holloway.") Giles enjoyed "an incredible pizza" with a sourdough base "the colour of desert sand and pocked with dark brown blisters": "I am not surprised it's so famous". (32/40)
The site that Soutine now occupies has been "magnificently overhauled to look like just the sexiest goddam Parisian café since 1920s Montparnasse". There, Giles had a delightful meal with friends accompanied by a bottle of wine that cost almost £100, and would recommend the "irreproachable" tarte fine aux pommes. (32/40)
---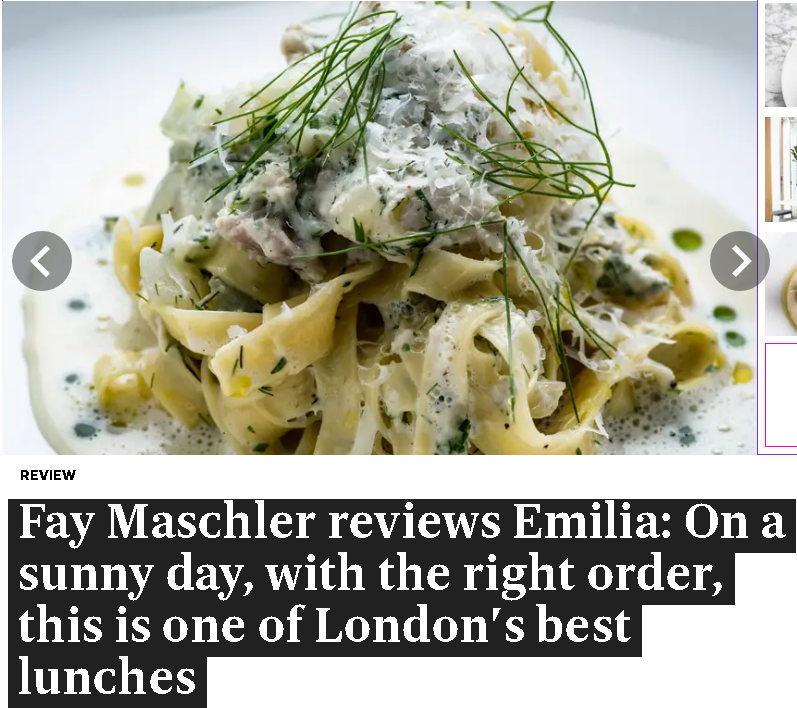 Fay Maschler for The Evening Standard was the first to re-visit Bonham's, where the restaurant space has been taken over by the group that owns Quality Chop House, Portland and Clipstone, "two young restaurateurs at the top of their game".
The entrance has been improved, and the "floor-to-ceiling windows in the first-floor dining area let light flood in to set the plates dancing", so it's best visited during the day (Fay visited for both lunch and dinner).
The "notably genial staff" served up "brilliantly brittle courgette fritti" and "assuredly amusing little caramelised onion tarts" ("mouth-melting") as antipasti. The best mains, inspired by the Emilia Romagna region of Italy, included "tagliatelle knitted into a foamy sauce made with rabbit, lemon and fronds of fennel" and "a punchy deep-fried package of pig's trotter with lentils, salsa verde and celeriac", although not every dish had such great combination or execution.
The bar, with sunny courtyard, has a separate snacks menu, which "may be the place for those who are not given regularly to bidding for fine art". (****)
---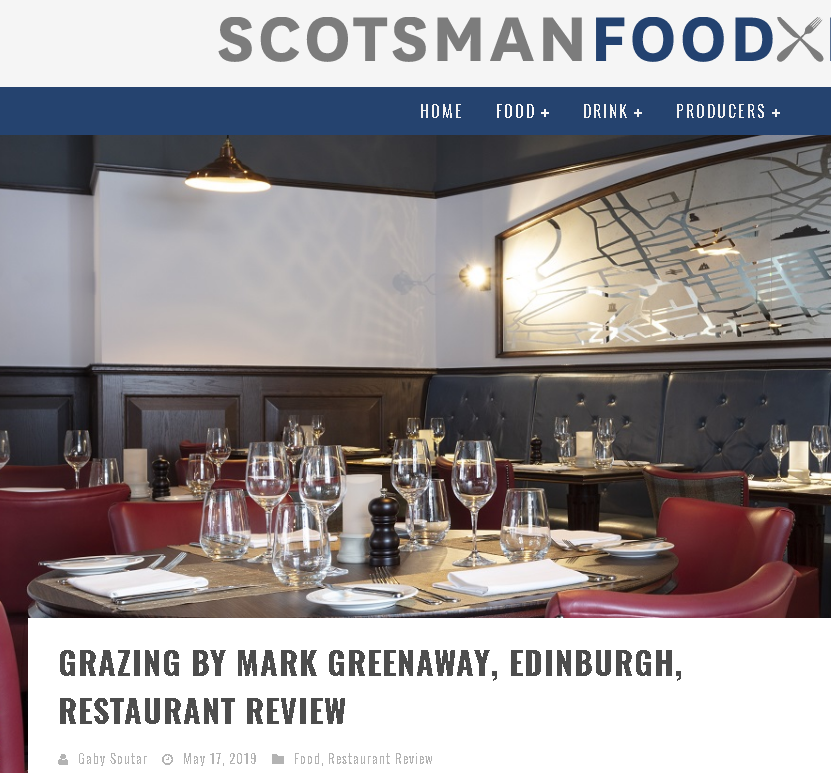 Gaby Soutar for The Scotsman visited the new hotel restaurant from Mark Greenaway who closed his eponymous place last year; he's now opened up in the space that previously held Galvin Brasserie de Luxe. She felt that it's "misleadingly named" – 'Grazing' does suggest tapas and sharing plates, but this is a "pretty standard three course affair"
Grazing is "a bit more spendy" than its predecessor, with "main courses hovering under the £30 mark". Gaby's starter of mackerel/hibiscus/apple/beetroot looked "bonnie" (Mark's dishes are "typically aesthetically pleasing") but "the flavours were rather restrained"; her main of 11-hour slow roast pork belly/mash (Mark's great British Menu dish apparently) was "rather good" and the "dish of the day" was a "monochrome cannelloni… as stripy as Beetlejuice's suit… stuffed with meaty and sweet minced shellfish".
"At his own restaurants – Bistro Moderne and Restaurant Mark Greenaway – there was theatre and a sense of occasion. This feels a bit like the stifled and lite version of his cooking/style." (70%)
And also…
Tom Parker Bowles for The Mail on Sunday ate in a restaurant called Guts when he was in Amsterdam for the Tottenham game against Ajax. He enjoyed "excellent modern European food". (****)
---
Nicholas Lander for The Financial Times was in France at Le Soufflot on the Côte d'Or where he enjoyed the "best priced wines in France": "the food menu comprises two pages, the wine list 22".
More from Hardens