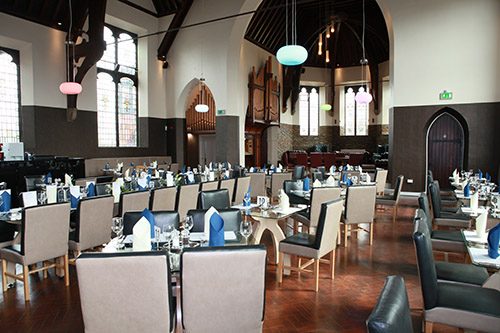 The Clink Restaurant at HMP High Down in Sutton, South London, is celebrating its tenth anniversary.
The restaurant was founded a decade ago by the Clink Charity and is this month marking ten years of "breaking new ground" in helping to rehabilitate prisoners and prevent re-offending.
Founder Al Crisci said at an event last week (as reported by The Caterer): "The restaurant here in Sutton started out with just a Molteni oven.
"At the time I was a catering manager for the prison, and we had a vision to help the prisoners find real employment on release. Peter Dawson, the governor at the time, [and present at the lunch] supported us with our dream."
"We started out with two ex-offenders; a head chef, Dean Masters and a maître de, Francis Martinez and we went from there. Nothing we were doing had been done before, we were breaking new ground every day."
The Clink restaurants are now a brand unto themselves and the charity operates kitchens at prisons in Sutton, Brixton, Cardiff, and Styal.
The aim is to train prisoners to receive accredited City & Guilds National Vocational Qualifications in order to better equip them to make the transition back into society.
The restaurants now have over 280 employers who are willing to interview Clink graduates upon release, with many being offered work.
Crisci added: "We work in an industry that's all about human nature, and one that is extremely perishable – one false move and your customers won't come back.
"I'm proud of the fact that our industry allows everyone to flourish and grow. It's not easy to turn your life around".
Recent News from Harden's