Harden's weekly update of where the critics are eating, recommending and avoiding, for the week ending 16 February 2020.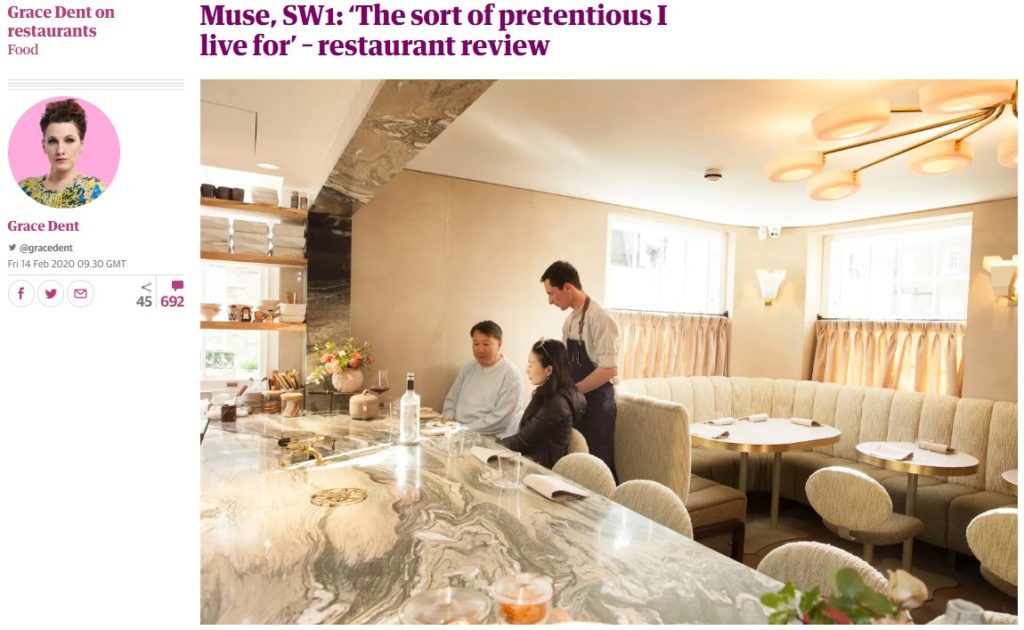 Grace Dent for The Guardian has declared it early this year: "I've found my restaurant of the year."
Not all of the critics who have reviewed Muse so far have enjoyed it this much, but Grace embraced the pretentiousness. "Muse is pretentious, yes, but it's the sort of pretentious I live for. Set me a table in Pseud's Corner."
It's not the stiff, formal type of pretentiousness that reeks of "joylessness", it's "eccentric, incomprehensible, wilfully weird and wholly unique. I like this type of purposeful bewilderment much more; it makes life feel much longer and fuller." Aikens himself wanders to each table to describe several courses, which "feels like being part of 10 courses of delicious talking therapy, or a Marina Abramović installation".
Grace describes Muse as "a small, odd, bolshy but emotionally fragile new opening" with "exorbitant prices", and the décor as "the meeting point between a Mad Hatter's womb-like retreat, an Israeli art-deco boutique hotel and a community centre climbing wall".
The autobiographical menu lists musings rather than dishes, although a small list of ingredients has now been added to give diners a bit of a clue. "Neither Black nor White" was "a glorious riff on cauliflower panna cotta", while "Conquering the Beech Tree" was "langoustine tail braised deliciously in Armagnac… plus a little pop-up book with a beech tree". (27/30)
---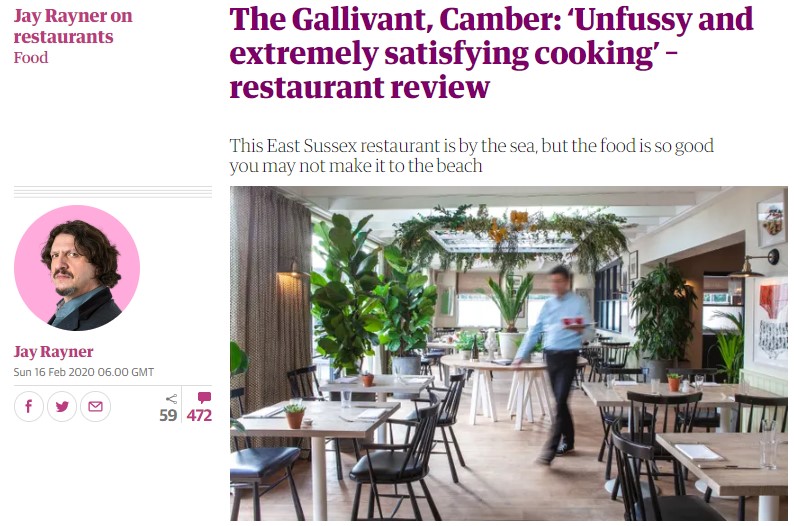 The Observer's Jay Rayner was in deepest Kent, by the seaside, enjoying the "pale, milky sunlight of the sort you find close to the sea in winter". The small hotel and restaurant's décor was, unsurprisingly, beach-themed, with "whitewashed dining room… slat-board panelling and, framed under glass, myriad swimsuits" – not so different from Seabird where he visited last week, but it works so much better here than central London.
Jay's lunch at The Gallivant was "a succession of rugged, big-thighed dishes, the appeal of which often disguises the care that has gone into them". So much so that he never actually got our of the room and saw the beach.
He's been meaning to visit for ages, but news of a new head chef ("Jamie Guy, formerly group head chef for Mark Hix") propelled Jay to Camber Sands. "Guy's cooking carries the fat thumb print of his time with Hix. It's unfussy and extremely satisfying."
He ate whelk fritters ("a very good start"), hispi cabbage "grilled and drenched with a mussel butter", roasted Jerusalem artichokes on "a thick surf of whipped goat's cheese" and main courses of things cooked over open fire. The Romney Marsh lamb chops were "curled up on themselves like edible commas", and braised beef came with "serious and dark" fermented barley ("risotto's grown-up cousin").
Desserts were "basically creamy things" – albeit very good ones – or local cheese. Jay advises them to hire a pastry chef. The "cheery" staff "knows when to be there and when to stay away".
"That's one I can tick off the list, and very happily so."
---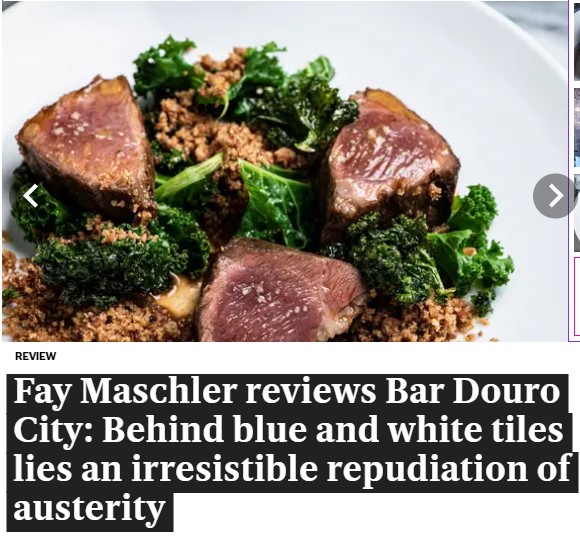 Fay Maschler for The Evening Standard picked her way through "blocked-off walkways, dead-end streets and builders paraphernalia near Liverpool Street" to locate Bar Douro City, the second restaurant from Max Graham, "whose family business Churchill's… has been producing wines in the Douro Valley for over two centuries".
It's larger than the Southwark original, with the same blue-and-white tiles but also proper tables and an open kitchen where Fay noted that "women predominate at the stoves".
The menu rambles across Portugal with dishes meant to be shared. (Huge credit to Fay here for the glorious term "menusplaining" (although she herself credits the copyright to Scott Collins) which describes so well the current trend for telling restaurant diners how to eat in a restaurant.)
Fay's companion described the prawn rissoles as like a Findus Crispy Pancake, but also "an ironed croqueta full of salty creaminess". She herself enjoyed the "lush, juicy and finely balanced" suckling pig in bolo do caco ("Madeiran sweet potato circular bread") so much she had it on her return visit too, and recommended the fried eels with Bairrada sauce, which came in tempura batter ("Remember it was the Portuguese in the 16th Century who introduced that style of frying to Japan"). There's also a chance to admire the "patisserie skills with pastel de nata" for dessert.
The wines, ports and other drinks "champion the wide range of indigenous grape varieties", of course. "Portugal's current repudiation of austerity and Right-wing nationalism" has found its culinary match in Broadgate. (****)
---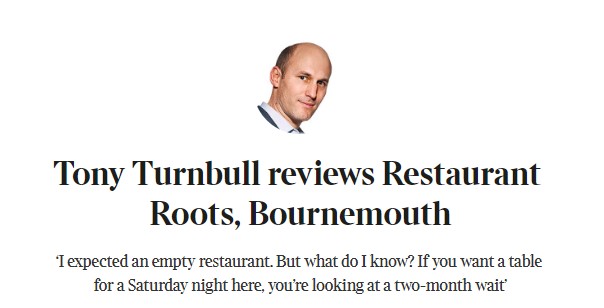 Standing in for Giles Coren in Saturday's Times magazine was Tony Turnbull, who reviewed a restaurant in Bournemouth (actually Southbourne), which is where he grew up, and has never, until now, "felt a need to return in a professional capacity", as there were no decent restaurants.
Roots doesn't even look like a restaurant from outside: "with its plain, half-frosted glass frontage" it could be a hairdresser or dental surgery. "There's no hint of the restaurant's aspirations when you walk in, either" – the "small room with its brown banquettes and plain wooden tables, the bare brick walls broken by a couple of seascape-y paintings" gives nothing away.
Once you're in (or if you peeped at the website) you find a no-choice menu of "five, seven or eleven courses", depending on which day of the weeks it is (there is choice on Sundays, though).
"I took my parents, wife and daughter and we had four Minis and a Discovery. There aren't enough menus named after cars in my book. I was only disappointed not to be offered anything from the chef's Lada." (He was obviously very proud of the pun, so we've included it.)
On a Saturday lunchtime, he was expected a quiet room and lowered prices, but was "greeted by a lively hubbub of conversation… They weren't far short of a full house. If you want a table for a Saturday night, you're apparently looking at a two-month wait".
Roots is owned and run by a German chef and his former-pastry-chef wife "who now runs the dining room". The "German influence was clear in a couple of courses, most obviously a beautiful rye bread, crunchy of crust and soft of crumb, which was served with cultured butter". "Otherwise we darted around the globe", with jackfruit tacos, ethical foie gras, crab with Thai-spiced jelly and "an epic terrine of confit duck… All top stuff."
A few "underwhelming" mains were rescued by "theatrical" puddings and the cheese trolley, all making for the "most interesting meal" that Tony's father has ever had. (8/10)
---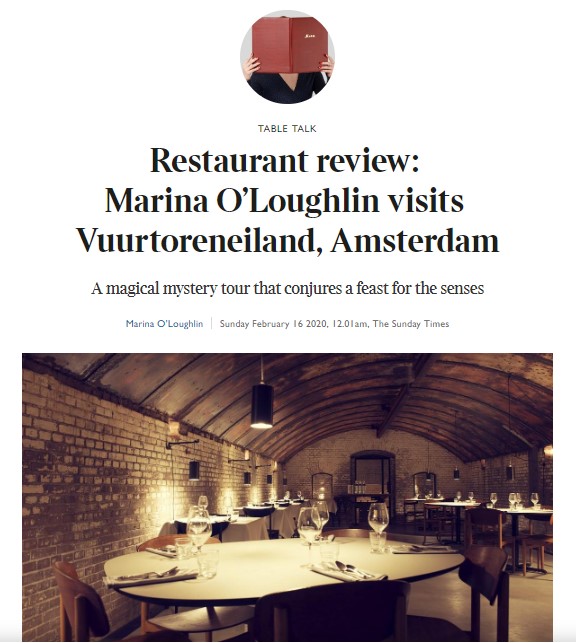 Marina O'Loughlin for The Sunday Times was on a "an expedition — one filled with mystery and joy and eye-stretching wonder" at Vuurtoreneiland (Lighthouse Island), an hour from central Amsterdam by boat and "one of the most magical adventures I've had in years".
There are snacks and drinks on the boat journeys both ways, and a "curious and delicious" tasting menu once on the island (where summer and winter dining venues are different) that is "emphatically northern, wrangling the biggest flavours from the humblest ingredients" with "lots of Dutch flourishes" and a "lot of it is vegetable-based: no meat puts in an appearance till about course four". It's delivered by "good-looking, articulate people" who are "knowledgeable and friendly". "The boat journey back is considerably more raucous."
---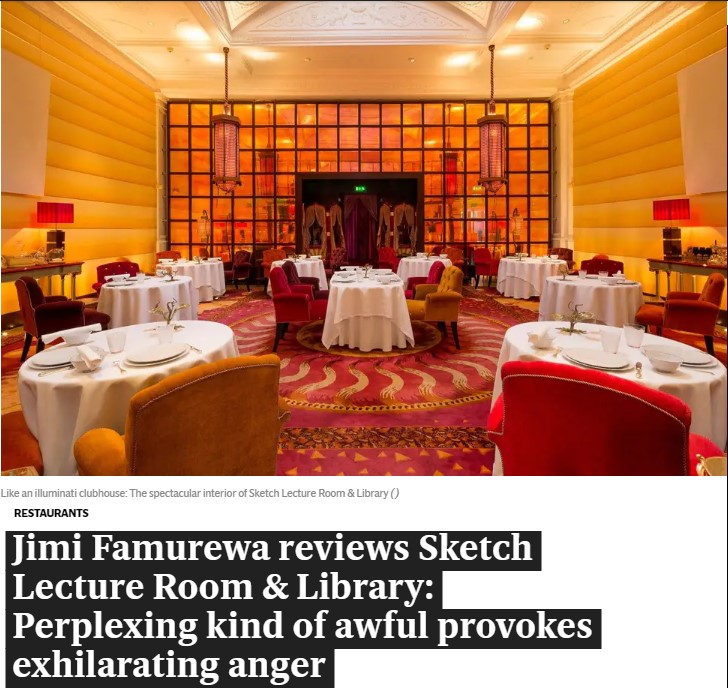 Jimi Famurewa for The Evening Standard enjoyed the "mad, hushed spectacle" of Sketch for the first 20 minutes.
He was visiting the "cheerfully exorbitant, 16-year-old gastroplex and Fashion Week favourite" to test out the cooking that's recently been awarded a third star from the tyre men. It would, of course, be "unquestionably good".
But it wasn't. Jimi describes it as "the perplexing kind of awful that causes you to question both your sanity and basic culinary instincts, as if you're being systematically gaslit by endless jellies, foams and lobes of foie gras".
"My £125 veg-focused one (chosen for variety's sake) unfurled as a sustained, merciless attack on the entire concept of vegetarianism." The meat-eaters version featured "a perfectly cooked, butter-seeping piece of wild turbot amid the palate-deadening buckets of premium ingredients" and was "marginally better".
After a meal of "mild satisfaction", he was presented with a bill of "nearly £400 after service, for two people to drink almost nothing and be scantly fed very slowly. Even writing it down I feel myself vibrating anew with an almost exhilarating anger".
"It is an example of the worst kind of brazen restaurant… to be avoided at all costs." (4/10)
---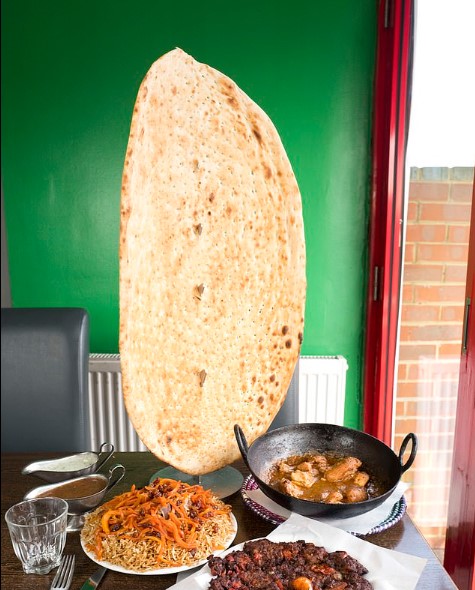 Do we have a new and improved Tom Parker Bowles reviewing for The Mail on Sunday this week?
He not only ventured to Hounslow this week (on the recommendation of "chef and restaurateur Asma Khan [who] sings the praises of the place") but he also did some research, taking note of "online chit chat" ("many London Pakistanis agree it's a proper taste of the Pakistani north-west, and Afghanistan, and those ever-permeable culinary borders") and admitted he knows very little of the area or its cuisine.
Behind the "faded, unassuming storefront" on Hounslow's Hanworth Road, lies a "large, clean, strictly utilitarian room with a fridge for soft drinks (no alcohol here), splashes of vivid green paint and a mighty open grill at the back". A "broad-shouldered, charmingly loquacious man" handed out menus and asked if Tom he needed help. With his advice, Tom thoroughly enjoyed the "chapli kebab, great frazzled patties of shredded beef the size of dinner plates… true fighting fodder" and "a lamb karahi malai, served sizzling in a battered karahi pan… gentle, creamy and complex, with Mughal whispers", accompanied by "vast crisp naans, the size of a large pillow, crisp rather than billowing, hung from a hook and hot from the tandoor" (see picture, above). "For the north-western Pakistani neophyte, it's a revelation."
Of course, the review was still four stars, and there were still plenty of farmyard references ("we waddle out, lips smeared with ovine glee"), but it was a refreshing change. (****)
---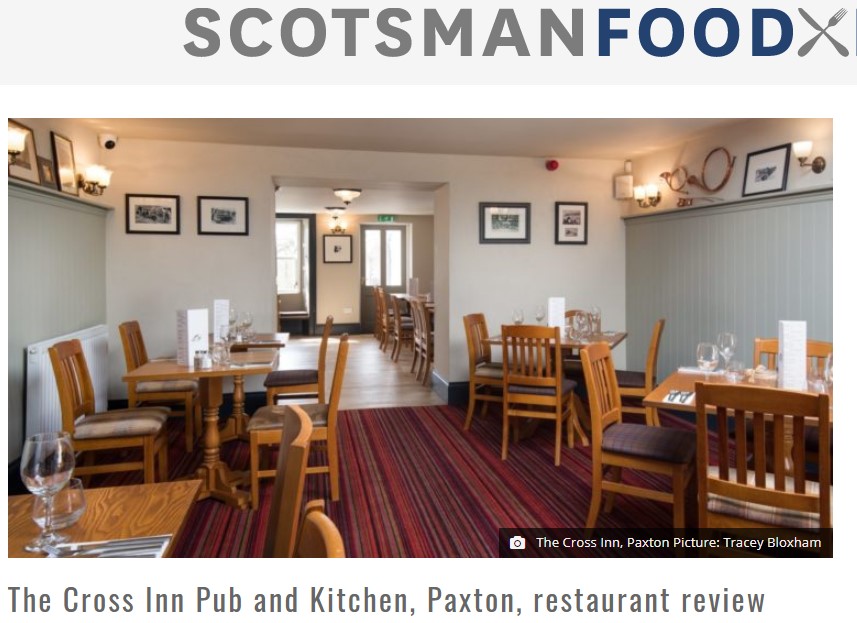 Catriona Thomason for The Scotsman was in the Scottish Borders "on 31 January, the day to end all days" – she'd popped down the A1 to stock up on her favourite cheese in case Brexit made supplies suddenly hard to come by.
Safely back over the border, she stopped for lunch at The Cross in Paxton, a "small hamlet near Berwick… a place that time seems to have forgotten, old-fashioned and quaint". Inside, the pub is "well presented, cosy, tastefully decorated with muted paint tones".
Haggis bon-bon and spiced cauliflower soup to start were "hot enough to melt the cockles of my heart"; spinach feta and sweet potato lasagne made a filling main for Catriona, while her 'fella' opted for Stornoway black pudding and steak burger. Neither had room for dessert.
"If you ever find yourself hungry in the borderlands this place might just be worth seeking out." (70%)
---
And also…
In The Financial Times, there was a review of Little French in Bristol, where "culinary grand fromage Freddy Bird ably demonstrates the love of his craft": "I felt wonderful things flowing through my veins".
---
Kathryn Flett for The Telegraph was at Chard in Hove, and found it "a perfectly charming spot for some louche midweek luncheoning". (****)
---
William Sitwell for The Telegraph was at Davies & Brook; the room recently run by Simon Rogan and before him Gordon Ramsay is "very different now". No more the "rich golds, red carpets and soft lighting, which created a mood of romantic and extravagant dining" (or "old fuddy-duddy hotel restaurant nonsense", depending on your view), because "it needs to appeal to the jet set… Which is why, presumably, it has been designed to feel like a first-class airport lounge in Qatar." William bemoaned the loss of "intimacy", with the new "quite bright" lighting, "it's all creamy whites and dashes of pale blue".
And the food? His "poussin was the ugliest-looking piece of poultry I have ever seen" but "was exceptionally good". (***)
---
The Manchester Evening News shared a peek at the new branch of Bundobust that's opening in the city: "the Grade II-listed building on Oxford Street will also be home to the very first Bundobust brewery" in May 2020. The MEN also reported on the closure of Bistrotheque at Cultureplex, just five months after opening, and Higher Ground pop-up at Kampus.
---
Birmingham Live announced the opening date of Pulperia, from chef Aktar Islam, as Monday 2nd March.
---
Recent News from Harden's