Harden's regular round-up of the restaurant critics' musings, from the week ending 16 June 2019.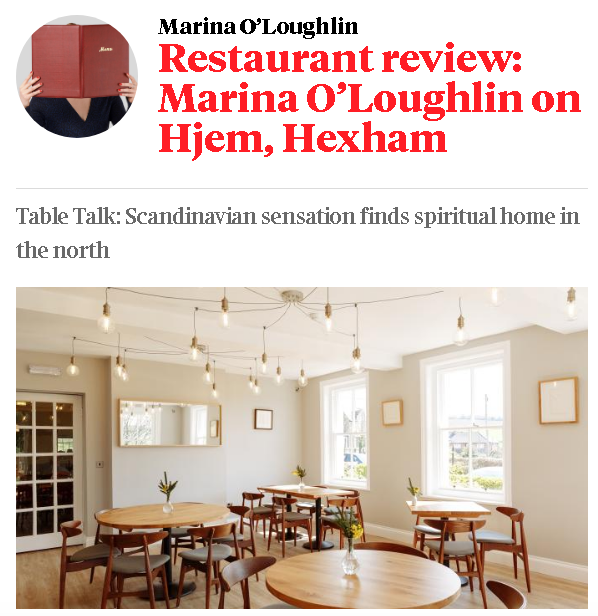 Marina O'Loughlin for The Sunday Times relies on her "spidey sense" to truffle out fabulous new restaurants to tell us about, and this time that "tingling in the fingertip" was spot on. And so it was off to rural Northumberland and The Hadrian Hotel.
The hotel has always been a pub stop on the "hikers' trail near Hadrian's Wall", it still looks just like you'd expect (dogs and all), but visitors for Hjem are led "through a side door into a small culinary Narnia" ("all light and open, yang to the pub's yin"). It's the "just-weeks-old baby" of the hotel's new owners, chef Alex Nietosvuori from Sweden and his partner, Ally Thompson.
There's no menu, "just a choice of six or 12 courses", and "each small course is so elegant, so light, so delicate that there's never the slightest suggestion of grande bouffe".
"This is food to make you beam with delighted surprise" – with "a sense of fun, too". "The couple's background in big-name Scandinavian restaurants informs a lot of the technique, but produce is firmly local. It's that whole British "new northern" vibe: exciting and wildly creative." Presentation is both austere and exquisite (a peek at their social media shows inventively presented dishes, using carved, wand-like spoons, hand-turned apples and upside-down earthenware pots).
"It's a long time since a restaurant has moved me as much as Hjem does — probably not since Inver on the shores of Loch Fyne, a similar tale of a fiercely independent team creating extraordinary food in unusual locations. It has made me properly emotional."
---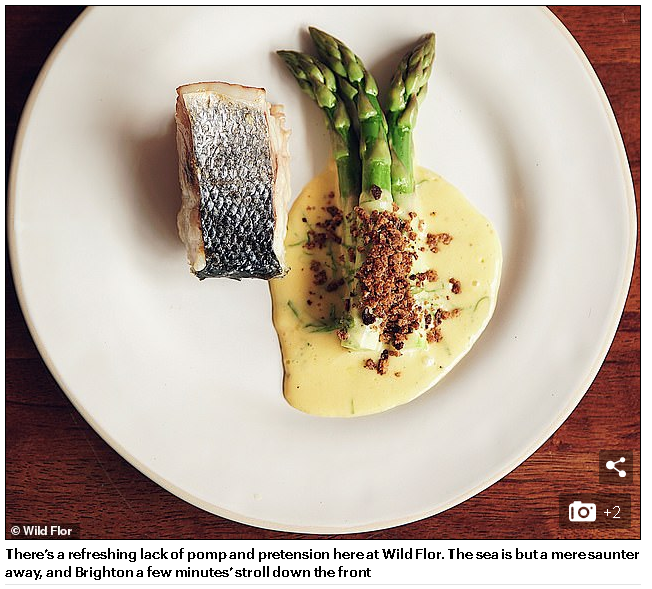 "There's a refreshing lack of pomp and pretension" at the new Hove restaurant that Tom Parker Bowles visited for The Mail on Sunday; the owners (a "charming and chatty" front-of-house presence) have perfected the "art of leaving things the hell alone, allowing an ingredient's inherent goodness to shine forth" – Tom's first dishes of anchovies and charcuterie were "not so much cooking as putting together, but damn it's good".
Starters include slow-cooked hogget (with Tom's trademark farm noises, "heavy on the baa and bleat"), asparagus with squeaky Cheddar curds ("a clever dish, packed with different textures, yet all bow down to the asparagus. There's a fine balance here, a precision and an absolute control of acidity") and barbecued ox tongue ("sensationally rich… tempered by a tart salad studded with pickles").
There was no room for pudding after the main courses of more barbecue ("Chef sure likes his smoky flavours"), this time pork collar with a too-"overwhelming" citrus sauce, and "pristinely fresh and pristinely cooked" brill, a "gently understated dish, but expertly and knowingly put together".
"Well priced, mainly excellent modern European cooking with the most generous of hearts. Lucky, lucky Hove." (****)
---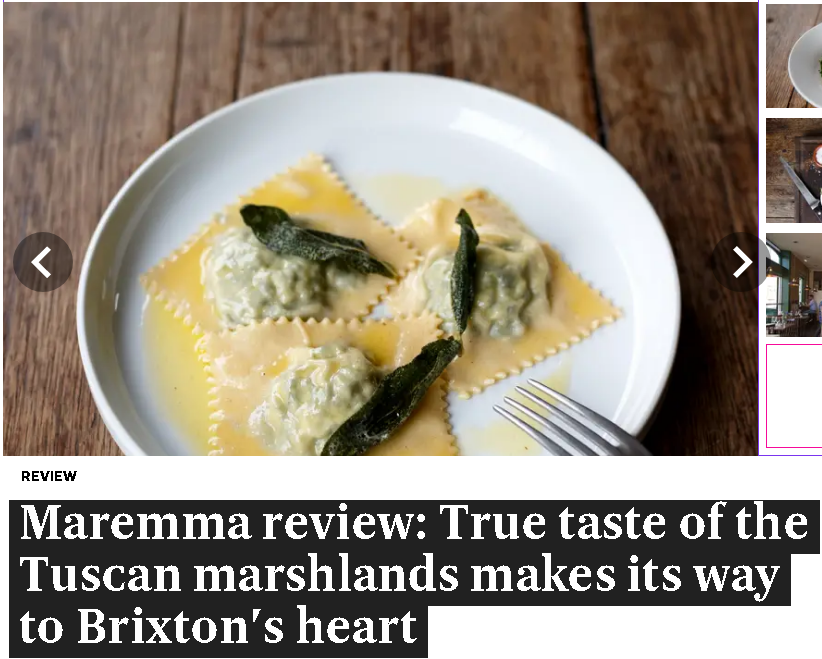 David Sexton for The Evening Standard got to Maremma first. It's a hotly awaited Brixton Italian named after the "coastal, southernmost area" of Tuscany, and is a "labour of love devoted to the region's food and wine" (and "the dedication… is impeccable").
The corner site is "welcoming, light and open to the street" – but "even on soft opening, with… the wine bar area below not quite finished, but the cooking was already polished".
From the "short, carefully considered menu" David and his compaion had aquacotta that was "as simple as it is meant to be, albeit peppery " and "tentacle of chargrilled polpo… was definitely yum". Next, there was "an appealingly different vegetarian option" in the "excellent torta di ceci, almost a chickpea pizza" and "a sumptuous piece of wood-baked hake… confident in its simplicity".
For pudding there was a torta di nonna with a "richly eggy custard, bedecked with pine nuts" and a "perfectly judged cheese plate".
"Lucky Brixton, even though some might resent such gentrification." (****)
---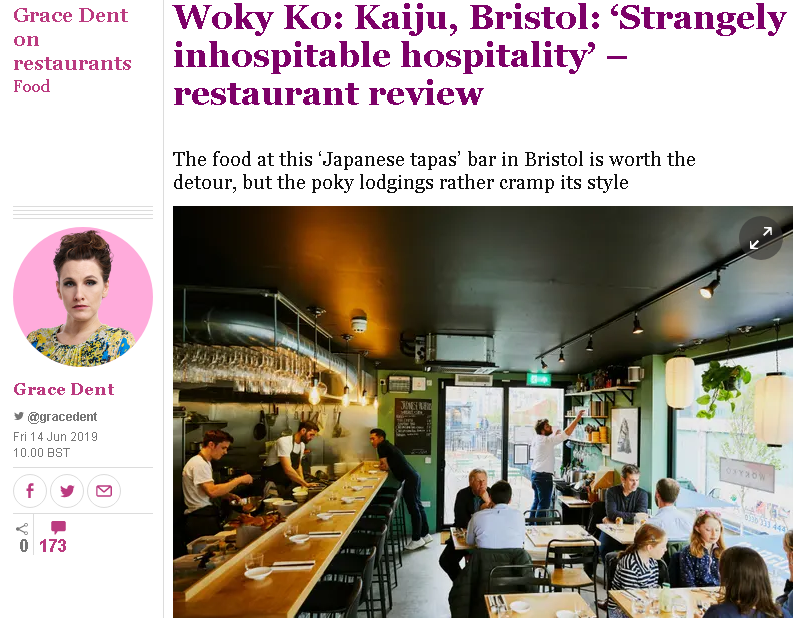 On her way to the Hay Festival, Grace Dent for The Guardian dropped in to visit "ex-MasterChef finalist Larkin Cen's third Bristol restaurant". She has strong opinions on the rise of the shipping container restaurant (this one is sited in Wapping Wharf's second Cargo development) – it's "strangely unhospitable hospitality", but chefs seems to love them (cheap and sustainable, what's not to like?)
"Woky Ko: Kaiju favours a sort-of Japanese izakaya-style cooking, which is a term that defies neat explanation." With "40 covers, a noisy working kitchen, a sit-up bar, half a dozen staff and a queue out of the door" it's "nothing remotely romantic", but enjoyable to a point.
"Plump, delicious duck meatballs on skewers seared over Binchotan charcoal", "outstanding plates of Korean fried cauliflower laced with lemongrass and served with an assertive sriracha mayo" and "a deceptively simple bowl of tender, robata-grilled shiitake caps sitting in a puddle of roast garlic soy" were "worth a detour alone" from the "brief" menu that's "low on carbs".
The two most expensive dishes were katsu monkfish, which "lacked much pizzazz or panko breadcrumbs" and braised beef short-rib, "a lesson in softening, blackening and stickifying".
The "level of cooking is very high" but the overall experience, for Grace, was let down by the "passcode"-accessed shared toilets (which "had no loo paper and felt like no one's responsibility") and the service ("we sat in a blind spot, cluttered by dirty plates, our glasses empty"). "It was all a bit day three at Glastonbury – jolly, but directionless." (19/30, with 8/10 for food)
---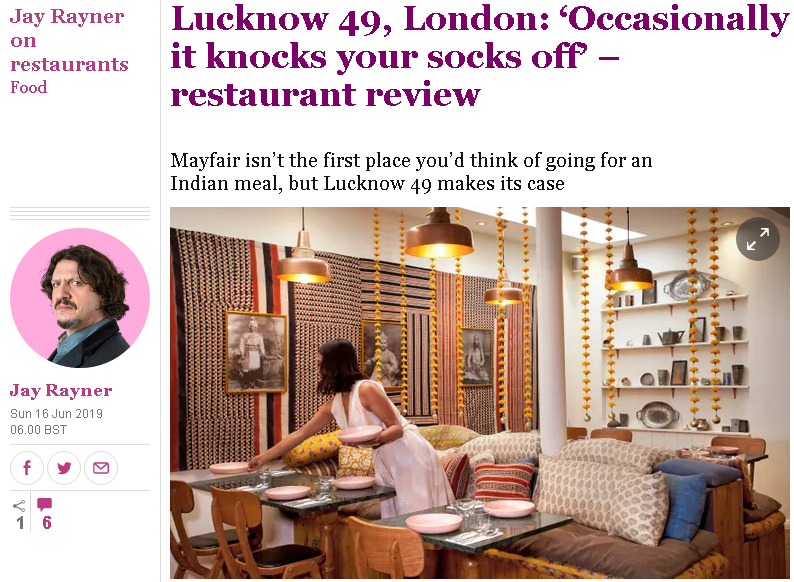 Jay Rayner for The Observer is quite right. "Mayfair isn't the first place you'd think of going for an Indian meal." He also makes a decent point that "there's already too much pointless gilding" in the area, when protesting about the silver leaf that embellished his cauliflower dish.
Precious metals aside ("I don't like eating things which serve no nutritional purpose"), there's also the important point to be made that there's no reason there shouldn't be an Indian restaurant in London's most expensive restaurant quarter. Just because you can eat Indian food for "buttons" on your local high street "does not mean food from the Indian tradition should never cost as much as that from France, Italy or Japan… the food just needs to be worth it".
Lucknow 49, the second restaurant from Dhruv Mittal is a "very comfortable restaurant… stacked with throw cushions and bolsters… olive green paintwork… hand-printed decorations… a self-conscious take on the domestic, the sort of relaxed style that costs proper money".
Jay's double lamb chops – central to the royal Mughal cuisine – were "big, meaty beasts, with a fine char, hot, crisped fat, and the rising scent of newly roasted spices". Chicken thighs "marinated in a saffron-flavoured cream before being charcoal grilled… are buttery and rich in all the right places" and the raan masala (slow-roasted leg of lamb) was "a boisterous bit of overtly butch cookery". Sides of patties and stuffed flatbreads "make up the numbers rather than thrill", but the perfectly timed cauliflower ("if you can ignore the silliness of the silver leaf") had "tension and bite".
"Understand Lucknow 49 as a relaxed Indian restaurant in London's Mayfair that will only occasionally knock your socks off, but will still show you a nice time along the way, and you won't be disappointed."
---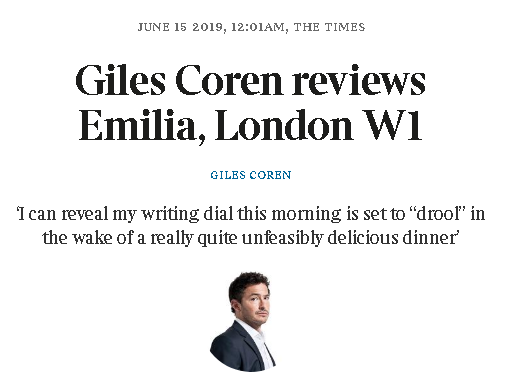 Having uncharacteristically returned to the site of a recent review (Soutine) more than once, Giles Coren for The Times had to be coerced into booking dinner at Emilia.
Not that it was a hardship. "It's not Corbin and King but it is Lander and Morgenthau, which is coming to mean every bit as much to London diners." They may "skew more to serious modern cooking than C&K, less to opulence and period chic" but their portfolio is strong (Quality Chop House, Clipstone and Portland) and Giles's dinner at their new Bonhams opening was "really quite unfeasibly delicious"; "the kitchen, run by Stuart Andrew from Clipstone, is on absolute fire".
His table ordered "all the antipasti"; along with the "wonderfully cakey focaccia", it was enough to make Giles repeat "delicious" four times. There was "a really extraordinary plate of lardo and watermelon" and juicy, meaty courgette fritti. Primi included "a sort of pig trotter spring roll that was shatteringly crisp and greasy in all the right ways" ("a massive fat piggy snog"), a "marvellously ferrous and dense" vitello tonnato (but made with Belted Galloway beef, not veal) and "the most ridiculously moreish fried gnocchi".
For the pasta course, they ate the "daintiest eel (or "snakefish") tortellini… in an angelically clear and slippery brodo", "big, buttery ravioli full of walnuts and ricotta", "rich meaty rabbit" tagliatelle and "stupendous" lobster spaghetti.
Definitely worth another visit. (25/10)
---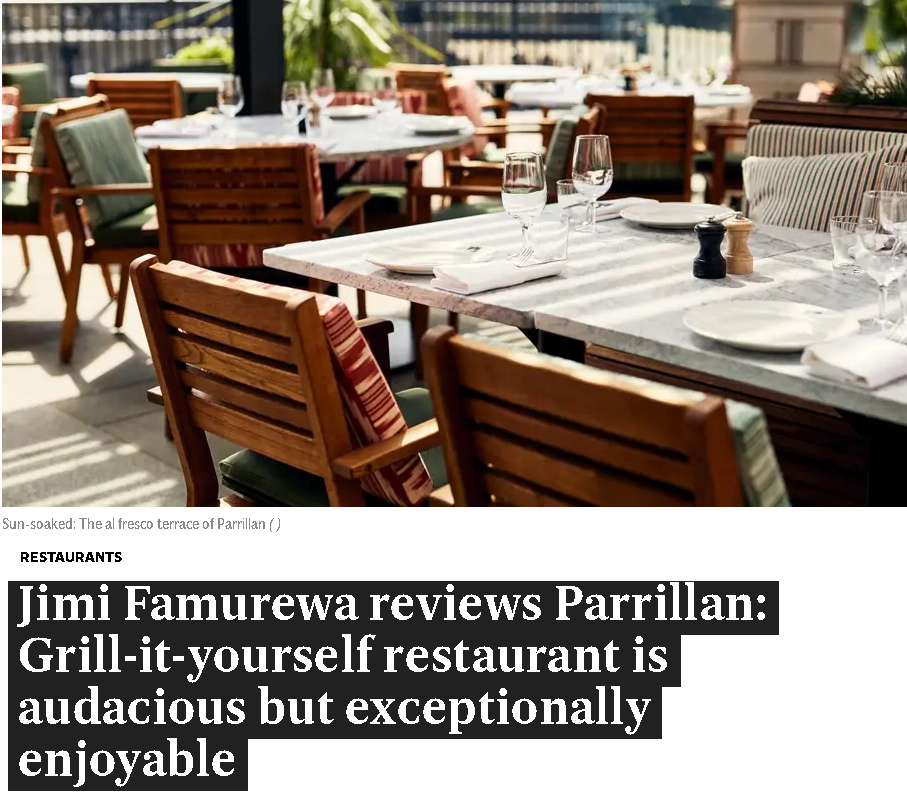 Jimi Famuwera in The Evening Standard was the first reviewer to brave the outdoor barbecue terrace from the owners of Barrafina. It's set in Coal Drops Yard, "that space-age retail and dining gorge, lurking in an unexpected corner of King's Cross like a gigantic £100 million secret" and will hopefully draw the hoped-for crowds this summer. On a sunny day it certainly looked like "the idealised vision of a particularly deep-pocketed Spanish tourist board".
The tables under the covered terrace have "boxy, miniature charcoal grills — the parrillas that give the place its name" for you to barbecue your own dinner ("platters of meat and vegetables"). Jimi declares up front that "inviting people to pay handsomely for the privilege of cooking their own meal is, on the face of it, fairly brazen", but the "vividness" of the experience more than makes up for it.
And it's not all "DIY" – there's other, pre-cooked nibbles too, like charcuterie and a pan con tomate that was "gently world-rocking… oil-glistened, chive-sprinkled and clean, fresh heaven with each crunching bite".
"With some half beers and a couple of glasses of wine, the bill lurched up to almost £140; high enough to register on my personal Richter scale of surprise expensiveness."
Coal Drops Yard may seem "like a work in progress" but Parrillan "has arrived fully formed, burning with purpose and alluring, char-edged fun". (9/10)
---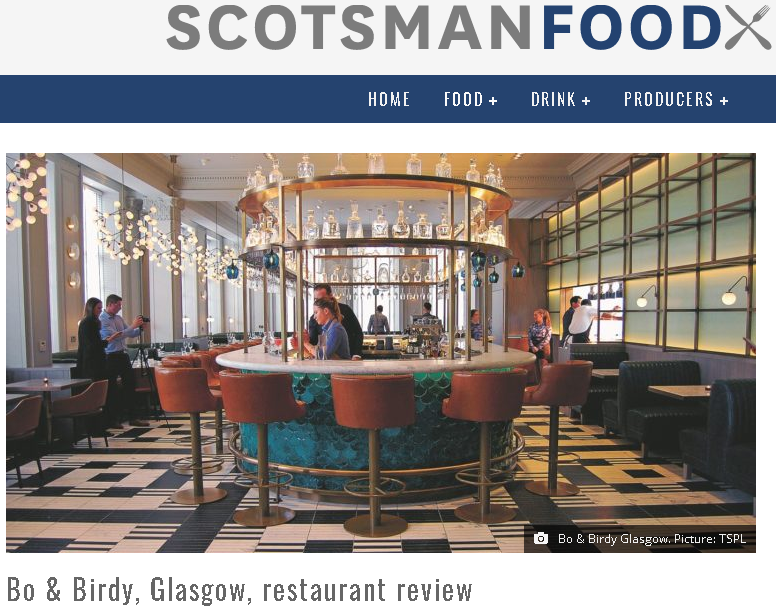 Gaby Soutar for The Scotsman enjoyed people-watching and Chanel-handbag-spotting at the new brasserie at The Bruntsford; the hotel was taken over last year by InterContinental, but those four handbags (costing over £3000 each) were "proof that this place hasn't lost its draw for the spangly folk of Glasgow".
A substantial refurbishment has created a bar island as a "focal point… upholstered in green fish scale tiles" (and promoted Gillian Matthews to being "Scotland's first female five-star hotel executive chef") ."Tables are pale marble, banquettes leather, the light-fittings look like art installations, and the unofficial dress code is Prada/Moschino/Gucci."
Starting the evening with the signature cocktail, a "rather special" gin-based concoction enhanced with an "iridescent peacock feather pegged to the side of the glass", Gaby embarked on to the "bistro with a twist" cuisine.
Mains include "upmarket takes on macaroni cheese, steak, risotto or burger" but Gaby tried the St Bride's chicken (with "three stubs of herby gnocchi") and an "exciting" line-caught cod with "some struts of char-lined leek" ("lovely"). A large side of Shetland sea-buttered Jersey Royals arrived "greased up and dotted with a confetti of dulse, like they'd tried to swim the Channel". She finished with a salted caramel pudding that was "more than enough for two".
"It's still a hot destination for the Glasgow glamazons, though they will permit the occasional Edinburgh house sparrow." (80%)
(The Scotsman also reported on the summer opening of Glasgow's branch of The Ivy, to open on a former bank on Buchanan Street.)
---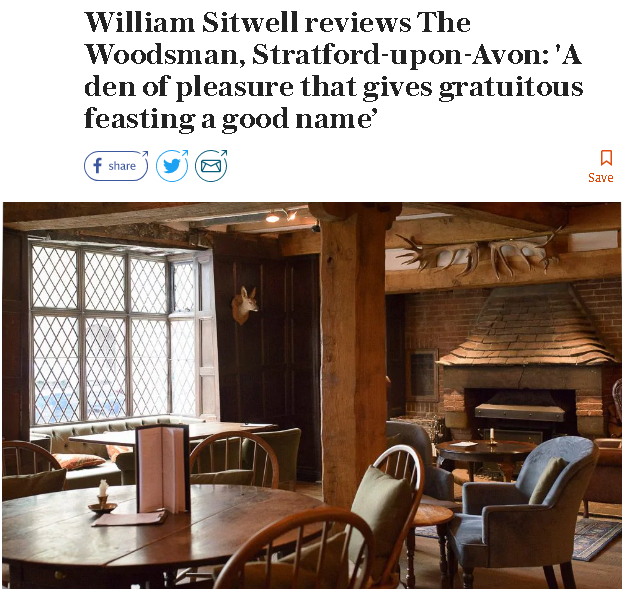 William Sitwell for The Telegraph found The Woodsman to be "a den of pleasure that gives gratuitous feasting a good name"; it's a new 'hotel-adjunct' gastropub with "wood panelling and beams, some of which date back to the 15th century" from "occasional TV chef and co-owner of a posh pub in London's Fulham", Mike Robinson.
Nothing was too much trouble for the staff; "they were all focused on the earnest endeavour of creating pleasure" – "I couldn't find a single member of staff who didn't smile, make us feel welcome and give us the impression that we had every right to be there". Even the chefs "looked up, smiled and offered cheery greetings" when he peered into the kitchen.
The menu is "filled with words like fallow deer, muntjac, pigeon, seaweed, faggot and bone marrow" and the style is very much one where "the chefs push bits of animal into charcoal and wood-fired ovens".
A "mighty fine" charred leek" was followed by a T-bone of fallow deer that was "unappealing-looking" but "quite the most beautiful piece of venison I have tried" – shame it wasn't his dish. His own main of Hereford beef was "perfect along with some marrow bone topped with breadcrumbs and a lovely faggot".
William has "vowed to return for another dose of welcomes and charred flesh from this gastro-pleasuredome" – and for his own plate of fallow deer. (****1/2)
And also…
The Financial Times ate "Britain's freshest seafood" at Outlaw's Fish Kitchen in Port Isaac, Cornwall: "fish cooking with finesse", and lamented the loss of appetite for London's traditional pie and mash shops, as the "new wave of wealthier professionals turn up their noses at traditional working-class staple".
Bristol Live picked up on Grace Dent's review of Woky Ko Kaiju, in particular her comments about the shared toilets.
More from Hardens