Harden's weekly update of where the critics are eating, recommending or avoiding, for the week ending 15 September 2019. It's slightly shorter than usual this week – we're busy finalising Harden's London Restaurants 2020 and sending it off to the printer; available soon in all good bookshops!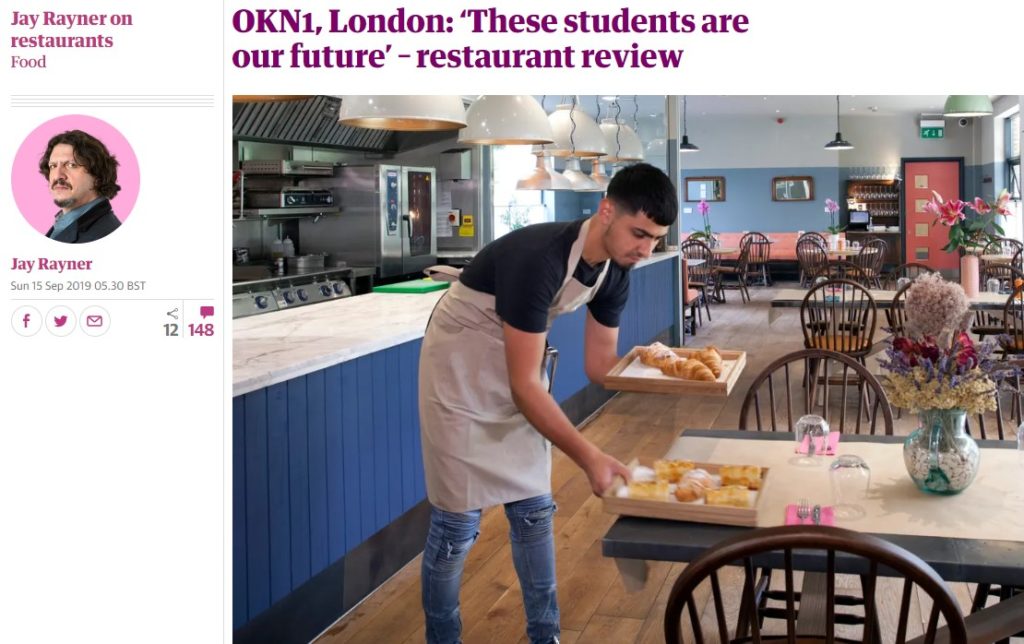 40 Hoxton Street might not be the most impressive of buildings but for Jay Rayner for The Observer, it is "a beacon of hope"; it's home to the Hackney campus of New City College, and inside there's "a full-service restaurant providing in-work experience alongside professionals for the students on the college's catering and hospitality courses". Nowhere in the vicinity – not Tramshed, not The Clove Club, not the "Vietnamese grill houses and Korean cafés" – is as important as this place: "these students are our future. Teach them well and let them lead the way".
After a sourdough appetiser ("in a city that now fetishises this bread as if it were the one true loaf, OKN1 holds its own"), Jay ate a ham hock and chicken terrine ("a perfect bit of classical training made flesh"), moules, chicken Kiev and two creamy desserts, each "with their own bit of oven-warm baking".
It may be a "mildly featureless dining room" with food that's not "ground-breaking" ("nothing will surprise you with its inventiveness. No envelopes are being pushed") but it needs to be supported better. "The future of the restaurant business could be in good hands. All it needs is a few more customers. If you like eating out, do your bit for the industry and go there."
---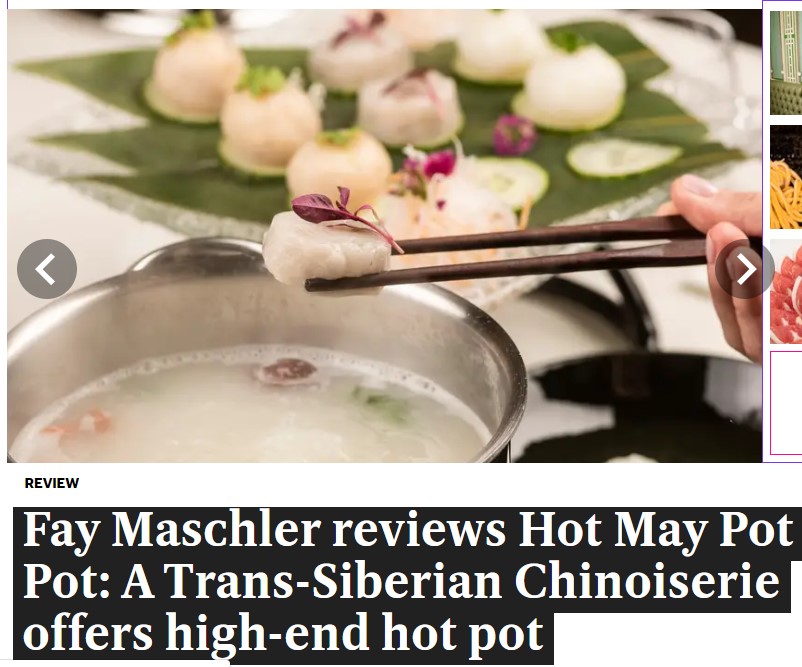 Fay Maschler for The Evening Standard visited a new, and previously un-reported-on, Knightsbridge hot-pot venture, on the former site of Verbanella; although she awarded four stars, it's actually hard to tell what she thought of the food from this review.
She did tell us that it's the project of "a couple from Harbin, in China's northernmost province", and – judging by the location and "sumptuous" furnishings, "clearly the investment is huge".
We were also reliably informed that Hot May has "unusually amiable, enthusiastic and capable waiting staff", who will assist you with preparing the food (noodles, meats and veg) that you cook yourself in "a choice of chicken, vegetable or oxtail" broth – and that the "wine prices at entry level are surprisingly reasonable", although several starters have that "ominous 'on request'" tag, suggesting it might not be ideal on a budget. (****)
The Evening Standard also reported on Harden's London Restaurant Awards held on Monday at The Langham.
---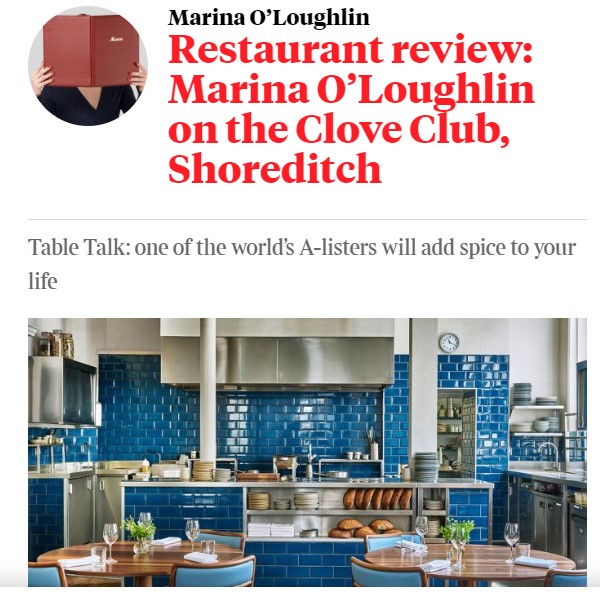 Marina O'Loughlin for The Sunday Times hadn't been back to The Clove Club since 2013 ("since it introduced a controversial prepaying system, a charcuterie room, its own produce garden — and since it brought in almost entirely new staff") so its appearance as the highest UK restaurant on the controversial "World's 50 Best" list prompted her to return.
"Somehow, over the years", the "tall-ceilinged, open-kitchened former municipal building" has "shed its po-faced air and is now all light and jolliness and bustle". There's "no menu, no wine list… but I can't think of anything lovelier than simply putting yourself in the hands of this charming bunch and letting them bring dish after extraordinary dish".
"The timing is perfect, the progression of dishes as carefully plotted as a novel", in a a meal that "bears little resemblance to the last one I ate here" – demonstrating "the intellectual fluidity that McHale brings to his kitchen (while never losing sight of deliciousness)". There's no longer evidence of "the Noma-apeing chefs as servers, and now have a front-of-house team of Olympic-level shit-hotness" – "the solo woman next to us is having every bit as much love and care lavished on her as the four designer-clad urbanites behind us".
"So I find myself compelled to agree (at least in small part) with the list: yes, this is a sublime meal and a great restaurant — better than ever it was. But even a stopped clock is right twice a day."
---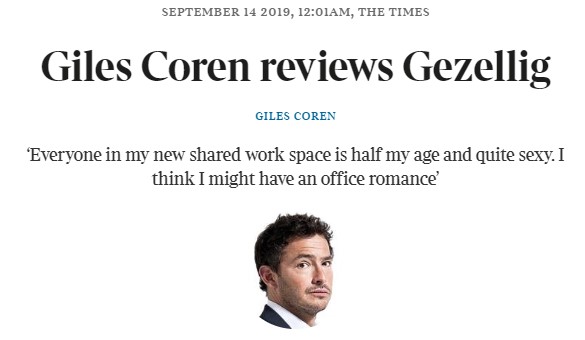 Giles Coren in The Times' Saturday magazine is so very busy these days that he has a workspace in town, so he's been exploring the food options around his new Midtown location. First on the list was Gezellig, which he visited with the owners of Pidgin. It's co-owned by a Dutchman and the word is Dutch for a hygge-lie concept, but the restaurant isn't Dutch.
Gezellig offers "posh European cooking in a bafflingly gigantic room" and serves "very, very good food indeed". After his boozy dinner which included "bold, bright dishes focused in many cases on excellent vegetables", Giles popped back for a fully vegetarian lunch and "a truly epic main" of "little roasted cauliflower steaks… drenched in seaweed butter".
"So top cooking, good wine list, friendly service, ceiling a bit too high, music a bit dodgy, great place for larger groups." (24/30)
---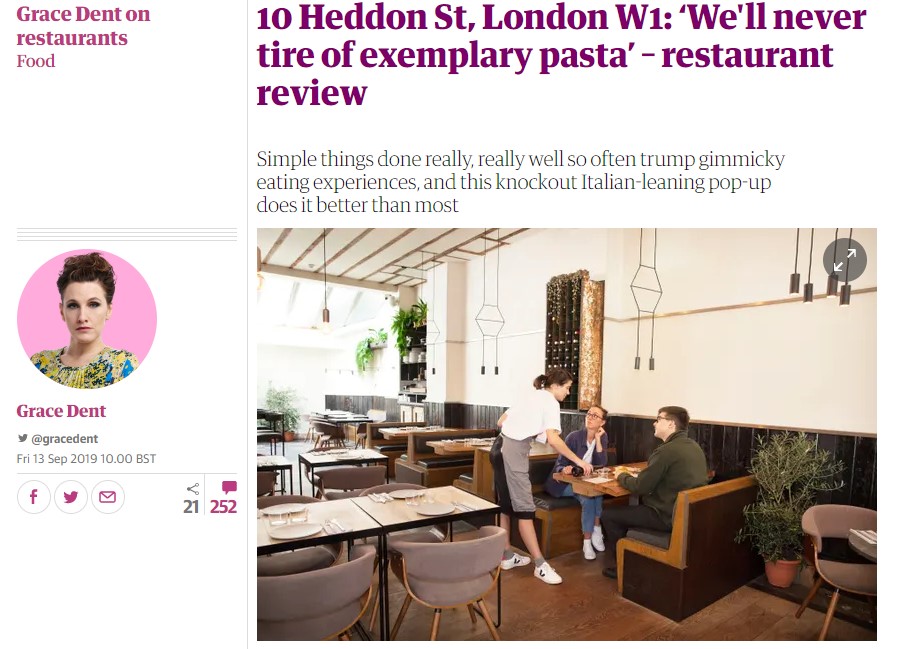 Grace Dent for The Guardian was hot on the trail of chefs Chris Leach and David Carter, who are currently popping up at 10 Heddon Street, but plan to open more permanently in Soho before Christmas.
She'd heard reports of "exemplary pasta, which is something of which we'll never tire", even in the current "gimmicky restaurant landscape"; "pasta is a complex thing to do well, but when it is done well, it's restorative". "In-house charcuterie" is on offer, too – "things can get pretty piggy here, so if you're not into pork" it might be best avoided.
Grace sat outside in the vestiges of summer sun and ate summer on a plate in the form of herb and fennel salad ("heavenly – a fantastic, bold alignment of chilli, mint and sharp citrus") and "outstanding" fresh focaccia, then a dish of roast pink fir potatoes with smoked cod's roe that she heralds as the "one of the feelgood hits of 2019".
Tonnarelli cacio e pepe, a "buzz dish" of social media a few years ago, is "back once again like the renegade master… heaving with fresh crab" and tagliatelle with seaweed butter was "slippery, salty and glorious, with a pale green dusting the colour of a mermaid's bouffant".
"10 Heddon St is a heady blend of the new and trendy mixed with something that will never get old – a full stomach. Wherever Leach and Carter set up next, I'll be sure to follow." (24/10)
---
After a false start with the trains last week (which sent him to Isla at the Standard), Tom Parker Bowles for The Mail on Sunday made it to Whitstable for the "very start of the native oyster season".
At The Lobster Shack, which overlooks a choppy North Sea", there are "live lobsters in a tank at the entrance, big buggers, on sale at £104 each. Yikes." But he and his son (nine-year-old Freddy, a critic in the making) were there for the bivalves. The Whitstable Oyster Company, which owns the restaurant, "farms some of the best oysters on Earth. And there's something rather lovely about eating them at source."
After inhaling two dozen oysters – some native, some rock – and some precipitously priced lobster, they wandered on to Samphire to eat more, this time from Colchester. With some cod's roe and mussels, they had "two fine courses for £18. Good value."  (****)
---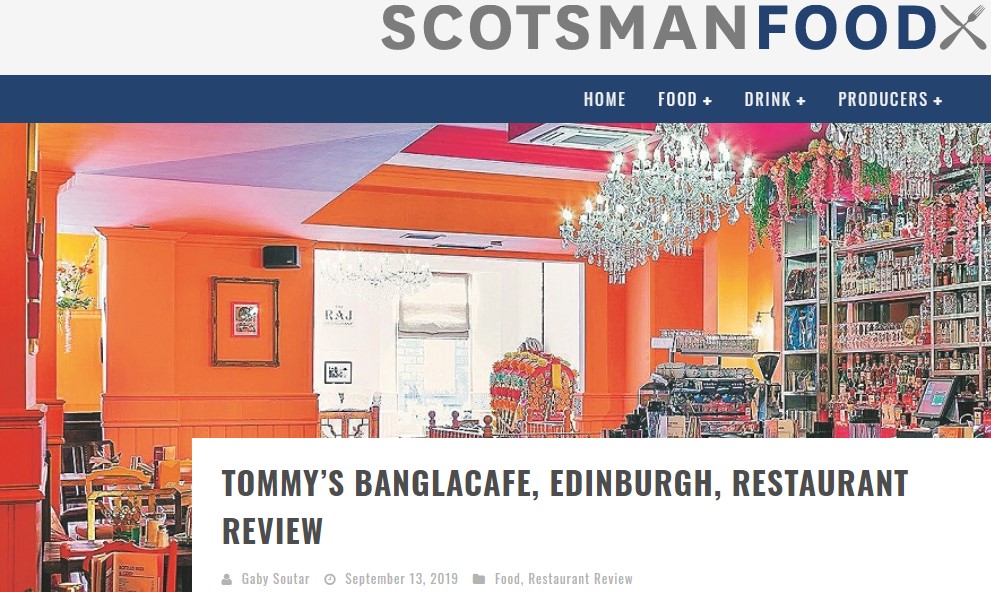 Gaby Soutar for The Scotsman tried out a new Bangladeshi street food restaurant in Edinburgh's New Town; decorated in an "anti-Farrow & Ball palette" of "coral, pink, orange and purple", it's hard to miss (and might attract a younger crowd or "overspill from Dishoom").
She enjoyed "cheery" service, "inventive" cocktails and several of the small plates dishes, ranging from "garlicky" tiger prawns to "comforting" goat curry. Portions were on the "titchy" side, even for small plates, though. (75%)
And also…
Catriona Thomson for The Scotsman comfort-ate her way through a menu of Polish fare at The Percy in Leith. The interior "is classic with red roses in glass bottles and the menu is packed with traditional delicacies"; "you will not be allowed to leave here hungry". (80%)
---
William Sitwell for The Telegraph seriously rated Isla in the new Standard hotel in King's Cross, the "former annex of Camden Town Council" in "a building of the brutalist architecture of the late 1970s", transformed into a "snazzy hotel, restaurant and bar" by the "imaginative" new owners: "I declare that all peas be made into hummus under the instruction of this chef." (****)
---
Keith Miller for The Telegraph reviewed the Harpenden branch of Lussmanns, a St Alban's restaurant, which he found to be "unimpeachable, but not quite reaching for the skies".
---
Tim Hayward for The Financial Times ate at Orasay, which he called "already exceptional"; "Jackson Boxer is a phenomenal cook, inventing hard, with courage and brio, and working with excellent ingredients".
---
Also in The FT, in How to Spend It, Bill Knott had a "sublime" time at Ox Barn at Thyme, "the luxury hotel that sprawls over 150 acres of impossibly beautiful Cotswolds countryside". It's a "laidback lounge with well-spaced tables and a long open kitchen; what emerged from its gleaming depths was, without exception, absolutely delicious".
Recent News from Harden's