Our weekly round-up of what the national and local restaurant critics are writing about, for the week ending 14 December 2020.
Post-lockdown, England is now operating under a strict tier system that controls whether or not pubs and restaurants can open; anywhere in Tier 3 is unable to open for diners (but can still operate a takeaway or delivery service): https://www.gov.uk/find-coronavirus-local-restrictions
Restaurants in Wales are not permitted to serve alcohol and must close by 6pm: https://gov.wales/coronavirus-regulations-guidance#section-48600
Scotland is operating under a different system of COVID protection levels: hospitality venues in level 4 must remain closed: https://www.gov.scot/publications/coronavirus-covid-19-protection-levels/
Restaurants in Northern Ireland are able to open, but pubs must remain closed: https://www.nidirect.gov.uk/articles/coronavirus-covid-19-regulations-guidance-what-restrictions-mean-you#toc-9
Please continue to ordering takeaways, DIY kits and deliveries from your favourite spots if you can; the restaurant industry and everyone involved in it need our support in what is usually their busiest time of year.
That said, this week saw a welcome return to 'proper' reviews from our regular critics.
*****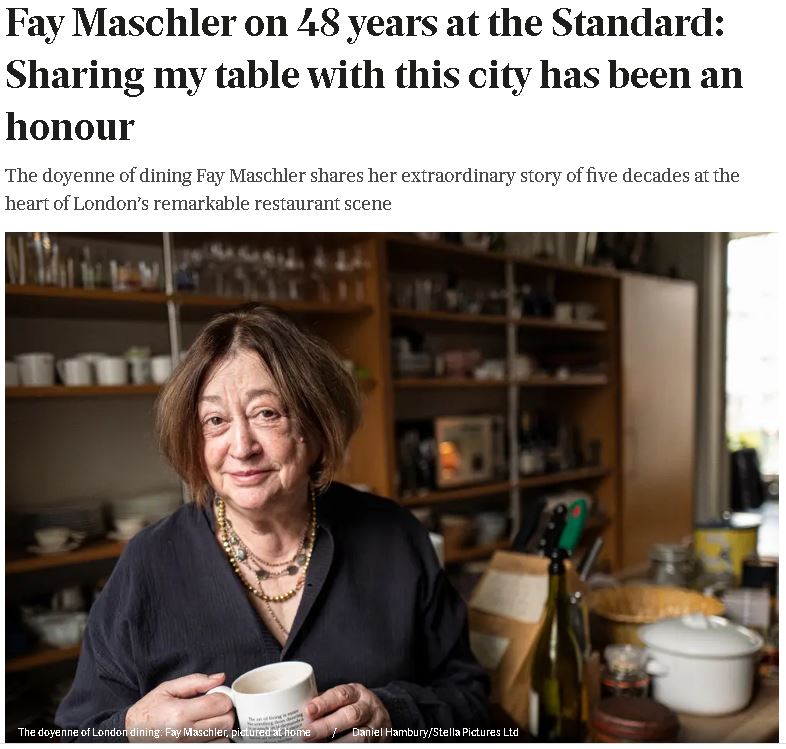 The Evening Standard
Fay Maschler has stepped down as The Standard's chief restaurant critic; the job goes to ES Magazine food reviewer Jimi Famurewa, who starts in January. Fay will still contribute to the Reveller and "remains an intrinsic part of the Standard's coverage of London's incredible food scene". Congratulations to Jimi from all of us at Harden's, and our best wishes to Fay.
Fay wrote a summary of her 48 years as The Evening Standard's restaurant critic, a job she won (originally as a three-month contract) in a competition in 1972. "I am blessed to have lived through the amazing unfolding of restaurants in London since the early Seventies." (As always, she snuck in references to her sister's restaurant and her single-handed 'discovery' of Patio in Shepherd's Bush, RIP.)
She also contributed, from first-hand knowledge over the past five decades, her opinion of the 12 restaurants that changed the way we eat; starting with Le Gavroche in 1967 ("Who knew until the brothers Roux that chefs had names?")
*****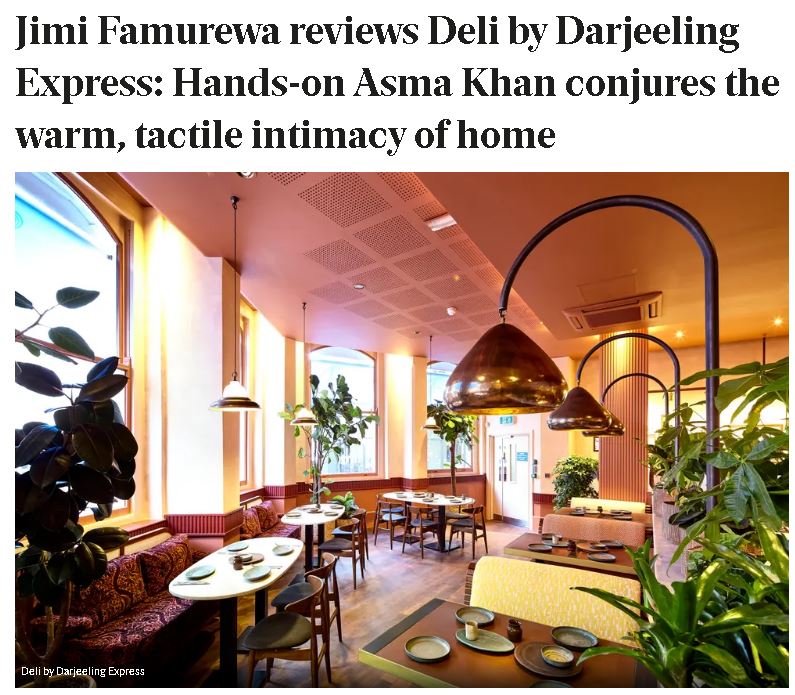 Jimi Famurewa reviewed Deli by Darjeeling Express, where he was delighted to see the unusual sight of a celebrity chef in their own restaurant; "on a blustery weekday late last month, in the partially opened expanse of her new Covent Garden location, it was impossible to miss Asma Khan".
Darjeeling Express in Kingly Court always "felt like a thrillingly oversubscribed family get-together", here in the 120-cover "palatial new digs" of the former flagship Carluccio's ("an almost hilariously grand, Grade II-listed former auction house") that "could easily feel chilly", Khan's "hands-on approach feels doubly important".
Jimi only visited the deli side of the business, but "it proved to be a heavy clue that none of this place's personality or flavoursome oomph has been mislaid during its short trip across town".
The "airy takeaway annexe" was "staffed by chirpy masked servers, soundtracked by Bollywood tunes and heavily perfumed with the Breville-era scent of griddle-fried butter"; toasties feature heavily on the menu. He enjoyed his in a park with a cup of the "bone-warming, stridently peppery house chai".
His lunch was "an attentively assembled care package, lovingly delivered at the end of an emotionally exhausting year". he firmly believes that the restaurant (not yet open) will "probably come with a non-negotiable side order of eager conversation. But this is food with a potency, soul and story that completely speaks for itself."
*****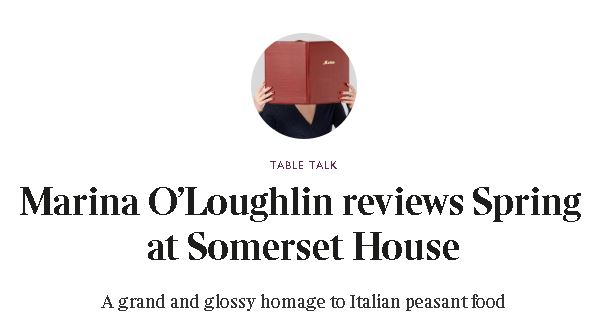 The Sunday Times
"It's an odd experience to be eating cucina povera — "poor cooking" — in what must be one of the grandest dining rooms in the land."
Marina O'Loughlin was at Spring, Skye Gyngell's "pastel-clad" restaurant set inside the "forbidding neoclassical splendour" of Somerset House.
The rustic menu is a new innovation; "in response to the many threats to the restaurant business right now the chef has launched what she's calling Spring Tavola, a set menu of positively rustic bent — £30 a head for three courses including a glass of wine." Compared to the £100+ per head bills when it first opened in 2014, it's quite the departure", and "zero waste" to boot. (Even the wine list starts around £45, a third less than the previous entry level.)
"There's nothing even slightly spartan" about the dishes served up – "even though the previous tendency towards luxurious ingredients is (of course) less in evidence, the pleasure isn't diminished".
But visually the restaurant hasn't changed at all, and – to Marina – "it feels poised to return to its ingredients-led perfectionism and eye-watering pricing as soon as all the ghastliness is over".
"Fair enough: Spring was never going to be anybody's idea of a democratic worker's canteen", but for now, it's making "Gyngell's food more accessible and approachable".
*****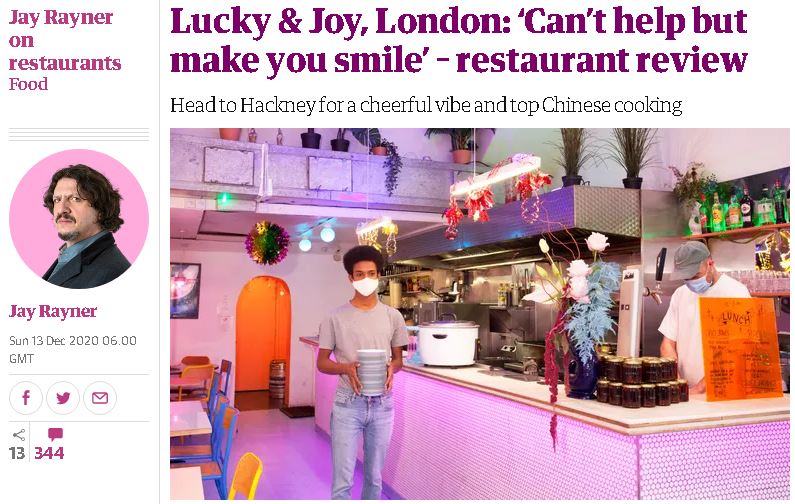 The Observer
"This last lockdown was only a month, but by God it was good to be seated back at a table enjoying the fruits of someone else's good taste and knowledge."
"In the first blush of the new normal", Jay Rayner ventured east to Hackney's Lucky & Joy, where he found "innovation in the restaurant world that's far from the shiny big-ticket launches" that "deserves a moment in the spotlight".
Lucky & Joy began with co-owners Ellen Parr ("a chef with a bunch of places on her CV, including the Iberian restaurant Moro") and Pete Kelly ("a drinks expert") and their joint obsession with Silk Road, "a simple Chinese caff in south London's Camberwell, specialising in the slippery ribbon noodles and the soupy big-plate chicken dishes of China's Xinjiang province".
Together they researched and experimented in the "Chinese cafés of New York", in China and through pop-ups, finally opening in Hackney serving " dishes which cheerily slap you round the chops repeatedly, and then slap you again".
The menu is short compared to Chinese restaurant ("so don't"); Jay advises (rather poetically) that one should "see it as a set of stories from the road, in edible form". It's also "vegetarian friendly".
As ever a supporter of smaller restaurants and independents, Jay promoted (for the second time), the delivery (available nationwide) from Clay's Hyderabadi Kitchen in Reading.
*****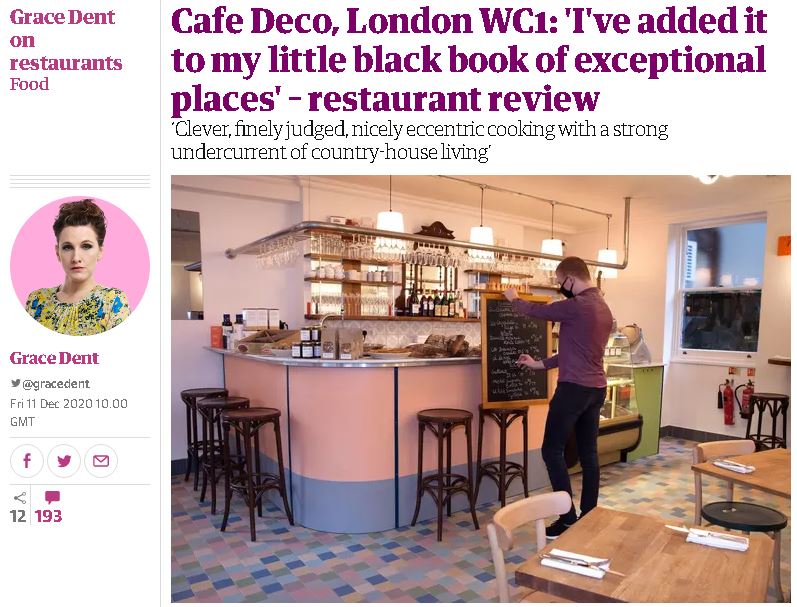 The Guardian
Grace Dent, "after fitting three restaurants into the first 48 hours post-lockdown" ended up at "brand new, European-style casual restaurant" Cafe Deco, where she knew she'd be in for a treat, as "has one of those restaurant-world pedigrees that makes food scene folk go all dewy-eyed".
"This is a project co-parented by the owners of 40 Maltby Street… that operates out of a railway arch in Borough"(if you haven't heard of it, "it is because food obsessives don't want you to know"), and also "the much-lauded chef Anna Tobias, formerly of Rochelle Canteen in Shoreditch".
"Both Maltby Street and Rochelle Canteen are that specific sort of London fancy-relaxed – frelaxed? – which means there's no need to wear shoes with heels or a tie that makes you feel like a bank manager, but they're still very much an event."
Cafe Deco is "the epitome of this airy-fairy elegance.. a small, pale room with minimal decor" and a blackboard menu that "is not remotely challenging to the casual diner, but the standard of ingredients and preparation elevates it". They serve "clever, finely judged, nicely eccentric cooking with a strong undercurrent of country-house living".
Don't be fooled by the fact that, "at first glance, it looks a bit like a sandwich shop with lofty aspirations" – if Grace is adding it to her "little black book of places that serve interesting, exceptional food", then we should all take note.
*****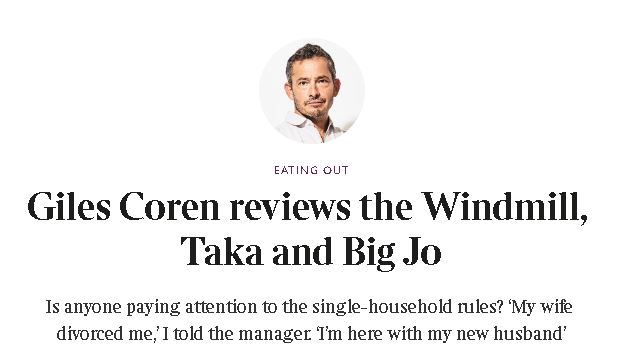 The Times
"As far as I can see, nobody is paying much attention to the rules about who can and can't eat in restaurants."
Giles Coren, as planned, reviewed Taka Marylebone and Big Jo Bakery, this week, and also snuck in a trip to The Windmill. But not exactly with his household bubble, as per the restrictions. "We do not want to compromise the restaurants we go to by making them complicit in our rule-breaking, so we are lying about it." Or calling every meal a business meeting, like the "procession of twentysomething Eurotrashies slouching through Taka" when he was there for dinner.
Like its predecessor, Peter Gordon's game-changing Providores, "Taka also does "fusion" cooking, albeit a noisier, more cartoony version of it, created and priced for, well, the legion of young Eurotrashies who were in there having that important business meeting". Taka is "not for the purist", maybe, but has "lovely service… great location and a comfy room."
He took a friend (sorry, business partner) to Big Jo Bakery, a "big, huge space with a big, huge frontage on grisly old Hornsey Road" that's a "bakery and cafeteria spun off" from Primeur in Highbury, Western's Laundry in Holloway, and Jolene in Stoke Newington, some of Giles' favourite restaurants.
There's a "gorgeous array of cakes and pastries and breads" and "a dining room dominated by a funky modern pizza oven, out of which come delicious glorified bruschettas"; it's a "big, fun, brunchy sort of a spot for practically anyone, relatively affordable and terribly cool". Just don't forget to talk about app development or your plans for Christmas day to keep your story straight.
*****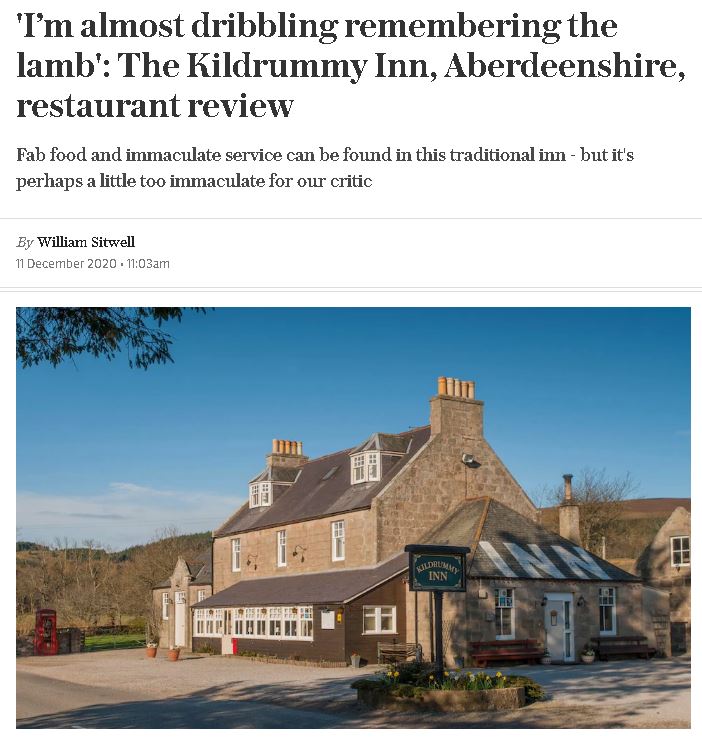 The Telegraph
Given the various national lockdowns and restrictions, we're not quite sure how William Sitwell managed to review The Kildrummy Inn in Aberdeenshire, but it's his first review in months, so we won't ask too many questions.
He misses the warm welcome of rural pubs with cosy, packed bars and friendly service; "the administrations that crush our lives with regulations have killed the atmospheric welcomes one might otherwise expect". Although here, "the staff almost genuflect in one's presence", so it's never effusive.
He enjoyed his food, though, particularly a fine lamb chump ("I'm almost dribbling remembering its grassy taste and beauty").
"The Kildrummy Inn is fab, but I yearn for a time when an inn can be an inn and, free of restrictions, has sloshing and noise and mayhem and people."
And also…
*****
No review in The Scotsman this week, but news of a large new restaurant in Glasgow's West End; Locker Hyndland, with former MasterChef: The Professionals contestant David Hetherington at the stoves, is a brunch-and-lunch place (with "an evening bistro service three nights a week").
*****
In The Daily Mail's YOU Magazine, Tom Parker Bowles reviewed his eight recommendations for the best food books of the year, including Calum Franklin's "flour-dusted love story" The Pie Room.
*****
Bristol Live reported on El Jefe Jose, a "street food restaurant that launched in Bristol during the first lockdown" that has already added "two more sites to its name in just six months", and on the further delays to the opening of Nadu, a Sri Lankan and Tamil restaurant in Stokes Croft from the owners of Nutmeg in Clifton.
*****
In the Cambridge Independent, news that Amelie, the city's Alsatian flam-kuche restaurant is going nationwide with its popular "DIY flam-kuche flatpack" delivery service.
*****