Harden's says
Regis Crepy (of The Great House, Lavenham) and his son Alex (who has worked with the Gaucho group) have launched Amélie, a "fast-casual dining venture" in Cambridge. The USP is flammekueche, a sort of fresh pizza from Alsace, and drinks are served from an old Citroen Van.
Summary
Suffolk restaurateur Regis Crépy, who ran the Great House in Lavenham for 32 years, launched this new Alsatian venture – in a bright yellow Citroën parked in Grafton centre's funky new food court – with his son Alex in summer 2018; the headline event comes sweet or savoury, and is rounded out by tapas-style starters.
* Based on a three course dinner, half a bottle of wine, coffee, cover charge, service and VAT.
Owner's description
Amélie Flammekueche Restaurants | Cambridge
Amélie Restaurant is a new restaurant concept serving Flammekueche, a traditional French dish from Alsace dating from the 14th century yet perfect for today's lifestyle. Traditionally it is a very thin, crispy dough topped with crème fraiche, sliced onions and bacon. Adapting this classic, we also offer a delicious range of topping combinations to suit all tastes. Using quality ingredients we create light savoury and sweet dishes that take just two minutes to cook, retain all the fresh flavours and is perfect at any time of the day.
Amelie Restaurant is located in the Grafton Shopping Centre in Cambridge, east Car park by the Vue Cinema. Come in visit us and taste Flammekueche!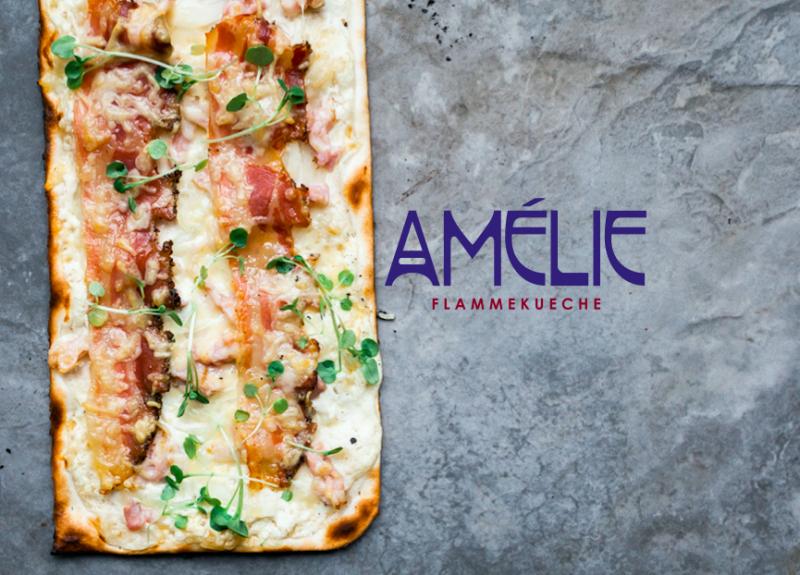 Prices
| Drinks | |
| --- | --- |
| Wine per bottle | £10.50 |
| Filter Coffee | £2.20 |
| Extras | |
| --- | --- |
| Service | 10.00% |
Restaurant details
Highchair, Menu, Portions
The chef
The father and son duo Régis and Alex Crepy, are tremendously proud to be working together on this new venture bringing the Flammekueche to the UK. Both graduated from the EHL, Ecole Hoteliere de Lausanne, in Switzerland. Régis has more than 40 years in the hospitality industry, in Switzerland, France and England. He previously owned The Great House in Lavenham, Maison Bleue in Bury St Edmunds and Mariners in Ipswich as well as consultancy work for different restaurant businesses. Alex was appointed managing partner in the Gaucho group before opening this first outlet of Amelie Restaurants.
Amelie Flammekueche Restaurant Diner Reviews
Reviews of Amelie Flammekueche Restaurant in CB1, Cambridge by users of Hardens.com. Also see the editors review of Amelie Flammekueche restaurant.

Heather L
The food provided the most exciting lunchti...
Reviewed 9 months, 11 days ago
"The food provided the most exciting lunchtime experience ----absolutely delicious. Flammekueche is the best "new eat " ever !"
Report this comment
Have you eaten at Amelie Flammekueche?
Post your own review of Amelie Flammekueche and contribute to our annual restaurant review guide.
Post your own review
Grafton Centre, Cambridge, CB1 1PS
Opening hours
| | |
| --- | --- |
| Monday | 11:30 am-8 pm |
| Tuesday | 11:30 am-8 pm |
| Wednesday | 11:30 am-8 pm |
| Thursday | 11:30 am-8 pm |
| Friday | 11 am-9 pm |
| Saturday | 11 am-9 pm |
| Sunday | 11:30 am-5 pm |
What social media is saying