Harden's regular round-up of the restaurant critics' meals, from the week ending 11 August 2019.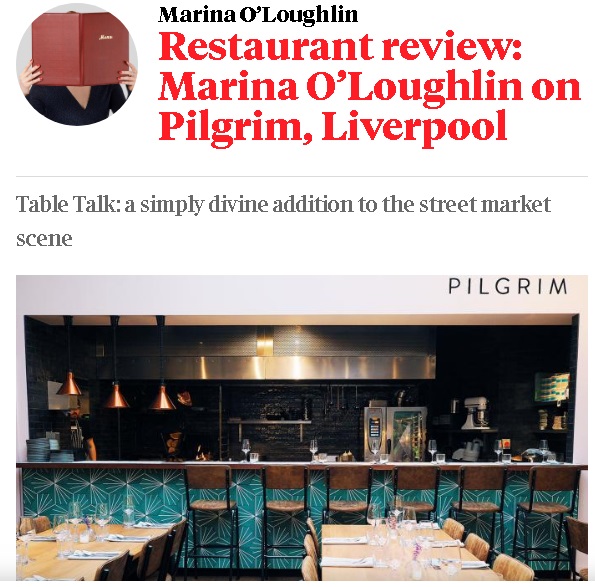 Marina O'Loughlin for The Sunday Times had very little time for the marketing "tripe" surrounding the new Duke Street Market flagship restaurant she visited in Liverpool – one of the many new additions to the UK's food scene, thanks to the "burgeoning trend for food halls". (Although, as she says, the distinction between food halls, markets with street-food stalls and "a collection of mini restaurants… is becoming increasingly blurred".) For food entrepreneurs, "they act as incubators without the attendant swingeing overheads".
Pilgrim's PR blurb states that it takes inspiration from the ancient Camino pilgrimages (in France, Spain and Portugal) to the Cathedral of Santiago de Compostela. For Marina, this is "a concept so high it's giving me vertigo, too borderline daft to go into in detail", but essentially delivers a restaurant that's "vaguely Iberian" with "hugely appealing dishes from a kitchen thoroughly plugged into current restaurant trends". The restaurant itself is upstairs from the main market, simply decorated with an open kitchen and "attractive tiling".
They've certainly got their finger on the food-trend pulse, ticking off all the current "publicity buzzwords" (which sounds like the perfect name for a bingo game for foodies); the chefs have clearly been busy "absorbing the zeitgeist" (not always accurately, there were a few "weird solecisms").
Marina ate "Spain's beloved hake" ("a stout chunk of fine fish… just the tiniest tweaks and this would be stellar"), wood-roasted quail "lovely in its creamy sidra sauce" (but the legs, done up as lollipops, needed cooking for longer), "vast" broad beans with garlic salt, and the "happiest ending to our journey", in the form of St James tart, a "super-rich, insanely moist almondy sponge, boozy cherries and a couple of wispy fronds of fennel adding a pleasing touch of aniseed. Praise be."
She had some choice advice for a certain "man-bunned dude" (presumably a waiter?), but decided that "mostly they're dedicated to showing you a truly good time" at Pilgrim.
---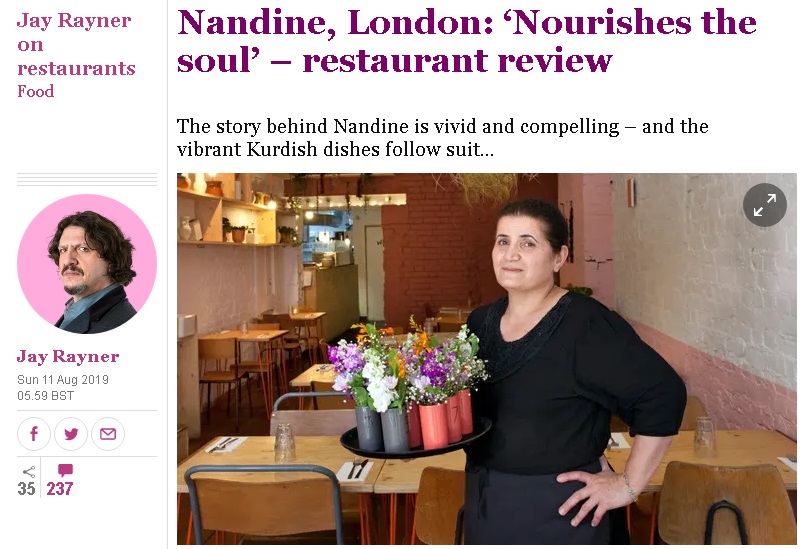 Like Marina, Jay Rayner for The Observer was at a restaurant with a story: "the best restaurants have a cracking narrative at their heart; a story that nourishes the soul as well as the belly". Nandine in Camberwell has one that's "utterly compelling": the history of the Baban family's "displacement by war, of immigration and the refreshing of memory and identity through cooking".
Pary, the family matriarch, kept a journal of village recipes as she fled from her home Qaladze (in today's Iraqi Kurdistan) when it was attacked by Saddam Hussein's forces in 1989. From there she ended up in south London, running a newsagent and eventually a restaurant, via selling sandwiches and a stall in Peckham Levels.
Nandine (which means 'kitchen' in Kurdish) is "a simple café, all plywood and painted brick walls knocking out huge plates of big-flavoured Kurdish food at the sort of prices that restore your faith not just in eating out, but quite possibly in humanity in general". Jay praised dishes that were "a vivid rush of saturated tones, worthy of Technicolor in its pomp. Colours like that promise flavour; the promise is not broken".
He ate mezze with "sprightly and bright" hummus, tahini, capers and "sweet and smoky red pepper purée", served with "spice-dusted and quilted flatbreads… an extremely diverting plateful for just £5.50". There was also shakshuka, a "boldly spiced" minced lamb kebab (at £12 the most expensive dish, and more than plenty for one) and a "tender and crisp" 7-spiced chicken.
With simply no room for "one of the prettiest bowls of chips in Britain", Jay valiantly forced himself to eat dessert of "Pary's famed baklava… fragile crowns of crisp pastry… made fragrant by the application of dried rose petals and attention to detail. Like everything here, first you look at it and sigh. Then you taste it, and sigh again".
---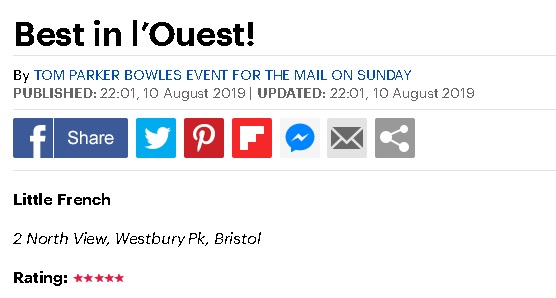 Although pipped to the critics' post by Marina O'Loughlin last week, Tom Parker Bowles' review of Little French for The Mail on Sunday is still notable, not least because he awarded it a rare five stars.
Much like his Sunday Times rival, TPB described Freddy Bird's new Bristol restaurant as "the sort of small, unpretentious bistro – with copper-topped tables and comfortable booths – that is now rarer in France than a jolly Parisian". Even on one of the heatwave days of July it was "bursting with Gallic greatest hits", with starters including the "gently creamy" milk-fed lamb's kidney (better than Barrafina's), "pristine prawns" and "simple and sensational" clams with garlic.
"This is a kitchen unafraid of the bold." Punchy flavours included an "intense, verdantly swampy green" parsley soup, rabbit "in a soft mustard sauce, heavy on the vinegar and tarragon" and lamb chops with an anchoïade dip "bellowing of anchovies and garlic". The whole turbot was "so fresh I can taste its last lunch", cooked in paper so the "lusciously rich" juices could be mopped up with "crisp, hot, salty fries".
"This place is really magnifique. Serious cooking at eminently sensible prices. Vive la France! En Angleterre." (*****)
---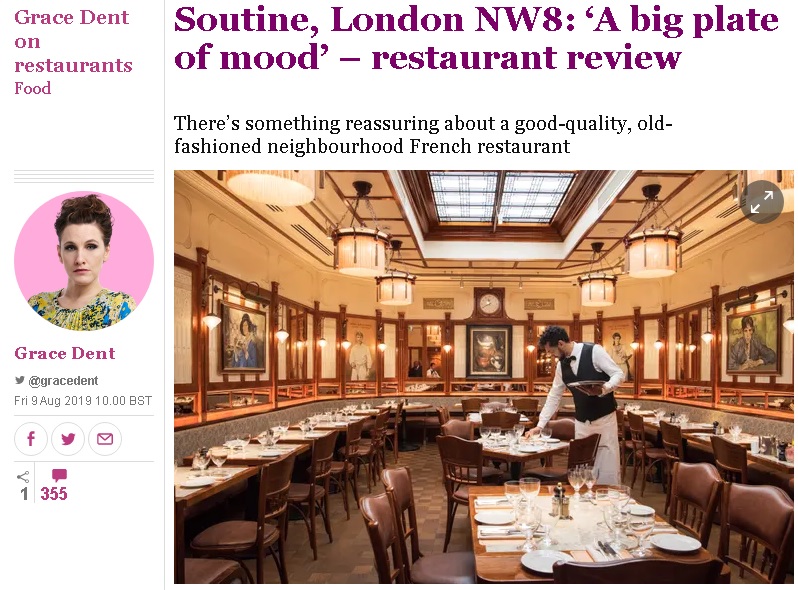 "People don't flock to The Wolseley for life-changing eggs on toast; they go for a big plate of mood." Grace Dent for The Guardian was at one of The Wolseley's siblings, Soutine (in the same week that its owners, "industry titans" Corbin & King, announced the closure of Bellanger in Islington) and declared it very much along the same lines: after all, C&K are "the archdukes of ambience, creating a genre of noisy tableaux vivants, rather than straightforward dining spots".
Grace thoroughly enjoyed the people-watching ("St John's Wood is not short of the louche, the elegant-but-indolent and the deadline-avoidant to keep Soutine afloat"), the food from the "French-sounding English" menu and the atmosphere ("southern bank of the Seine, maybe in Montparnasse, in about 1928"), although wasn't in raptures. "Soutine isn't using the very, very best ingredients, but it is using what they can be proud of while still keeping the lights on." (23/30)
---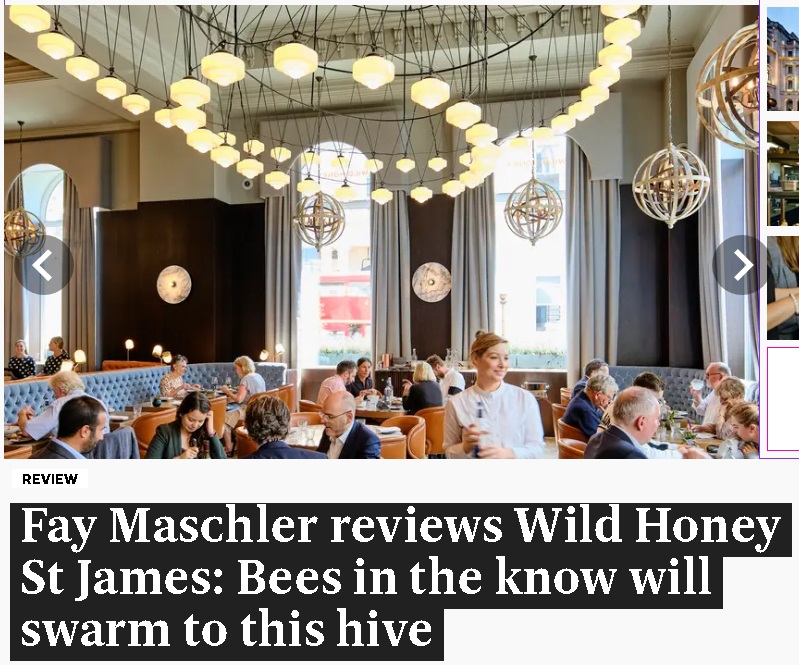 Fay Maschler for The Evening Standard visited the new incarnation of Anthony Demetre's Wild Honey, now ensconced in the Hotel Sofitel St James. The decor of "baby-blue velvet upholstery, halo chandeliers and interesting art" has "largely… obviated" the "eating-in-a-hotel vibe".
With a menu that "gladdens the hearts of Demetre followers" and "stays true to Anthony's love of France" (although notably more expensive), WHSJ "enrols us as cheerleaders for head chef Simon Woodrow".
From the starters, Fay recommended the "beautifully enacted" hand-cut macaroni with "crisp boneless chicken wings" and "astonishingly good" charentais melon draped with lardo. A "powerful" bouillabaisse would make a "grand intermediary fish course" for two. Both mains (she was accompanied by Max Halley of Sandwich Shop fame) were less impressive, but were "redeemed by the fricassée of peas, broad beans and lettuce" – and also by an "almost indecently good" dessert of English custard tart. (****)
---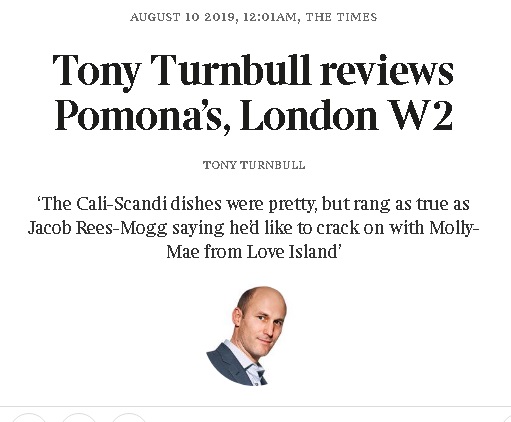 Tony Turnbull stood in for Giles Coren in The Times this week, visiting the three-year-old Pomona's in Bayswater (not Notting Hill as they insist). He had a "curate's egg of a meal", ruined by constant 'checking-in' from "frenetic" staff who promptly ignored his responses, and an "inferior" table.
"Some of the cooking was very good indeed", but other dishes were lazily assembled, ill-thought-through or just "trying to match the Cali-Scandi-Instagrammy vibe". (6/10)
---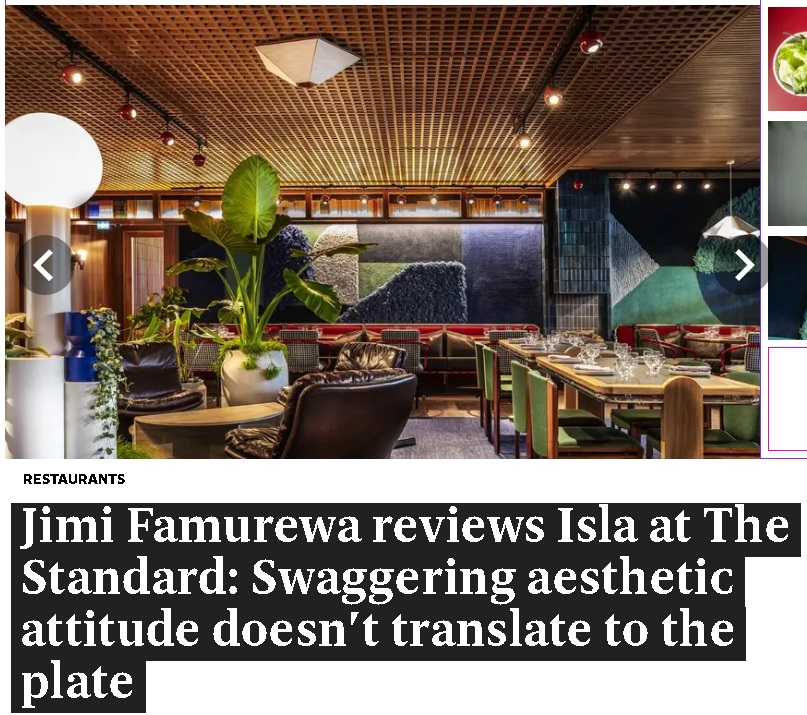 Jimi Famurewa for The Evening Standard was at The Standard (confused yet?) – actually Isla, the flagship restaurant of new hotel The Standard London, "carved into the former Camden council offices opposite St Pancras station" – "a modish, intensely confident 266-room hotel and restaurant complex".
Taking after its "playfully cool" US siblings, the restaurant is "a psychedelic, mid-century eye-popper with green shagpile on the walls".
Adam Rawson is "clearly a talented, versatile chef", his skill evident in "some inspired twists". Jimi and his guests ate "gutsy duck rilettes", "hugely gratifying cep mushroom fuzi" and experienced a "sudden, jolting high of Ibérico pork", but somehow overall the food ("big on foraged and seasonal items") tended "towards the pleasantly forgettable".
"To sit in Isla is to look around at the sexy, space-age decor and wish that more of The Standard's swaggering aesthetic attitude were evident on the plate." (7/10)
---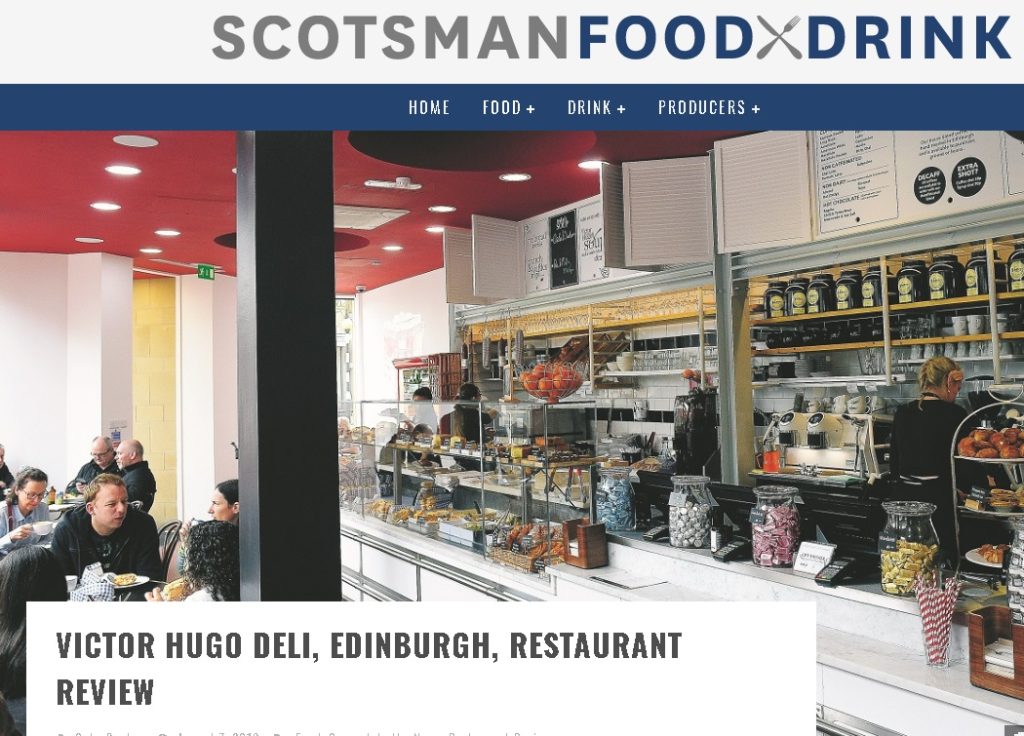 Gaby Soutar for The Scotsman visited the new branch of "Meadows institution" (est.1955) Victor Hugo, where she ate croque monsieur, pastrami on rye (with at least 15 "meaty layers"), some "excellent" lasagne and a burger (with "devilish tomato chutney" but no chips), all served with a " a retro sticky and mayo-clad" Russian salad. Takeaway customers were trying out the wide range of "signature lunchtime stuff" including "sandwiches, wadded with fillings".
"Even though this location may feel discombobulating to Edinburgers, I'm sure it'll thrive." (75%)
And also…
In The Financial Times, Nicholas Lander enjoyed "great sourcing" and "friendly service" at The Blind Donkey in Tokyo, Japan.
---
Keith Miller for The Telegraph delayed visiting Din Tai Fung when it had newly opened, put off by the "levels of hype seldom seen even in this most hyperbolic of ­industries" (and the queues, no doubt). When he finally visited, he was mostly struck by the fact that "everything looked spookily like its ­picture in the menu".
---
William Sitwell for The Telegraph had "an awkward encounter" with Martha's in Soho, where (as Jay Rayner found), there was none of the promised cabaret entertainment: "if I'd been eating while distracted by a drag act, it would have tasted better".
Recent News from Harden's