Here is our weekly round-up of what the national and local restaurant critics were writing about in the week ending 10 April 2022.
*****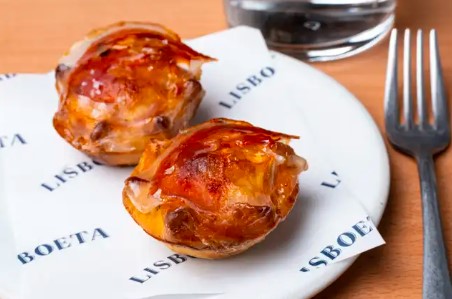 The Evening Standard
Back after a break, Jimi Famurewa reviewed Nuno Mendes' newly opened (and "intensely personal") Lisboeta, which "felt like a gently uncompromising, glorious odyssey into an untrammelled new world of Portuguese cuisine".
"Make no mistake, Lisboeta (which means person from Lisbon) is a fresh angle on a city which lots of people think they know."
"It is also an inordinately sexy restaurant" which already had a "palpable, crackling buzz of an instant hit" in week 2.
A menu that's heavy on the use of pork (even in the puddings – see below) is "counterbalanced by the vividly creative treatment of vegetables… and the unusual application of eggs".
An "early contender for dish of the year" is the much-talked-about "abade de priscos: aka "that" pork fat-set custard… one of the more utterly breathtaking things I've ever eaten", with a "joyful fearlessness and subtle skill that encapsulates what makes Lisboeta such a success".
"Mendes has collapsed the best bits of a beloved city's eating culture into a single restaurant, while also honouring comfort, craft and personal connection."
*****
David Ellis reported on the "sea of fans" rallying round Corbin & King after the loss of their restaurant group. Despite the unkind headline ("Celebrities rally as investors eat dining kings for breakfast"), it's a touching tribute to the undisputed kings of hospitality.
*****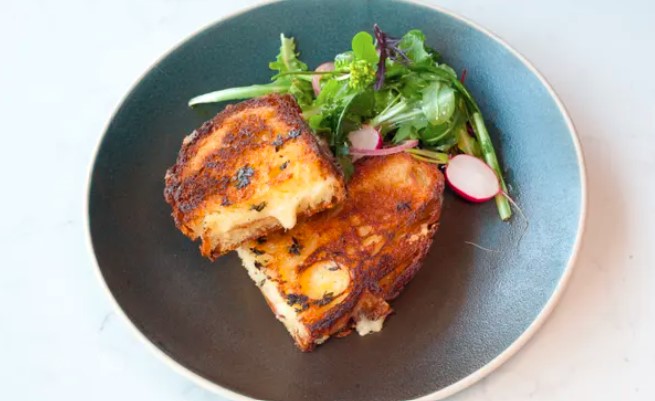 The Observer
Jay Rayner acknowledged his weakness for melted cheese at Five Little Pigs, a "well-dressed, smart little bistro in the Oxfordshire town of Wallingford," where a toastie on the specials menu attracted his attention.
The bar is "a partnership between the owners of The Keep, a local craft beer and gin bar, and the restaurateur Aimee Hunt, who also has Lata Lata in High Wycombe". Ingredients are locally sourced, but no "virtuous purchasing matters if the cooking isn't up to scratch. Here, it really is."
The menu lists "interesting-sounding things" and dishes up "the best kind of nourishing, invalid food… supremely comforting even if you're not under the weather".
The kitchen wasn't busy (as it "dully deserves to be") and was rather slow in delivering, but the "pricing for this quality of cooking… is thoroughly appealing".
*****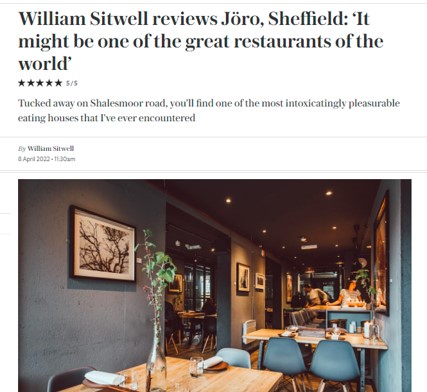 The Telegraph
"Take note of Jöro. It might be one of the great restaurants in the world."
William Sitwell in The Telegraph is only slightly "late to the party" ("Jöro opened in 2016") but he has a particular reason for visiting now – towards the end of the year, chef Luke French and his wide Stacey are moving their restaurant to "be the flagship restaurant of a swanky new development in the city centre", retaining their current space (in Krynkl, a "space for start-ups on the winding, industrial Shalesmoor road of Sheffield") as a street-food project.
"The future looks bright but it's tantalising to dine in the space where in years to come they'll say the magic started." For William it was "the most intoxicatingly pleasurable little eating house I've encountered for ages".
French's cooking is "informed by his travels around Asia" – you don't have to "understand the techniques and ingredients… just allow yourself to drown in these culinary masterpieces".
*****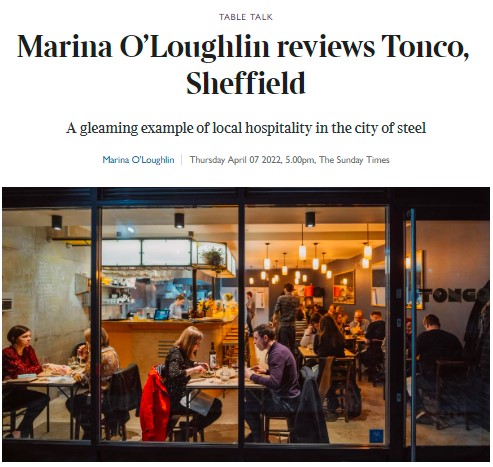 The Sunday Times
Marina O'Loughlin was also in Sheffield, having been tipped off about a place by someone who knows what she likes (independent, no "bling and dazzle", plus an ex-Moro chef and a "location in a cool university town's… coolest, restaurant-lined neighbourhood").
"Warmly ramshackle, Tonco is as far from fancy as it's possible to get." The menu is "a box of delights" that "fairly jitters with promise" with a "maverick touch" that pairs mussels with rhubarb and "ajo blanco (Spanish-style almond and garlic "soup")". ("Sounds like madness, tastes like genius.")
"It's such a lovely place to be that we get sucked into the pudding menu… and nearly miss our train" ("would have been worth it"). There's also "sensational bread", "clever cocktails, an "accessible" wine list, "some irresistible creations" for vegetarians and "really good meat".
Tonco "has the air of something grown organically, with its logo in Seventies deco pastiche, accents of sunny yellow and plaster walls on which the evening's bookings and specials are chalked".
*****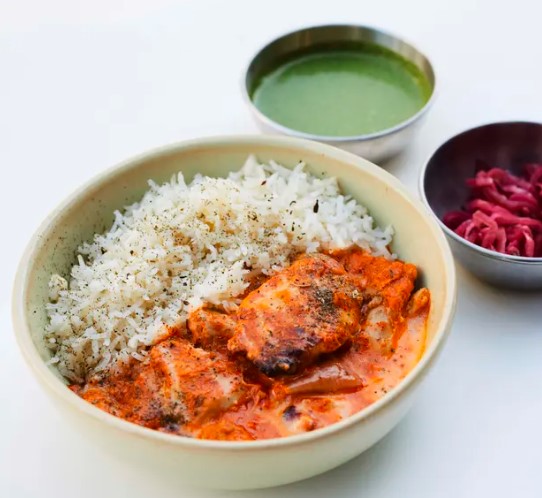 The Guardian
Grace Dent visited the new London opening of chef Saransh Goila, whose Goila Butter Chicken cafes can also be found in Mumbai, Pune and Bengaluru; this branch is "a strip of 12 seats along a sit-up bar in a busy restaurant thoroughfare near Oxford Street", alongside Carousel's new location.
Goila claims that he serves "quite simply the best butter chicken in the world", so "eating there couldn't fail to be something of a disappointment".
"It's a white, undecorated space with a few friendly folk serving up bowls of butter chicken – which have been cooked elsewhere."
Goila's butter chicken is "not bad. It is smoky and buttery and rather sparingly portioned – however, I felt no real urge to declare the chef my new spiritual leader".
*****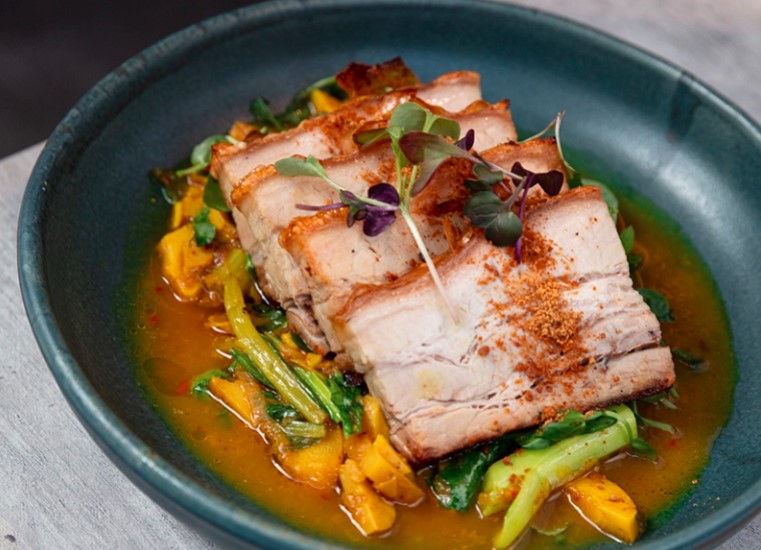 The Mail on Sunday
"I feel like a child in the most exciting of sweet shops, and a whole new world awaits."
Tom Parker Bowles for YOU Magazine was at Lahpet, where he discovered the cuisine of Burma; "while there are whispers of all sorts of familiar cuisines – Thai, Lao, Chinese – it has a character, a soul very much of its own".
"The room is resolutely modern, all discreet wood and cascades of verdant greenery, set to decent electronica."
The namesake lahpet thohk (tea leaf salad) was "one of the most thrilling things I've eaten for years, at once alien and utterly familiar". And he'd happily eat mohinga ("fish noodle soup and Burma's national dish… traditionally a breakfast dish") "all day long".
*****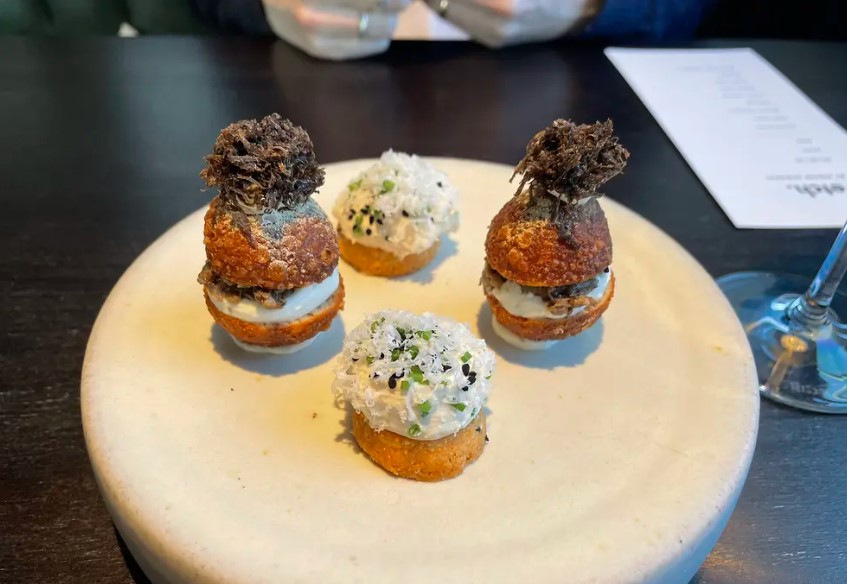 The Independent
Kate Ng had "a glimpse into the future of modern British cuisine" in Hove at Etch, where "every twist on a British staple… made me more excited for what was to come." Dippy eggs, in particular, were an inventive revelation using duck eggs and brioche.
The menu leans heavily "on the typical modern British food trope" but there are "small elements in most of the dishes that really made a difference". Only the "dessert courses have plenty of room to be made more interesting" but she recommends the place for "an indulgent treat" from "creative culinary minds".
*****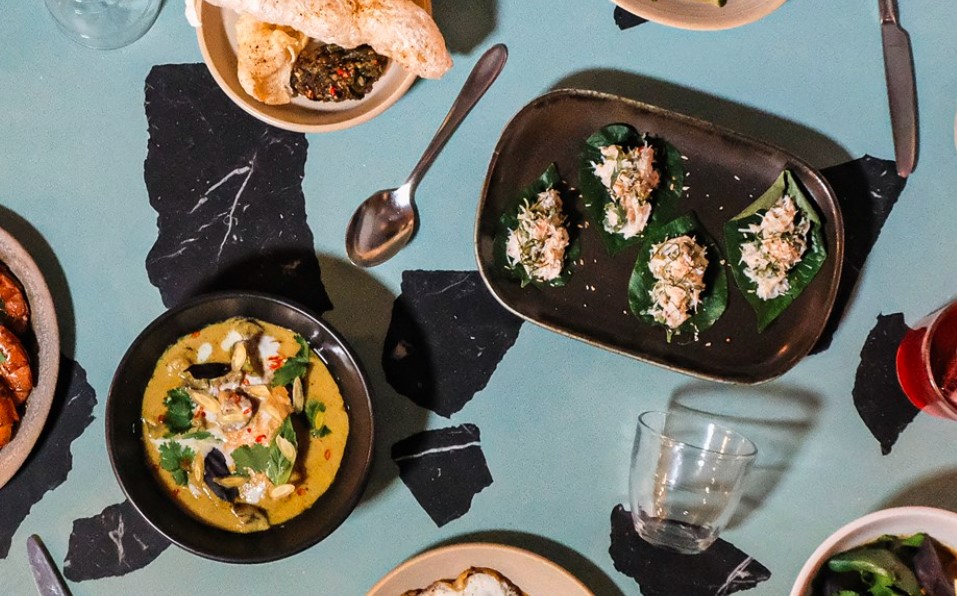 The Scotsman
Gaby Soutar took a list of what she wasn't allowed to order when she visited Ka Pao, in the new St James Quarter development in Edinburgh; she'd already reviewed the Glasgow original and has previous form in ordering the same meal when reviewing new branches.
"As far as the venue goes, it's hard for them to compete with the original destination, which is in the A-listed Art Deco Botanic Gardens Garage, built in 1911," but "this is one of my favourite food premises in the building".
"I'm very happy that Edinburgh has its own Ka Pao" – next time, she'll go with her list and order the fried chicken with spicy caramel.
*****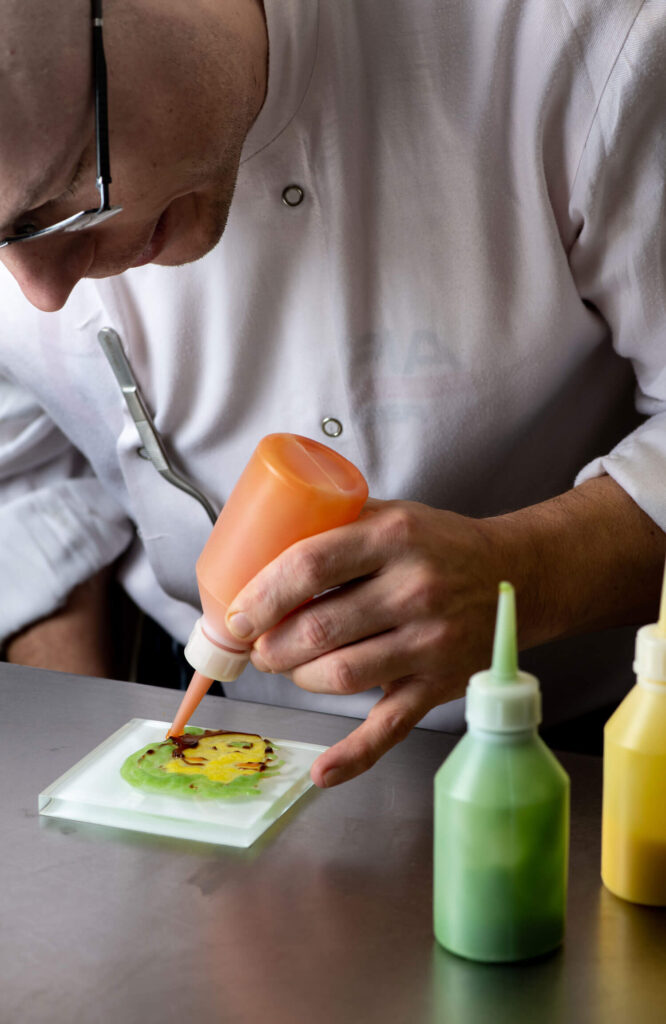 Koffman & Vines
Pierre and Richard reviewed PLU, where they had the "visual as well as weirdly tactile" experience of licking Marliyn Monroe – her image is drawn on a tile in three gazpacho flavours, served with no cutlery (see picture above, showing chef Elliot Moss at work).
It's a "rather unusual restaurant" and dishes border on "painfully gimmicky", but "the cooking and ingredients are top quality, each plate is a work of art and service is very friendly".
The format is tasting menu only, and "the amount of work that goes into each dish is extraordinary. You search for words like intricate and exquisite to describe the craftsmanship, while the creativity and imagination are also impressive."
"A truly gastronomic experience."
*****
And also…
In The Financial Times, Susie Boyt wrote a love letter to The Wolseley; "How did a grand London institution come to feel as comforting as home?" Also, a comparison review of "London's two best Italian restaurants", Brutto and Luca: "the glorious ruins of Smithfield meat market are home to these two stupendous eateries".
*****