Harden's says
Named after the past tense of the French verb 'plaisir', Plu is the first solo restaurant from former (ten years ago) Gavroche chef Elliot Moss, who will be serving up a single tasting menu to the small room of 22 covers each night.
Summary
"It is a complete mystery how the Michelin guide has failed to recognise Elliot Moss's wonderful food creations", say followers of his tiny but "opulent" three-year-old in St John's Wood, where the only option is an extended tasting menu. "The chef is a true artist who does everything himself: each phenomenal and fun dish looks too good to eat but the visuals are actually secondary to the insanely addictive deliciousness of the flavours" ("his foie gras dish leaves you desperate for 'just one more mouthful'… and I don't even like foie gras!") Fooderati insiders, Koffmann & Vines, also waxed lyrical over their meal here this year, proclaiming it 'a true gastronomic experience'. "May he go from strength to strength."
Summary
"One of the most creative and delicious meals I've ever had" – Elliot Moss inspires rapturous reviews from a small but very enthusiastic fan club, who acclaim his "luxurious" and "intimate" St John's Wood two-year-old as one of London's unsung gastronomic adventures. The restaurant recommends three hours to enjoy its £125, twelve-course tasting menu: "a feast that will amaze and delight any gourmand, providing sensory overload of the sights, smells and tastes". ("My husband let the restaurant know in advance that it was my birthday, I think in the hope of scoring me a little extra cake or some such but what happened was phenomenal. At the end of the meal my dessert arrived with my portrait, in chocolate, on the plate!!! The chef, who works alone in the kitchen, is an artist with some of the best cooking skills either of us have ever experienced.")
For 32 years we've been curating reviews of the UK's most notable restaurant. In a typical year, diners submit over 50,000 reviews to create the most authoritative restaurant guide in the UK. Each year, the guide is re-written from scratch based on this survey (although for the 2021 edition, reviews are little changed from 2020 as no survey could run for that year).
Have you eaten at PLU?
Owner's description
A fine dining restaurant in St John's Wood, serving a modern international menu with a French accent.
The aim at PLU is, simply, to provide the finest food and service for every single guest. Our values are our raison d'être and match the intimate setting and uncompromising ideals.


PLU :

In French, the past tense of the verb 'plaire', meaning 'to enjoy' or 'to please'
An acronym for 'people like us', like-minded souls and epicureans.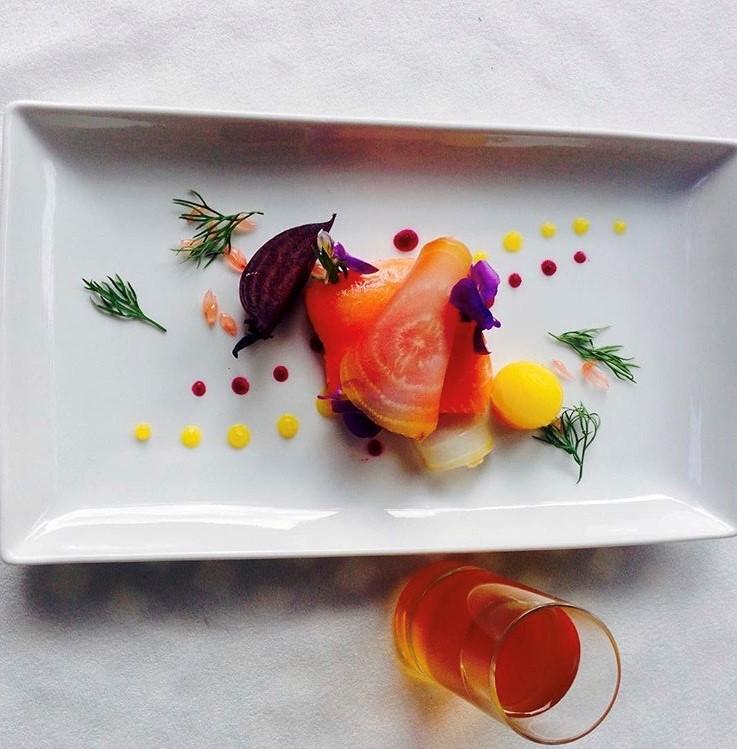 Prices
| Drinks | |
| --- | --- |
| Wine per bottle | £30.00 |
| Filter Coffee | £4.50 |
| Extras | |
| --- | --- |
| Service | 10.00% |
The chef
PLU is the creation of Chef Elliot Moss, who began his career at Le Gavroche, and is the culmination of Elliot's many years of experience of Michelin star restaurants and his quest for culinary excellence.
Private dining
For private events you can hire the entire restaurant!

For the full tasting menu we limit guest numbers to 8, however for a smaller menu (say 7 or 8 courses) we could offer seats for up to a maximum of 20 guests. And for a simple drinks & canapés party we can accommodate around 35 guests.

For private events you can liaise directly with Chef Moss to ensure that your menu is exactly what you are looking for.
PLU Restaurant Diner Reviews
Reviews of PLU Restaurant in NW8, London by users of Hardens.com. Also see the editors review of PLU restaurant.

David C
Exceptional. But very difficult to convey t...
Reviewed 9 months, 29 days ago
"Exceptional. But very difficult to convey the experience. The food is undoubtedly innovative, full of taste, etc, but some of it is almost too beautiful to eat, such is the presentation. Some courses on the set menu truly tiny, but no fear of leaving here hungry, as the desserts would fill any gap. The real shame is not feeling one should lick the plate to finish off the many excellent sauces. Although (spoiler alert) sometimes essential."
Report this comment

Ian C
This restaurant is spectacular in every way...
Reviewed 11 months, 7 days ago
"This restaurant is spectacular in every way. I found it on Harden's and while the food is certainly worthy of the perfect score it has, I found the ambiance to be excellent also and the service particularly hard done by in only scoring a 4, which is why I've chosen to write this, my first ever Harden's review... This restaurant is world class, and by that, I mean it in the truest sense: in amongst the very finest to be found anywhere in the world. The service is top notch, the maitre d' and her team treading that finest of lines between friendly and professional. Her ability to walk that elusive tightrope with such apparent effortlessness makes it abundantly clear that she has spent her time learning from the very best in the business. Furthermore her knowledge of wines is astonishing. Not just the obvious classics, but her ability to pick out less well known grapes, from less well established regions and pair them with the food goes beyond the classical to the extraordinary. While she claims to be trained only as a sommelier and does not consider herself an expert in sake, I think that might be more humility than fact: I have spent quite some time in Japan, so much so that I can get by with a very rudimentary use of the language, and she introduced me to methods and parings that I'd never come across before. Wonderful. As well as that, the salon is simultaneously intimate and opulent. It's stylish, sumptuous and truly exquisite. And yet all of the above merely serves (as it should) to play a supporting role to the real star of the show: the food. I wish to make no bones about it and leave no ambiguity in how spectacular this is: the food is the best I have ever come across in my entire life. Bar none and I would like to try to substantiate that, lest a reader of this review might be under the mistaken impression that I am not a man who loves to eat well! I LIVE to eat well and to eat here is to truly eat as well as I believe to be possible on this plain of existence. Most people's barometer of culinary excellence is, rightly or wrongly, the Michelin Guide. I am no exception and the guide is where I will often begin my search for great restaurants. Well, let me start there then. I don't wish to give the impression that PLU is scratching about around the one star category, it is not. That Michelin have not yet seen fit to give it its first is actually a serious knock against the quality and/or integrity of the guide itself! To give you an idea, I have eaten at at least 20 one star restaurants in the capital alone and none come anywhere close to bearing comparison with PLU. I have eaten in at least as many two star restaurants across 3 continents and very few of those are worthy of mentioning either. And of the three star restaurants in which I have eaten, again across three continents and 16 time zones, from California to Sentosa in Singapore and now in my fifth decade of enjoying three star cuisine, I can think of only three that could be argued to be as good as PLU. Honestly and seriously, all too often people say that "a Michelin Star can't be far off" or something similar. PLU goes to show what nonsense words to that effect are. I will say, with what I believe to perhaps be more experience at eating in Michelin Starred establishments than many of the inspectors themselves, that if Michelin don't see fit to award PLU multiple gongs, it speaks more of their knowledge or integrity, than it does of PLU. Of the 8 restaurants that currently hold the maximum three star accolade in the UK, I have eaten in 6 and only one of those is anywhere close to PLU in terms of food (although I will say that Sketch Lecture Room and Library is, in some ways, similar in its style, albeit on a vastly larger scale). To give a single nugget of text that I hope the compilers of Harden's might use to some up an experience at PLU, I will go for this: without a doubt the single most exceptional culinary journey you are ever likely to experience. Allow yourself to let go and give the team the opportunity to show you how much you love the things you didn't even know you liked. There are two wine pairings available which serve to enhance the entire experience, be open minded and try one. You might not think you like a certain type of wine, but trust them, they know what they're doing and if given the chance, they will show you a world of epicurean delight you might not even know existed. The food falls into two categories: things you will never have seen before and things you will be familiar with, but will never have seen realised with so much finesse, flavour and clarity. And on several occasions, you might well find both categories accomplished on a single plate! Having given such an effusive review, you might be tempted to think I would recommend this place indiscriminately, but actually I wouldn't. PLU is not for everyone. Astonishingly, the entire meal is cooked by a single chef and as such, I was advised that it is highly unlikely that he will be able to cater to specific dietary requirements. Also it is very small, with only three tables, so the ambience, fantastic though it is, is highly personal and there is certainly no way of getting an anonymous sort of experience. And finally it offers a degustation (tasting) menu only. There is no a la carte, no (food) choices and while the maitre d' told me that they have, at the guests' request, rushed tables through in a little over two hours before, to get the point of the place and a the proper experience, you have to think of it as an entire evening's entertainment, not a quick meal on your way to something else. Instead of going out for dinner and then to the theatre, a meal here is dinner AND the theatre, all rolled into one. The seats and surroundings are more comfortable than those in any theatre I've been to though, so trust me, staying for three or four hours is no hardship at all. Given the anomalies and trends that I and other diners I know have been experiencing with the Michelin Guide of late, it's great that a guide like Harden's exists. So that the people who love food and eating out and are truly independent of any governance, can let others see their opinions, as well as read their reviews, so that they can understand where those opinions have come from. Which helps them make an informed decision about where to go for their next meal out. In the case of PLU, that meal should probably be a for special occasion, but even if it's not, I assure you that by the time you've finished, you'll think it was. A very special occasion..."
Report this comment
Have you eaten at PLU?
Post your own review of PLU and contribute to our annual restaurant review guide.
Post your own review