Harden's says
Named after the past tense of the French verb 'plaisir', Plu is the first solo restaurant from former (ten years ago) Gavroche chef Elliot Moss, who will be serving up a single tasting menu to the small room of 22 covers each night.
Summary
"It is a complete mystery how the Michelin guide has failed to recognise Elliot Moss's wonderful food creations", say followers of his tiny but "opulent" three-year-old in St John's Wood, where the only option is an extended tasting menu. "The chef is a true artist who does everything himself: each phenomenal and fun dish looks too good to eat but the visuals are actually secondary to the insanely addictive deliciousness of the flavours" ("his foie gras dish leaves you desperate for 'just one more mouthful'… and I don't even like foie gras!") Fooderati insiders, Koffmann & Vines, also waxed lyrical over their meal here this year, proclaiming it 'a true gastronomic experience'. "May he go from strength to strength."
Summary
"One of the most creative and delicious meals I've ever had" – Elliot Moss inspires rapturous reviews from a small but very enthusiastic fan club, who acclaim his "luxurious" and "intimate" St John's Wood two-year-old as one of London's unsung gastronomic adventures. The restaurant recommends three hours to enjoy its £125, twelve-course tasting menu: "a feast that will amaze and delight any gourmand, providing sensory overload of the sights, smells and tastes". ("My husband let the restaurant know in advance that it was my birthday, I think in the hope of scoring me a little extra cake or some such but what happened was phenomenal. At the end of the meal my dessert arrived with my portrait, in chocolate, on the plate!!! The chef, who works alone in the kitchen, is an artist with some of the best cooking skills either of us have ever experienced.")
For 32 years we've been curating reviews of the UK's most notable restaurant. In a typical year, diners submit over 50,000 reviews to create the most authoritative restaurant guide in the UK. Each year, the guide is re-written from scratch based on this survey (although for the 2021 edition, reviews are little changed from 2020 as no survey could run for that year).
Have you eaten at PLU?
Owner's description
A fine dining restaurant in St John's Wood, serving a modern international menu with a French accent.
The aim at PLU is, simply, to provide the finest food and service for every single guest. Our values are our raison d'être and match the intimate setting and uncompromising ideals.


PLU :

In French, the past tense of the verb 'plaire', meaning 'to enjoy' or 'to please'
An acronym for 'people like us', like-minded souls and epicureans.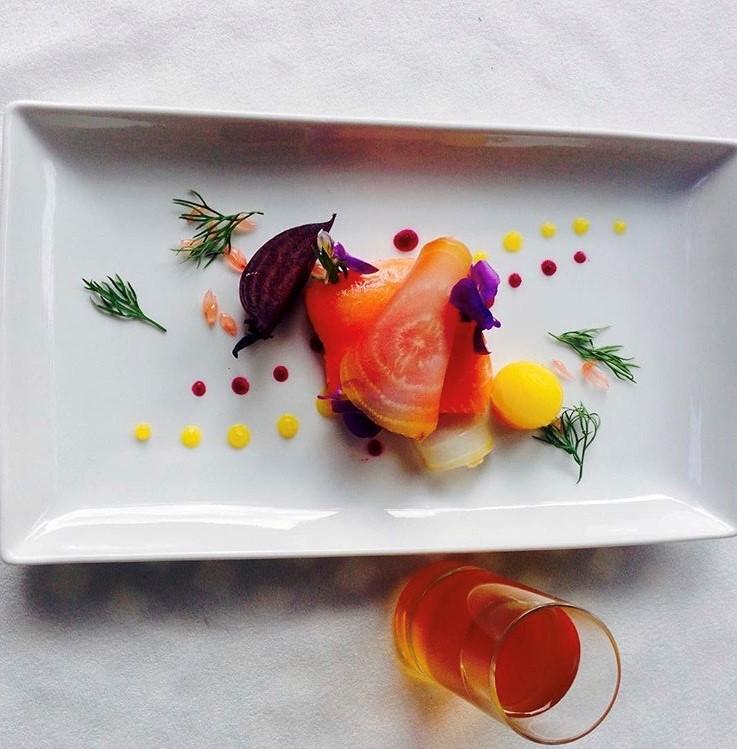 Prices
| Drinks | |
| --- | --- |
| Wine per bottle | £30.00 |
| Filter Coffee | £4.50 |
| Extras | |
| --- | --- |
| Service | 10.00% |
The chef
PLU is the creation of Chef Elliot Moss, who began his career at Le Gavroche, and is the culmination of Elliot's many years of experience of Michelin star restaurants and his quest for culinary excellence.
Private dining
For private events you can hire the entire restaurant!

For the full tasting menu we limit guest numbers to 8, however for a smaller menu (say 7 or 8 courses) we could offer seats for up to a maximum of 20 guests. And for a simple drinks & canapés party we can accommodate around 35 guests.

For private events you can liaise directly with Chef Moss to ensure that your menu is exactly what you are looking for.
PLU Restaurant Diner Reviews
Reviews of PLU Restaurant in NW8, London by users of Hardens.com. Also see the editors review of PLU restaurant.

hugo t
Without exception, my meal at Plu was the b...
Reviewed 3 months, 10 days ago
"Without exception, my meal at Plu was the best I have tasted. Unlike many similarly rated restaurants where I will generally be singing their praises for 3 or 4 of the dishes presented. At Plu it was 11 or 12 ! Exceptional presentation with an unrivalled attention to detail. The menu is not only a journey of taste bud discovery but also has an element of wittiness to it. These are serious culinary creations with an epigrammatic Englishness to them. Chef Elliot plays subtle games with the names given to his courses leading to both table conversation but also seductively tantalises the guests preconceived mouth to brain neurotransmissions. There is a profound refinement to his work without the need for brash "look at me" statements such as bacon ice cream or other such nonsense. I was not asked to eat any of the courses in the dark, none were accompanied by clouds of dry ice or flames that required me to note where the fire extinguishers were. Service at the restaurant was as it should be, not overbearing but there when needed, informative but with a gentle presence. Plu certainly deserves its place in the top 20 UK restaurants, I sincerely hope it can achieve a top ten position in the not too distant future. Book a table, you won't be disappointed !"
Report this comment
Have you eaten at PLU?
Post your own review of PLU and contribute to our annual restaurant review guide.
Post your own review