Harden's regular round-up of the restaurant critics' musings, from the week ending 8 March 2020. Happy International Women's Day!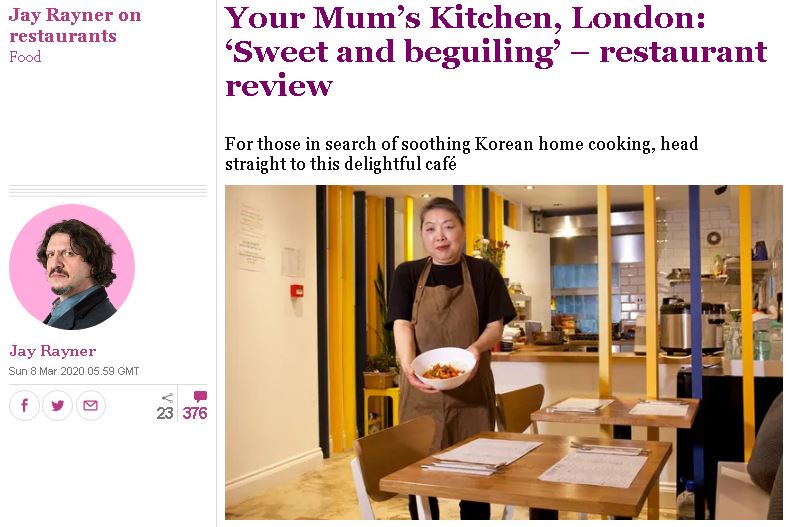 Jay Rayner from The Observer was still musing on the different styles of restaurant reviewing this week, with homage to Jonathan Gold "who reviewed for the LA Times prior to his infuriatingly premature death in 2018, aged 57″ and his anthropological style – he knew, for example, that there were more traditional Korean restaurants in LA than in South Korea, because "Korean immigrants are remembering where they came from", but back home they are looking to the future.
Jay visited a traditional Korean restaurant to deonstrate hi spoint. Just off Finchley Road, below SK Mart, he found "a bare-bones café" in a basement that serves "a concise menu of snacks and stews, or stir fries with rice" – and is "utterly delightful for being that". "Nothing costs more than £9.50."
Jay ordered a seafood pajeon (thick pancake) that arrived "golden brown and sliced into squares, the green of spring onion tracing lines across the lacy surface". "Pan-fried chicken dumplings are serviceable, but the chicken wings are so much more than that: double fried to form a shatteringly crisp shell, then drenched in a sweet and fiery gochujang-based glaze… a big, meaty plateful for £6."
"The main courses are big hearty stews of a sort you want on a winter's day" and the "star turn" is the special of yukgaejang, "a spicy beef soup with solid pieces of meat and cabbage in its endlessly sustaining depths… the shade of rust that might kill a few white shirts for ever".
"Almost all the other customers who came in to eat were Asian, which suggests this is a business serving a local community in search of the home cooking of a home now a long way away. Clearly, it's doing that job very well. There are obviously bigger Korean restaurants in London offering longer, more sophisticated menus. But I doubt there are many that are as sweet and beguiling as this one."
---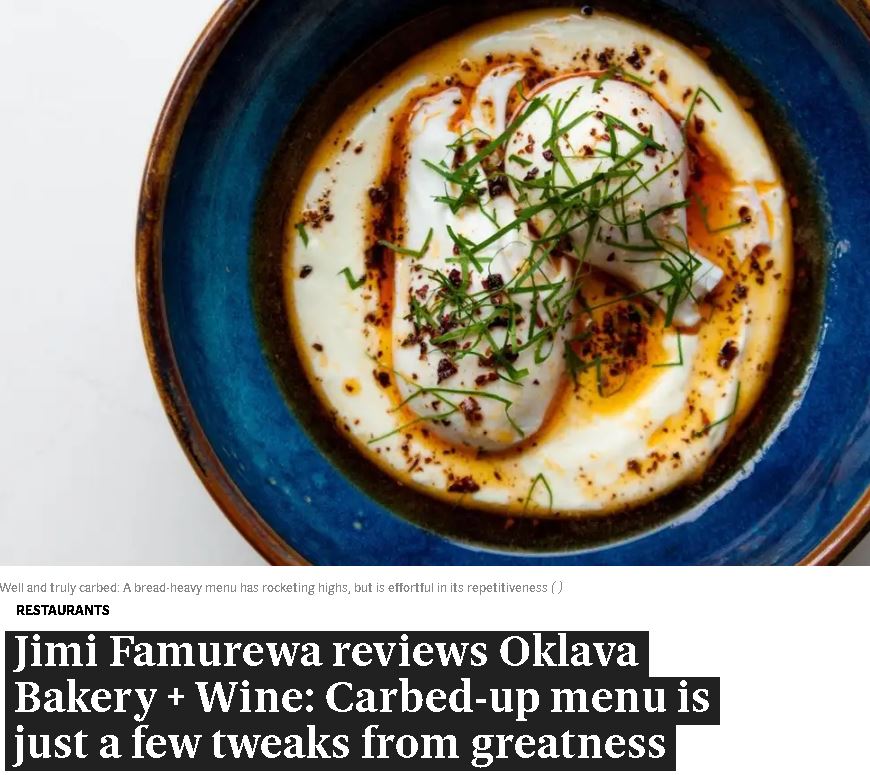 Jimi Famurewa for The Evening Standard praised the staff at Oklava as being "absolute masters" in the tricky art of knowing "where the sweet spot of how much to order" is.
There's a lot of carbs to be had at "Selin Kiazim and wine expert Laura Christie's reboot of their Fitzrovia restaurant, Kyseri". It's a "baking-focused expansion of her modern Turkish Cypriot approach at the first Oklava in Shoreditch". Jimi found a "cosy space that had the low-lit, romantic feel of a neighbourhood refuge".
The menu's "first rocketing high" was "a gorgeously warm medley of squidgy olive muffins and fragrant, sesame-seeded sourdough alongside a salted medjool date butter that was like the spreadable quintessence of a hot cross bun. Just properly, properly spectacular." Black Sea cheese pide "just about warranted the fame and fuss" it's had on Instagram, "with its mucky collision of crunch, salt and ripe sweetness".
The kebab also came with "sizeable rounds of puffed bazlama flatbread" – "a few smart additions to the menu, another protein-based main, perhaps, may have made for a more rounded experience".
"Oklava Bakery + Wine is a thoroughly likeable operation that's merely a few tweaks away from greatness. After all, reimagining a restaurant is tricky. And, really, there are far greater sins than perhaps a little too much of the same good thing." (7/10)
---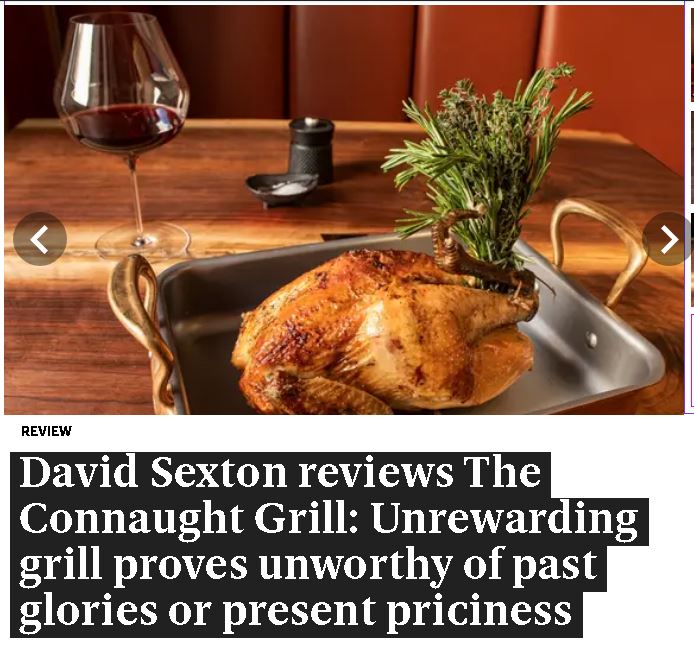 "Having a resplendent history can be as much a burden to a restaurant as an asset. Anyone trying to recreate past glories might envy the freedom enjoyed by a pop-up."
David Sexton for The Evening Standard tried to let us down gently with his review of the relaunched Connaught Grill – an opening paragraph like that can only spell disappointment.
"Entered through a corridor displaying both works of art and prize bottles of wine", the 46-seat restaurant is essentially a series of "spacious, semi-private booths" ("claustrophobic despite the generous space"), with the decor heavily featuring timber and furniture from George Nakashima Woodworkers – "an extraordinary rustical/minimalist/luxury installation".
The food is "overseen by Jean-Georges Vongerichten with Anshu Anghotra as executive chef" and "centres on dishes from a wood-burning grill and rotisserie, classics given a saucy twist". Naturally, "trophy ingredients ride high: truffles, foie gras, caviar, lobster, wagyu and kobe beef".
Jean-Georges's Oeuf En Surprise starter, an homage to the previous incarnation's signature dish, was "just inept, burnt on top but undercooked and sloppily liquid within… it shouldn't have left the kitchen". Welsh rarebit with Cromer crab was "equally disconcerting".
"We didn't finish any of the dishes we ordered." Spit-roasted organic chicken was "fibrous", Dover sole "unrewarding" and "ferociously grilled", and the sides were no better: Brussels sprouts were "charred outside, soggy within" and black truffle potato rosti was "crisped to perdition".
"Had the surprising egg and puds been billed, it would have been over £300." (**)
---
Tom Parker Bowles for The Mail on Sunday was back in four-star territory with his review of new Sri Lankan Paradise "sitting on the site of the late and lamented Spuntino". It's "rather a stark, industrial, almost Brutalist concrete aesthetic, with none of the faux rustic kitsch of Hoppers, a short saunter away".
Tom almost got to eat all of his mutton roll ("crisp, golden and greaseless on the outside, and bursting with a softly spiced and textured mix of sheep and potato") when his companion was late, but then had to share the hoppers ("light, chewy and slightly sharp").
Pork cheek curry was "warm and sensuously spice-scented" ("this kitchen knows more than a thing or two about spice"). Prawns wore a "glorious slick of heavily reduced, salty, sticky, dry-roasted devilment" – TPB thoroughly enjoyed "sucking every last bit of gingery, caramelised, chilli-flecked delight from the heads".
"This is food to set the senses ablaze, with flavours that can whisper and seduce, or strut, swagger and roar. Meat comes from excellent British farmers, the spices, so artfully roasted, ground and applied, flown in from Sri Lanka."
"In these dark, panicked and gloomy times, this cooking is a blissful blast of unfiltered, life-affirming, endorphin-inducing tropical sun. Most certainly Paradise, by way of Rupert Street." (****)
---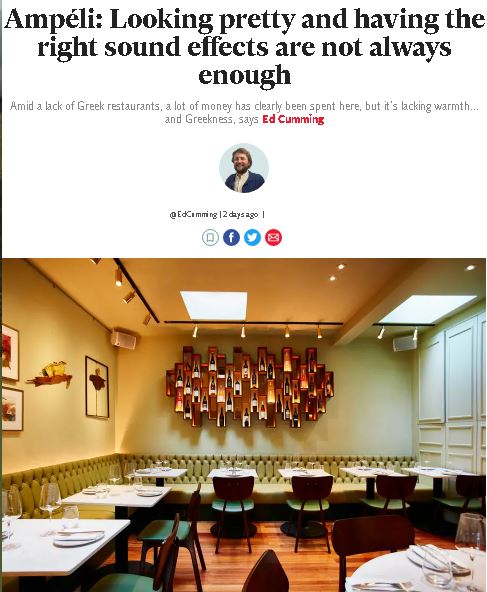 Ed Cumming for The Independent visited Ampéli twice for the "well priced, changing set lunch" (£19 for two courses or £23 for three) but was distincty underwhelmed on both visits. As he said, "Set lunches needn't be somewhere's fanciest dishes, but they ought to be competitive… luring in passersby and convincing them to return for a pomposo dinner another time".
He first shared a mezze ("the only dish that sang was the whipped roe"), then had wild boar sausages ("the meat wasn't rich enough"), while on his second visit he tried the moussaka ("a squat round tower standing freely in a puddle of off-putting tomato sauce… merely fine").
Ampéli is "two doors down from Norma, and with a not dissimilar vibe; a petite room but smart and expensive looking with green walls, a lovely wood-panelled bar and tasteful lighting". And, "as at Norma, a lot of money has been spent to get Ampéli looking this smart".
"The wine list has been assembled with great care. There is a gap for an imaginative Greek food in central London… But from what I saw, there's a warmth lacking, and it doesn't feel very Greek at all."
---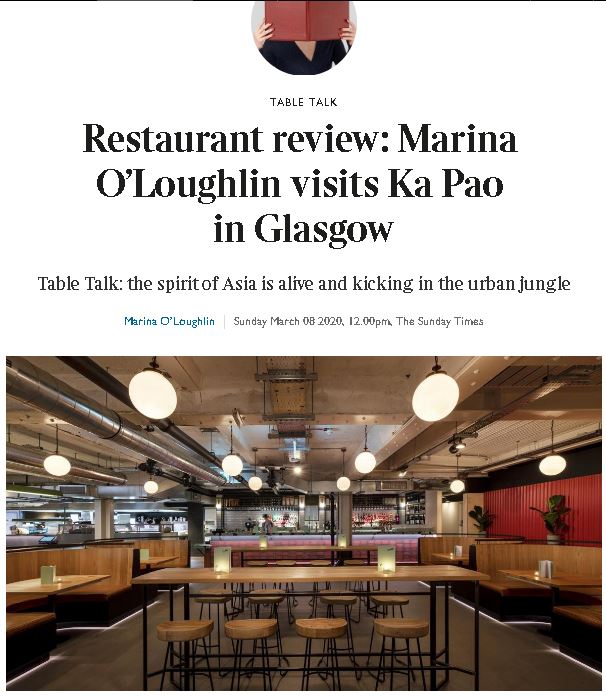 "The number of new Asian restaurants" in Glasgow's West End "is striking, little mom'n'pop joints springing up in the wake of the proliferation of overseas students".
Marina O'Loughlin for The Sunday Times was at the latest "Asian smash", but one that was "designed neither by nor for the newcomers" and doesn't give "a fig for authenticity fetishes" – to the point where the "cleverly, carefully accessible" menu "studiously avoids any mention of regionality or original dish names". It gained foodie notoriety as a "wildly popular" pop-up at The Acid Bar.
Ka Pao, in the restored art deco Botanic Gardens Garage building, is "an absolute looker, with its partition wall of plants and mustard-coloured booths, industrial ceiling and long, bustling open kitchen".
"Despite its rave status, Ka Pao isn't perfect. Food arrives at speed — we linger and some tables are turned twice during our meal." Ingredients and "refrains are repeated over and over", and there are some "odd, Frankenstein creations" and "crucially, rice is a blind spot" – "plain jasmine rice is dismal".
"Ka Pao is from the same stable as another Glasgow hotshot, Ox and Finch, whose owners come across like big-picture guys, swatting away the less dazzling details." It is "less Bangkok or Chiang Mai than gorgeously GlaswAsian: big, a bit brash, cheerful, friendly, not too bothered with sweating the small stuff. And unabashed about borrowing ideas from elsewhere."
"Who's bothered if the food doesn't have the honk and reek and fire of the dishes I ate when the blessed [David] Thompson himself showed me round his favourite Bangkok haunts? Extracting head from arse, I declare Ka Pao a palpable success: splendidly affordable and, like its punny name, packing a punch."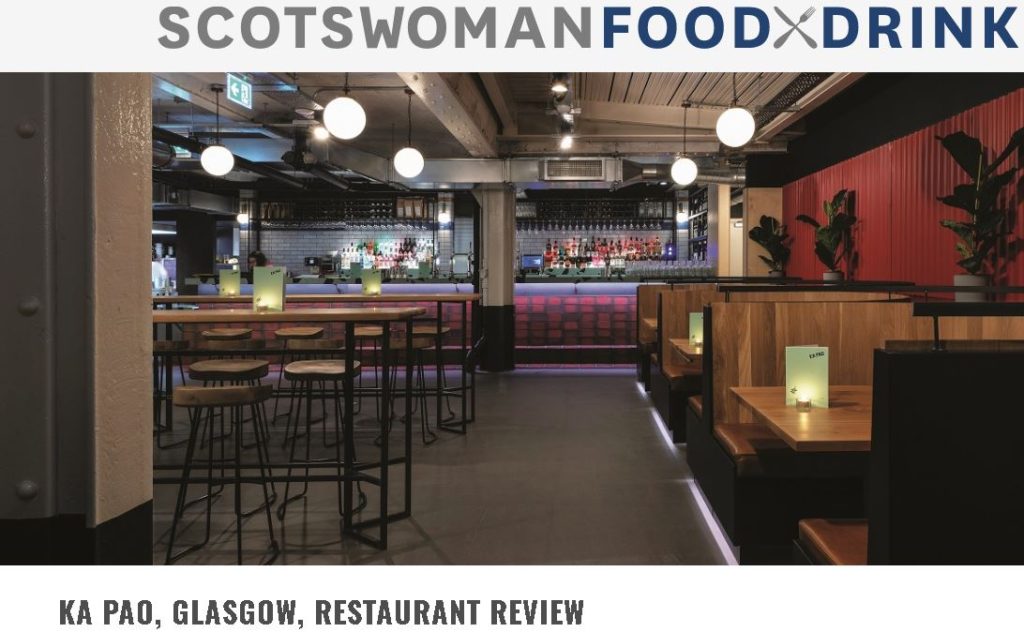 Gaby Soutar for The Scotswoman (brilliantly renamed for International Women's Day) also visited Ka Pao. She agreed with Marina that much of the "appeal is the beautiful building",
Gaby thought the 'corn ribs' were a "clever idea" (Marina noted they were a Momofuku / Ottolenghi knock-off) and auto-ordered the chicken wings with spicy caramel, which "wasn't the most exciting choice". The "five hunks of thigh meat in batter shells" were "slopped in a sappy red sauce, as syrupy as travel sweets that have melted in the glove compartment".
She called the hispi cabbage with cashew nut butter and sriracha (one of Marina's "Frankenstein creations") "invigorating", while also being unsure "if this dish is a thing, or if its conception was a Ready Steady Cook nothing-else-in-the-fridge style challenge gone right".
The bone marrow and shiitake mushroom fried rice was a "macho and salty bank of carb… pinemartin-coloured, musky and feral" – and way more than a side dish. Banana fritters ended a meal that had "lots of sugar and impactful eats, to power our fleshy little combustion engines home". (85%)
---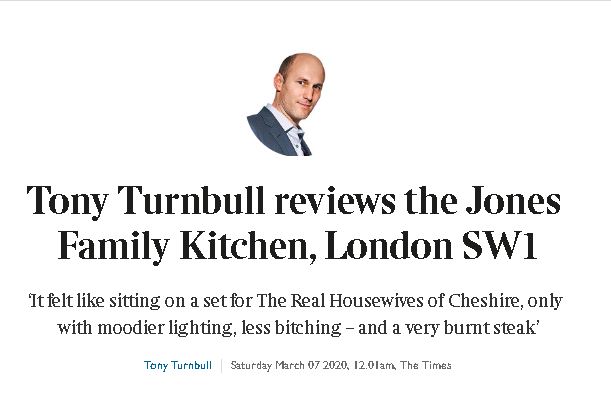 Giles Coren for The Times' Saturday magazine has given us a break from his vegan evangelising for a week, and his boss Tony Turnbull stood in. His first request (after a steak restaurant to visit)? "You've got to stop rising to Giles' baiting. He only does it to wind you up. This vegan schtick of his will surely peter out, but not if you keep complaining."
Tony visited the restaurant nominated "the Steak Society's London Steakhouse of the Year 2019", a "stylish redevelopment of an old power station in Victoria" that opened in 2018 serving "grass-fed, rare-breed Longhorn beef supplied by the Ginger Pig, the very definition of conscientious butchery".
It's a "dining room of two parts: a warehouse-y half … and a more blingy section at the back with flowery black and white wallpaper, starburst mirrors and surrealist diamond-dusted collages of Fifties and Sixties movie stars".
Tony drank a "decent Negroni" and looked at the steak-heavy menu, which is priced "perhaps a snip under what you'd expect to pay at somewhere like Hawksmoor". An appetiser of "a couple of potato croquettes which were crisp of crust and pleasingly creamy" turned out to be the best things they ate. "Underseasoned" and "fridge-cold" starters were followed by "a slab of blackened protein" formerly known as rump steak, accompanied by "truffle chips that didn't taste of truffle" and a "tiny £2.50 thimble" of 'béarnaise' that was "thick as wallpaper paste, and with the pale green tinge of leprechaun vomit". His companion's "ribeye was better". (4/10)
---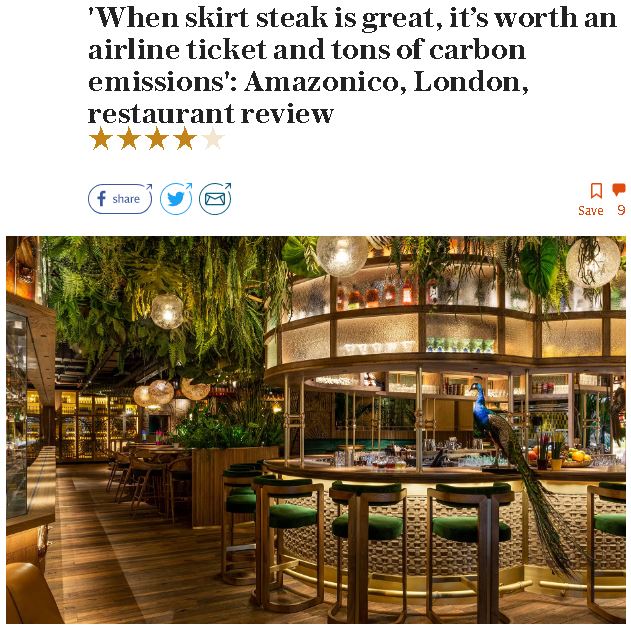 William Sitwell for The Telegraph asks readers to feel sorry for "multimillionaire restaurateur Richard Caring" – not long after he opened Sexy Fish (" a flashy, fashiony place of showy vulgarity and Asian-inspired food"), Amazonico, a "much flashier, more garish, much larger and way more Instagrammable place" appeared, right next door, making "Sexy Fish look like a parochial chip shop".
"What is surely more galling is how good Amazonico is. The food, the service, the drinks: the whole lush jungle is just fabulous." It's expensive, though.
William's advice is to head straight for the restaurant ("don't stay and eat" in the bar with its "DJ, thumping music and goofs pouting at themselves for Insta-selfies").
"Endless pretty dishes inspired by Latin America and Japan" were followed by "skirt steak marinated in chimichurri… a glistening revelation of charred fat and pink flesh". There were few "duff notes" including a "single grilled £33 carabinero prawn", and "perfect chocolate fondant and refreshing grilled pineapple" for pudding. (****)
And also…
Grace Dent of The Guardian was in Amsterdam where chef Ron Blaauw has "closed his fancy, two-Michelin-starred, eponymously titled restaurant" (several years ago now) and "reinvented it as a more relaxed and groovy affair". (28/30)
---
Keith Miller for The Telegraph was in Leicester, trying out the Black Iron restaurant at Winstanley house, a Georgian pile in a park on the edge of the city. (**1/2)
---
Nicholas Lander for The Financial Times reviewed SingleThread in California, where he found a "high level of thoughtfulness": "this Californian restaurant serves its customers' needs swiftly from the moment they arrive".
---
BirminghamLive trailed the opening of the city's first Dishoom, a 330-cover behemoth at One Chamberlain Square which will open on April 1, with a soft launch offer of 50% off food from March 21 (walk-ins only, no booking – from Manchester's experience, we'd say 'expect queues'!)
Recent News from Harden's