Here's a quick summary of what the national and local restaurant critics have been writing about over the past few weeks; apologies for our absence, the editorial team are busy working on Harden's UK Restaurants 2022.
*****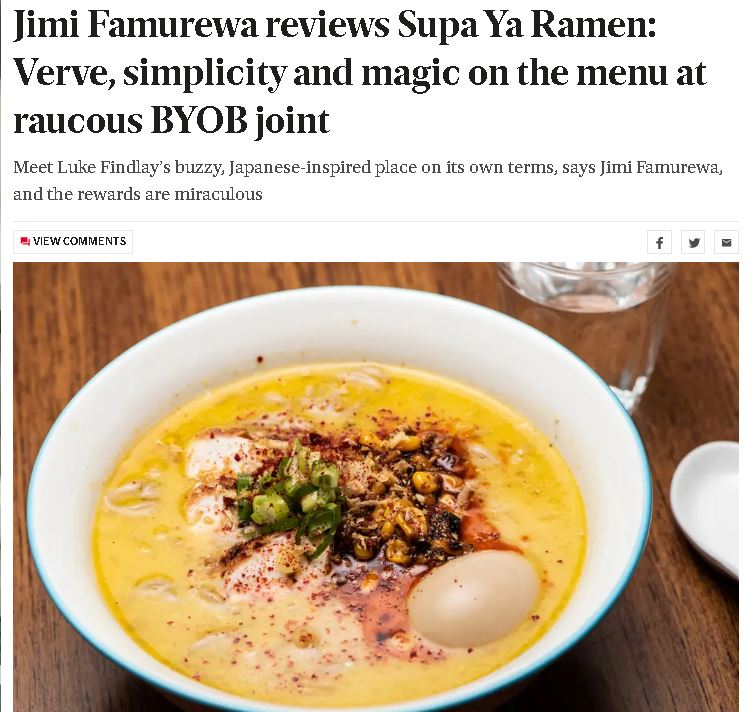 The Evening Standard
Jimi Famurewa visited the new Dalston home of Supa Ya Ramen. "Though it may put you in mind of dining's DIY, pre-pandemic past, Supa Ya Ramen has a verve, simplicity and slurpable magic that feels, thrillingly, like the future."
David Ellis reviewed The River Restaurant at The Savoy, the second of the hotel's eateries to be taken over by Gordon Ramsay; "chef knows who's coming and how to keep them happy. This place was full". But "with such a name above the door, and at £250 for two, with just half a bottle of wine, no puddings and no coffee, is it too much to want a little more?"
David pulled another short straw in Colonel Saab, the "fourth restaurant in five years on this cursed Holborn site" (most recent Gezellig, RIP). "I can't remember a meal worse than this one, even accounting for the occasional instance of food poisoning."
Also in The Standard, news of Madhu's opening at Harvey Nicks, Franco Manca launching in Greece and London's best vegan restaurants.
*****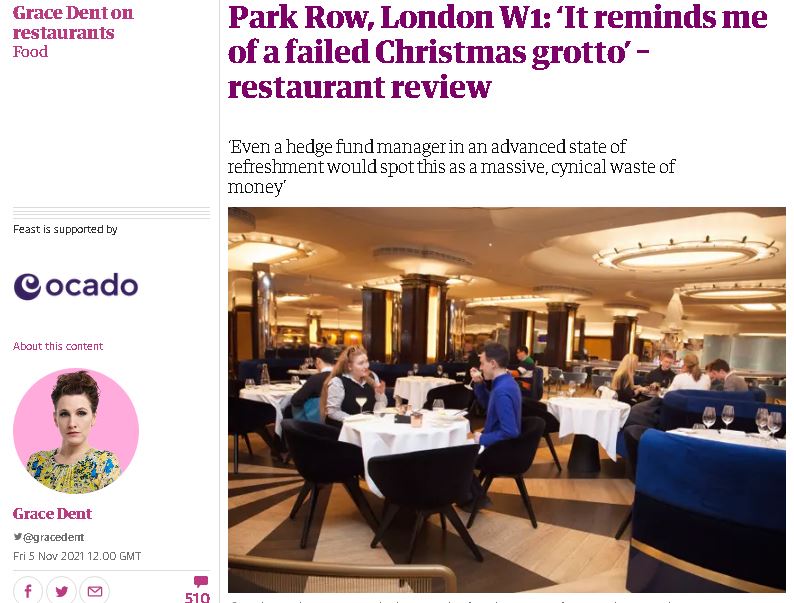 The Guardian
Over the past few weeks, Grace Dent has reviewed Ekstedt at The Yard where she had her first-ever kombucha pairing (she found the restaurant "odd, a little challenging, but never, ever boring"); also Joro-spin-off Nama in Liverpool's GPO Food Hall ("one-note cooking backed by too many notes from a roaming brass band") and finally "hangar-sized… Batman-themed" Park Row ("bewildering, slapdash nonsense").
*****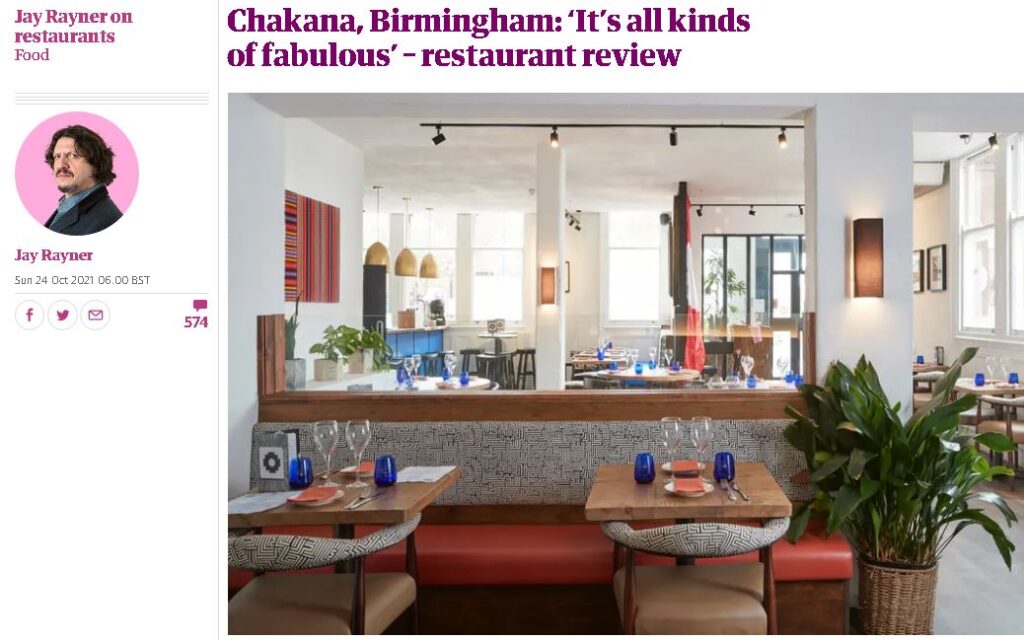 The Observer
Jay Rayner has been on his travels, reviewing Peruvian restaurant Chakana in Birmingham ("like finding a gorgeous tropical flower at the base of a glowering mighty oak") and also French restaurant L'Artisan in Cheltenham, which "channels another age and beautifully so".
Back in London, Jay visited Soho newcomer The Seafood Bar, which started "terribly, terribly badly" but ended with "magnificent" mains and seafood sharing platters of generous proportions.
*****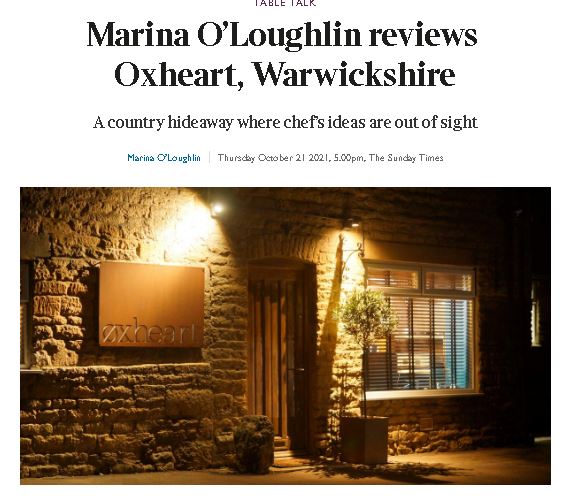 The Sunday Times
Marina O'Loughlin has also been travelling and truffling out new attractions, from Oxheart in Warwickshire (a tiny indie newcomer she hopes she hasn't killed with a review) to The Pack Horse in Derbyshire ("a village pub where gastronomy reaches Peak performance"), while in London she visited The Eagle, London's first gastropub, now celebrating 30 years in business.
Of chef Mark Ramshaw's 14-cover Oxheart she said; "I can't remember the last time I had such an assured ten-course tasting menu with wines — even a martini each — where the bill didn't cost north of a ton a head."
The Peak District's Pack Horse excited her just as much, with vocabulary including "divine", "stratospheric" and "unimprovable".
*****
The Telegraph
William Sitwell has rounded up his list of London's best restaurants in 2021; his five-star review of Sessions Arts Club featured "dish after dish of pretty innovation".
*****
The Times
Giles Coren eschewed the 'joys' of a visit to Nusr-Et, and instead blew similar money more wisely, on a trip to Maru, which "serves a 20-course, £170 menu, which you pay for in advance without knowing what is on it. And it's pure joy."
He also recommends the "Japanese inspired but with Hoxton energy" Apothecary.
*****
The Mail on Sunday
In YOU Magazine, Tom Parker Bowles also visited Maru (and referenced the "human salt cellar" too)  and declared it "pure and pristine", offering "joy, inspiration and pure culinary art".
*****
The Financial Times
Tim Hayward reviewed Haugen's "cod-Tyrolean styling and spectacular fondue"; "cut smoked pork sausage into chunks with Emmental, pickles and an astringent dressing and call it a salad. It's fiendish genius."
Also in The FT, a first look at Toklas, where the couple behind Frieze have cooked up a modernist Mediterranean kitchen, "the gallerists' new go-to canteen".
*****
Recent News from Harden's