Here is our weekly round-up of what the national and local restaurant critics were writing about in the week ending 5 September 2021 (with links to last week's reviews when your ROTR editor was on holiday!)
*****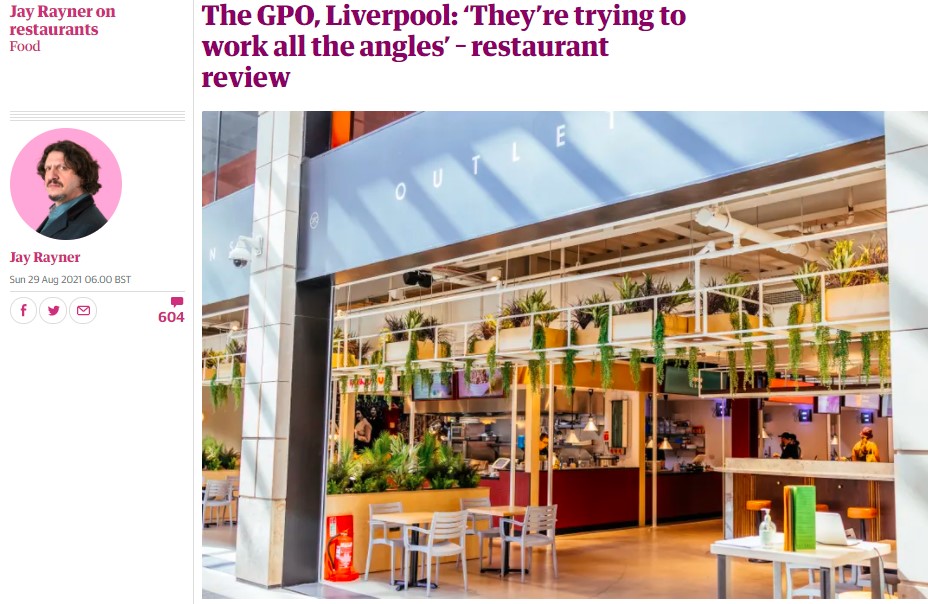 The Observer
Jay Rayner reviewed Mangal 2, the Dalston Turkish restaurant now run by the sons of the original owner, chef Ali Dirik.
"At some point during the tumult of the past 18 months, the brothers decided they no longer wished to replicate the menu served by their neighbours."
The result is "delightful cooking" that "draws affectionately on the Turkish repertoire without being afraid of innovation". Cloudy, expensive natural wines aside, Jay declares Mangal 2's reincarnation as "brave and compelling. And as it happens, properly delicious."
Last week Jay visited The GPO food hall in Liverpool, "the polished redevelopment of what was once the city's General Post Office building" and found it "baffling". It's a "great idea", but one that "just needs some fine tuning" – especially the app, which allowed Jay to order food in Sheffield, but not in the building he was sitting. When he did get served, the "flavour-bomb food" arrived as "sturdy, reasonably priced dishes, better versions of which can be found elsewhere".
"Statement of the bleeding obvious: this model of eating out is not aimed at grey-bearded, artificially hipped old sods like me. It is for those younger people with tighter budgets and rising hormone levels… who do not want to be constrained by a single menu."
*****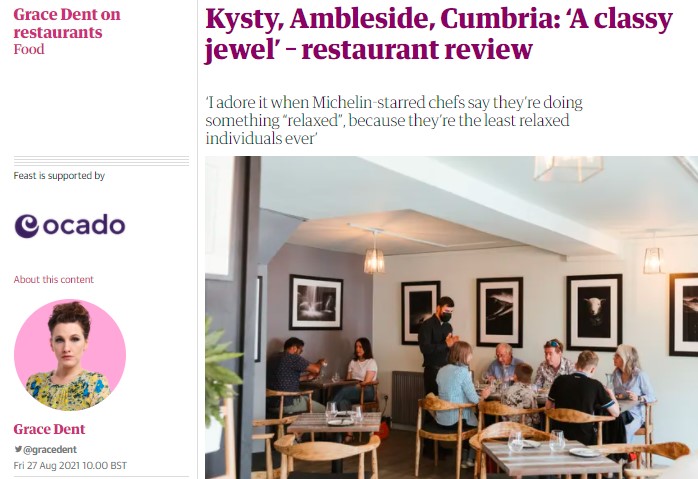 The Guardian
Grace Dent travelled to Folkestone where "the local food scene has fire in its belly" with places like the Goods Yard, but she had an "odd, disjointed experience" at Pick up Pintxos, which used to occupy a space in a pub on the harbour arm but now has its own restaurant.
She debated "whether the culture of eating pintxos could ever translate to a sit-down restaurant in Blighty"; certainly, "it would help if they had any staff who could enthusiastically sell the concept" (although "one silver lining about the inexperienced staff is that none of them recited the lengthy life story of the cow").
"The place means well and is full of good ideas, but it needs some sort of a reboot…there is some feisty cooking and fantastic produce going on."
Last week, Grace was in Ambleside along with the holidaying masses of England, at Kysty, "The Old Stamp House's little sister… also run by chef Ryan Blackburn and his talented team" but definitely "a destination in its own right".
"I adore it when Michelin-starred chefs say they're doing something "relaxed", because they're the least relaxed individuals ever."
Kysty is "a small, classy, imaginative, relatively inexpensive, self-effacing jewel in the Lake District's crown".
*****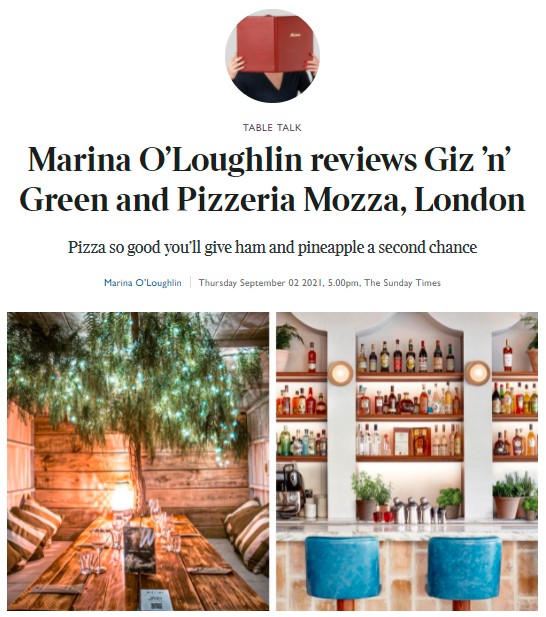 The Sunday Times
"Two pizza restaurants, two sets of famous names, two experiences that initially seem less about eating and more about posing."
First up, Marina O'Loughlin visited Giz 'n' Green Pizza Pies, currently "on top of John Lewis in Oxford Street" and run by "well-connected chef Gizzi Erskine and… rapper Professor Green"; she compared it to an "elevated Domino's".
Next was Pizzeria Mozza ("in the showy Treehouse Hotel"), from "LA-based luminary" Nancy Silverton, whose "pizzas are sublime"; "there's magic in this dough. No, not magic: witchcraft".
There's small plates too, but "served in US small plates sizes, not UK. Prepare to waddle home".
Mozza is "a genuine destination. I'd happily eat one of Silverton's pizzas once a week till the end of days".
*****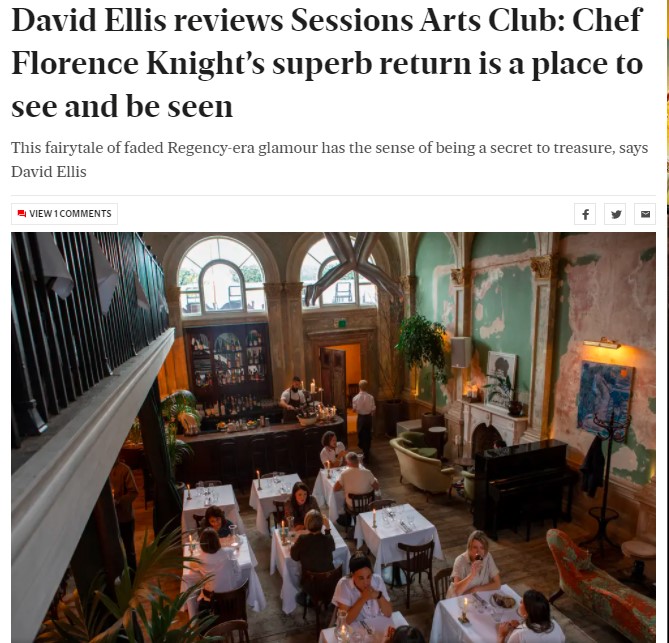 The Evening Standard
"You cannot design a feeling, but you can discover them."
David Ellis reviewed Sessions Arts Club, "a fairytale of faded Regency-era glamour" which "has that sense of being a secret to treasure".
Head chef and "headline act is Florence Knight, returning to a London kitchen after six or so years away", who presents an "irritatingly unstructured menu" that's "sort-of Italian, sort-of French, definitely seasonal, and mostly all simple stuff at prices that in certain instances seem comically high".
"This is a room to see and to be seen in, and our lunchtime was noisy with gossip… we left stuffed and gloriously happy."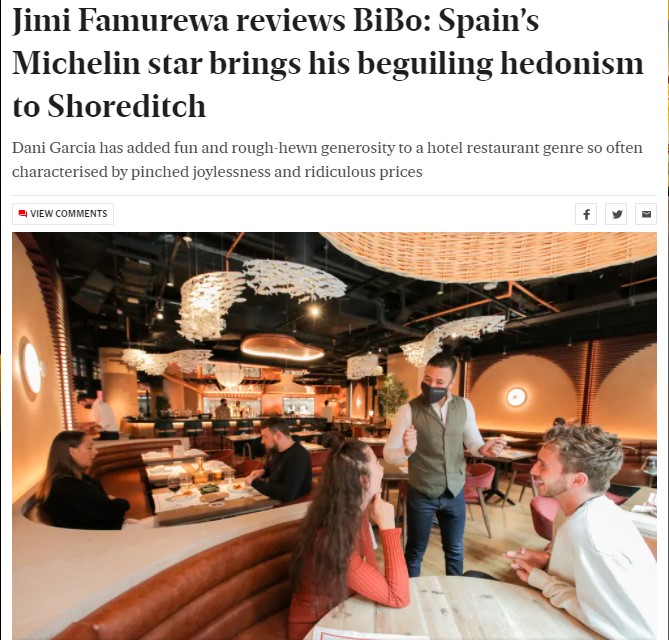 Last week, Jimi Famurewa visited the newly open Bibo, "the glitzy new Shoreditch restaurant from Michelin-anointed Spanish chef Dani Garcia". It's "semi-abandoned" during the day but "comes roaring to life" in the evening.
"There is something beguilingly free-jazz about BiBo's gastronomic approach and spirit" – and even better, it's "priced relatively accessibly" ("Garcia's stock-in-trade is a stated wish to democratise fine dining").
*****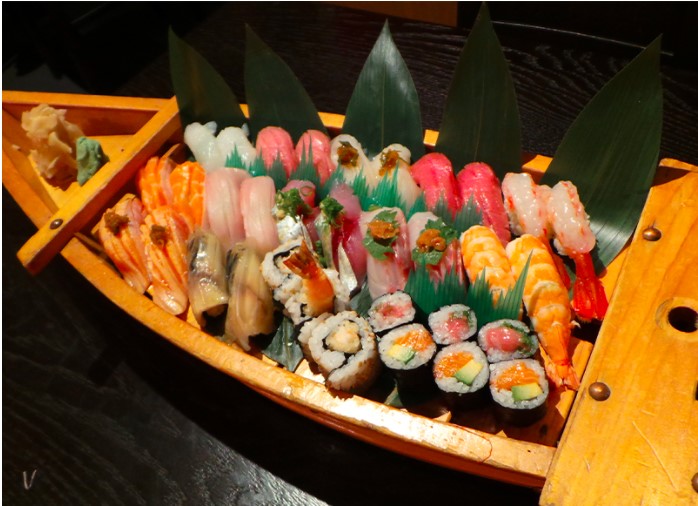 The Mail on Sunday
Tom Parker Bowles for YOU Magazine compared two of the capital's "finest Japanese restaurants": the "no frills or flourishes" Defune in Marylebone ("single-minded in its dedication to flawless sushi and sashimi") and Notting Hilll's Sumi, which has "another great sushi master at its helm, Endo Kazutoshi of Rotunda fame", but is "not yet quite up there with Defune".
Last week, Tom reviewed Jondal, a hot new restaurant in Ibiza.
*****
The Times
Giles Coren had one of his "best Mediterranean dining experiences of a long summer" in Crouch End "at a place called Kalimera" (he did also actually go to the Med, so this is a genuine recommendation from him).
It's an unassuming "first bricks-and-mortar spot for a self-taught Athens chef called Télémaque Argyriou" who has restaurants in Lille and Paris, and has ben spotted at pop-ups all over London; the food "felt to me like proper Greek home cooking".
"There is no beach, no sun, no Orangina and no pizza for the kids, but the cooking is good, the food arrives, there are enough people to serve it, and, best of all, when you're done, you can get up and go without a PCR test." (19/30)
*****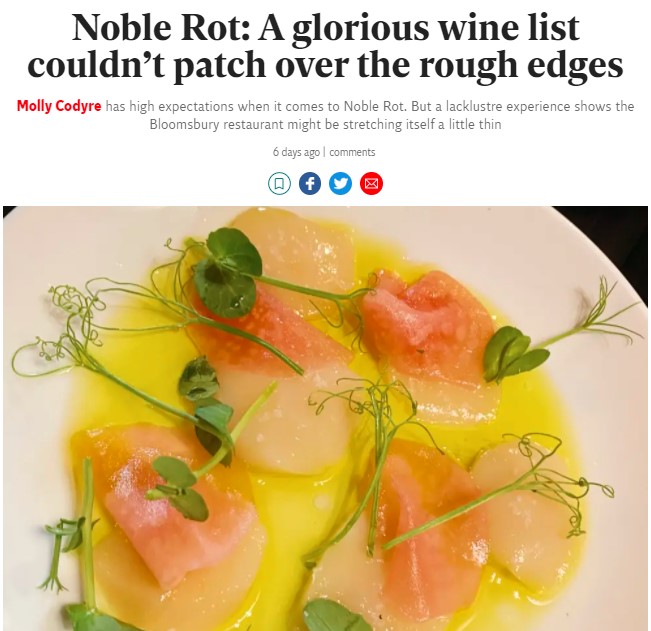 The Independent
Being "an enormous fan of the… enterprise", Molly Codrye had "high expectations" from her visit to Noble Rot's original Bloomsbury branch; she'd been before but this time may well have been her last. From the "cloying, deadly silent" and empty dining room to overcooked mains, it was a disappointment.
It's still "a destination for wine nerds", the starters "were a triumph" and desserts were another "high note", but "the whole experience left me wondering if Noble Rot have overstretched themselves with the opening of their new restaurant in Soho".
Last week, Molly reviewed "newish restaurant with rooms" Crockers Henley, and had a much better time of it: "from the moment we walked through the doors to the minute we begrudgingly left, everything was wonderful".
She ate at the Thames chef's table, where "the level of care, thought and pure talent that goes into each dish" was evident.
*****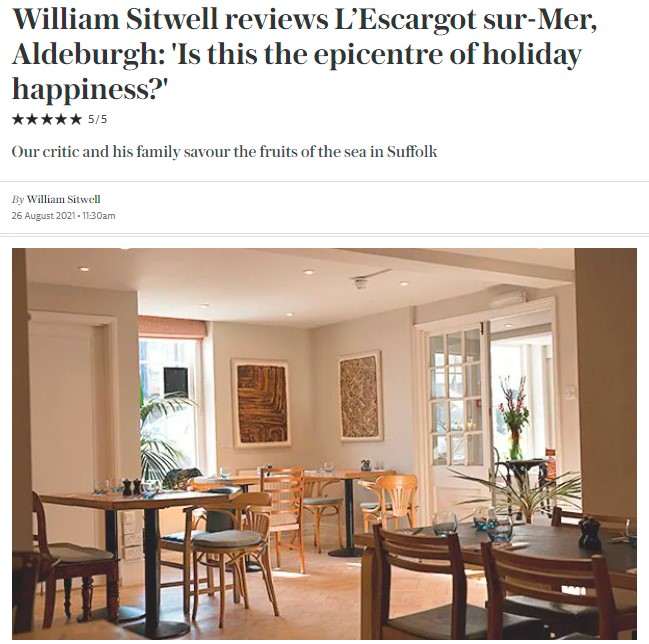 The Telegraph
Last week, William Sitwell washed away his worries with lunch at L'Escargot sur Mer, the pop-up-turned permanent restaurant in Aldeburgh, Suffolk, followed by a swim in the North Sea. He pronounced the day "the epicentre of holiday happiness".
"Service is snappy, friendly, professional and kindly", they "love kids" and the sister of "the very established L'Escargot on London's Greek Street in Soho" earned itself a 5-star review. (*****)
This week, William was near Winchester, at The Wellhouse, in a converted barn tucked away in the garden of the "elegant" Lainster House. The wood-fired cooking was "a heavenly, piggy love-in". (***)
*****
The Scotsman
Gaby Soutar tried out more of the concessions at Bonnie & Wild Scottish Marketplace in Edinburgh; "the excitement about the month old… food market hasn't waned. There was a queue at 11.45am".
This time she visited The Gannet and Broken Clock Café, both "precious exports" from Glasgow (15/20)
*****
And also…
In The Financial Times, a review of Café St Honoré in Edinburgh, where "Neil Forbes' superb cooking" delivered "self-confident execution and no holding back on flavours".
*****
Recent News from Harden's