Here is our weekly round-up of what the national and local restaurant critics were writing about in the week ending 4 July 2021.
*****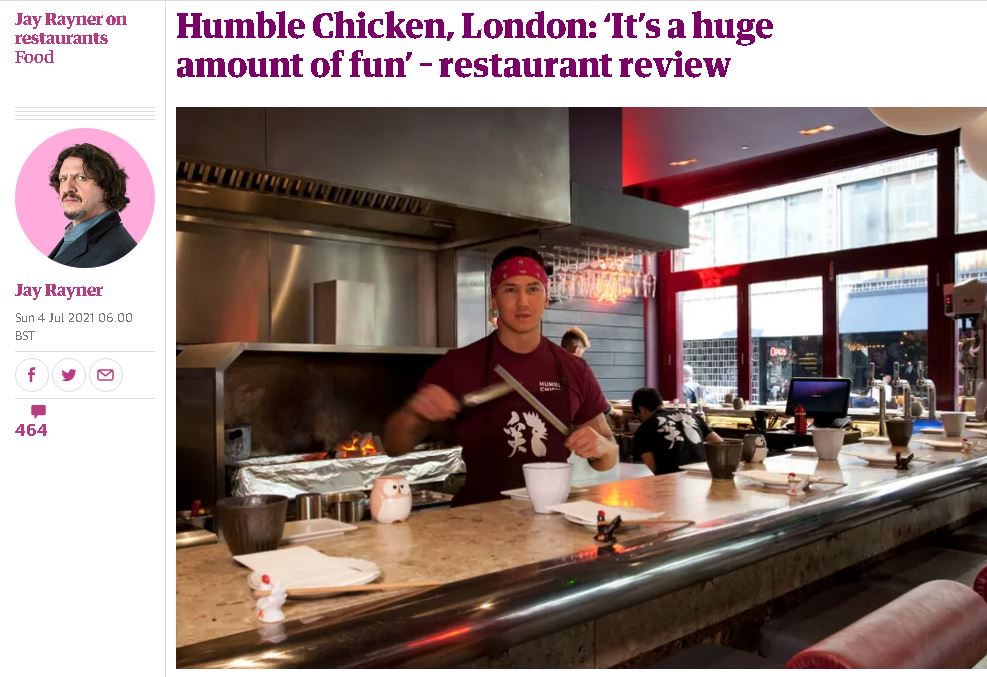 The Observer
"Despite its name, there's nothing humble about this superb Soho yakitori chicken shop."
Jay Rayner's visit to Humble Chicken was a "huge amount of fun", not least because the anatomically precise menu "brings out the sniggering schoolboy in me".
Seated at the counter watching chef Angelo Sato go about his work, "I feel the heart-fluttering joy that comes with the insufferably smug knowledge that I am in exactly the right place".
Sato "has done the precise, furiously tweezered, multi-Michelin dance" (at Clare Smyth andEleven Madison Park in New York) and has now "circled back to Japan".
Nothing is wasted, and every part of the chicken is grilled differently, as it should be; Jay "applauds both the elevation of the humble and the negation of waste". The "crispy chicken thigh… is simply one of the best rice dishes I've had in a very long time… £13.50 of comfort eating, for people too old to call for their mum".
*****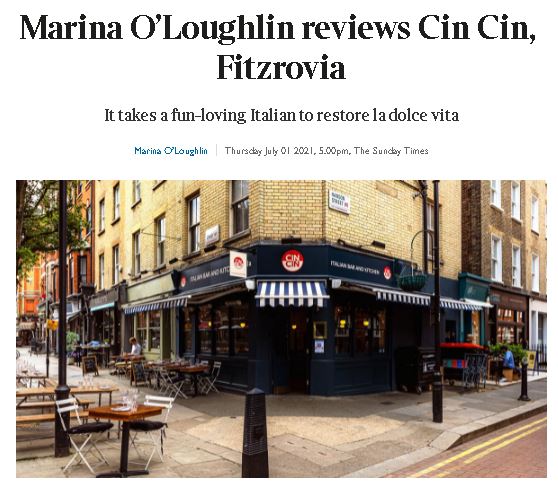 The Sunday Times
Marina O'Loughlin was the first reviewer at Cin Cin, the Fitzrovia outpost of the popular Brighton duo; she was looking for somewhere "fun" for "a family party" with "a mixture of ages".
"Weirdly, it's a site that has already seen off a couple of restaurants, decent ones too. I've no idea why this should be… as close to a perfect restaurant setting as you'll find, the ideal confluence of neighbourhood and city centre." Plus, the people-watching is "absolutely primo".
Will Cin Cin be the one to stick around? "I do believe they're going to pull it off."
It's "very different from the Hove mothership", with a "topically brief" menu and "sneaky hints of the old "fine dining"… chef Jamie Halsall has a bit of form on the fancy-pants front".
And as for the inevitable people sniffing about fun not being an important factor in dining out, Marina has something to say to them: "after the year we've had, given the lack of clarity about the future, we deserve a bit of levity. And if that's frowned upon by the fun-sponges, you'll excuse me for not giving a toss. Here's to eating, drinking, laughing, being alive".
*****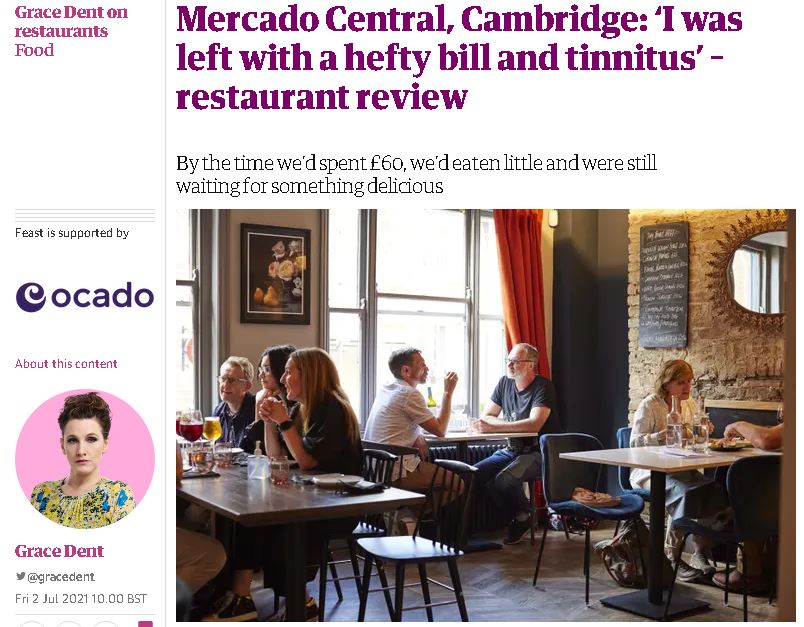 The Guardian
On a "balmy summer Saturday night in Cambridge" Grace Dent paid a visit to Mercado Central in search of one of those "authentic, modern-facing Spanish restaurants, showcasing simple, ancient Basque and Galician techniques and exemplary local produce".
It's "set within a beautiful old Cambridge townhouse, its outer brickwork painted navy blue, with an elegant upstairs dining room and, on the lower floor, an open kitchen"; Grace heartily recommends the former, as the downstairs is really a bar and gets very noisy.
After a few dishes, "we'd spent around £60, eaten little and were still waiting for something delicious". It's clearly trying hard to be Barrafina or Sabor, but hasn't the skill to pull it off.
"With more careful, generous cooking it could represent Spain beautifully, but right now it's firmly in the red zone."
*****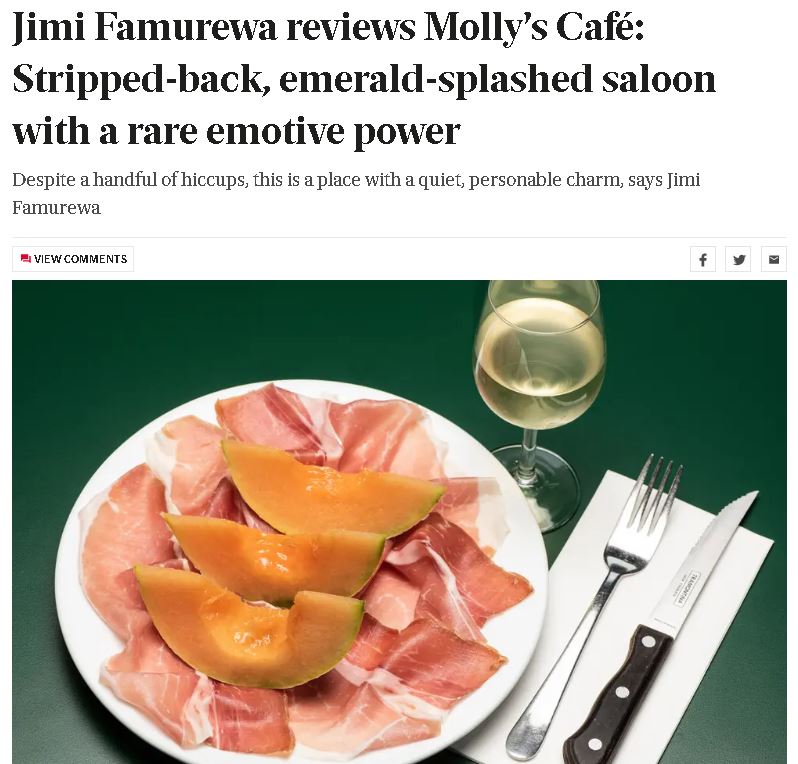 The Evening Standard
Chief critic Jimi Famurewa visited the newly opened Molly's Cafe at the Museum of the Home (itself "freshly rebranded and renovated") in Hoxton; he recommends you order the chips ("quietly spectacular, retro marvels") to get a good understanding of the place, which comes from the Anchor and Hope founders.
"One of the best things you can say about Molly's is that it looks almost nothing like other museum cafés… here, an effort has been made to cultivate a desirable, distinct destination."
The "handsomely converted corner building" was once the "long-derelict Marquis of Landsdowne pub", and its various rooms are "big and bright and multi-functional".
The (not particularly cheap) menu evokes "trans-European holiday nostalgia"; if you're prepared to forgive a few pandemic-related inconsistencies, "you'll probably be equally convinced that this is a place with a quiet, personable charm, serving food that, at its best, has a rare emotive power".
*****
David Ellis, editor of the Reveller, introduced Ave Mario, "London's new party palace". It's the Big Mamma Group's 17th venue (most of them in France), a "neon-lit den of fun and naughtiness" with 1000 covers over three storeys. "It is not… an Italian restaurant, but an idea of one, a cartoon take on a country's way of doing things." The new-look Kitchen Table which re-opens on 21 July is also featured.
Also from David Ellis and Naomi Ackerman, an article one year on from the celebrated "independence day" of restaurants re-opening after the first lockdown; "pub bosses, restaurant owners and key figures in hospitality share their thoughts on one of the hardest 12 months ever for the world of food and drink".
*****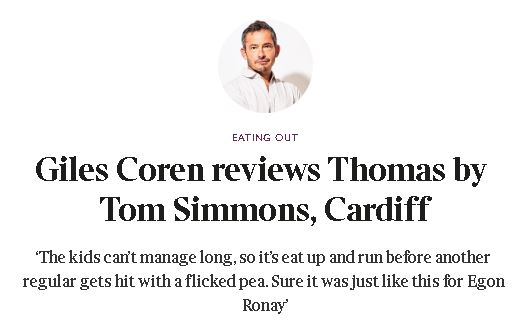 The Times
It seems that the Times-reading Welsh contingent were up in arms at Giles Coren after last week's reviews of pizza and fish 'n' chips on his Pembrokeshire holiday ("having gone all that way, why didn't I go to any "real" restaurants?")
Maybe he did go to "quite a few of the smarter places in west Wales in the hope of finding something wonderful" but "decided not to write about" the "not-quite-up-to-it cooking"; we'll never know, but he can't win either way.
He did visit "an absolutely brilliant "proper" restaurant in Cardiff" on his way home. Thomas by Tom Simmons is in the "super-boujee Pontcanna suburb", a welcoming (even to his kids) "beautiful, classic, big-vitrined" place with "big, airy, cream-walled and dark green" inside with parquet floors and "neo-Georgian styling".
With children in tow, it was a very different experience ("the kids can do about 45 minutes before it all goes pear-shaped and I was driving") but Giles and family enjoyed a selection of small plates ("historic fried chicken") and mains before their patience ran out. (24/30)
*****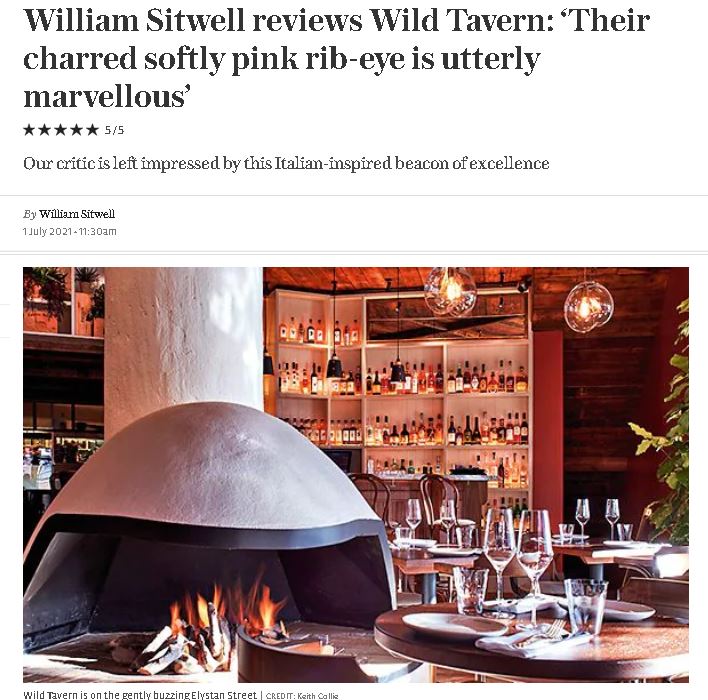 The Telegraph
"My main aim in these strange days [is] to give you good news, fine feasting and happy times."
William Sitwell didn't need his kid gloves this week; he gave top marks to the "Italian-inspired" Wild Tavern on Chelsea's "gently buzzing" Elystan Street, where he dined with a nightclub owner friend who "grilled the staff impeccably", resulting in an "utterly marvellous" feast.
"Wild Tavern is a beacon of excellence, a little pricey, yes, but I'm not budgeting for flights to Italy this year."(5/5)
*****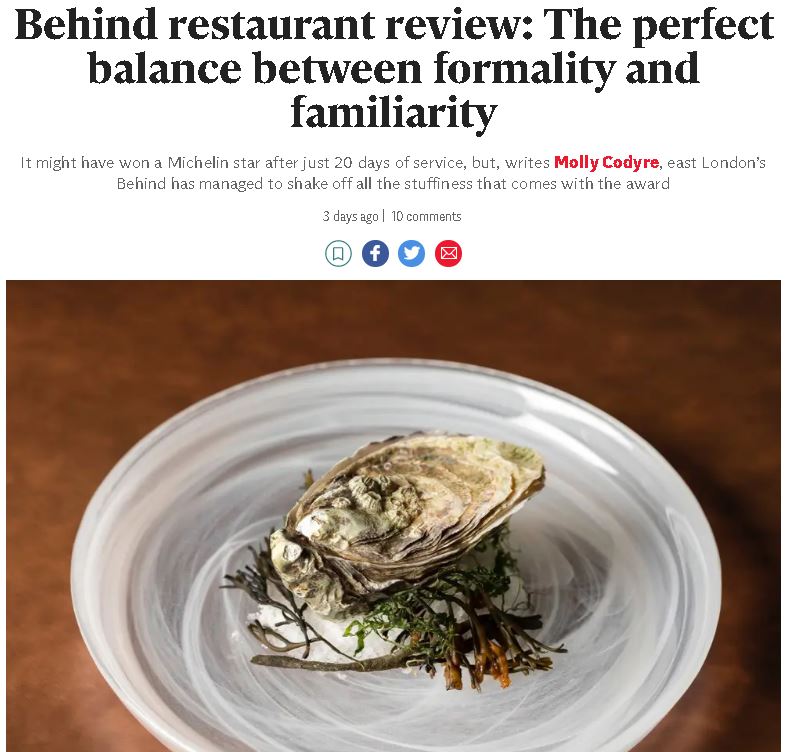 The Independent
"20, 12, one."
Molly Codyre reviewed Behind in numbers; "Twenty refers to the number of days they were open before the lengthy third lockdown; 12 is the number of courses… one is the number of Michelin stars they have received so far".
Was this "grand achievement" justified? Molly was "understandably intrigued" to visit to see for herself. Heading to London Fields with lofty expectations and a healthy dose of anxious anticipation, she was relieved and delighted that Behind exceeded her expectations "with the kind of confidence only achieved by someone who truly believes in what they're doing".
Seating is arranged "in a semi-circle shape, the kitchen acting as the focal point" of the "industrial-meets-Scandi style space"; the dishes come out in ones and twos over the 12-course mystery menu. It's "largely seafood-focused", and depends "on what the fishermen pull off their boats that day".
"Eschewing expectation seemed to be a running theme," and there's a hard-to-pull-off "perfect balance between formality and familiarity that puts Behind in a league of its own".
Even better, "the bill doesn't feel like a punch in the stomach. Instead, it feels proportionate to the meal you've just enjoyed".
*****
And also…
In The Scotsman Catriona Thomson tried out the seafood kiosk at Longniddry Bents – and later the award-winning gelateria van in North Berwick – run by the Alandas team. Next time, "a three-stop pilgrimage might have to be arranged, elevenses gelato in North Berwick, followed by lunch on the beach, and then a fish tea to end the day. Summertime in Scotland has never tasted so good."
*****
In The Financial Times, Tim Hayward claimed that noodle bar Heddon Yokochō left him "a changed man"; "it is lovely to step aside from the noise and confusion of social dining and concentrate on something".
*****
In The Mail on Sunday's You magazine, Tom Parker Bowles gave us his top ten tables with a view; "whether it's a seaside beach shack or a riverside terrace, this is eating out at its breathtaking best".
*****
Manchester Evening News reviewed the tiny wine bar in Ancoats that's been ranked in the top 100 at the National Restaurant Awards; Erst co-founder and chef-patron Patrick Withington said: "It's massive for Erst to be included".
Also in Manchester Evening News, a crumble cafe that offers unlimited custard, a prison-themed cocktail experience where the guests sit in cells and a Deep South dive bar in Stockport; now we've seen it all!
*****