Harden's regular round-up of the restaurant critics' musings, from the week ending 5 May 2019.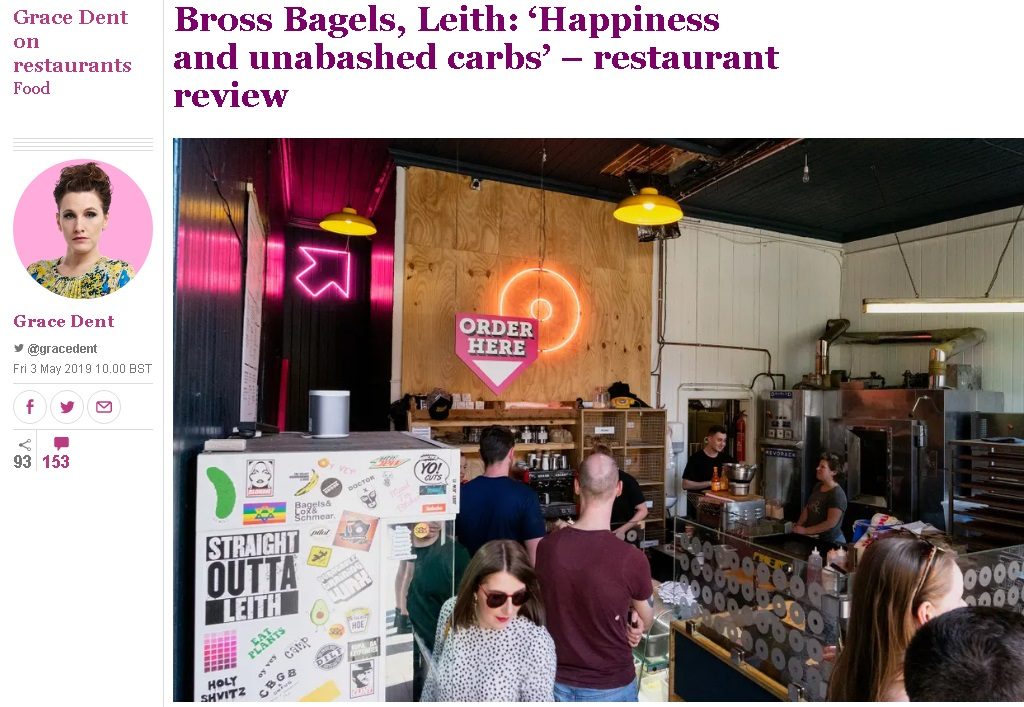 Grace Dent for The Guardian has nothing but love for the "Canadian-Jewish bagel bakery owner Larah Bross" and the Montreal-style bagels served at the three Edinburgh branches of Bross Bagels: "a whirlwind of perfectly judged brashness and thoughtful, come-one-come-all affability".
Tipped off by Tom Kitchin, Grace spent "the most perfect" hour in the Leith branch while on a tour of Edinburgh top dining joints. She'd particularly recommend the chicken parm, "a riff on Middlesbrough's kicking-out-time classic… premium-grade junk food" and The Leither, "with chilli-wafted salmon, jalapeño cream cheese, and bread-and-butter pickles".
"It's the sort of infectious happiness that only unabashed carbohydrates stuffed with good stuff such as melted applewood cheese, chicken schnitzel or jalapeño cream cheese can provide."
Brick Lane's beigel shops may have been going for over a century, but Grace assures us that Bross's are better. (24/30)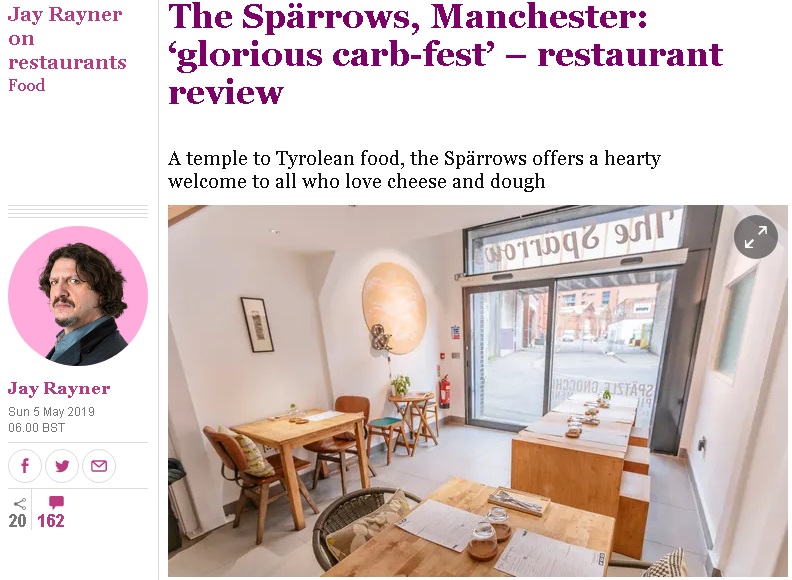 Jay Rayner for The Observer visited a "Lilliputian venture tucked away down a lane near Manchester's Victoria station" this week, in a converted railway arch (opposite Umezushi, and originally kitted out as their test kitchen) with space for "a dozen diners, if you don't mind getting cosy".
The Spärrows is named after the translation of spätzle, "those endlessly comforting rugged noodles" of Eastern Europe, and serves not just spätzle but also the "wider family of dough-based products", all designed for getting you through "deepest winter". Essentially, it's "one long middle finger thrust towards the entire keto diet lobby".
Jay's spätzle wore a "thick glossy overcoat" of braised onions, Gruyère and Emmental which he "mopped up with pieces of their airy-crumbed focaccia" and "soothing and delicate" sauerkraut. He also enjoyed the "pelmeni: small, dense dumplings filled with minced veal, and then covered with breadcrumbs fried in garlic butter" and began to "understand why large Polish men can be moved to tears by a plate of dinner".
"If you think gluten is the enemy, do not come here. If you disapprove of cheese, do not come here. If you are joyless and miserable… definitely do not come here."
"This is the food we need to make everything right again." (Just not every day… unless "your main meal is followed by a long lie down".) The Spärrows is "a labour of the right sort of love, which means it is not perhaps the fastest place to eat. If you go, bring your patience with you, it will be rewarded."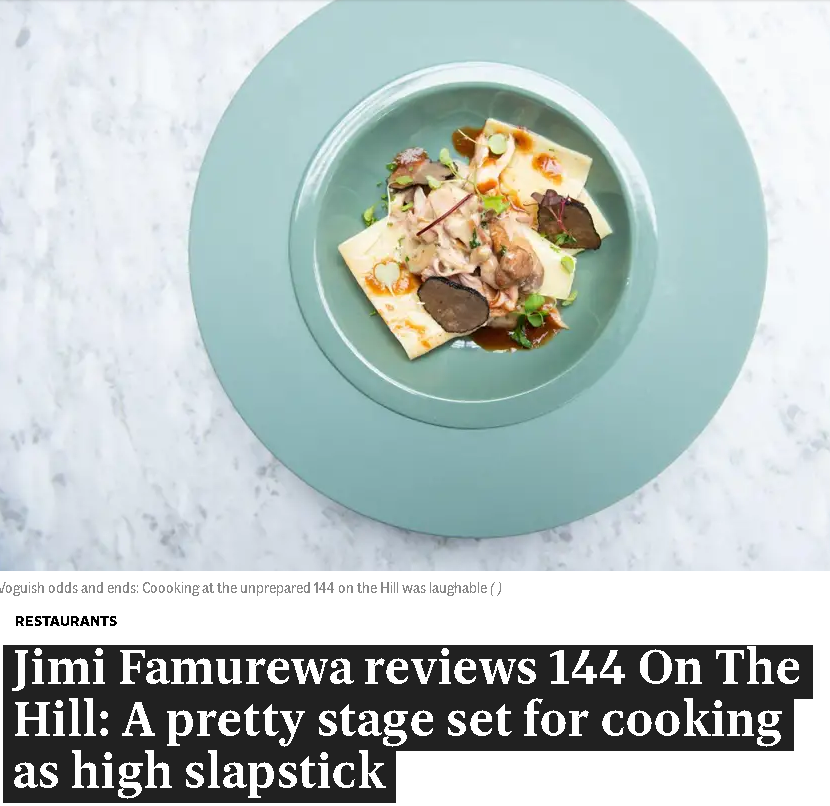 When The Evening Standard sub-editor goes with "A gastronomic tragicomedy" for the headline of a restaurant review, you know it's going to be good – just not necessarily good for the restaurant.
Jimi Famurewa's visit to Richmond newcomer 144 On The Hill  started off well: it's an "undeniably pleasant space", part of a hotel. But even from the bread course (rolls "dense enough to make serviceable prison weapons"), Jimi suspected that it was just "a pretty stage set for cooking as high slapstick".
Slapdash service, "clumsily plated" dishes, undercooked gristly meat, jarring ingredients and a "dismal salad" ("an undressed clump of nearly past-it leaves beneath a few shavings of Parmesan") made for a "complex brew of feelings — pity, confusion, fascination at the sheer hapless horror of it" that eventually collapsed into "a sort of helpless, nervous laughter".
Jimi's friend was exhorted to Instagram his dessert, a "dull" and "grainy" Valrhona chocolate mousse that looked "like something freshly sifted from a litter tray". The other dessert, a lemon meringue Knickerbocker glory, only bore a passing resemblance to its picture on 144's Instagram, too (and was "a layered ode to sickliness flopping messily down the glass").
Side dishes of "golden roasted Jersey royals, a pair of competently flavoured sauces and… shallot onion rings in an unexpectedly light, bubbled batter — were frameable masterpieces by comparison".
"This wasn't a meal ruined by arrogance or even lack of well-meaning effort. It was a menu of voguish odds and ends,… very probably conceived by an absentee executive chef and then thrust in the care of people who hadn't been sufficiently briefed or trained." (4/10)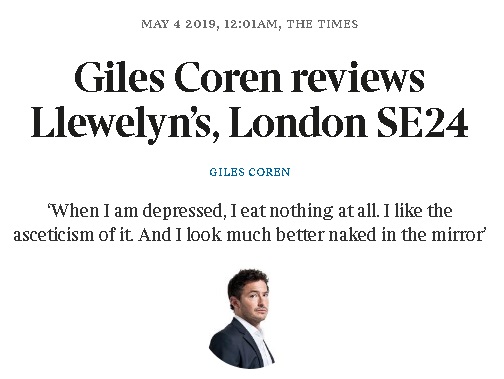 Giles Coren for The Times had been to Llewelyn's before, but it was when he was sad / stressed / depressed and he doesn't eat then. So in happier times, his friend suggested a re-visit to the "little dinky restaurant by the station", and he liked it enough to only compare it to north London five or six times.
It may be "just a really good local restaurant of the kind that we have more and more of now in our gentrifying suburbs", but Llewelyn's served up "wonderfully tender bresaola, mild, nutty coppa and good salami", "surprisingly mild and vegetably" nettle soup ("lovely springtime stuff"), some delicious things on sourdough toast and "joyful" main dishes like rabbit ragu, wild garlic and parmesan was ("just wonderful"). (23/30)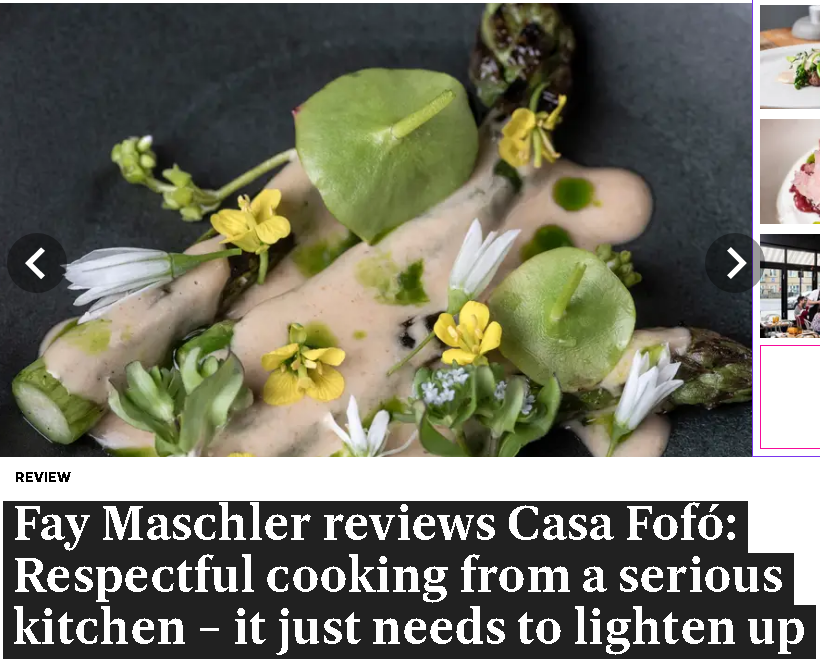 Fay Maschler for The Evening Standard learned a lot during her two dinners at Casa Fofó; the description of the "deep, narrow, room" as a 'sleeve space' (sleeves are no longer just about tattoos),'hoshigaki' are dried persimmons and she really doesn't enjoy "chefs delivering dishes with explanations — the Noma style of service", especially when she really wants to chat to her dining companion.
Those two dinners, and Casa Fofó's "seven-course menu at a reasonable £39" gave Fay time to winkle out "the predilections, passions, fears, apparent affection for the Thermomix turbo setting… and the dehydrator, enthusiasm for foraging and for mystifying".
It's hard to tell whether or not she enjoyed her meals, although there's lots of respectful compliments in her review. "Meats are impeccably bought and respectfully cooked", front-of-house "runs the floor with great charm" and wines are "reasonably priced".
However, maybe the team needs to think more about "the potential for fun in eating out", and perhaps those "chefs with too much time on their hands" need to dial it down a touch ("strawberries dehydrated then rehydrated for a dessert flavoured with pine has us flummoxed")? (***)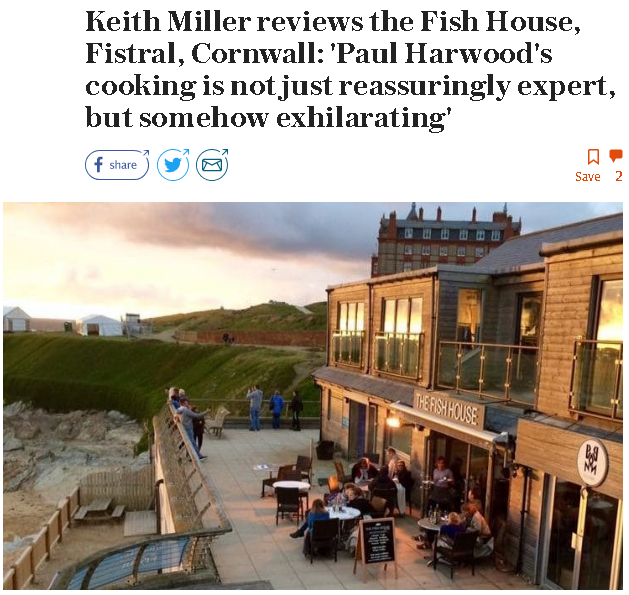 Keith Miller for The Telegraph was in Newquay, overlooking Fistral Beach ("the foremost shrine of the UK's surfing scene").
Paul Harwood, "a former Stein employee" runs The Fish House in a "longish, lowish techno-shack, tenanted by various on-brand businesses" – including a Stein's. There's a "definite family resemblance between the two menus (classic fish dishes, a couple of kid-friendly options, a few backpackerish Asian flourishes)" but Harwood's place "feels friendlier – more personal and less corporate" and his cooking's "reassuringly expert, but somehow exhilarating".
"The location is just heavenly, right on the yawning arc of the beach, with a westward tilt to catch the waning sun", the "cooking was confident and gutsy" (a grilled scallop and black bean dish was "vivid and original"), the "stripy-topped front-of-house team" were "swift-running" and overall it's "contemporary, informal, priced to appeal". (****1/2)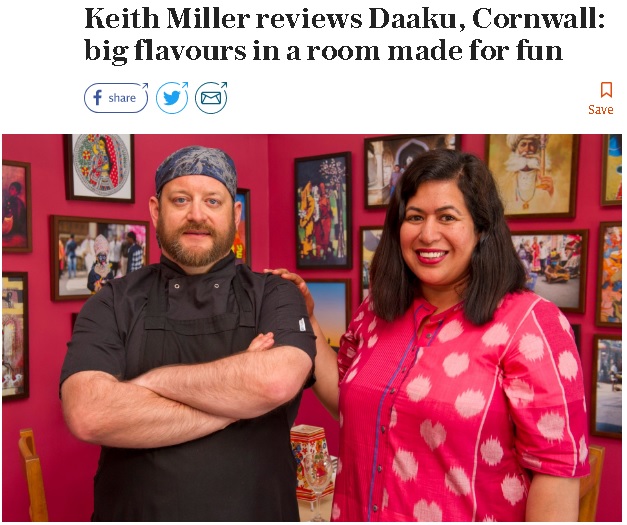 While in Cornwall, Keith Miller also visited "Cornish-Indian fusion restaurant" Daaku, run by "a husband-and-wife team: he's local, she's from Jaipur".
Set in a "gloomy, light-industrial building" (the "almost pathological jollity of the west British dining scene is conspicuous by its absence") reminiscent of east London's dining scene a few years ago, but inside "joy is restored" with "a maximalist interior design, all fuchsia walls, Bollywood posters… and sparkly textiles".
The menu was "more structured than the British curry house norm" but kebabs were "juicy and lightly spiced", pickles were "great, especially a ferocious roasted chilli paste", the black dal was "excellent" and a slow-cooked Tamil-style shin of beef "struck a fine balance between comforting coconut smoothness and zingy acidity". Puddings were "hoovered up by our party with enthusiasm".
The bill was "far from eye-gouging", too – although the Cornish-fusion aspect could be ramped up. (***1/2)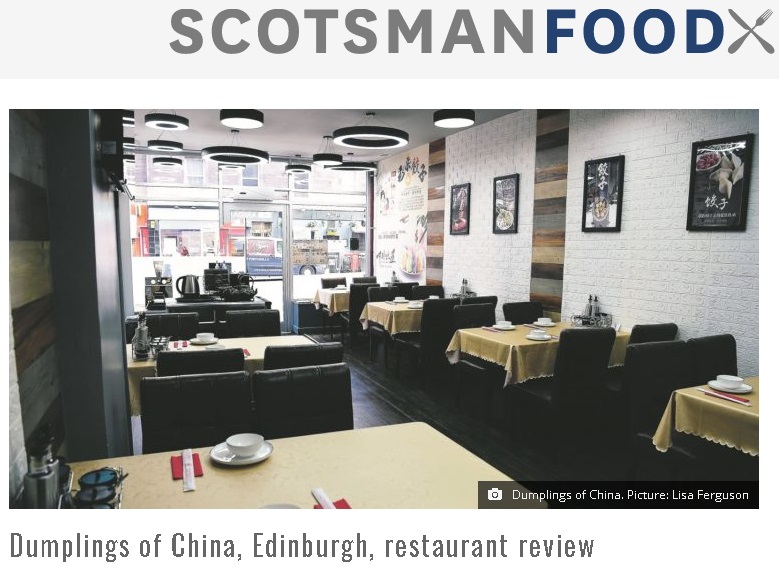 Gaby Soutar for The Scotsman felt sorry for the chef in the window at this new Edinburgh retsaurnat, on show as he made an endless array of dumplings from "perfectly uniform dough circles, each powder puffed like a baby's butt cheeks", but she watched all the same.
"The authentic and extensive menu goes way beyond dumplings" but she tried the cuttlefish and the pork, prawn and chive varieties first, from a selection of 10. Afterwards, she enjoyed Hunan-style fried pork and "addictive" pickled peanuts, but found some textures and temperatures jarring, and some sauces over-sweet. (70%)
We've clearly touched a nerve. Tom Parker Bowles for The Mail on Sunday takes up around half of this week's column inches justifying the star rating system ("a measure… of a critic's delight. Or disdain.") and why he hands out "all these four-star reviews". It's his job ("relative neophyte to a very exalted table" that he is) to "seek out the best food this country has to offer", to recognise the "quality out there, at every single level". Four stars represents "not quite perfection, but far better than average".
Orasay got four stars. Of course it did. Even though it's "damned good" – the "cooking is assuredly bold and modern" but "never dull or fussy", with dishes of "balance and comfort and charm" (even if several of them are "egg and bread and cured fish").
The "narrow room is clean, and bright and modern. Just like the cooking". Orasay is where "excellent produce meets excellent kitchen" – just not quite 'five-star' excellent. (****)
And also…
Marina O'Loughlin for The Sunday Times paid a return visit to one of her favourite (and much-referenced) bistros in Bordeaux, La Tupina. And wishes she hadn't: the patron has retired, the "primal southwestern feast" she was expecting was "a little less food of the gods" than she remembered. The "restaurant's celebrated seven-hour lamb" still holds its own, though, but "today's La Tupina has the air of resting on past laurels".
William Sitwell for The Telegraph "can't think of a time I've felt more enthused by rabbit" after his visit to Taunton restaurant Augustus. (***)
Nicholas Lander was in Seoul for The Financial Times, at Serasé which "lives up to its extremely smart location"; he ate a pumpkin porridge which had "had far greater charm than its name suggested".
Emily Heward for Manchester Evening News welcomed the opening of The Fisherman's Table in Marple: "the tide is finally turning on Greater Manchester's dearth of decent seafood restaurants". Fishmonger Jamie Barrett "owns the Marple Fish shop around the corner", runs this converted garage with his wife, along with head chef David Gadd from The Sportsman in Whitstable. The vibe is "part country pub, part beach shack" and the menu "circumnavigates the British Isles, combing its waters for treasures", giving them "a round-the-world flavour voyage". The chips had "skins as wrinkled and brown as a Brit in Benidorm. They're soft, salty and beautiful" and even the desserts were "an unequivocal hit".
Recent News from Harden's