Here is our weekly round-up of what the national and local restaurant critics are writing about, for the week ending 1 April 2021.
England remains in national lockdown, although with a 'roadmap' of dates with restaurants and pubs closed until 12 April at the earliest, and then only open to serve single households seated outdoors: https://www.gov.uk/government/publications/covid-19-response-spring-2021/covid-19-response-spring-2021-summary
All of Wales is at alert level 4, but the stay-at-home restrictions have been lifted, and further restrictions will lift on 12 April: https://gov.wales/coronavirus
Like Wales, in mainland Scotland, the stay-at-home restrictions have been lifted, and further restrictions will lift on 12 April https://www.gov.scot/publications/coronavirus-covid-19-protection-levels/
Northern Ireland is under 'stay at home' restrictions until 15 April: https://www.nidirect.gov.uk/articles/coronavirus-covid-19-regulations-guidance-what-restrictions-mean-you
Please continue to order takeaways, cook-at-home kits, vouchers, merchandise and deliveries from your favourite restaurants if you can (we include links to those mentioned); the restaurant industry and everyone involved in it need our continued support.
*****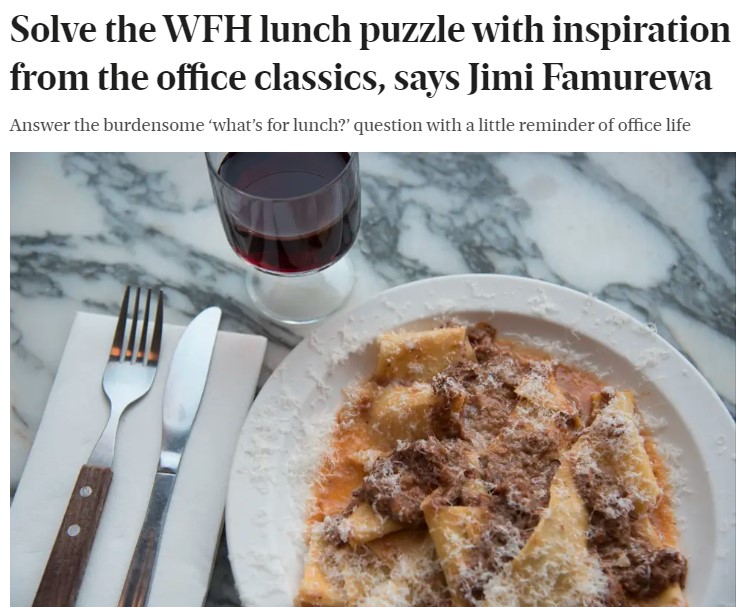 The Evening Standard
"The office lunch, in whatever guise, was a necessary moment of respite; a little patch of sacred land amid the meetings, the emails and the collective frowning at the broken printer."
The Evening Standard's chief restaurant critic Jimi Famurewa ordered in a selection of work-from-home lunches to compensate for no longer working in an office near "a world of near-infinite dining possibility".
"As the pandemic and the era of widespread remote working trudges on — a weekday lunch has, from where I am sitting, come to feel more like a burdensome daily puzzle than a cherished moment of joyful punctuation."
Jimi, like the rest of us, is bored with home-prepared lunches and "strapped for time and inspiration"; we all need to "shift our approach and carry on supporting the independent businesses that have stepped manfully into the WFH breach".
Many of his recommendations were "location dependent big-hitters" like Padella and Sumi, but he suggests that "there will doubtless be somewhere near you, lovingly run and thoughtfully stocked, that you should visit more often if you can". And why not embrace the solitude with something "pungently anti-social… that might have got you reported to HR at work" – a Goan fish curry or tuna melt from your local sandwich shop?
*****
Also in The Standard, good news for Covent Garden restaurateurs as the outside seating allowance in the main piazza and surrounding streets rises from 300 to 800 in time for 12 April.
*****
An interview with Adam Handling reveals the struggles, both financial and emotional, that the chef has been through this year, losing his house, partner and several of his restaurants; his saviour and comeback has been through Hame, which recently sold its 90,000th box, and his supportive executive team, two of whom will be running the group's new pub/restaurant-with-rooms, The Loch & The Tyne, in Old Windsor, when it opens in May.
*****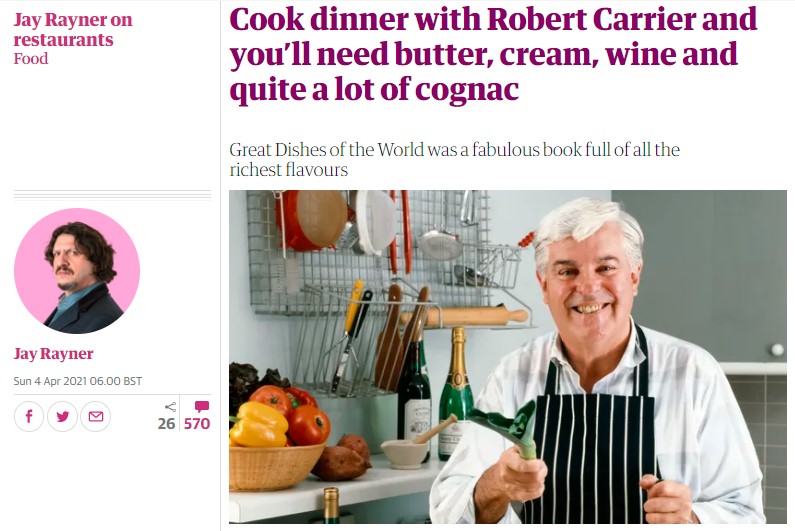 The Observer
"An unashamed entertainer, he introduced a postwar Britain to a table stacked with possibility, through the medium of dishes that now may sound old hat but then were a revelation."
This week, Jay Rayner reviewed Robert Carrier's "fabulous" tome, Great Dishes of the World. First published in 1963 and "probably sold more copies than any of the other titles featured in this series".
Nowadays the recipes may seem dated, and the title certainly a misnomer (there are "some startling recipes in there, allegedly representing India and China, which today would cause an international incident") but overall the book "should be taken as a marvellous compendium of postwar classics from Europe, with strong nods to Morocco, which he knew well, and his native US".
Carrier's post-army career took him to a restaurant in Paris, where he "learned the basics of cooking", to a stint in PR in London and then on to food and cookery writing. He was "one of the first hirings to the newly launched Sunday Times colour supplement. His recipes there would form the backbone of Great Dishes of the World".
"One of the worst vices of food fashion is to look to the past and sneer jovially at our unsophisticated tastes" but we "dismiss that past too easily". Jay determined "to go resolutely old-school Carrier by starting with his recipe for soupe à l'oignon" followed by boeuf stroganoff ("I haven't even thought of it in years let alone cooked it.") and crêpes suzette ("If I were prime minister, I'd make it law that every dessert menu offers crêpes suzette").
"This book which stands as a towering monument to his work. It is page after page of good things."
*****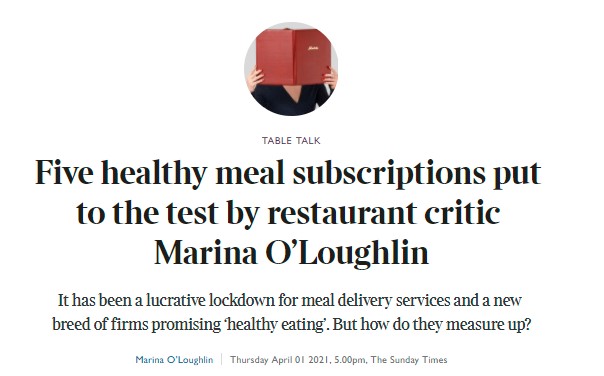 The Sunday Times
Marina O'Loughlin trialled "healthy" subscription-based delivered-to the-door ready meals this week; eschewing the obvious players like supermarkets, she "concentrated on the more "boutique" operations, with wildly divergent degrees of success". She also gave points for sustainability of packaging and thoroughness of instructions.
There's "a frankly bewildering number of options". Some of them, to her pleasant surprise, "knock supermarket offerings into yesterday" (tweakd.uk) although calorie and salt counts are far too high to be genuinely healthy (and other contain some odd sounding ingredients). The "all-vegan option is, to my surprise, the one that impresses me most" – this was from Allplants.
Others – as the photos on her Instagram show – bear no resemblance to their glossy promotional pictures: "the difference between my pictures of the food and the companies' is laugh-out-loud hysterical". One was "so repellent-looking it takes all my fortitude to dig in. We're talking biological waste".
Most notable among the failures was meal kit success story Mindful Chef, which has recently expanded into ready meals. "When my notes read "slop", "slurry", "salty slop", "salty, over-thymed stodge" (veggie "shepherd's pie" with chestnuts), it's not a great sign."
*****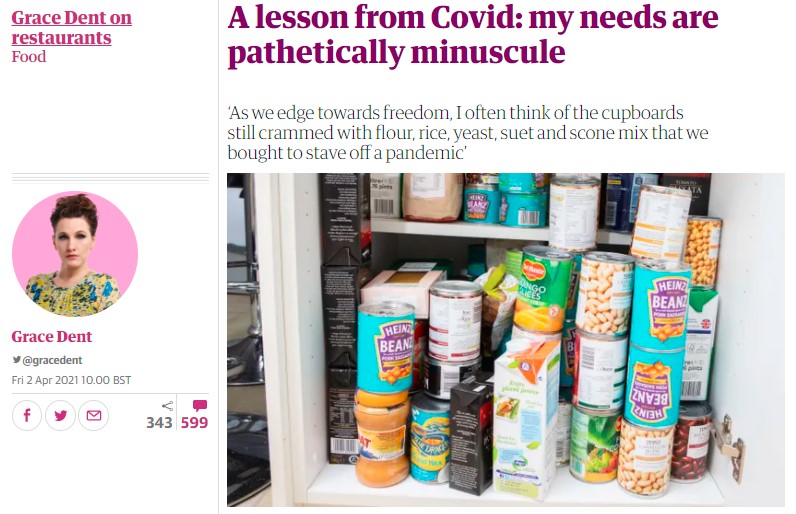 The Guardian
"If I have learned anything from the pandemic, it is that any stockpiling I have done was just a fig leaf over selfishness and existential panic, and that my needs to survive are actually pathetically minuscule."
Grace Dent has redefined the concept of "need" in the wake of Covid-19; what she actually requires on a daily basis is far less than she imagined – or what she stockpiled this time last year.
"Full shelves haven't saved us from the sadness of Covid. Thousands of us have died and millions of us have lost our mums, our dads, our colleagues, friends and neighbours. All that frantic, sharp-elbowed shopping was really only ever a displacement activity."
She, like many of us, is gradually returning the contents of her overstocked cupboards to the supermarkets and donating to foodbanks, to help out those truly in need.
*****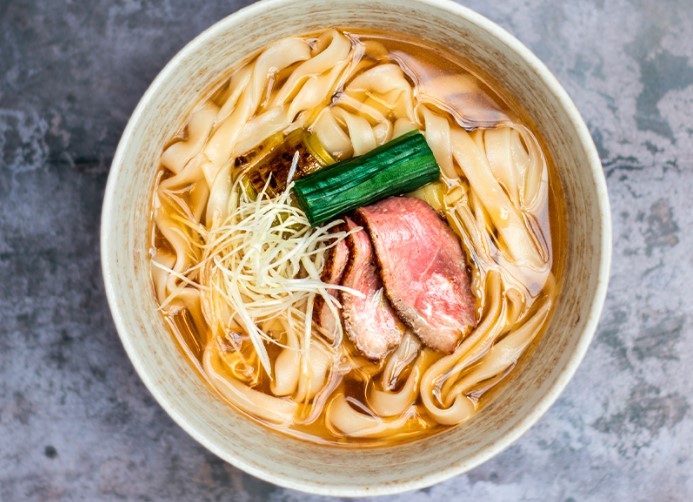 The Mail on Sunday
"I've never met a noodle I didn't like."
Tom Parker Bowles for YOU Magazine was in "noodle heaven" this week, trialling noodle deliveries from Matsudai Ramen in Cardiff ("top notch. A ramen to remember"), a three-day broth (pictured above) from Dinings in London SW3 ("very, very good indeed" but only available in London), and a "a symphony of glorious simplicity" from Koya.
*****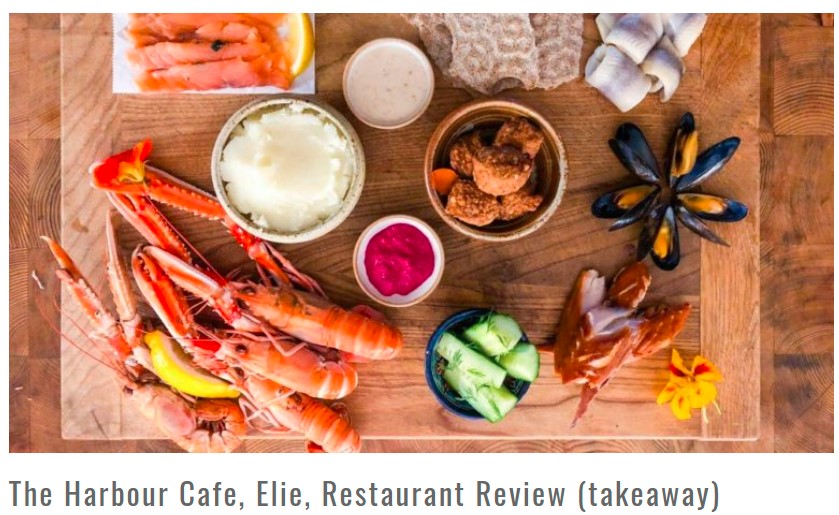 The Scotsman
"Once the thing is in the virtual basket, click your way out of there, don't be distracted by the other pretty pictures, your email or the phone. Focus. Hold your nerve."
Gaby Soutar reviewed the delivery kits from Elie's Harbour Café, owned by Great British Menu's Amy Elles. She lost out on the meal-for-two kit by browsing the add-ons, but managed to secure a smorgasbord kit instead (£60 for two, nationwide delivery) which tutned out to be a "real tombola of seaside treasures".
"Despite the initial disappointment, things… worked out pretty nicely for me."
*****
And also…
Manchester Evening News reported on the proposed third branch of El Gato Negro, due to open in spring, and also the plans to transform Oldham's historic Egyptian Room into a 200-seater food hall, which could open in time for Christmas 2021.
*****
Recent News from Harden's