Harden's weekly update of where the critics are eating, recommending and avoiding, for the week ending 1 December 2019.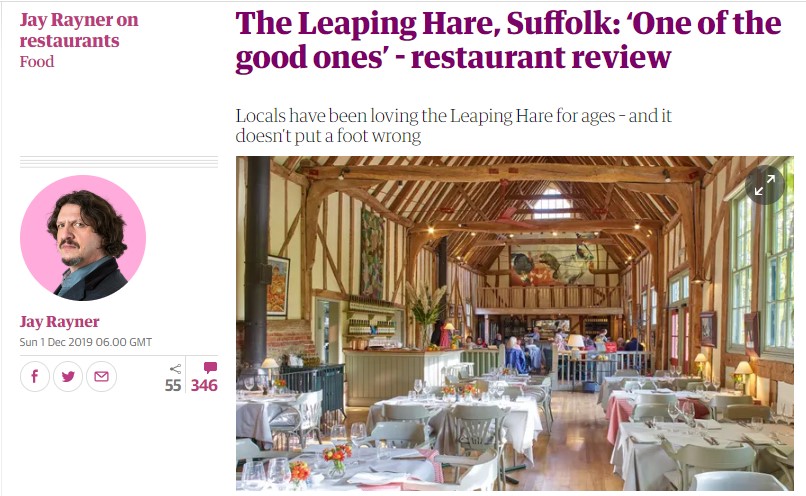 Jay Rayner for The Observer discovered "one of the good ones" in Suffolk this week – even though he's "late to this party, by about a quarter of a century" as it's been in The Good Food Guide for a quarter of a century and proud owner of a Bib Gourmand ("the most interesting award from the tyre company") for two decades.
He strongly suspected that he was in "that part of England… which would think it has little interest in this newspaper" and in the company of an "older crowd", but the "vaulting" space, in an old barn "on the site of one of the country's oldest vineyards", is "tasteful" – "the restaurant equivalent of the bubble bath you never quite want to leave".
"There are hints on the menu of an awareness of the times and their passing. The word "foraged" appears." Jay's starter of roast partridge with white bean stew showed an "understanding of the need for crunch" and texture – as did the other starter of gently "spiced and roasted monkfish", which was "like meeting an old friend unexpectedly, after a long time separated".
Main courses of venison (served with "a rich game jus that's so shiny you could see your face in it") and duck were locally sourced, and served with ingredients "from the estate". Sorbets for dessert were "good" but overshadowed by a pavlova that was "some sort of kitchen witchcraft". There's also "a bustling café down at the other end of the room, knocking out fishcakes, pasta dishes and bowls of mussels. They don't miss a beat, in either space."
"The cooking at The Leaping Hare isn't innovative. It's British produce, given a proper seeing to with lots of classic French bourgeois technique and an emphasis on big, crowd-pleasing flavours." There might not be fireworks, but "as the meal goes on, you will clock just how well you are being cared for".
---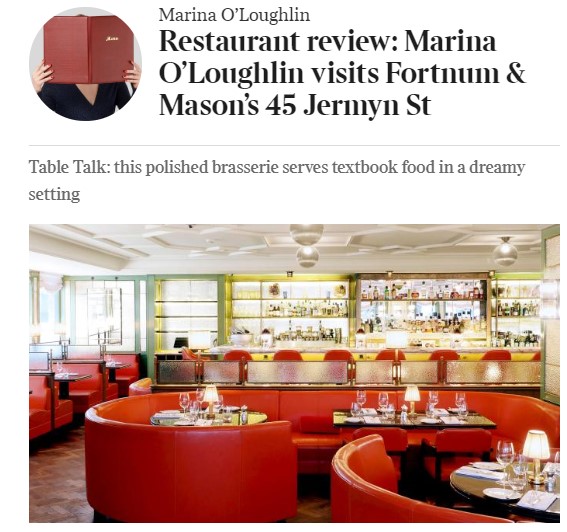 Marina O'Loughlin for The Sunday Times was in search of Christmas cheer – "that vision of Dickensian bonhomie, glittering enchantment and overwhelming plenty". (Her article appeared in The Dish supplement, alongside "flawless" Christmas recipes that she resents, so she needed to get into the Christmas spirit.)
Nowhere else provides "essence of yuletide" like Fortnum & Mason, with its "eau-de-nil frontage and sparkling windows promising everything to even the most miserable festive-phobe". The flagship restaurant is "accessed… via sleek Jermyn Street… an arch play on a grand brasserie in shades of pistachio and burnt orange (more attractive than this suggests), its clientele weirdly democratic, in a St James's kind of way".
From the wide-ranging menu ("everything from "Piccadilly smoked salmon with soda bread"… to gnocchi and agnolotti, steak tartare and Suffolk pork belly, with light outbreaks of kimchi and ssamjang"), Marina ordered "tacos stuffed with raw mackerel out of mischief — it sounds like a classic pratfall dish". It was "perfect", and her companion's Portland crab was "a hymn to beautiful produce and the pleasures of not trying too hard".
"A few dishes are like culinary fossils", but her calf's liver with onions was "textbook… retro dreaminess". It's "nothing revelatory, but equally there's nothing that's not good".
Her rose-tinted view was massively helped by her pre-dinner snack of a toasted cheese sandwich with white truffle: "fine sourdough masquerading as sliced square white, outsides almost caramelised with butter, insides oozing ripe, whiffy raclette cheese", with a grated "heady taupe snowdrift of sheerest luxury". That toastie "suffused me with such a Ready Brek glow of pleasure that they could have served me Wetherspoon's food from then on and I'd still have left happy".
---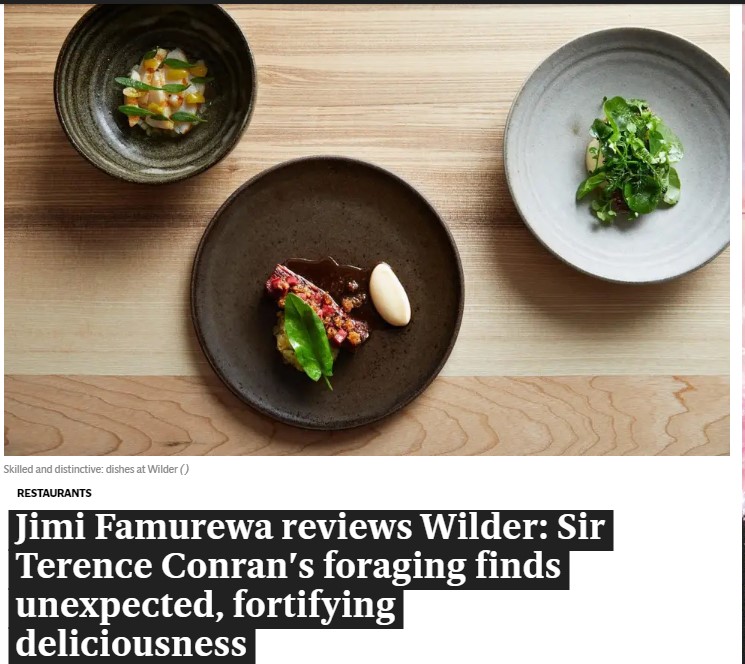 Jimi Famuwera for The Evening Standard tried out Wilder, "the new basement restaurant and bar in Sir Terence Conran's Shoreditch-set Boundary hotel" and was more than pleasantly surprised. It's a "starkly decked, sombre operation" with a "big, glass-fronted kitchen" that "aims to source all its produce within the British Isles" ( and "duly has a haute Dark Ages menu thick with the likes of gutweed, mugwort and other things that sound like JK Rowling inventions").
It's an unusual newcomer in a landscape of "jungly indoor forests, table-side Balearic DJs, giant, glittering, raw bars… cocktails served in kitsch ceramic flagons". Wilder is "intense in its focus and perhaps unfashionably serious in presentation" – no Insta-fodder here – "but also… exceptionally skilled and distinctive… a quietly radical, home-grown take on New Nordic's self-limiting philosophy", albeit one that's "crucially underpinned by warm hospitality and unexpected, fortifying deliciousness".
Jimi and his companion ate well from "head chef Richard McLellan's short menu", starting with an "amazing" elderflower oyster and "belting tempura-battered nettle leaves". Not all the dishes worked, but the main courses of cod with "soothing" chicken liquor and breast and smoked sausage of mallard served with "hemp porridge that came over like supercharged Paxo" were more successful.
"Wilder feels different. And though it may not be heard above the din, it holds your attention all the same." (7/10)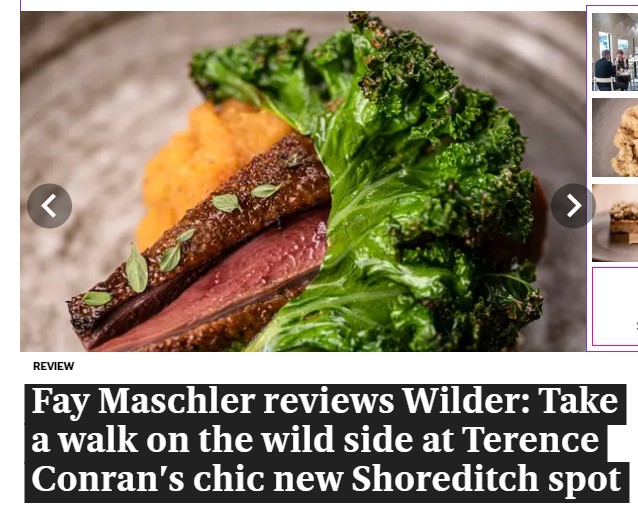 In an embarrassing clash, Fay Maschler for The Evening Standard also reviewed Wilder. She rated it lower than Jimi did, though, and – bearing in mind the entire paragraph devoted to her friendship with Terence Conran which must have increased her score – one can't help but wonder if she didn't really like it.
To be fair, it's not really her thing. Shoreditch, industrial-chic and foraging don't appear regularly in her column. And she clearly didn't like the menu, "written shopping list-style, groupings of ingredients with no clue as to how they will be prepared" (with "sometimes not much elucidation coming from the staff").
She described some of the dishes with phrases like "somewhat random assembly", "clumped" and one that was "made by someone in an advanced stage of hipster ennui". She liked others more, including the "notably good finely chopped red cabbage stew" that accompanied the pheasant, and the apple dessert was "a tightrope walk of sour/sweet, smooth/crunchy, pure/smoky — a delight".
"Wilder than what? Well, than the usual classic French meal that Terence would espouse. Good on him." (***)
---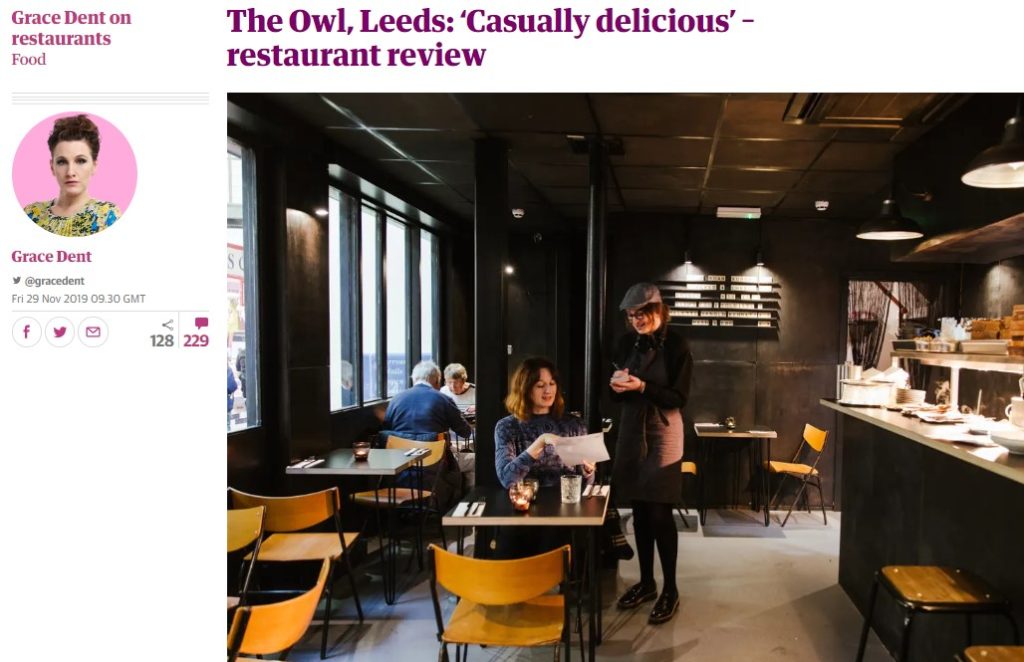 The Guardian's Grace Dent reviewed newcomer The Owl, in Leeds, which is "currently hiding in plain sight as Britain's best city". Locals enjoy their "low-key, Saturday mooch in the gloriously preserved, tastefully re-loved Kirkgate Market" and don't want anyone else to visit. (Grace was particularly taken with the Yorkshire pudding stand – anything from a full English to a roast dinner "wrapped in a large, flat, carb-heaven pudding".)
Kirkgate Market is one of the "old Victorian covered market halls" that we'll miss when they are gone. In Leeds, there's the willpower to save it, led by the "fantastically ballsy" opening of "the first pub inside the market for 150 years" by two chefs, former MasterChef contestant Liz Cottam and ex-Box Tree head chef Mark Owens.
"Something about Cottam's upbeat, relentlessly charming brass neck had me rooting for The Owl to take flight. Because she was bloody mad, but she bloody did it, too." It's "mobbed at weekends – and rightfully so, because it's uniquely marvellous".
It was quieter on a weekday lunchtime, when Grace turned up to try out the mussels, boar and venison dumplings ("clumps of joy"), "earthy" wild mushroom stew and a pudding called lemon drizzle that was "two thick slices of shortbread sandwiched with wonderfully abrasive lemon ice-cream, tastebud-tasering Sicilian lemon curd and some thankfully balm-like white chocolate".
The Owl served "fancy, definitely, but still proper food" that's "just casually delicious." She left "thoroughly incapacitated" and planning to return. (26/30)
---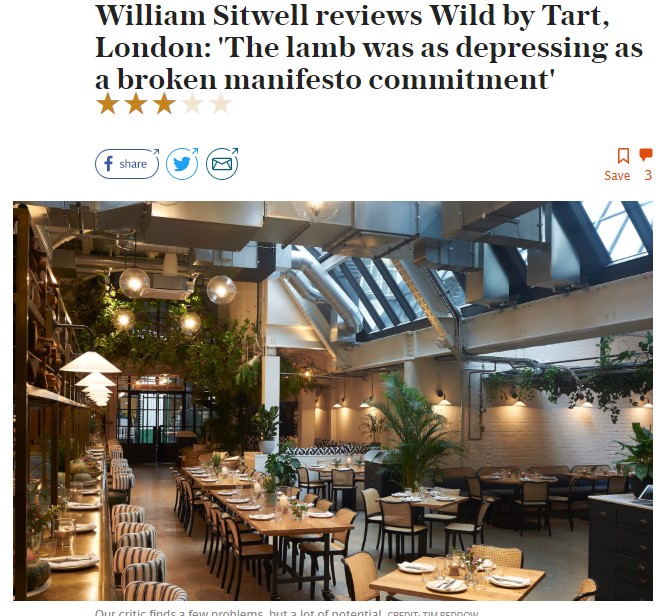 William Sitwell for The Telegraph was the first critic to review Wild by Tart, a long-awaited opening in Victoria, inhabiting a former electrical plant (and car park). "It's nice to see spots created that are the result of passion projects" – especially in an area populated by chains.
His lamb dish was, unfortunately, less of a passion project – it was "was as depressing as a broken manifesto commitment". (***)
---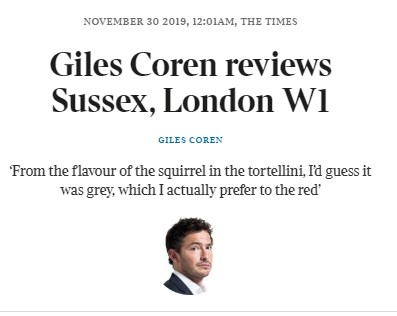 Giles Coren for Saturday's Style magazine in The Times spent £700 on dinner for four at a "hot new place" with "lovely" service and a chef "brimming with technical ability"; unfortunately the "room is all wrong and the lighting is terrible and the tables are weird", the wine list "incomprehensible and the food is just baffling".
"We ordered every single dish on the menu and they arrived looking modern, fiddly and instagrammable, but they all tasted horrid." A "great big fancy clusterf***".
He didn't want to ruin anyone's Christmas with a terrible review, so instead he went to Sussex, a "perfect little place" at 63-64 Frith Street ("an address that has been home to more good restaurants than most whole British cities" – if we ignore Flavour Bastard).
Owners, the Gladwin brothers, "are fully steeped in delicious, fruity, organic and sustainable principles, great wine-making and, in Oliver's case, top-class cooking". Giles had been impressed by The Shed, their first restaurant, in 2013, and followed their openings in Chelsea (Rabbit) and Battersea (Nutbourne).
Their Soho opening is all "dark green tongue-and-groove panelling" and "bare wooden tables", turning "what was once a very modern, urban space into something closer to a poncey Cotswold weekender's spanking new eating kitchen. And I should know."
All the dishes Giles ate were good, from "impeccable tempura garden herbs" ("truly compelling") through "juicy partridge saltimbocca in pancetta" to "little three-quid-a-pop tortellini filled with braised squirrel".
"There's a rotating daily special Wellington always on offer on the blackboard, which is a glorious idea and, by God, they know how to construct one." The duck version was less than ideal, but "I would set my alarm for the days they've got the cow meat on here". (24/30)
---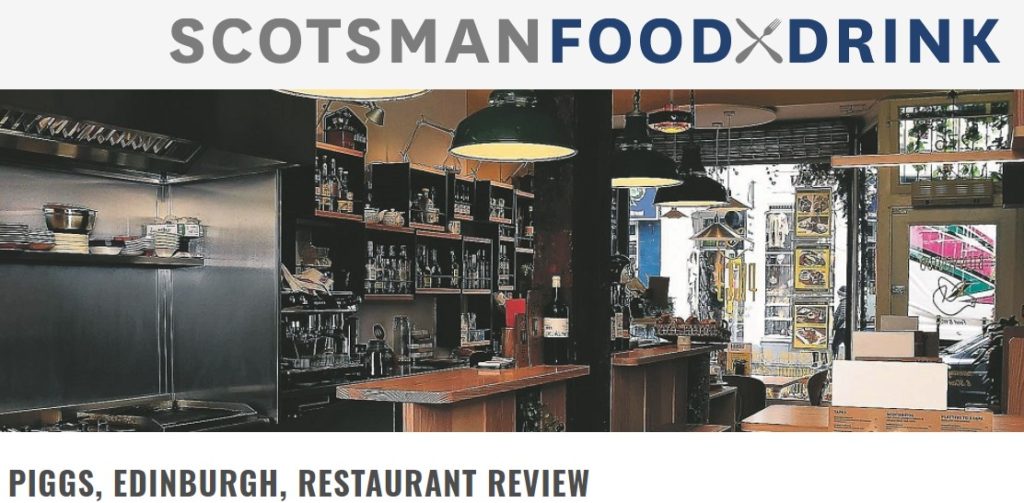 "As consolation for… failed culinary exploits" in Madrid (which culminated in a burger), Gaby Soutar for The Scotsman visited new Spanish joint Piggs in Old Town. It's from veteran restaurateur Iggy Campos and his son Daniel, but "more casual" than his previous places (Igg's and Barioja).
"It specialises in bocadillos", montaditos (open sandwiches) and tapas. Gaby ate jamon croquetas that were "perfectly round and foxy brown, like deep-fried Minions". An "accidental overorder" from the sharing platters brought her a doggy bag full enough for a week's lunches.
"Wonderful" churros for dessert were "hoop-shaped versions, like deep fried scrunchies, were crusty with sugar and cinnamon", and far better than those she ate in Madrid. (75%)
---
Named for the daughter of Irish street seller Biddy Mulligan, this "new restaurant from that very distillation of Irish charm and good craic, Richard Corrigan" opened recently, and Tom Parker Bowles for The Mail on Sunday was first in the doors.
Daffodil Mulligan is "a haven of civilised calm among the rattle and clatter of building sites that surround Old Street Tube, with vast picture windows, open kitchen and wicker-backed chairs", that "steers admirably clear of hoary-handed cliché".
"There's very much a feel of Anglo-Irish entente here" – "you get the feeling that Corrigan and his head chef Simon Merrick feel rather liberated in this kitchen, set free from the seafood classism of Bentley's, and the more refined reaches of Corrigan's Mayfair".
Many of Tom's dishes were sent out gratis by Richard himself, so he can't officially review them, but he definitely enjoyed the oysters, langoustines and golden crubeens ("softly seductive nuggets of ham and trotter").
"Beef tartare is served in an oyster shell with an umami heavy oyster cream… tartare deluxe, but stealth wealth rather than ostentatiously rich". "Best of all" is a whole chicken, "perfectly steamed" in a salt-baked crust – "each mouthful is a tender, fecund, umami explosion". (****)
And also…
Nicholas Lander for The Financial Times reviewed Trivet, "a new venture from the former head chef at The Fat Duck and the sommelier who worked alongside him"; "robust flavours, intriguing desserts and a wine list as big as a family bible"
Recent News from Harden's