Harden's regular round-up of the restaurant critics from the week ending 2 June 2019.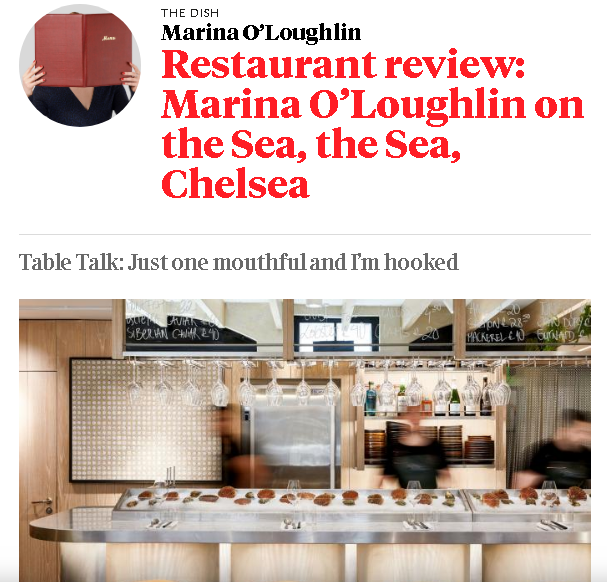 Marina O'Loughlin for The Sunday Times has "stumbled across the living definition of the word "precious": a seafood restaurant, a fishmonger and a champagne bar in — where else? — Chelsea".
From the people behind Bonnie Gull, this "genuinely exciting" fish-shop-deli-bar-restaurant ("every bit as much of a lifestyle mall as Westfield") is a "tiny space" ("refreshingly free of nautical kitsch"). There was no sign of 'executive chef' Leandro Carreira, but the chef in charge was a fine stand-in: "we start falling silent at the arrival of a tray of immaculate oysters… with each successive arrival, we're more and more schtum". Innovative pairings (hazelnuts with oysters, sashimi with raw potato noodles) are hailed as "such a smart move".
The "house style" is that "the seafood is allowed to shine: pure, sparkling, pristine"; "it's all so simple, so clever, so glorious to eat" (Marina apologised for gushing at this point). Her favourite dish was "monkfish liver, aka foie gras of the sea… whipped through with sorrel and something citrussy — yuzu?… it's a borderline insane collection of flavours that makes me gasp with pleasure".
The restaurant is named after an Iris Murdoch novel that was reviewed as "as ludicrous as it is brilliant", which is equally appropriate to this strangely "monastic", bijou Chelsea spot. "The Sea, the Sea won't be for everyone, but it will thrill those of us devoted to sparky-fresh seafood."
---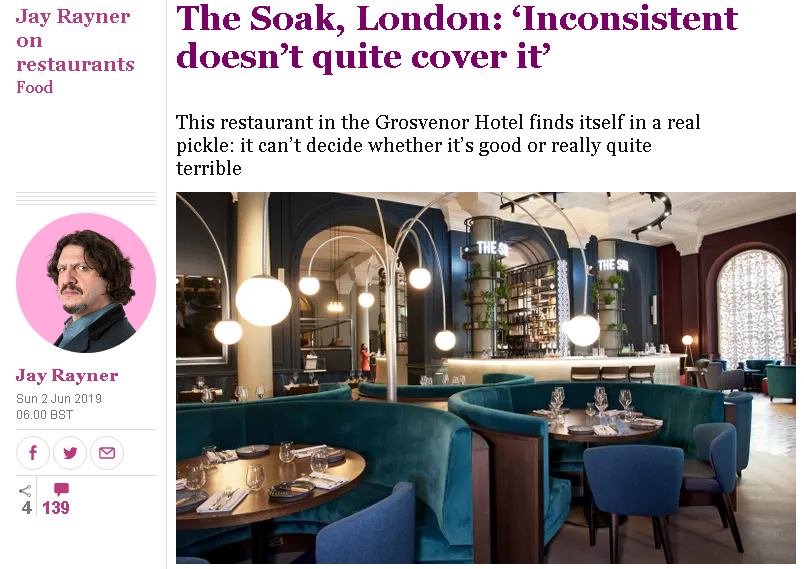 Jay Rayner for The Observer is on the opposite of a roll, review-wise. Last week's disastrous meal at Ashburn SW7 has been followed up with one even stranger, if that's possible. Named for its "on-trend interest in pickling, fermenting, brining and the like", The Soak is the newly-installed restaurant at The Grosvenor in Victoria.
"At times it feels as if there are two kitchens back there. Cross your fingers and hope you get food prepared by the good one." Will you "coo and purr" over your dish, or will it leave you with "aching eyeballs from all the rolling"?
From the good kitchen came "sweet-salty picked" veg ("crunchy and thrilling without being wince-inducing"), "cured venison with a pleasing bite and intensity", lamb belly fritters with black garlic mayo that are "a huge hit of meaty lanolin", a "silky" cauliflower soup, "smoked kohlrabi laid on a bold pea-green risotto of spelt", a "meaty roasted wood pigeon" and a "masterful dark chocolate and honeycomb baked Alaska".
And the 'other' kitchen served up a "grim", 1970s-esque boiled egg salad, a "dull plate of crunchy, rubbery things" described as "hot and sour pickled prawns", "floppy and underseasoned" tomatoes, aubergine tempura that was "an insult to deep frying" and a "flavourless fillet of cured trout" served with "bland and uninspiring" accompaniments. The pudding was – of course – "a failed rhubarb souffle"; "it feels like the cook responsible for the pigeon dish popped outside for a fag while this one was being knocked up".
"For the money spent, which is significant, the whole experience is deeply unsatisfactory. But it's also something else: it's just seriously, inexplicably weird."
---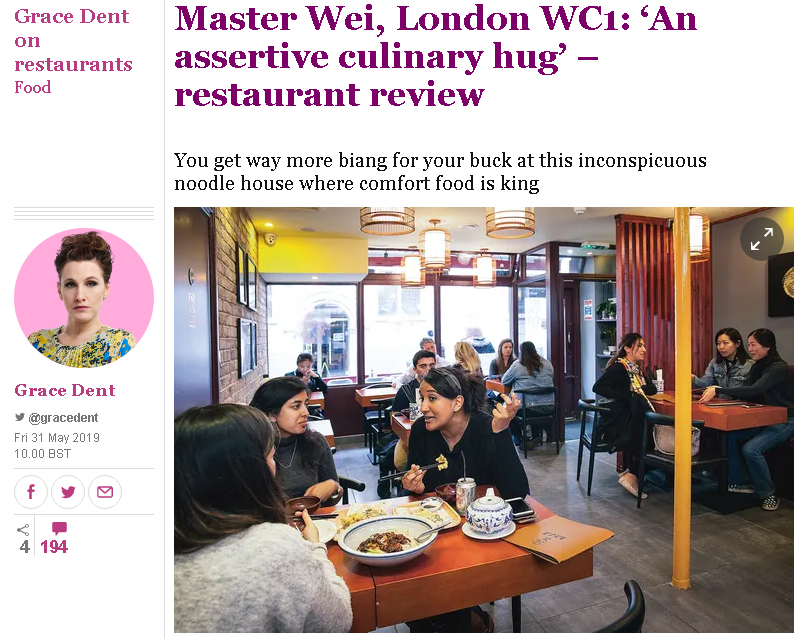 Grace Dent for The Guardian enjoyed the plain-looking but punchy biang biang noodles ("substance deliciously overriding style") at a surprisingly empty Master Wei (although "trade was roaring via Deliveroo").
The biang biang noodles delivered "an assertive culinary hug" – "comforting carbohydrate with a kick that creeps up on you", and the other "authentic Xi'an food" was good, too – hand-shredded spicy chicken was "remarkable" and thinly sliced kelp with "face-twisting" kimchi was "magnificent". Service from the "cheery waitresses was of that comedic level of neglect that you can't even be cross at".
So why was it so quiet? "It is a riddle, wrapped in a mystery, in a spicy dressing, with a loyal audience that's too lazy to visit." (19/30)
---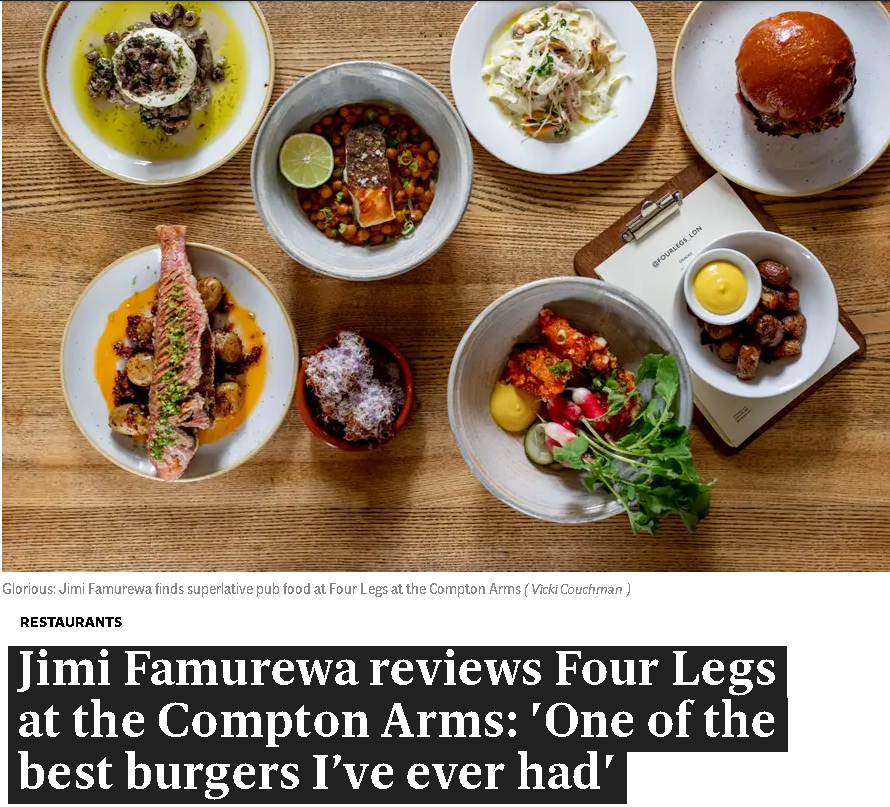 Jimi Famuwera in The Evening Standard went to Islington to check out the new kitchen team (Four Legs) at The Compton Arms, "a tucked-away, hallowed former local of George Orwell, retooled and reopened last autumn". It's said to be the inspiration for Orwell's "fictional, idealised pub called The Moon Under Water", and is a staunchly Arsenal-supporting pub.
Four Legs (two chefs called Ed McIlroy and Jamie Allan) have brought "a gently surprising, unapologetically carnivorous, quicksilver take on pub food" to The Compton Arms, which "is — for the most part — immensely cheering".
Food envy, watching another table order a cheeseburger, made him order one too – and it was "honestly one of the best burgers I've ever had" – "nostalgic, restrained and almost psychedelically beefy". Unfortunately, after that, "the rest didn't fully hang together" – the "fantastically crisp fried chicken pieces" and asparagus dishes were oversalted. "Respite" came from a "hillock of buttermilk pudding with the mellow tartness of poached rhubarb (the sole dessert)".
And then the Arsenal game was switched on. (7/10)
---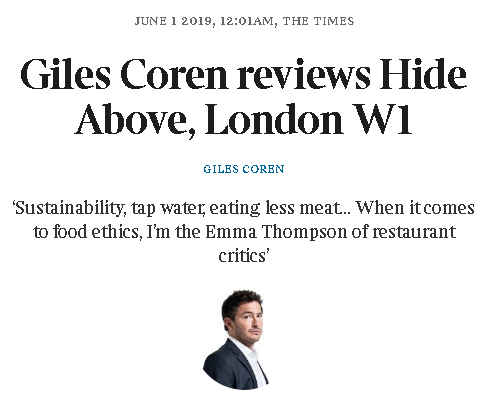 After promising to cover more of the "keenly priced, accessible, local little places" he's reviewed recently, Giles Coren for The Times went to Hide Above, from the "one-time wunderkind, now London fine-dining stalwart, Ollie Dabbous, which opened this time last year and was so widely reviewed that I felt like I'd been about 15 times when I hadn't been at all." Not really on a budget, then… "the menu is £115 without supplements and the wine pairings go from £95 to £495 and THEN they add service".
There was a long ramble about sustainability and addressing food waste, which he believes he invented, before the review started. No worries about food waste at Hide, though – "everything is teeny-tiny" (although "very nice"), with "divine mouthfuls that leave you satisfied but unfilled" from the "compulsory tasting menu" that was thankfully "not an excessively long one".
Giles "didn't like the cheese board with the bell jars over everything… it looked medical and grim, like a 19th-century surgical trolley" and found the "puddings a bit disappointing after the earlier fireworks".
He describes the place itself as "meh" and that famous staircase "as if Bilbo Baggins had designed a staircase for Downton Abbey"; the "dreary oak tables" upstairs in Above are "dressed with the fanciest glassware (towering wine tulips and coiled glass carafes of insane pretentiousness, like the glistening intestines of unicorns)". The "wonderful" staff are equally oddly dressed, in "extraordinary, off-white, full-body aprons like celestial butchers".
"A great place to go and eat hardly anything with some very good wine, safe in the knowledge that nothing, absolutely nothing will be thrown away." (28/40)
---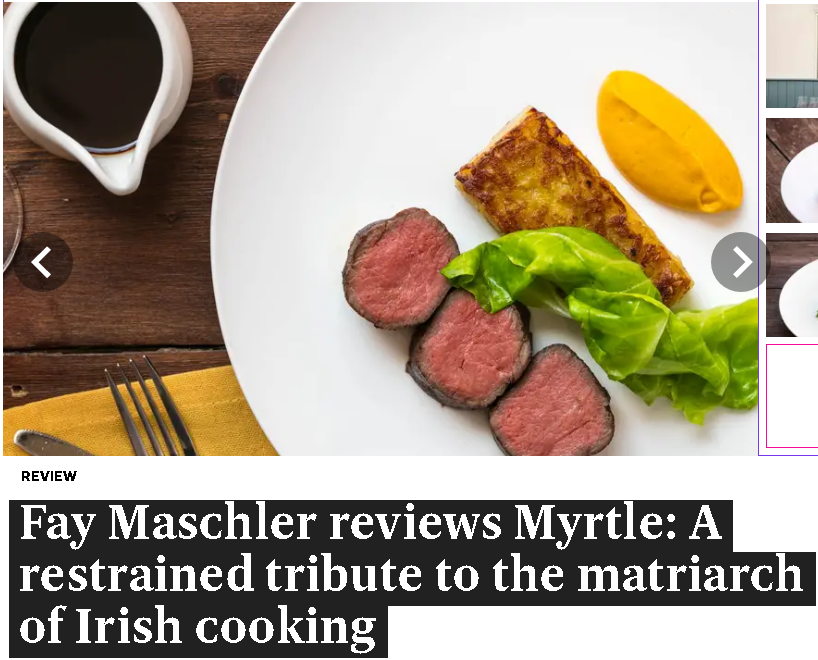 Fay Maschler for The Evening Standard was, once more, the first to make it to Myrtle, the new solo venture from "Dublin-born" chef Anna Haugh; she declares it "a restrained tribute" to Myrtle Allen ("the matriarch of Irish cooking") of Ballymaloe House.
"The combination of her skills and the espousal of prime Irish produce and traditions… is a captivating notion." Haugh has introduced "ingredients like Clonakilty black pudding… and recipes like boxty… into the slightly constipated techniques and tropes that tend to gather Michelin stars" with "brio, generosity, a loosening of stays, maybe even a nip of recklessness".
Myrtle is a "simply decorated, pastel-painted two-storey space" in World's End, staffed by "peculiarly formally attired front-of-house staff". Prices are on the steep side, with "exacting" wine mark-ups and portion control that "comes across as stingy — not an Irish characteristic". It needs work before it settles in as the neighbourhood restaurant Haugh has envisioned.
Fay ate "black pudding neatly wrapped in potato strings before frying served with with apple purée", "roasted beef fillet with Burren beef-stuffed boxty" ("rather priggish in presentation") and followed it up with "buttermilk panna cotta with rhubarb jelly and cinnamon doughnuts… a superb assembly, light and wibbly and painterly".
"Myrtle Allen might have also said — but since she didn't I will — that in your own restaurant you can afford to make it seem like an extension of home." (***)
---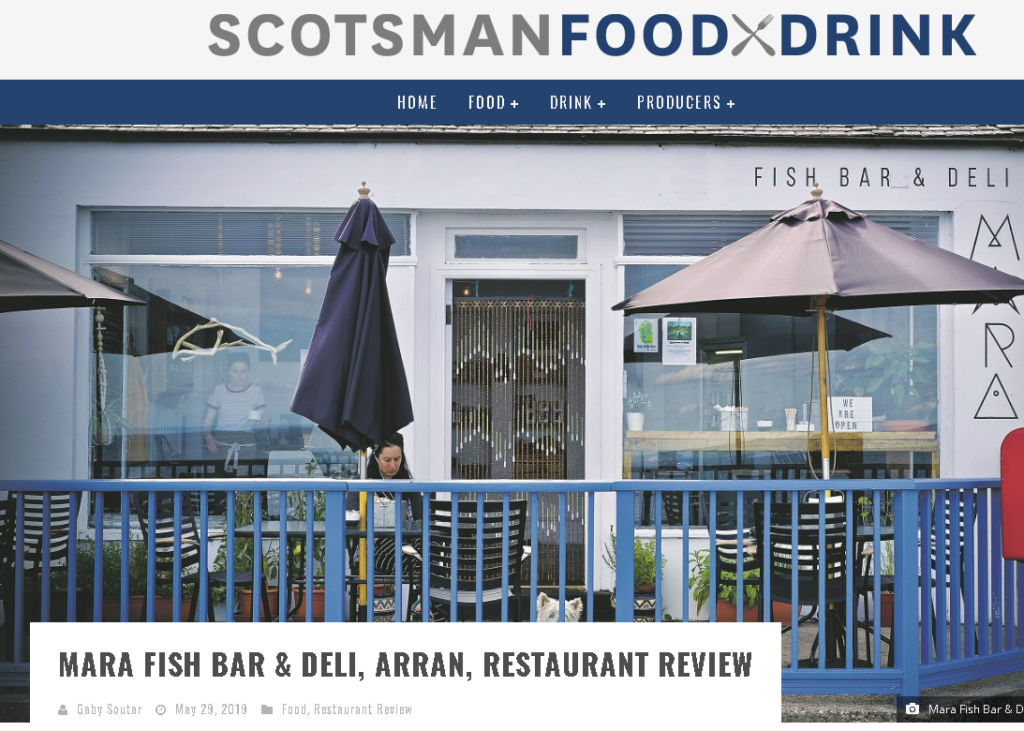 After scattering her father's ashes in the waters of the Isle of Arran, Gaby Soutar for The Scotsman (and her family) stopped off for a meal at the year-old Mara. It's an unlikely venue for an impromptu wake – it's "officially a takeaway, you can't make bookings and there isn't a toilet". But the food made up for that.
Mara is "a two person operation", a husband-and-wife team serving up fish and seafood in "eco-friendly boxes". Gaby ate ling in a "rich iron red tomatoey and coconut milk sauce"; other dishes included coley with "Arran venison chorizo and pea risotto", Skipness smoked mackerel croquettes, served with "garlicky kale chimichurri" and hand cut chips), Skipness hot smoked salmon mac and cheese and fish tacos.
They ended the meal with white chocolate cookies, a "gummy-centred chocolate brownie" and "the best coffee on Arran". A fitting, fishy, farewell. (85%)
---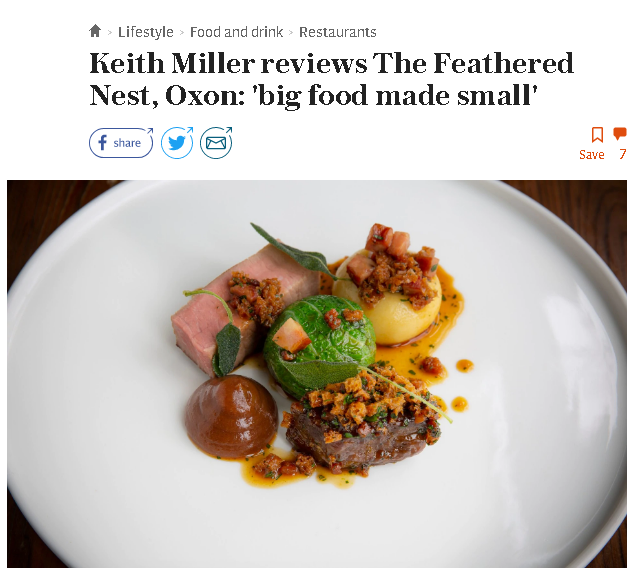 Keith Miller for The Telegraph walked to his latest review ("another posh pub-restaurant (PPR)" in the Cotswolds) through "impossibly, paradisaically beautiful" countryside. The Feathered Nest in Nether Westcote "does that classic PPR thing of being small and cosy and publike in the front, but expansive and glassy and view-affording at the back".
At £55 for three courses (cheaper during the week), it's a "spendy" option (especially with few wines under £30); the "food looked not just appealing but imaginative, with a few Polish touches enlivening a fairly archetypal PPR line-up". One such Polish touch was the pierogi with rabbit, "three little stegosauri of joy, the meat rich and rendered, and delicately spiced".
The Feathered Nest serves "big food made small"; not everyone will appreciate their local being turned into an upmarket restaurant, but those seeking out "a warm, effusive welcome, and mostly excellent cooking, grounded in the familiar but full of ­personality and surprises" will be happy – if considerably poorer. (****1/2)
Something a little bit different from Tom Parker Bowles for The Mail on Sunday this week. No, not a review that gets something other than four stars, but a Mexican restaurant we'd previously not heard about (even though it's been around since 2016, starting "as so many places do", as a food truck), in Woking, of all places.
Tom describes Araceli as "briskly utilitarian" with "a polished concrete floor, whitewashed walls and a queue winding out of the door"; it breaks free from the norm of suburban "turgid Tex Mex, with comedy sombreros, cheap tequila slammers, sizzling fajitas and wincingly awful puns" with "serious Mexican street food, served up with lashings of warmth and soul". The menu of tacos ("with three different fillings"), empanadas, "vast burritos, decent margarita… fresh, home-made salsas and icy hibiscus juice" is delivered by "its two Mexican owners" – service is "as swift as it is charming".
Beef brisket taco is "a six-napkin taco, as the juices stream down my hands and arms, staining the front of my shirt". He describes other dishes using the Mexican names, without translation or explanation, just to show that he's been to Mexico. A "cochinita pibil, stained orange with annatto" is "as good a taco as I've eaten anywhere in this country. Hell, it could hold its head high in Yucatán."
"In a time where those mediocre middle-market chains are falling like flies, this is how to get things right." (****)
And also…
Nicholas Lander for The Financial Times was in Norwich, at Benedicts, "an integral part of this elegant city"; "it's prime asparagus season: take full advantage of this all too temporary treat".
Briana Millett in the Bristol Post reported on the opening of Seven Lucky Gods in the new, extended, Cargo 2 development at Wapping Wharf; an izakaya-style Japanese with a roof terrace.
Emily Heward for The Manchester Evening News reported on the demise of Manchester's Curry Mile – there's now just eight restaurants left from a high of 50 in the 1990s. They have been replaced – and improved upon – but places like Copper Lounge in Hazel Grove, which has "been steadily gaining a loyal following since 2015". "Curries span the subcontinent", Kashmiri lamb chops were cheaper (and better) than Dishoom's, "sides provide a strong supporting cast", staff were "versed in every minutiae of the menu", they have even "bothered to source some local beers": it's "pure gold".
Recent News from Harden's