Our weekly round-up of what the national and local restaurant critics are writing about, for the week ending 30 May 2021.
*****
The Sunday Times
"In years of doing this gig I don't think a week has gone by without someone complaining — via whatever platform — about the bill."
After a quick detour about the "curious anti-snobbery about paying for restaurants" (when they are perfectly happy shelling out money for "cars, watches, football matches, silly trainers, cruises") Marina O'Loughlin decided to write about all three of the restaurants she'd been to, "all good at what they do… couldn't have been more different, nor could their bills" to see if they were "worth it".
First, she was "drawn back to Basque-style Lurra" in Marble Arch, with its appealing "outdoor space, an almost secret courtyard". The "brutally short" menu has none of the "small plates and tweezered microherbery" you might expect, rather it's focused on beef, retired Galician dairy cows, to be precise, giving meat that's "as ripe and uncompromising as Seventies club comics", a blend of "long-hung beef, blue cheese and cultured butter" (or "rank" as her companion described it). Marina ended her meal with a "hedonistically rich" but "angelic" Basque cheesecake. It was good, but was it expensive? "Hell, yes."
Next, to newcomer Chameleon which has landed at One Marylebone "like an explosion in a confetti factory". It's in a "neoclassical church designed by Sir John Soane" with "tables set in a series of plant-decked greenhouse", serving a "Tel Avivian gastro sharing" menu, but surprisingly for such a "glitzy environment… chef Elior Balbul is a serious talent". Marina doesn't throw out adjectives like "stellar", "thrilling", "considered" and "irresistible" to any old fodder.
Finally, to Dimsum & Duck, which "quietly opened on the unlovely King's Cross Road" last year. From the décor and the loud delivery service adverts, Marina had low expectations, but "everything I've eaten from here has been astonishing". Even the most basic dumplings "I prepared for standard freezer jobs; instead I got something almost ethereal". A dual thrill, of a bill under £50 for two and the "glee of discovering sublime cooking in an unlikely, unheralded location"
The costs for two (with service) were, respectively £217, £134 and £43; but "bald "cost" is a different proposition from "value", which is entirely subjective". Ultimately, now as ever, "it's not whether or not a restaurant is worth it, it's whether it's worth it to whoever's picking up the bill".
*****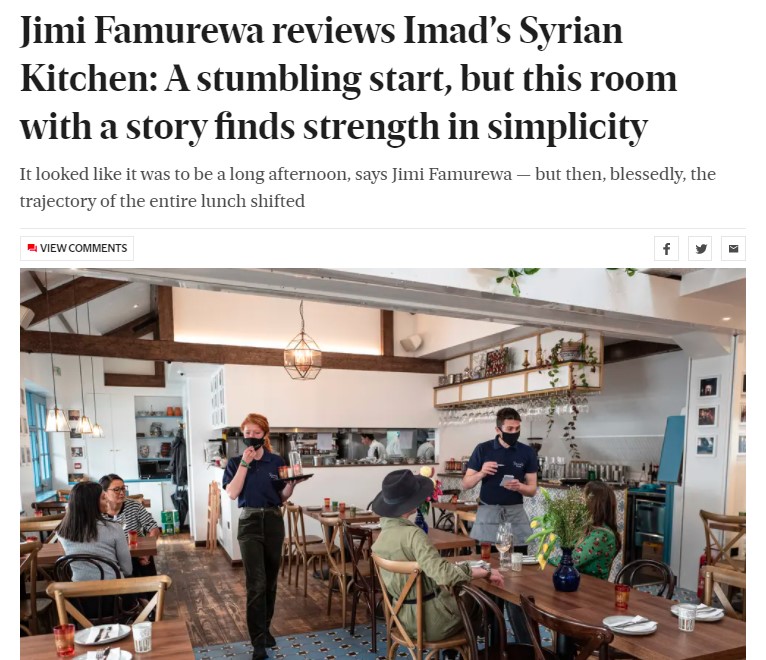 The Evening Standard
Jimi Famurewa in The Evening Standard visited Imad's Syrian Kitchen, which received countless (and brilliantly PR'ed) newspaper inches last year for never quite managing to open a permanent location due to various lockdowns. Chef Imad Alrnab's engaging story – a six-year journey from Damascus, "becoming a pop-up sensation and raising thousands to aid the refugee crisis" – is only matched by his "warmth and immense likeability".
Bar "a few fairly hairy early moments", Jimi was impressed; even a visit to the toilet stirred "unexpected emotion"; "small communal area has the feel of a domestic shrine, quietly reminding you of the history, cultural richness and human joy razed by a decade of conflict".
Initial dishes were disappointing, with "coy" and "disharmonious" flavours, at which point Jimi was considering not writing the meal up, rather than publishing "a review that would feel like the critical equivalent of… dropkicking a Minion onto a dual carriageway".
"But then, blessedly, the trajectory of the entire lunch shifted." The subsequent dishes were flavoured with "care and unequivocal brilliance". Everything Jimi "had heard about Syrian cuisine's fragrant left-turns, vibrant punch… and generosity of spirit" was suddenly there.
Those "flashes" and "the things that really work, point to an enterprise that should orient itself around abundance, simplicity and the traditions of the home".
*****
Also in The Evening Standard, Naomi Ackerman reported on the staffing crisis looming in the hospitality business.
"A toxic combination of Brexit and Covid has left many short of people to fill positions, right at the moment every site needs more staff, owing to the requirement for table-only service until June 21."
*****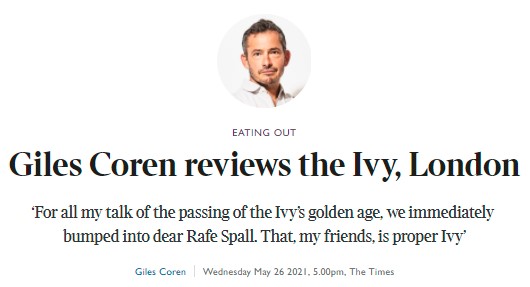 The Times
On "the day of the Grand Reopening of Everything" Giles Coren took his daughter to The Ivy as a pre-theatre treat before seeing The Mousetrap. As he explained to his ten-year-old, The Ivy "used to be very, very difficult to get a table there and everyone inside was either very rich or very famous", but was bought out and franchised (he used smaller words), but even she got the idea that the brand is now "a bit like McDonald's" – and they even serve burgers.
He was pleasantly surprised, then, when he ran into a genuine celebrity in the entrance, and everything seemed to be just as it always was, with no discernable decline; even the shepherd's pie was "still as good as ever".
Kitty noted the lack of kids' menu but Giles reassured her there was one: "at the Ivy they just call it the menu".
"The only flaw: in the long layoff, everyone had forgotten how to eat and be out in time for the theatre."
*****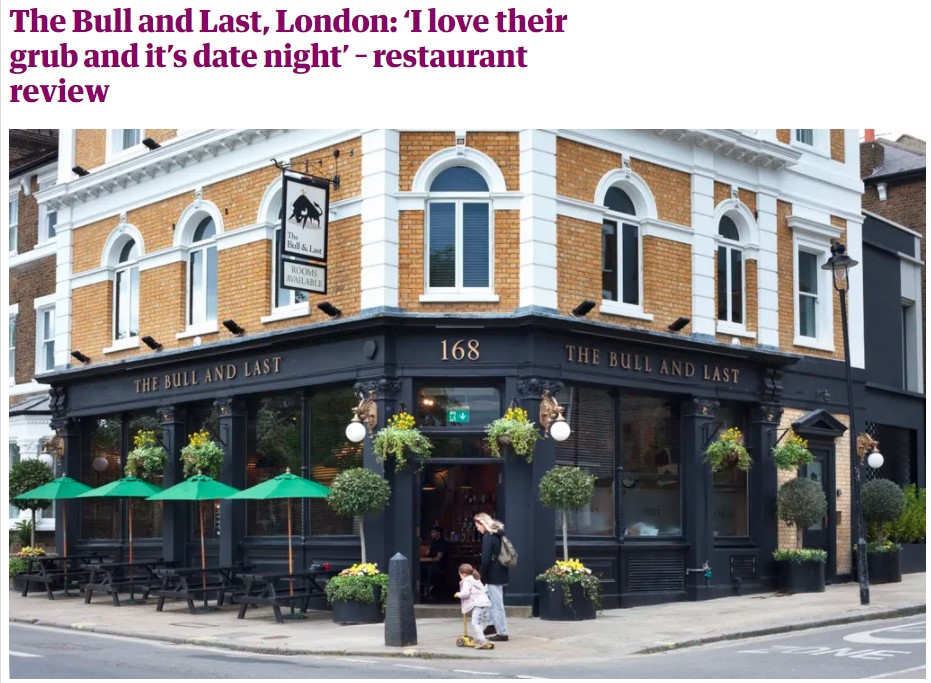 The Observer
Jay Rayner is currently off recovering from a hip operation, but this week handed the reins to his column over to Fay Ripley, actor and cookbook author, who understandably feels the pressure; "as if he'd given me the keys to his sports car or entrusted me to breastfeed his firstborn".
"The jammiest job in the business only requires the answer to one big question: which restaurant brings me joy?" And, after scouring guides and maps and pondering all sorts of opinions, Fay chose the pub at the end of her street, which is luckily The Bull and Last.
The 300-year-old pub's lasting appeal "lies not just in the oak-panelled open bar and restaurant, but in the staff's warm and familiar greeting", helped by the use of produce and suppliers that "are key to the success of this place and… elevates each dish that arrives".
Trying to avoid meat and fish, Fay ordered a vegetarian starter, unlike her husband whose calamari were "a kindergarten of seafood so good, I start planning our next visit before our main course has even arrived". She also eschews the "buttermilk chicken that I've been having a food affair with for a number of years".
"I'm a confident cook who loves being in my own kitchen, so I need to walk away from a night out knowing I could not have done it better. Well I couldn't."
*****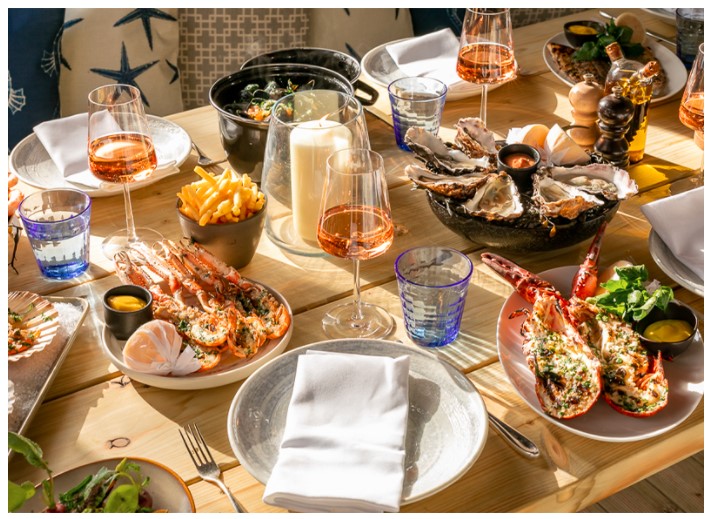 The Mail on Sunday
Like Giles Coren some weeks ago, Tom Parker Bowles for YOU Magazine endured "the insidious cacophony of an eternally reversing truck" during his meal in the brightly striped beach huts at The Berkeley (Giles apparently asked them to stop, and was rewarded with a lunch in peace).
But even the noise didn't deter him from a three-course, two-bottle lunch. "If you are going to take lunch in an urban beach hut, then make sure it's one built by The Berkeley hotel. Smooth, slickly smiling service, a mainly piscine menu to please even the prissiest of palates."
*****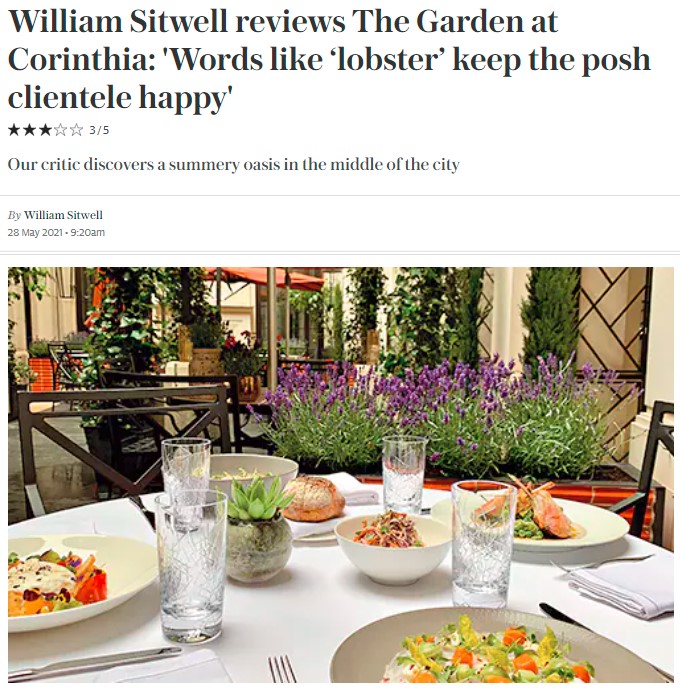 The Telegraph
Never happy with slumming it, William Sitwell booked himself into The Garden at The Corinthia, the "elegant atrium al fresco joint" that started life as the luxury hotel's Covid restrictions response; it's "a beautifully relaxing space, civilised and comfortable and an eon from the austerity of Whitehall".
The current menu "has a Mediterranean spring lightness" to it, with luxury touches "to keep the posh international clientele happy". From the "impeccable and very pretty starters" to the "perfect chocolate fondant", it sounds as though William was pretty happy, too.
*****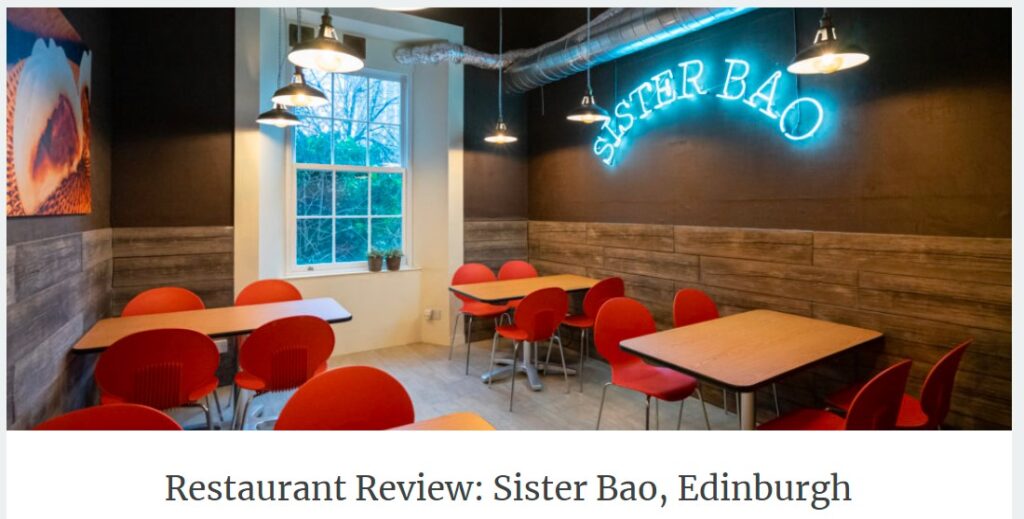 The Scotsman
"It's always yum cha o'clock somewhere in the world."
Gaby Soutar visited Edinburgh newcomer Sister Bao, appropriately with her sister and family, and ate a selection of dumplings, noodles, "candy floss fluffy" buns, soupy xiao long buns and "soul food" wonton soups.
"We love it here. It's not fancy inside, with a wobbly table and canteen-style seating, and you could easily walk past their steamed up window without paying it much attention. However, our table of two adults, two kids and a baby… were extremely well fed for under £40."
*****
And also…
The Financial Times interviewed chefs David Carter and Richard Corrigan, and posed that eternal and ever-intriguing question (especially in the week that saw the end of The Good Food Guide) "What's wrong with the Michelin guide?"; "critics of its restaurant ratings say it is elitist, stifles creativity and is simply too French. Yet chefs still crave a star…"
*****
Manchester Live reported on the forthcoming opening of the UK's third branch of Pizzeria da Michele, the Neapolitan pizza chain, made famous by Eat, Pray, Love, whose "pizzas have often been named the best on the planet, ranking even higher than Manchester's very own Rudy's".
*****
Hot dogs, fries and beer slushies are on offer at Cargo in Wapping Wharf, thanks to Dog Town restaurant, as featured on Bristol Live. This being Bristol, all dogs can be made vegetarian or vegan.
*****
Sanjeeta Bains for Birmingham Live reviewed newcomer 670 Grams and declared it "the hottest restaurant in town"
*****
Recent News from Harden's