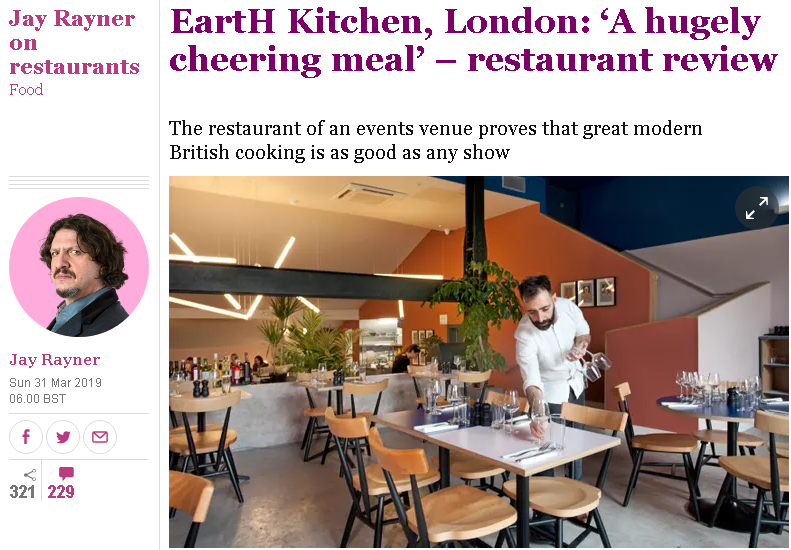 Jay Rayner leaped straight in to describing the food when reviewing EartH (not a typo) Kitchen for The Observer; stopping just long enough to explain that it's "the restaurant of a major new arts venue in London's Hackney".
Crispy pig's cheek salad was "an adult bowl of food designed to make those with encouraging appetites sigh and perhaps weep a little with happiness" – and all for £6. Other dishes on the small plates menu also used meat "less as focus for the plate, and more as a flavouring", while the most expensive dish on the menu was a whole roasted pigeon at £16, served with a "gloriously happy, flame-coloured mess" of roasted vegetables that "are worth the price of admission by themselves".
Chef Chris Gillard is a St John alumnus, which can be detected in certain "key references" – or what Jay calls "the butter-smeared palm prints of Fergus Henderson". The food is that "distinct form of modern British cooking, full of robust flavours and nerdy intent", genuinely led by ingredients, not Insta-ready presentation.
Desserts had "a classy school dinners vibe" (the cheese is also recommended), service was "engaged and keen without being weird and stalkerish". The only duff notes were keenly priced wines, and the 700-seat auditorium suddenly emptying into the dining room at 9.30pm ("if you don't want to get caught in the rush make sure to check what's on").
"I don't know what the capital H is about, and I don't care. They can call themselves Hairy Baboon's Arse for all I care, as long as they carry on serving their big muscular dishes, at these prices."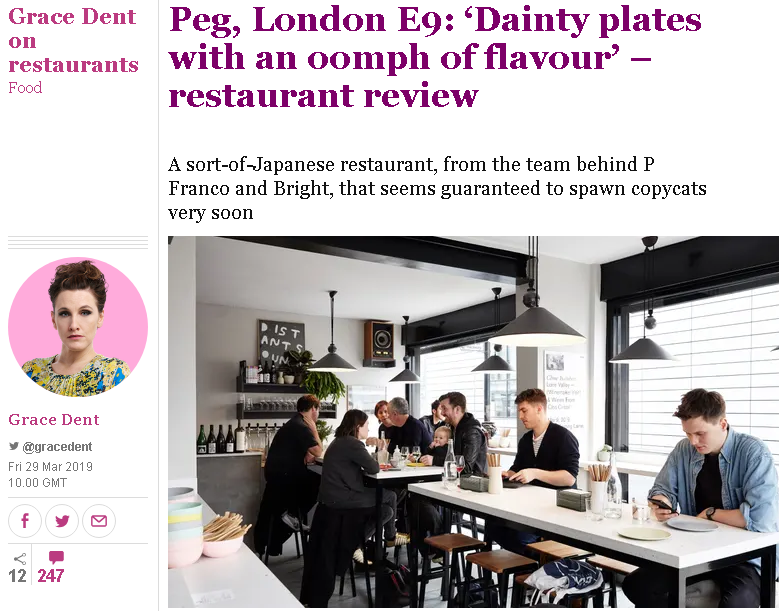 Grace Dent for The Guardian was in Hackney, at the new restaurant from "the team behind P Franco and Bright (the real deal whom everyone else eventually copies)"; Peg (it replaced a restaurant called Legs, geddit?) is a "sort-of-Japanese restaurant", although "not Japanese in any way to which the British may be accustomed".
"Dainty small plates" listed on the monosyllabic blackboards were "each served with an oomph of flavour". There was "exquisite" tofu ("some of the best I've ever tasted") and "delicate servings of offal" presented "in a yakitori manner". It's all counter seating (recycled, of course), so there's no getting cosy, but the "delightful" staff ("that glorious type of food nerd with whom you would happily eat dinner") made her feel welcome.
Desserts and drinks also rated a mention: "slightly stinky amazake ice-cream made out of fermented sake leftovers… is at first awful, then compelling and then life-changingly delicious… it's green… like something scraped from Oscar the Grouch's home. But, by God, I want it again." And the Ine Mankai sake was "entirely delicious… sweet, smoky, pale pink and perilously gluggable".
"Peg will not be to everyone's taste, but it is one of my favourite openings of 2019 so far. It is bold at a time when the restaurant world is being very cagey, and I respect them for it." (24/30)
In The Financial Times, Tim Hayward also reviewed Peg as "honestly awe-inspiring": "I'd eat a chicken raw, in full feather and fighting back if chef Fini said so".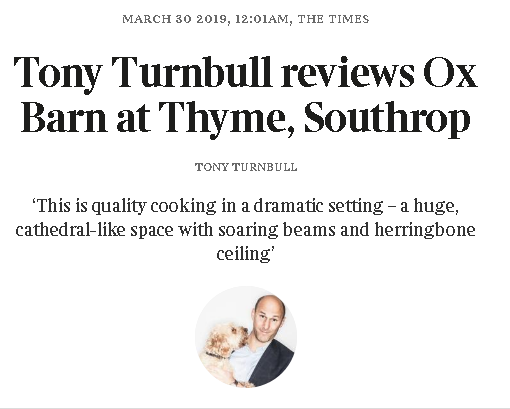 To save us the trouble of getting sarcastic about Giles Coren not appearing in this week's Saturday Times Magazine, Tony Turnbull got in there first: "after two consecutive 10 out of 10s, Giles is having a bit of a lie-down in a darkened room, cool flannel pressed to his forehead, as Esther feeds him restorative bowls of chicken soup".
Equally kindly, "for continuity's sake" for us regular Giles Coren readers, Tony aimed to "seek inspiration from his favourite stamping grounds. Which basically means Kentish Town or the Cotswolds". Not that it's easy to find somewhere Giles hasn't already been, but luckily Tony featured the "village within a village" Thyme at Southrop in Gloucestershire for The Times' March issue of Luxx magazine, so happily doubled up with a restaurant (and pub) review.
Thyme is nestled in "impossibly pretty" countryside that's a "cinematographer's fantasy land" but is "less arsey than some of the more famous media-set pleasure palaces that abound in these parts". The son of the owners, The Hibberts, currently runs Ox Barn, the estate restaurant; he's spent time wth Darina Allen ("so he's all about ingredient-led cooking") and at Quo Vadis, and sources many of his ingredients from the estate's 150-acre farm.
There was "a relaxed confidence about the way the dishes were put together", even in the lean season before the farm really starts producing, there was a "fennel and spinach soup so green and wholesome it could contest a Brighton by-election", roast cod with "artichokes and a vivid parsley sauce". The "trencherman portions" were such that Tony didn't have room for pudding.
Ox Barn itself is a "huge, cathedral-like space" with "soaring single-span beams [and] original herringbone ceiling". "Fine food and film-star good looks. I'm beginning to understand why Giles likes the Cotswolds so much."
Top Tony Turnbull Tip: If you want to "experience some of the culinary vibe for less, the Thyme estate also owns The Swan pub opposite". (He ate there the next day, and enjoyed a hake dish that "would be right at home in any Michelin-starred restaurant".)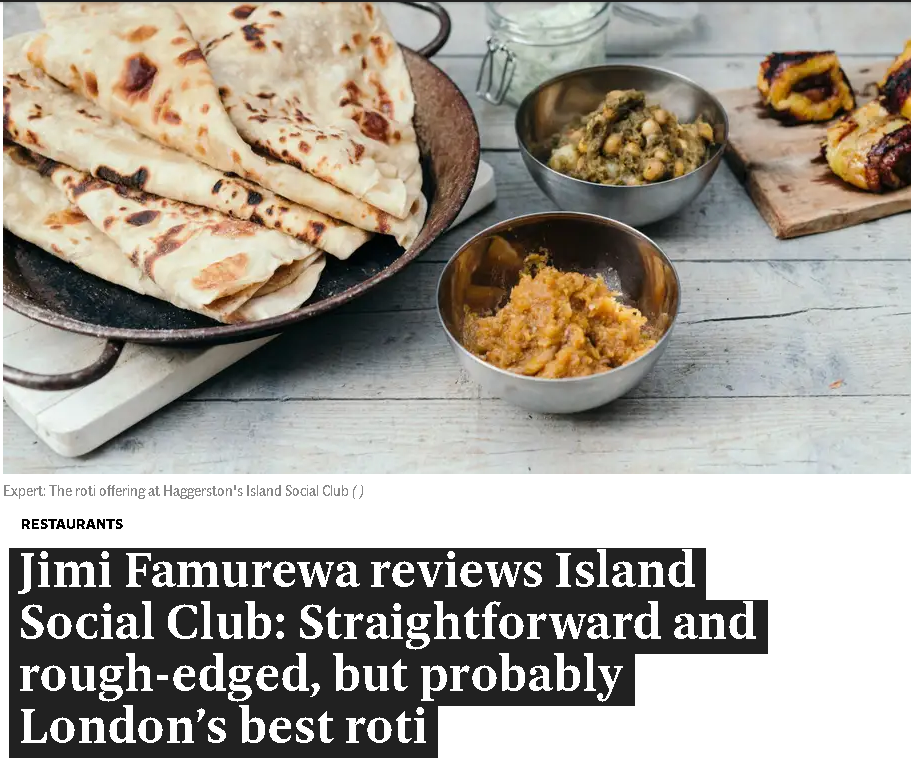 Jimi Famurewa from The Evening Standard has long been fascinated by the "the hushed cult around proper Indo-Caribbean roti: one of the more famous culinary legacies of indentured South Asian labourers shipped to places such as Trinidad and Tobago in the post-slavery era".
So he was particularly pleased to discover Island Social Club "a new, 12-month rum and roti residency in Haggerston" (at Curio Cabal) where he had an "enormously gratifying dinner" of "determinedly authentic island food" and "very good drinks" (mostly rum-based, as you'd expect).
In a "lively, cramped, dimly lit room" (some might say "straightforward and rough-edged") he found "a soul-lifting little restaurant" churning out "lightly reconsidered jerk shop staples, abominably flavoursome curries and buttery, expert rotis" – the latter most important, of course. The flatbreads arrived "steaming and begging to be squished into little pots of house-made, tingly-sweet mango chilli or tamarind sauce".
Colombo de poulet ("a hymn to the French Caribbean islands") was "pretty fantastic" and the curry mutton ("almost comically unphotogenic") was a "sloppy delight". Neither he or his dining companion particularly rated the sole dessert option.
This residency "genuinely broadens understanding of wider Caribbean culinary culture through the medium of patiently coaxed, undeniable deliciousness". (8/10)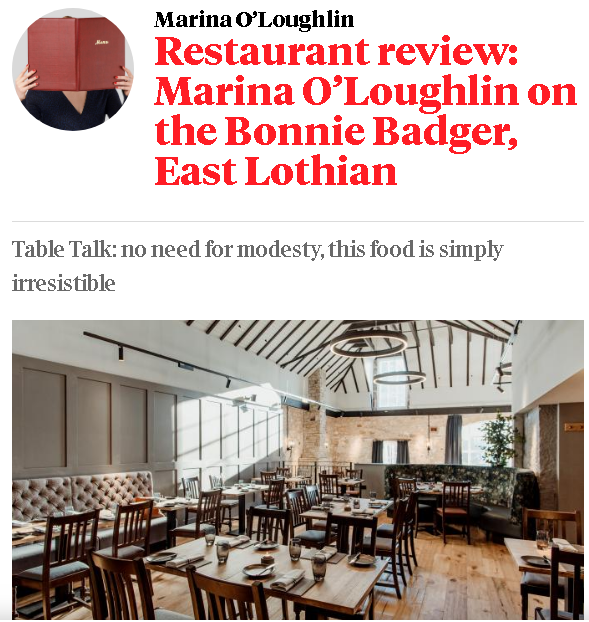 When Marina O'Loughlin in The Sunday Times visited Tom Kitchin's new "pub with rooms", set "among the golf courses of Gullane", her first thoughts were of the many clichés it embodied, from "the shortbread-tin name" to the village itself, "all teashops and golfwear outlets". The menu ("of steak pie, burger, and ham, egg and chips") was not issuing "much of a siren call for the culinary thrill-seeker, either".
That menu, however, was hiding "its creative light under a bushel of pub grub banality" – the burger is Highland wagyu, the steak pie "a celebration of pastry and slow-cooked beef". The kitchen is "drilled in classical technique. But they're not afraid to have fun". Even haggis, neeps and tatties appeared on the menu, "dressed up and giving it the full haw-you swagger".
A specials menu delivers "a collection of solid hits", including a "crab-meat packed raviolo with a bisque so rich in seafood I basically glug it from its jug".
Staying the night was an indulgent treat, from afternoon tea ("freshly baked scones of fluffy perfection") to a "stellar" breakfast with "my beloved potato scones". "They've thought of everything…remarkable." The only criticism Marina could muster was that maybe the Bonnie Badger is too determined to "play it safe".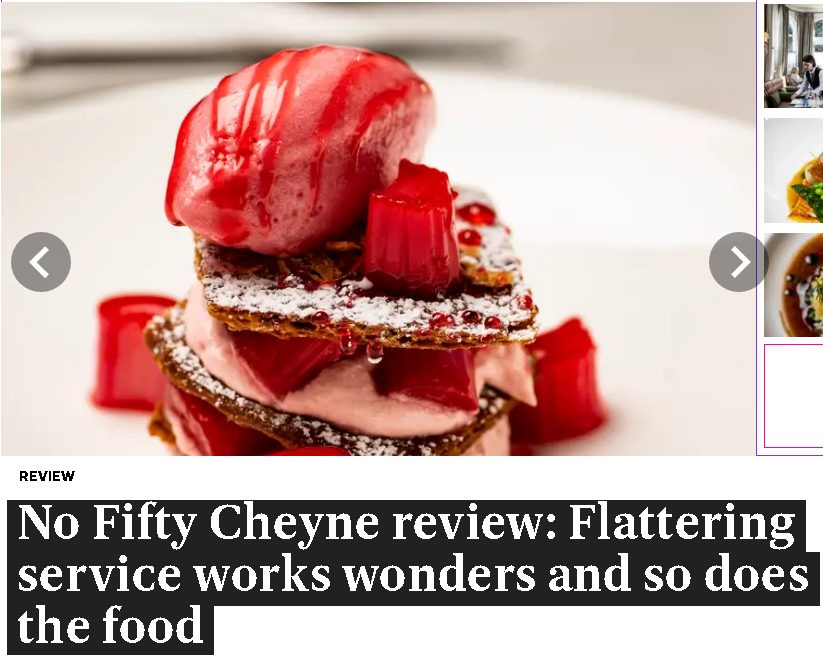 David Sexton for The Evening Standard enjoyed a pre-opening meal at the new No. Fifty Cheyne Walk, which rose from the ashes of the Cheyne Walk Brasserie over the past nine months, and "has clearly been carried out with high ambition and great meticulousness".
The space "feels like an epitome of high Chelsea-style", yet is "far from being over-powering, positively comforting" even. The whole thing cleverly "creates an impression of easy intimacy, as though the diners are guests rather than just customers" – which, with 60 covers, isn't easily achieved. "Attentive, charming, and… flattering" service helps; it's "entirely enjoyable theatre".
Excellent food from a Jason Atherton protégé (Iain Smith) completes the scene. The menu covers the "luxurious classic dishes well-heeled diners want to see… carefully revised and skilfully executed", and the wines are classics too, "surprisingly reasonably priced for such a lavish place and exalted address".
"No. Fifty Cheyne has a remarkable feel of settled ease among its diners… Nowhere else in London, even quite locally, would feel quite the same." (****)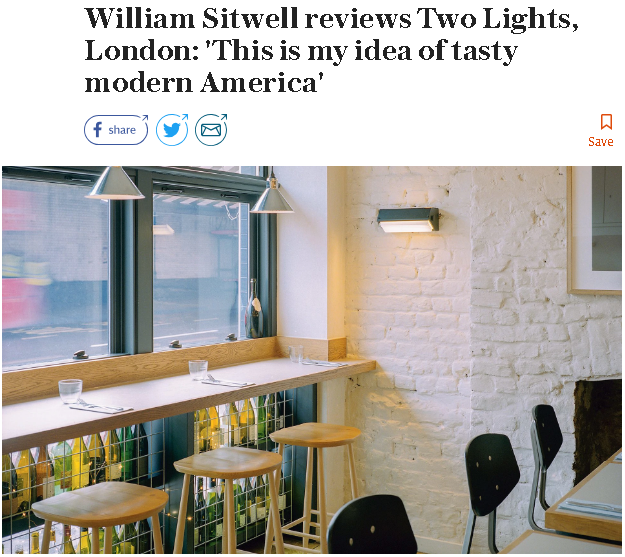 William Sitwell for The Telegraph reckons "the battle lines are drawn" over exactly what "modern American" food is. Is it the product of "local and sustainable agriculture" eschewed by Alice Waters, or is it the chlorine-washed chicken and "burgers and fries, doughnuts, deep-dish pizzas and Texan BBQ" favoured by the US president and his ambassador to the UK?
Thankfully, Chase Lovecky at Two Lights prefers the first approach, and the "Two Lights manifesto is loud and clear and all over the menu"; "warm-hearted, spirited, locally sourced guts and glory", served up in an "uninspiring Victorian terrace… adjacent to a heavily fortified railway bridge".
The pig's head sandwich was "a magnificent crunch of porky bliss" and mussels on flatbreads, covered in melting lardo were "simple but effective… a dish of fabulous imagination". Broccoli with anchovies and the roast chicken with 'biscuits' were less appreciated ("biscuits are in fact scones… having scones with roast chicken is a sort of cultural slap in the face for a Brit"). (***1/2)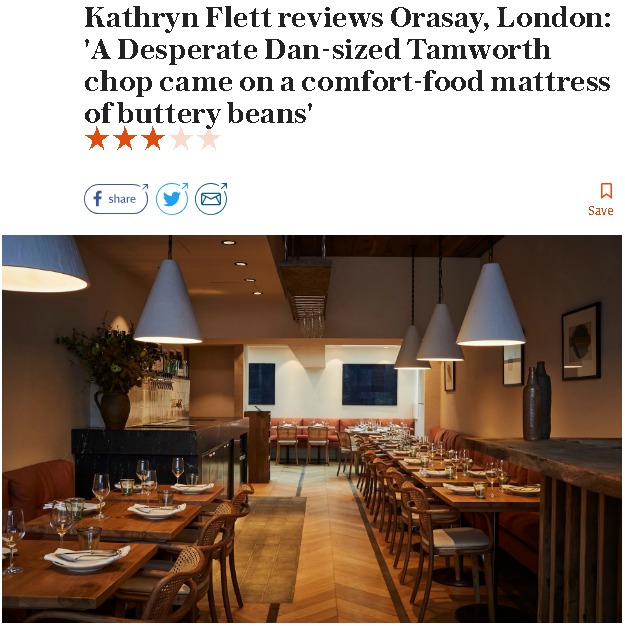 Kathryn Flett for The Telegraph on Saturday was in her old stamping ground of Notting Hill reviewing Orasay. She's sure that Jackson Boxer (and business partner Andrew Clarke) have located there deliberately, aware of "the area's foodie DNA" and hoping to "create another long-lived, deeply loved local dining destination" like 192 or E&O.
And have they? It's early days yet, but the celeb count was certainly high enough to qualify.
The menu is heavy on "Scottish fish and seafood generally", but Grace plumped for mammole artichoke with peas, followed ("albeit veeeeery sloooooowly…") by a "Desperate Dan-sized Tamworth chop", and then "rice pudding with a cardamom pop and… rhubarb jam". All much better choices than her dining companion, who had a measly cauliflower main followed by a pudding that resembled "a particularly anaemic eggs Benedict".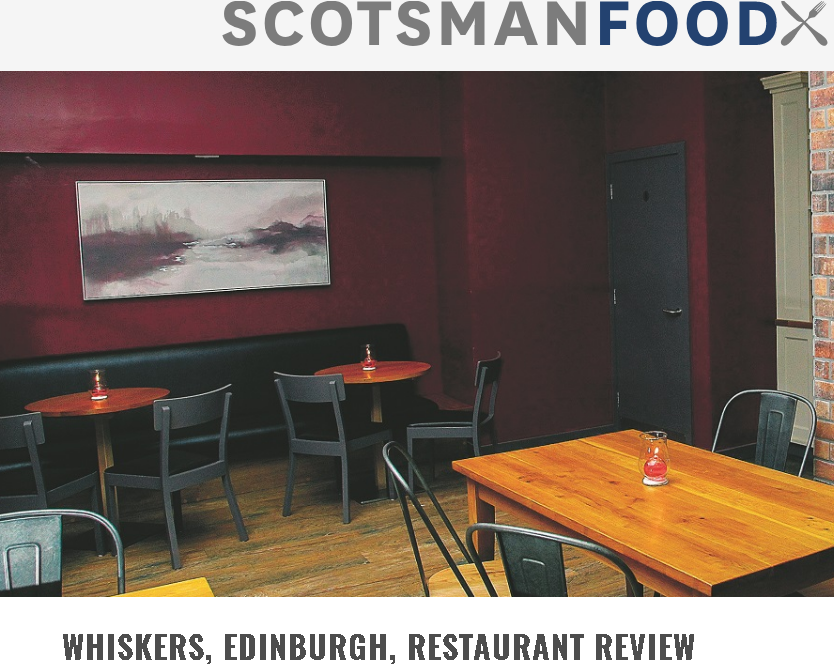 Gaby Soutar for The Scotsman visited the new Stockbridge wine bar on a midweek lunchtime, and found it "surprisingly busy"; not just a wine bar, it serves "breakfasty things", small plates and sharing platters.
Favourite among the shared dishes was the "pâté and terrine sharing plate (£8) – a meaty showcase"; other "savoury options were a bit so-so" but the "puddings were dreamy", inclusing "warm banana sponge… with a bucket of toffee sauce".
There's no mention of the wines available, but it was lunchtime, after all. (70%)
Tom Parker Bowles for The Mail on Sunday gushed about his visit to the Kent seaside and Angela's, a "small, unassuming seafood restaurant" in Margate with a passion for "locally caught, entirely sustainable fish". (He was less charming about the town itself…)
With Whitstable oysters, smoked prawns and pickled herring for starters, "this is a lunch that starts strong and grows stronger still". "Gloriously fresh and gloriously cooked" hake with shellfish bisque and an "almighty" Dover sole featured in the main courses ("perhaps the best I've ever eaten, the texture firm, with a whisper of bounce, the flavour the very essence of marine vim"). All the fish is "treated with reverence and adoration".
So why only four stars? Presumably "an old-fashioned, slightly shabby working-class seaside resort, increasingly colonised by tribes of liberal-leaning Londoners in search of cheapish property and a slug of sea air" just doesn't rate a top score… (****)
And also…
Krishan Davies in The Bristol Post reported on the Bristol opening of Bath pizzeria Dough, where several types of dough are offered, from turmeric to purple corn, as well as regular sourdough and gluten free.
Elle May Rice in The Liverpool Echo welcomed Londoners Champagne +Fromage, bringing their "good food, good drink and good music" concept (plus wine and cheese) to The Ashcroft Building on Victoria Street, with an 'extension' of Coucou Canard, already popular locally for "tasty breakfasts" and "looking to continue on its mission to focus on simple foods".
Recent News from Harden's