Grace Dent in The Guardian is the latest critic to visit Tom Kerridge's long-awaited London home, and she "was delighted with everything", even the fish 'n' chips which cost almost £33 but came with "special, once-in-a-lifetime chips… triple-cooked with an ethereal, golden shimmer".
Kerridge's is "a big, broad and brassy birthday treat-type of restaurant", serving "big British crowd-pleasers" at somewhat "punchy prices". It "celebrates British things in a charming and non-laboured manner… the best possible example of restaurantland after Brexit?" (25/30)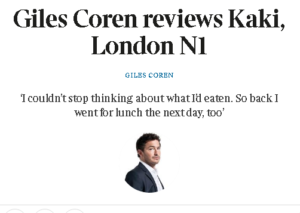 Kaki, London N1
Giles Coren for Saturday's Times magazine enjoyed his  meal at Kaki so much, he went back for more the very next day. Portions are gargantuan (the waiter laughed when he ordered three dishes), but the fare is authentically Chinese – there's "no Anglo-Cantonese crowd-pleasers" here – or even a wine list in English.
But he was in raptures over "the multilayered mystery and magic of Sichuan cooking", from pigs trotters ("challenging… red-brown and spongey as a tramp's nose") to tofu with preserved egg ("cool, milky blandness").
His neighbouring diner shared her meal ("an incredible dish of twice-cooked pork") and said that Kaki is rated highly on WeChat, the Chinese social media platform. That's got to be enough recommendation for anyone. (9/10)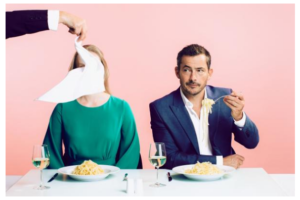 Giles and Marina O'Loughlin had lunch at Noble Rot to discuss their Top 100 restaurants list, which features in The Times over the coming week. Apparently, their conversation ("scurrilous gossip about chefs, restaurants and, yes, other critics") was "70% unprintable" – oh, to be a fly on that wall.
Jimi Fanuwera in The Evening Standard enjoyed the "subtly modernised homeliness" of Kin + Deum, run by the children of the owner of Suchard, previously on the same site. Their Thai food bridges the gap between old-school pub pad Thai and the new breed of Thai cooking that has sprung up in London recently, all "robust regionality" and big flavours.
Mains were "knockout", desserts "not up to much" and presentation "the sort of thing unlikely to set Instagram aflame"but the service was friendly, knowledgeable and attentive, and the whole place, with its "warm-glow backstory" makes the "middle ground" a good place to be.  (7/10)
In The Evening Standard, Fay Maschler revisited Gordon Ramsay's HQ ahead of the Michelin's announcements on October 1. Can he retain that illustrious three stars (awarded in 2001)?
She notes that "finesse and depth of flavour are considerably more pronounced in dishes chosen from the £120 main menu rather than the £70 lunch menu" and that "spontaneity, munificence, emotional connection… are missing in action" (but admits that Michelin cares not a jot for any of those). Clare Smyth's influences are still evident – will this please the tyre men or will she be the one to steal the stars from her former boss at Core? All will be revealed. (****)
In The Guardian, Jay Rayner warns us of the dangers of a "lane swerve". He's mostly thinking about Spandau Ballet, but also about Yotam Ottolenghi, whose new Fitzrovia (geddit?) opening is indeed a lane swerve – "a subtle one, but a swerve all the same".
This Ottolenghi borrows from all the current food trends instead of creating one – there's open fire, fermenting and "Skandi flavours", and even "Japanese references" – all of "which feel very un-Ottolenghi". The "vegetable-led menu" is one of the few familiar bits.
Does it work? It certainly "makes an argument for itself". Jay loved the much-Instagrammed lobster crumpet ("a snack in Dr Martens") and the "show-stopper" celeriac shawarma ("a killer idea, brilliantly executed. Who knew?") The Jerusalem mixed grill is "light and brisk… helped along by… pickles in children's picture book colours".
All said, it's "vivid, thrilling stuff" – just beware of the bill if you start trying everything on the menu (especially wine – there's nothing under £30).

Keith Miller in The Telegraph visited Borealis, a "handsome… high, wide space" located "on the ground floor of a barely completed mixed-use development" with comically low lighting.
The cuisine is "not quite Old Nordic, at least by no means neurotically New" – plenty of herring, some dishes and flavours familiar to those who frequent IKEA, and occasionally "excellent" cooking. Overall, "a good place for a midweek treat or slightly debauched work lunch". (***)
Micheal Deacon in The Telegraph paid a sober visit to kebab restaurant Baba Boom's second branch, is Islington ("Corbyn country").  One of several restaurants "dedicated to fancy 'gourmet' kebabs", Baba Boom served up oddly sweet starters, a range of kebabs and one dessert option in a "small, plain and unpretentious-looking" restaurant.
Micheal had the chicken shish in a thick Persian pitta bread that was "like trying to bite into a mattress" but which came with a "furious-looking chilli" which "was like being lashed on the tongue by a jellyfish. In a good way." He summed it all up as "fun…   likeable… distinctive". (***)
Tom Parker Bowles in The Daily Mail doles out yet another four-star review, this time to Rochelle Canteen at The ICA, which turns out "the sort of deeply seasonal, splendidly unfussy food that you always want to eat", in a "stripped back and minimalist" room.
"Light and elegant" small plate dishes were followed by a "magnificently robust" pig's head terrine and a majestic guinea fowl and trotter pie, with "heaven-scented sauce". Simple, but artful puddings end the meal. TPB describes it as "confident, assured, grown-up cooking for people who have tired of the fiddles and flurries of fickle gastronomic fancies", that's "sensibly priced and charmingly served too". (****)
And also…
Tim Hayward in The FT visited Tosca Café in San Francisco, described as the "transformation of a legendary dive". "The libertines might have disappeared — but the steak is 'the perfect evocation of the American Dream'."
Recent News from Harden's