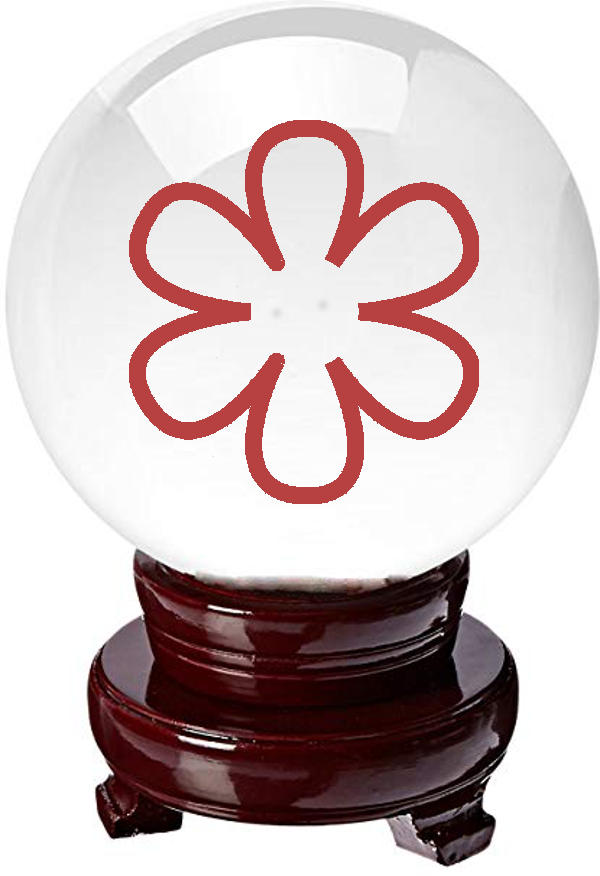 Michelin 2019 Countdown
It's the final countdown (da da duh duuuh, da da da duh duh…)
Yes, we only have to wait till next Monday at 4:30pm to start to hear the latest exciting news from Tyre Man HQ.
Well maybe. Like all oracles, the Michelin Man moves in mysterious ways. Anticlimax is an ever-present risk given the innate conservatism of the guide.
Busy tapping away on over very own Harden's 2019 guides, the editorial team doesn't have the time it would like to give you a complete analysis. But below is a quick note on some of the key points to look out for.
And you also don't have long to wait to find out the new Michelin Bib Gourmands. In fact, you don't have to wait at all! They announced the new ones today!
Bib Gourmand – 2019 Awards
The list of newcomers announced today is below. These names seem perfectly sensible, just a little random.
London
• Petit Pois, Hackney
• Farang, Islington
• Sorella, Lambeth
• Kudu, Southwark
England
• The Barn, Aughton
• Cin Cin, Brighton & Hove
• Root, Bristol
• Tare, Bristol
• The Windmill Chatham Green, Chelmsford
• Compasses Inn, Crundale
• Antidote, Ilfracombe
• Bell Inn, Langford
• Charlton Arms, Ludlow
• Route, Newcastle upon Type
• The Green, Sherborne
• Dog and Gun, Skelton
• Leaping Hare, Stanton
• Crown Inn, Upton
Scotland
• Monadh Kitchen, Glasgow
• Sugar Boat, Helensburgh
Wales
• Bryn Williams at Porth Eirias
Northern Ireland
• Clenaghans, Aghalee
Pointers for the main event on Monday
Michelin 3 stars (the complete UK list)
The Araki – no change merited or expected – this is the only one of Michelin's London three stars that makes sense currently.
Alain Ducasse at the Dorchester – has never deserved three stars, will they rectify in any way?
The Fat Duck – safe as houses.
Gordon Ramsay – hasn't deserved three stars for ages, will they finally take it away?
Waterside Inn – safe as houses.
Michelin 2 stars (not comprehensive, a few thoughts)
Aulis – Simon Rogan's secret new test kitchen experience delivers an incredible meal, but is it all too 'left-field' for a star?
Bibendum by Claude Bosi – didn't really deserve 2 stars when he launched, but the cooking is looking more solid now. Probably no change.
Core by Clare Smyth – the recent winner of Harden's London Restaurants Awards 2018 on September 10th 2018 as London's Top Gastronomic choice. As Core is new, will they be brave and give her the two stars she deserves?
Greenhouse – Arnaud Bignon moved on this year with Alex Dilling at the stoves since mid-August: will this Mayfair fixture keep its rating?
Hide – Ollie Dabbous is cooking up a storm at this £20m opening: if anywhere is swanky enough for the Tyre Man surely it's here.
Maos – Same as Aulis: Nuno Mendes has done it again at this über-funky East End project but is it the Tyre Man's cup of chai?
Moor Hall – Mark Birchall has barely had time to dust himself down from winning a very unusual five AA rosettes – will the Michelin Man follow suit and promote him from the one star they quickly awarded him last year.
Michelin 1 star (far from comprehensive, off the top of our heads)
Artichoke, Amersham – this restaurant totally fits the bill for a Michelin star, not least thanks to Laurie Gear's "complex… beautifully crafted, rich" cuisine. Come on chaps, an award is long overdue here.
Beck at Browns – one of four restaurants shortlisted as Harden's London Restaurant Awards, top Newcomer: Heinz Beck deserves a star for what he's achieved here and a star would be just the kick-start profile-wise that this Mayfair dining room needs.
Brat – the Harden's London Restaurant Awards, top Newcomer of the year. Is it too vibey for the tyre man? Or will it be seen as bolstering their hip credentials?
Cornerstone – it opened too late for our 2019 survey, but Tom Brown is said to be doing great things out East. Having been in a starred environment he will be on Michelin's radar and would be a handy tick to show they can get down with the hipsters.
Indian Accent – one of the strongest Indian openings in the Capital in recent years, and one of the four restaurants shortlisted as Harden's London Restaurant Awards, top Newcomer. Fabulous and would boost their "hey we understand more than French cuisine" credientials.
Gauthier Soho – Bizarrely had its star taken away; when will they finally reinstate it
Medlar – same as Gauthier – when will the recognise their mistake
Recent News from Harden's