Harden's weekly update of where the critics are eating, recommending and avoiding, for the week ending 24 November 2019.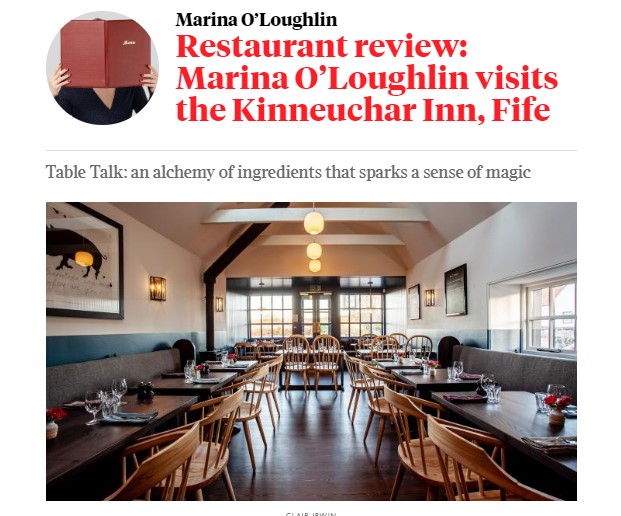 Marina O'Loughlin had four "evangelical" tips for the place she reviewed in The Sunday Times today – "it's unusual to be sent four recommendations in a row for anywhere, let alone a tiny inn in an equally tiny and quite remote Scottish village". And for none of them to be from PR companies – and one from "Angela Hartnett, one of those rare chefs happy to support and spread the word about others" – was beyond unusual. She had no choice but to head to Kilconquhar village to see it for herself.
What she found, in a gorgeous setting ("so perfect, so whimsical and Caledonian") was The Kinneuchar Inn, "a 17th-century whitewashed building… built to withstand ferocious east coast weather, sea spray and biting winds". Recently taken over by "chef James Ferguson and his partner, the front-of-house queen Alethea Palmer (both ex-Rochelle Canteen, co-owned by Margot Henderson)" who have changed up not only the menu but also the décor – "the building's innate, spare beauty" does the talking "without anything in the way of flourishes, not a touch of tartan couthiness or anything resembling a theme".
There are several "signs that bellow school-of-Henderson" on the menu, which reads "like incantations of local bounty" – the daily specials feature "what's come through its doors from the nearby farms and fields and seas on the day". And it's "a tweezer-free kitchen, happy to let food be food" – "I love this kind of butch, confident cooking — there's nowhere to hide".
Marina ate "transformative" squid ("in the crispest casing"), "puffy flatbreads with a chunky sort-of hummus", wild turbot ("a massive slab") served with monk's beard, and "thick, gamey slabs" of hogget, followed by "pear and brown-butter tart dessert" – and everything left her "beaming with pleasure".
"They know their stuff, this pair" – "Ferguson and Palmer have taken the pared-back, produce-forward ethos, married it to a real sense of place and, along the way, created something approaching alchemy". Apparently, they searched "all over the UK" for the right spot to open, and it "feels as if they've somehow come home" here. What they have "conjured up at the Kinneuchar Inn is little short of spellbinding".
---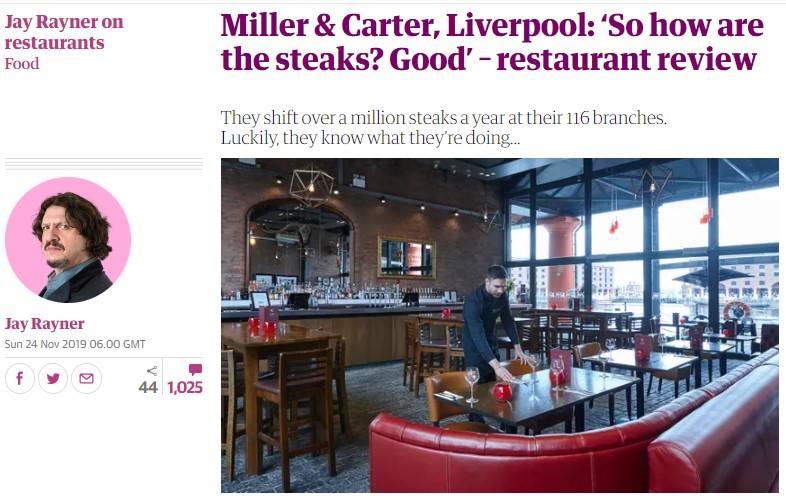 Jay Rayner for The Observer went to the Albert Dock branch of steak chain Miller & Carter (now 116-strong) – anyone expecting an "evisceration of a cynical, cookie-cutter catering operation" (not that it wouldn't have been fun) will be disappointed.
"When it comes to steak, Miller & Carter talk a good game: full field-to-fork traceability; all from British farms; all aged on the bone for seven days and for at least a further 21 days."
The Albert Dock location, in "redbrick warehouse buildings" features "a flag-stoned floor, dark wood tables, a plate-glass wall looking out over the water and a lot of very smiley people working front of house who appear to mean it". The menu is "a model of conciseness" until you turn it over and see all the other, non-steak, options available.
Jay ordered the Butchers Block 26oz – "They say it's for two. It would feed three. Naturally, it arrives on a wooden board, steak knives tip-down into slots like some testosterone-drenched honour guard". The steak itself was "good", edging "towards very good", served with "an exceedingly good beef dripping gravy – one that I could quite happily sip neat from a brandy schooner".
Alongside the steak, however, came "a lot of… uneven quality"; exemplary mac 'n' cheese to start (and that gravy) but the sides weren't cooked well ("Let us never speak again of the halloumi fries. They just can't do deep frying here.") and the "dessert sharing platter is a bunch of things with the uniformity of confectionery bought in from elsewhere".
Jay's verdict: "if you live near a Hawksmoor and crave steak, I'd advise you to spend the extra there. But most people don't live near a Hawksmoor. In which case Miller & Carter really is a fair option. Just order damn carefully."
In his News bites – and "keeping with the chain theme", Jay also recommended (with similar choice-based caution), "an obscure outfit called Nando's" – he'd "only recently tried their stir-fried chicken livers and they're a marvel: sweet and meaty with caramel tones, plus a peri peri kick according to taste. If I'd had them at an independent, I'd not think twice about raving".
---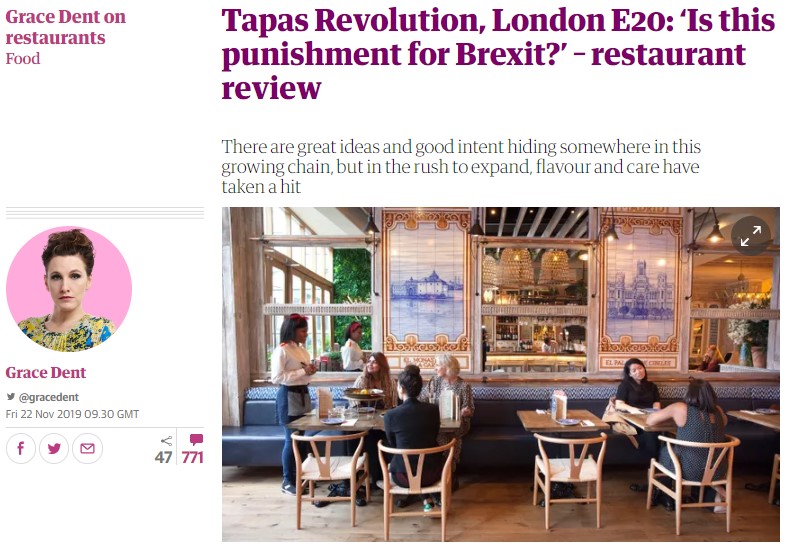 The Guardian's Grace Dent was also checking out chain restaurants; she was at Westfield Stratford, trying out the seventh branch of Tapas Revolution (all of them in shopping malls). The brand has expanded rapidly, and although "there are great ideas and good intent hiding somewhere… in the rush to expand and feed the masses, flavour and care have taken a hit".
Grace ate "unlovable cod fritters", "soggy pan con tomate… weird, oily paella" and "poor quality, oily" gambas al ajillo. The churros were "sad, tasteless turds of dough, deep-fried in jaded oil and served with a jar of separated cocoa and water masquerading as chocolate dipping sauce" – just not good enough when fresh, hot churros are available in every food market. "Diners have travelled; they know what they want."
It's the same story over and over again – Tapas Revolution itself replaced "Cafe Football, Ryan Giggs and Gary Neville's awful, multi-screened, overpriced novelty burger restaurant" and is near the sites of Levi Roots' Smokehouse and Jamie's Italian (both RIP).
"Each time one of these brands shuts its doors, I'm asked, as an expert, to guess why, and each time I reply, with heartfelt brevity, "Because the food was atrocious". To which I'm informed, "No, it must be more complex than that", and we then have to dance around the economy, millennials, vegans, health'n'safety and supermarket meal deals. "Well, yes," I reply, "but really it's the food. People don't get fooled twice."" (6/30)
---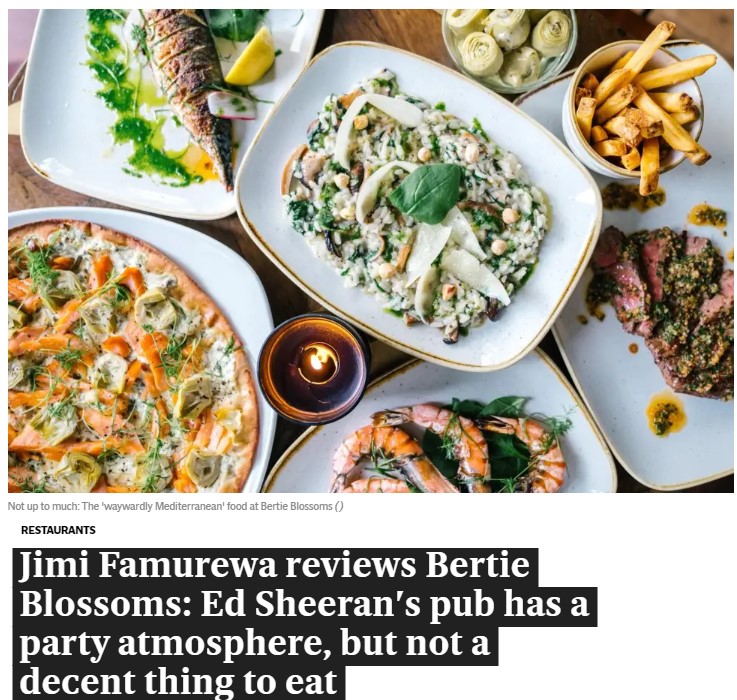 Jimi Famuwera for The Evening Standard is fascinated by the Ed Sheeran paradox, whereby "his is a wildly successful, multi-million-pound empire that has risen amid people repeatedly pronouncing his music rubbish". So when he heard that Sheeran had quietly opened up his Ladbroke Grove pub, Jimi "sensed it would be naive to dismiss it outright".
His Saturday visit brought him to "a beer-loosened party atmosphere that was brilliantly pleasant" in "an immensely likeable, warmly run room" with "a campy disco soundtrack"; it's "compact and tightly split across two floors… all plump green booths, lightly kitsch paintings" and "garrulous forty-somethings" at the bar. "Direct references to Sheeran's career — framed bits of memorabilia, say, or 'Galway Girl' blaring from the stereo on a nightmarish loop — are wisely avoided."
The food (sharing plates of "waywardly Mediterranean" fare) was a let-down, unfortunately, from the "watery mush" of baby artichokes and "unappetising, claggy puddle" of mushroom risotto to "gnarled" meatballs and skin-on chips with an "only faintly spiced" curry mayo.
"Rowdy, darkened pubs are not known for the nuanced adventurousness of their cuisine. But messy, booze-sopping bar food can be majestic if it's done with some care."
"The glow of Sheeran's unimaginable fame will undoubtedly bring plenty of people in. A few decent things to eat would make them want to come back." (6/10)
---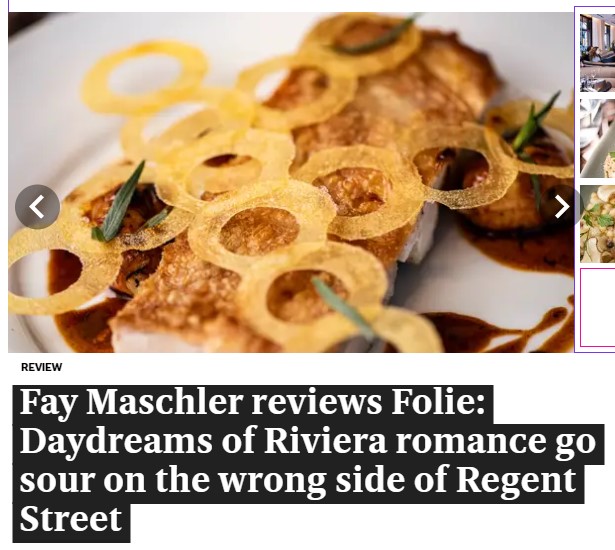 Fay Maschler for The Evening Standard wanted to like Folie, a new Golden Square brasserie, more than she did. She considers it "sheer folie" indeed to open "on THE WRONG SIDE [her caps] of Regent Street offering a main course of Dover sole for two to share at £92".
It's a lovely spot, with a "deep, narrow dining space" that's "inviting and comfortable with curvaceous, sinuous, milk-chocolate-coloured leather banquettes" and "shiny tabletops". Owner Guillaume Depoix, "who has worked with Alain Ducasse and is backed by Thierry Coste", acts as front of house and "is a handsome smiling presence on the floor".
"The publicity promise of Mediterranean zephyrs and the kick-ass charisma of the Côte d'Azur seems like so much blowing in the wind" when faced with "feeble Marseille-style panisse" and spaghetti with a "sour, spiteful note" from sasizzella di tonno.
Returning for lunch, in the hope of a cheaper meal, her companion wondered why the place smelled "like an old people's home" (apparently there's perfume pumped into the room, although that probably wasn't the advertised scent). Fay ate chargrilled octopus tentacle that was "in an inappropriate relationship with butternut squash purée" and some "vigorously seasoned" chicken.
Fay's advice for Folie would be to include more regional wines to match the regional cooking, play better music (and possibly pump in nicer smells) and take a serious look at the pricing. (**)
---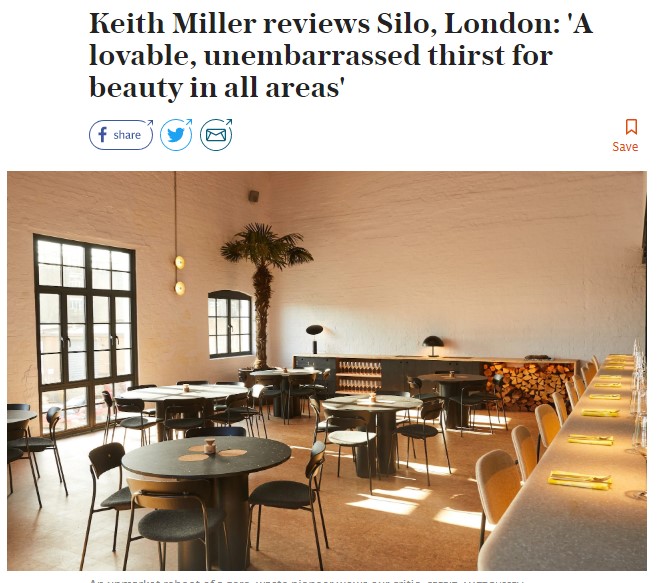 Keith Miller for The Telegraph is the first critic to review Doug McMaster's "pioneering zero-waste restaurant" Silo, freshly landed from Brighton.
"Many of McMaster's innovations have gone mainstream since 2014", not just the sustainability and recycling elements, but also "hyperlocalism" and "a St-John-derived nose-to-tail philosophy applied to plants as well as animals". How would it compete in London's "vastly bigger restaurant scene, packed with imitators and fellow travellers"?
From the outside, it looks like a "scruffy, graffiti-festooned canalside block" in Hackney Wick, but inside the stakes have been raised with a "lofty, sparsely beautiful first-floor interior". "Recycled and/or organic materials – leather, glass, cork, even mycelium – are deployed with a sculptor's feeling for texture."
The room is dominated by an L-shaped bar and "great hearth", where "much of the cooking is done" – "Silo's extensive use of fire lends its food a wonderful consistency of flavour".
"It's a six-course tasting menu for £45 or nothing at the moment, though they are planning to do brunch soon. Drinks pairings are another £50." So with service (which is "excellent in the faintly cultish way you'd expect of such an ethically charged enterprise"), it's just over £100 a head.
Some of the dishes Keith described as "great" include "beetroot with perfumed Mexican marigold; an obscure short-rib-like cut of superannuated dairy cow… a quince sorbet crowned with a puddle of fig-leaf oil", and all showed "unembarrassed thirst for beauty".
There were many things he loved about Silo: "enhanced production values needn't spell doom for its creative mojo". (****1/2)
---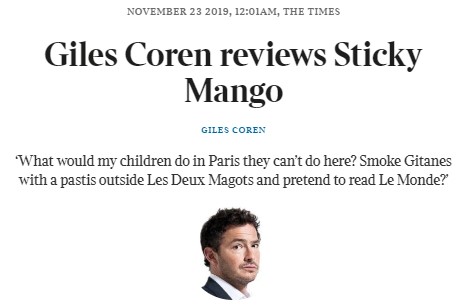 Giles Coren for Saturday's Style magazine in The Times went to Paris for the school holidays, and was supposed to review a "famous old hotel that was simply gagging to have a big anniversary of its restaurant covered". And then he found out the cost of having the children babysat while they were out at dinner (which itself was 400 Euros a head for the set menu "Not inc service and wine!"), so that didn't happen.
Instead, they all ate together in bistros around the city. At Bofinger, which had "the same magnificent room and menacing service I remembered from 25 years ago" they ate food "that couldn't possibly keep a business afloat in a proper eating city like London". The 40 Euro steak was "poor meat, gristly and immature, the chips were bendy and the crappy stale profiteroles filled with supermarket ice cream" made his daughter cry.
At La Fontaine de Mars "the beautiful room was matched by incredible warmth from the staff and top quality old-fashioned French cooking" – "Esther and I shared a cassoulet ripped steaming from the Toulousian dreams of Elizabeth David herself".
"None of which makes this a useful restaurant review."
So, once home he popped back to Sticky Mango, now in the hands of Peter Lloyd, (who cooked at RSJ on the same site) who "is tapping into the resurgent Anglo-southeast Asian thing with gusto and great skill".
"My socks were comprehensively knocked off by the Malaysian chicken curry puffs with their hot, flaky pastry and meaty innards." He also enjoyed the other "exemplary" dishes, floral teas and charming service. (21/30)
---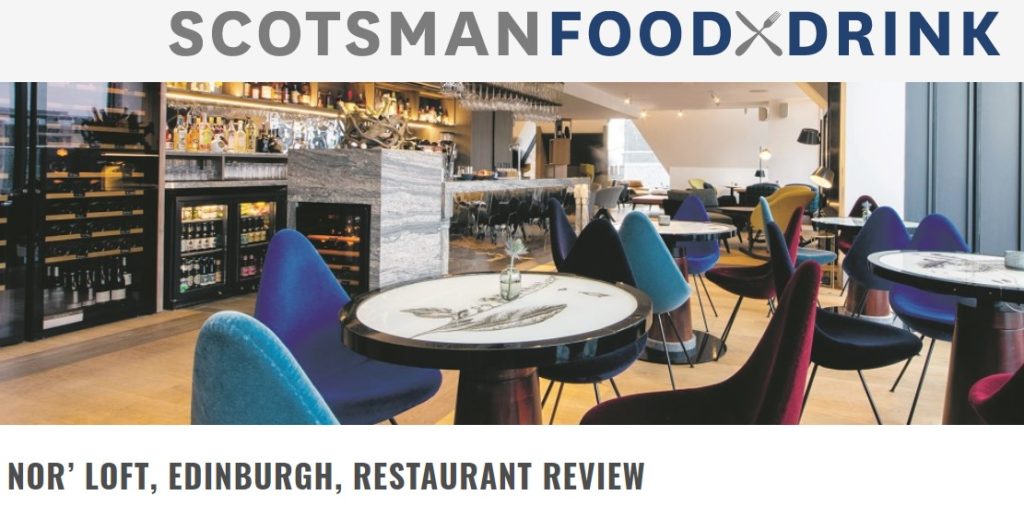 Gaby Soutar for The Scotsman was enjoying the high life in the Champagne bar on the "seventh floor of the new four-star Market Street Hotel – the plushest design hotel in town that nobody has heard of". The "space looks like a BoConcept showroom, with art books, white marble tables and a rooftop view which makes it seem like it is squaring up to The Balmoral".
Named after a loch that used to sit below The Royal Mile ("most likely… a poisonous soup") it offers small plates, but "guests here are so busy quaffing that taking food orders is definitely the staff's secondary priority". Most of the ones Gaby ordered were delicious but "more like canapés" ("just three rather lovely airy bites… crunch, crunch, crunch, gone").
"Don't worry that this place is named after the dingiest fathoms of the capital's past, it's the place to go if you want to impress someone." (80%)
---
Tom Parker Bowles for The Mail on Sunday was in Bath, dining at three-year-old Chez Dominique, "a small French bistro just off Pulteney Bridge… where simple things are simply well done".
The room is "small but comfortable" with high ceilings, bare tables and "a feeling of unpretentious comfort, rather than bleak sparsity, a room very much made for eating". Service is "gloriously Gallic".
Chef Chris Tabbit ("who trained under Matthew Harris at that temple to bourgeois classicism, Bibendum") and his wife run the place. There's a "straightforward" menu, free of "trends, whims and extraneous ingredients. Smears and garnishes have no place here".
Tom ate "classic rabbit terrine" with "spiced prune chutney", crab risotto that's "exactly as a crab risotto should be, all'onda ('like a wave'), and just runny enough to ooze across the plate" and "crisp skinned guinea fowl". For pudding, "prune and Armagnac tart… the sort of tart that every young plum dreams of being part of when it grows up".
"The formula may seem simple: good cooking, expert front of house and proper value for money. But places like Chez Dominique are relatively rare, a tribute to experience, hard work and that ever-elusive je ne sais quoi. Long may it flourish." (****)
And also…
The food critic for The Financial Times was at The Sea, The Sea – "anything but an average fish restaurant". It has "none of the accoutrements of chefdom — just a Michelin-quality chef operating with the tools of a snack bar".
William Sitwell for The Telegraph reviewed Bubala in Commeiical Street, E1, which had "simple furniture, décor and strip lighting that made it feel as if this Middle Eastern restaurant was done up over the weekend by a bunch of friends", but served great food: "every dish was tempting, like endless naughty hugs from the chef".
Recent News from Harden's