Harden's regular round-up of the restaurant critics from the week ending 26 May 2019.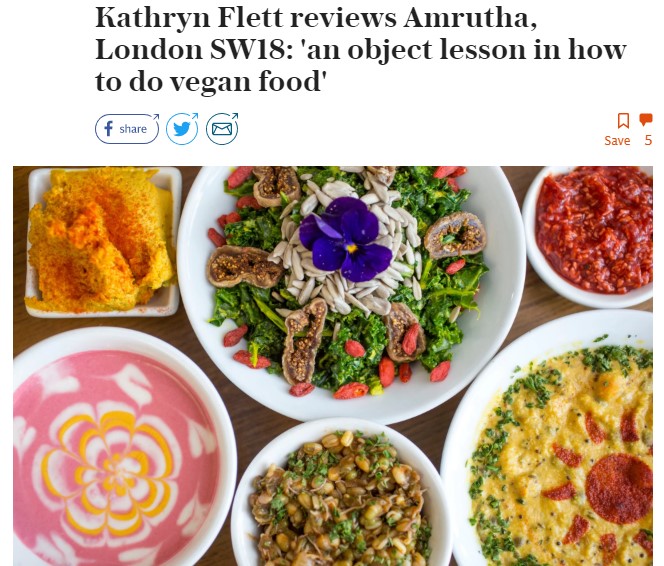 Kathryn Flett for The Telegraph went vegan this week, at a restaurant "sited, eminently missably, in a small, plain room behind plate glass on a main road in Earlsfield". The locals evidently haven't missed it, as there was queues even on the Tuesday evening that Kathryn visited – "some sort of local transcendence", maybe? Certainly something its position as London's top restaurant on TripAdvisor would suggest.
Kathryn and her guest opted for the 'Grand Selection' of Amrutha's 'vegan soul food', which "turned out to be the entire menu, only noodle-free, with unlimited top-ups and all-in for… 20 quid a head". As the owners are Sri Lankan, she "felt optimistic that what I ate would be equal parts pretty, tasty and worthily "sausage"-free" (she just doesn't get "the idea of imitative veganism").
Would she end up "diverting via Maccy D's on the journey home" as suspected? Possibly never again, as Amrutha's food was exceptional: "every single dish was an object lesson in terms of how veganism, done properly, is far from a culinary compromise".
Her dining companion described the beet gazpacho as having a "55-mile flavour contrail" – and the colour of Miss Piggy. There were other Muppet Show colour comparisons, including a "Kermit-green curry" on the menu, which also included "a pile of deep-fried mushroom, aubergine and broccoli ­pakora… a piquant guacamole with radish… a zing-wow tamarind and coconut dip… and a dense-yet-light 'cashew cheese'"
"There is… something quite astoundingly special going on at ­Amrutha", the "sum total of all these potentially subtle flavours sang together in a harmony of both complexity and purity".
"Almost certainly the best meat-free food I've ever eaten in a London restaurant." (****1/2 – "I'd have given it 10/10, but I know the room (and the loos) won't appeal to everyone")
---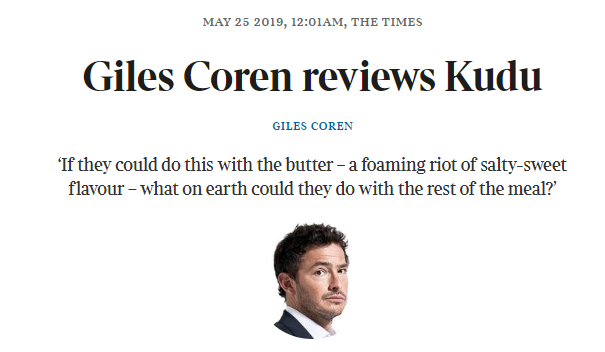 "I was off to meet a pair of perfect strangers, in Peckham, on a Wednesday night, at some year-old South African gaff I'd never heard of." Giles Coren for The Times' Saturday Magazine went to Kudu with a man who'd paid for his company at a charity auction – the generous chap even found the restaurant, so all Giles had to do was turn up and charge it to expenses. His uncharitable opinion of southeast London took up at least the first four paragraphs, although he did manage a plug for the charity, Reverse Retts.
He claimed to have been expecting nothing much from the evening, but it's highly unlikely he hadn't heard of Kudu before, owned as it is by South African chef Patrick Williams and his partner Amy Corbin (yes, daughter of that same Chris Corbin whose new restaurant Soutine Giles reviewed just last week). Was it all just an elaborate set up so he could say "having a brilliant father is, of course, no guarantee that the child will be any good at the same thing. As fans of Alan Coren have been observing for many years"?
The restaurant itself is a tiny space, but Patrick and Amy have achieved a "remarkable" feat of cramming "such relaxed elegance and casual prettiness" into it. Beyond the main room is a "narrow, mirrored room of Pullmanesque elegance and then some very posh, Agatha Christie-ish loos". Why Giles felt the need to point out at this point that "the diners were for the most part not old, white, male or straight" is anybody's guess.
Anyway, to the food. Recommended to try the bread, "a round, browned briochey affair in the manner (I am told) of Afrikaner mosbolletjies", Giles was entranced by the butter it came with, sizzling in a pan with "garlic, almonds, baby shrimps and dill. A foaming riot of salty-sweet, fishy-fruity, nutty-pungent flavour" – "one of the most exciting things I'd seen in a restaurant in years".
And the rest of the meal followed the same way; "mad, crazy shit… all of it wonderful". Spiced biltong, skewers of peri peri duck hearts, white asparagus with wild garlic taramasalata, chicken parfait with a "bloody lovely" relish, and onion tarte Tatin with Taleggio. And "boy, they know their way around a pudding here".
The "magnificent Polish waitress… paid lip service to our timid requests… but basically bossed the whole meal in a momma-knows-best sort of way" – and then delivered "an incredibly modest bill – is the Peckham pound a different currency from our own?"
The cuisine, veering from French to South African, with some dishes that "whispered "Peckham" quite loudly", felt like a "tired old French bistro… grabbed at the lapels by a boozed-up Afrikaner and slapped about its froggy chops until it sorted itself out".
Kudu "is an example of perfect restaurant making in a nutshell". (9/10)
---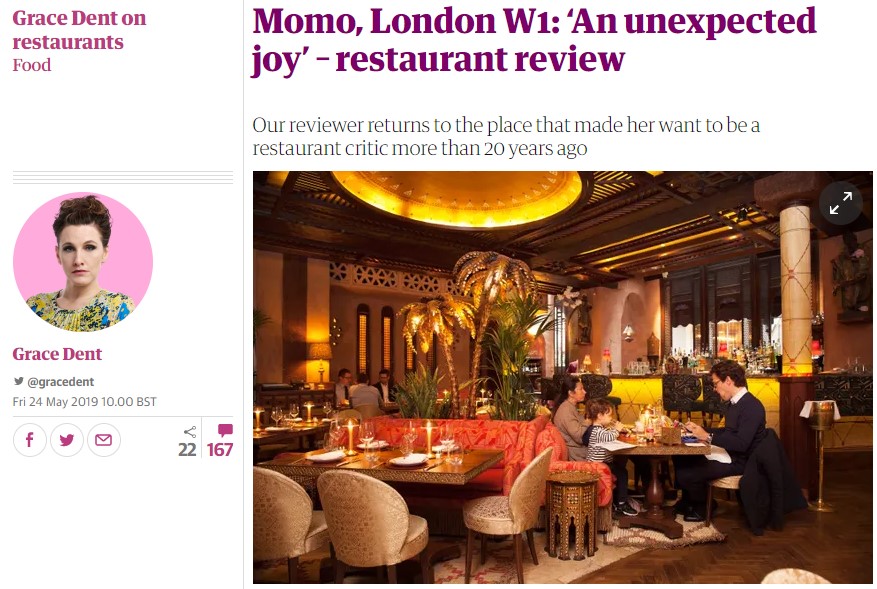 The first time that Grace Dent for The Guardian visited Momo (which is 22 years old this year and freshly refurbished throughout) she decided she wanted to be a restaurant critic, but was also largely ignored for the A-List crowd that used to hang out there. To this day she remembers "semi-belligerent service" with "one eye on the door" for celebrities and the "bill was £46 for two glasses of warm pinot grigio and two tagines" that they weren't allowed to finish as their time was up.
Could she wreak revenge, returning as a national critic two decades on? Momo certainly isn't A-List Central any more.
In a word, no. While it would have been satisfying to find "a roaring bin fire of wrongness", the refurbishment of the "faux-Marrakesh, enchanted souk" is "largely the same, just even better", the lighting is "flattering", the "front of house are now a smiling squadron who fuss over the entire clientele" – the whole experience was "an unexpected joy". Momo has "got over itself".
The "slightly eccentric mishmash of Algerian, Tunisian and Moroccan" food is still there, mixed in with some "modern Mediterranean or, more accurately, British flourishes". The 'classic Momo couscous' was disappointing, "a bit style over substance".
But the "dish that melted my heart and righted two decades of hurt, however, was harira, a velvety, spicy, dal-like Moroccan soup"; a "quail pastilla was outstanding, too: a delicate, rich, sweet Moroccan filo pie".
"Puddings are worth sticking around for" – the riz au lait was "possibly the greatest rice pudding I've had in this lifetime", and there's fun to be had with the chocolate namelaka, which "has a rich bed of diced beetroot and hot harissa lying beneath its coca crumble topping".
"If you were entertaining friends, it would be a struggle for anyone to find Momo boring"; all is forgiven. (25/30)
---
Ashburn SW7, London SW7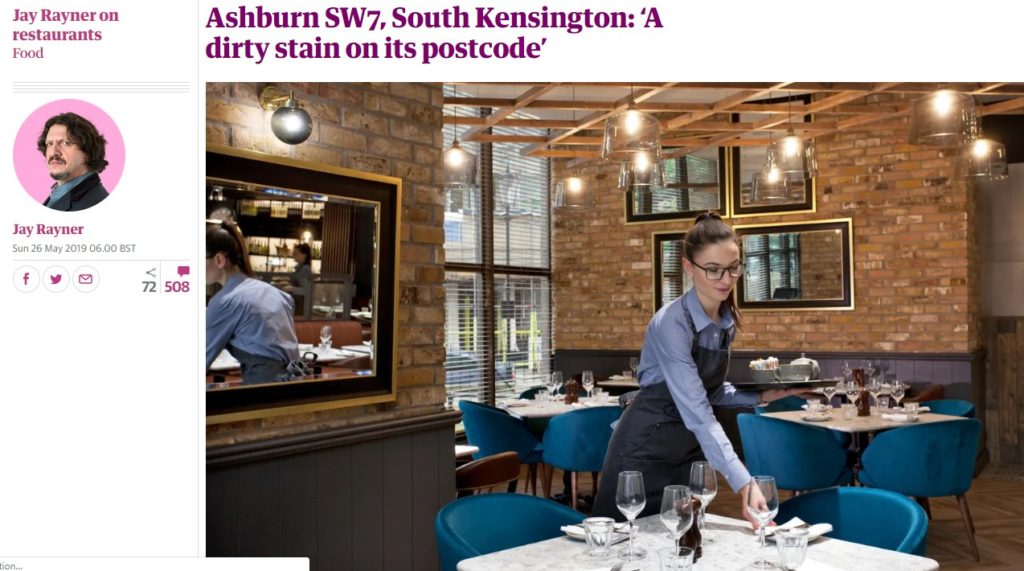 The development chef for the new Holiday Inn restaurant in SW7 no doubt regrets sending Jay Rayner an invitation to review it for The Observer. Because Jay went along, thinking "is it not the height of blunt snobbery to assume that such a place couldn't serve great food?" What's more, as an airport-handy hotel, close to Heathrow, "a lot of people would be staying there because they had to, with an evening to kill before getting on a plane… Why shouldn't this captive audience be fed well?".
Why not indeed. Because, on Jay's experience, they most certainly wouldn't. They would be served well, by the "front of house staff, who are all kinds of lovely", which might go some way to improving a meal of salt-and-pepper squid that "turns up looking like badly made goujons of fish that have only just been emptied out of a freezer bag", served with a "garlic aioli" that "tastes only of acidity and profit margin". Or maybe you'd prefer the beef rendang, "a mud-coloured slippery splatter of a stew, with a blunt hint of tired spice", or the seabass fillet, which manages to be "both overcooked and have floppy undercooked skin… alongside a coffin of crushed potatoes with raw onion"?
"I went to a Holiday Inn and had a shocking meal. I opened the barrel and shot all the fish. But the fact remains: there are too many barrels out there and many more fish in need of shooting. Money has been spent here on the room, staff and ingredients. The result could, if anybody cared enough, be good. But clearly nobody has either the talent or the basic good manners to see to it."
"Ashburn SW7 is a dirty stain on its postcode. It has a kitchen completely incapable of executing the menu that has been written for it." Which, at £120 for two, is bordering on criminal.
---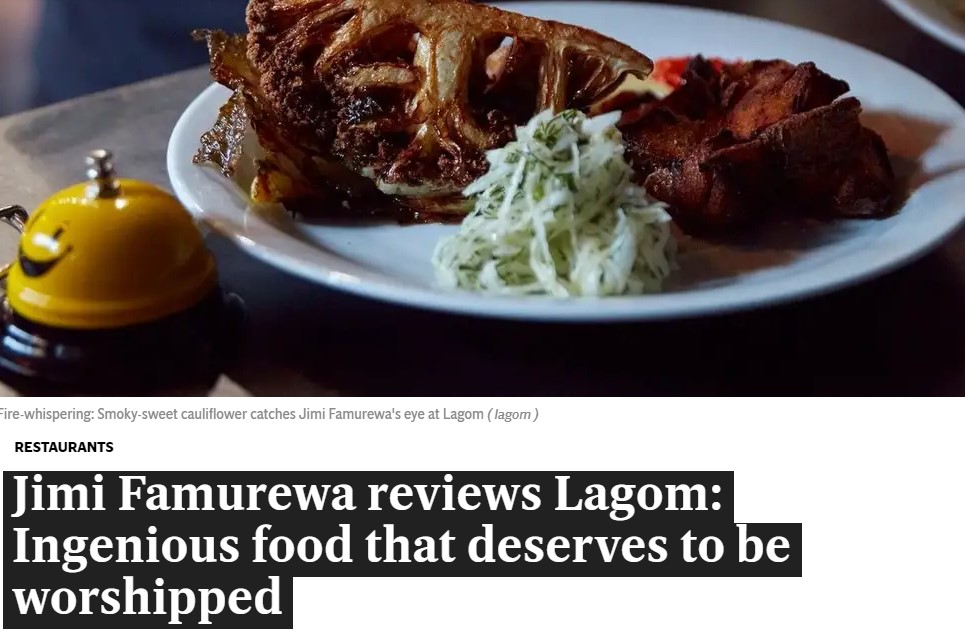 Jimi Famuwera for The Evening Standard braved a visit Hackney's Church Brewery Co with his kids in tow; Lagom (a "philosophical Swedish term meaning something like 'just enough'") has recently arrived there – it's been "bouncing around for a few years" and he'd tried it at Dinerama once, but "here things feel different".
Sitting in the "bustling, gravelled garden" with one child asleep and the other entertained, on a sunny London day, felt like an achievement in itself. But when "chef and founder Elliot Cunningham's multi-tiered grills… turned out to be some of the most innovative, wantonly desirable and admirably veg-forward barbecue I'd ever had… it was almost overwhelming".
"Cunningham now seems to be expressing himself with a new clarity, confidence and playful, pleasure-giving freedom."
"Lagom's menu marries serious fire-whispering proficiency with an admirable aversion to hokey, maple-smeared easy wins" – there's Korean swede, Scotch egg and split pea fritters on the menu. And all of it was "unceremoniously upstaged by… a plate of cauliflower… a head-turning, deeply golden saucepot of a mega-floret, long-marinated in a quince and Scotch bonnet syrup and somehow dry-fried so everything attained an insane, smoky-sweet depth".
A church and a brewery, with some impressive chefs on hand, may be "an unexpected union of the hip and the holy". But "this is food touched by uncommon ingenuity that deserves to be sought out, celebrated and, yes, perhaps, even worshipped". (8/10)
---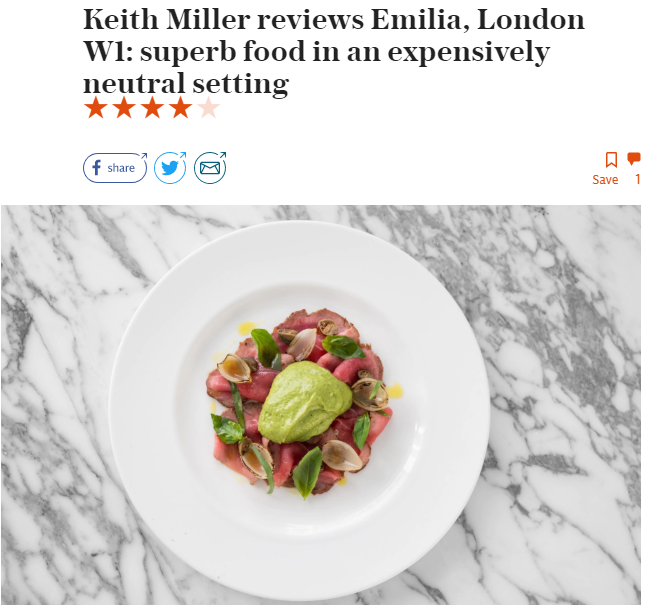 For The Telegraph, Keith Miller tried out the new inhabitant of the dining space at Bonham's. For half of his review, this entailed a history lesson on why Emilia-Romagna (the region of Italy that the cuisine here is based on) is named so.
Inside, the upstairs dining room is "expensively neutral and, in truth, a little atmosphere-free" in style, and the service "skillful and friendly, and Michelin-chasingly solicitous".
He eventually mentions the food, which he admits is "devoted to the cuisine of Parma, of Modena, of Bologna itself… in a way" – and found it "just superb". It's "a cheffier and more urbane style of Italian cooking" than we are used to, sort of what The River Café did for the cuisines of Tuscany and Liguria. The best dish was "some spectacularly good tortellini stuffed with smoked eel and Jersey royals, swimming in a fine, pure, slightly sharpened stock". "They have a particularly acute feeling for texture."
An oddly reluctant thumbs-up. (****)
---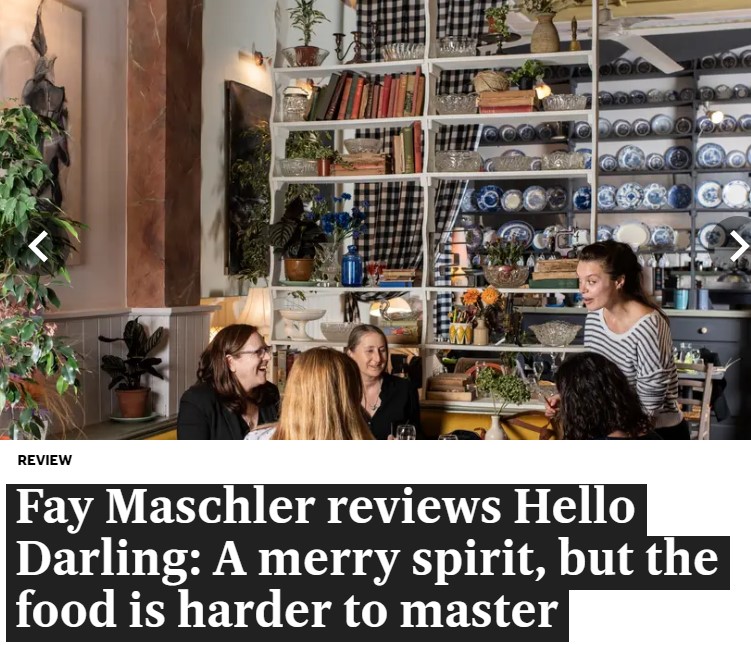 Fay Maschler for The Evening Standard is intrigued by the publicity for the "new bar and restaurant adjacent to The Old Vic… linked to The Vaults underground theatre project" that mentions "enjoyment and playfulness" – "you might think those are part of the blueprint of any restaurant, but how wrong you would be".
Once she'd managed to get a booking, Fay discovered that inside Hello Darling is "riot of colour, patterns and textures" – it's also "deafening".
"It is a shame that the cooking isn't better as the spirit is merry" and "the staff are delightful". 2013 MasterChef winner Natalie Coleman "has put in a lot of time doing work experience in serious kitchens" since her win, but the sharing plates menu she has devised left Fay unimpressed. Over 30 items in a menu shout "assembly line production"; an artichoke arrived cold and improperly prepared and cuts of meat were "blast-cooked or anyway overcooked to a tightness and toughness that makes them more or less inedible". "Sprinkling clumps of microherbs on all the assemblies" didn't disguise the lack of skill.
It speaks volumes that Fay didn't return for a second meal as she usually does, instead (after an evening at The Old Vic) "we cross the road to La Barca". (**)
---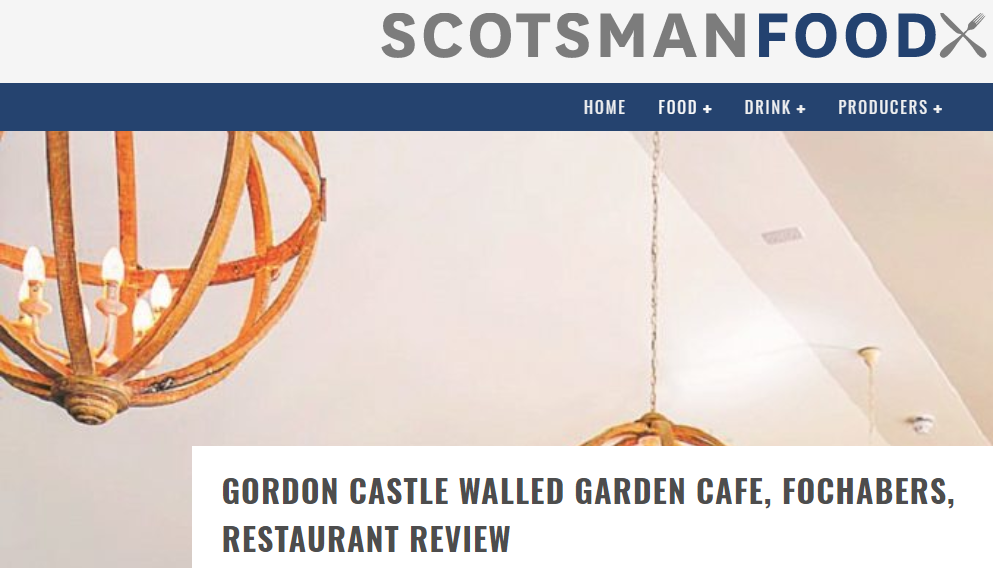 Gaby Soutar for The Scotsman enjoyed "deeply lush, ivory-coloured" Cullen skink with rosemary oatcakes at Gordon Castle's Walled Garden café, where much of the produced comes from the eight-acre garden walled gardens. Main are mostly "bread based", but her sriracha fried chicken burger was "a stunna" and the wild mushroom and truffle toast was "a showcase of Parmesan-topped mushies" served with a "bouncy freshly-plucked salad on the side". It's a "lovely space" – not to mention the only decent eating place in the area.
---
This week's four-star review from Tom Parker Bowles for The Mail on Sunday goes to Soutine, the latest from the Corbin & King restaurant gurus, "masters of highly polished nostalgia, the skilful blending of old Europe and new business".
"To walk into Soutine is to enter the Parisian café of romantic imagination, the sort we all believe still exists. Except they don't." It already feels "lived in, loved" a few short weeks from opening. It's "a masterclass in getting things right", from the "handsome mahogany fixtures and panels, the winding bar, the specially commissioned mural" to the "immaculately drilled waiters" and the "Provençal rose pink" paper place mats.
The menu is "joyously predictable, less mittel-European, perhaps, than The Wolseley, more regional French", with schnitzel and pickled herring but also "brasserie stalwarts" like the "rich, mildly sweet soupe à l'oignon" and the "splendidly garlicky escargots".
"You don't come here to break new gastronomic boundaries, nor marvel at the genius of the chef. It's reassuringly old-fashioned, but never stuffy. This is all about the joys of a well-run restaurant."
"It's a local restaurant on an international scale, a place to eat, drink and be merry." (****)
---
And also…
In The Financial Times, Tim Hayward had a meal that was 'little short of sublime' at Bob's Lobster in London Bridge. "No decent soul should ever have to witness what I did to that lobster roll."
---
Marina O'Loughlin of The Sunday Times is still globe-trotting (and celebrating her win of 'Restaurant Writer of the Year at the Fortnum & Mason Food and Drink Awards 2019'). This week she's in Los Angeles "the hottest food city in the US right now", trying to find the definitive LA restaurant. After consulting critics, books and TV producers, she discovered Sqirl, an "evolved breakfast food" place that serves no alcohol but has permanent queues of beautiful people and is "a perfect avatar for LA's magpie approach to food".
---
Emily Heward in The Manchester Evening News enjoyed the "understated brilliance" of Gary Usher's Kala. "Fans of his other restaurants pledged a record-breaking £100,000 in 11 hours towards the project, willing to pay for their meals before the restaurant had even opened, such faith have they in his food. It's not misplaced." Her braised featherblade ("a menu staple at all Usher's restaurants for good reason") was "a rich, sticky slab of beef, so meltingly soft you could eat it with a spoon, and no teeth". "Service is warm and assured", while "prices are towards the top tier of Manchester's restaurants – but so is the experience". (4/5)
Recent News from Harden's