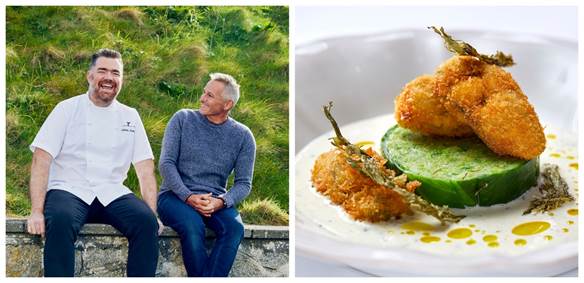 The Goring has revealed more details about its upcoming restaurant, which Cornish fish impressario Nathan Outlaw, to much excitement, will oversee.
Siren – for now, we have a name – will open on June 12, and will be a more casual dining experience, following the aim for the venture of CEO Jeremy Goring. It will be focused on seafood, paying homage to the family's strong links to Cornwall.
It's the first restaurant launch at The Goring in 109 years, and will open alongside an updated bar, which will be a "lively new destination for cocktails, food and entertainment", according to an announcement with a long and sophisticated cocktail menu (a distinct departure from the wonderfully creaky long-established bar at the hotel).
A statement sent to Harden's said: "Siren will showcase the best of Cornish produce, with chef Nathan Outlaw creating simple yet elegant seafood dishes. The bright, welcoming restaurant will command views over The Goring's majestic secluded garden.
"The Siren menu will offer exquisite starters such as Cured monkfish, ginger, fennel and yoghurt and Cuttlefish black pudding, apple and kohlrabi.
A concise list of main courses will include Turbot herbed and battered with warm tartare sauce and Red mullet with devilled shrimp butter and chicory.
"These will sit alongside a wide range of daily specials that reflect the freshest fish available direct from Cornwall each day, such as Lobster grilled over fire with herbs and garlic and Grilled whole monkfish for two to share."
Recent News from Harden's