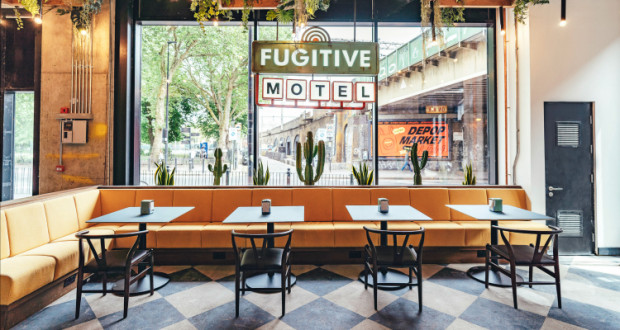 A new craft bar and kitchen will open in the heart of Bethnal Green next month.
Fugitive Motel [great name] will marry pastries and speciality coffee by day with night-time cocktails, craft beers and sourdough pizzas. It all sounds very East London… there's even talk of low-alcohol beverages, which are apparently all the rage [well, amongst hip millennials anyhow].
The concept is the work of co-founders (and best friends, we're told) David Burgess and Liam Tolan. Both are former musicians, having playing in indie bands The Brights, and The Light Assembly. Of course.
The place is set within disused railway arches, as part of a new development not at all dissimilar to the one occupied by the likes of the highly accomplished Sager + Wilde, and once-upon-a-time by the now departed Paradise Row.
An announcement from the team read: "After years of travelling to beer meccas the world over, David and Liam are localising their knowledge and passion for high quality drinks at Fugitive Motel, with a menu that showcases 14 craft beer lines on draft from a range of local East London breweries and those specially selected from their travels, as well as low and no alcohol (ABV) beer options.
"Setting itself aside from other London craft bars, this will be the first time that low, no and full ABV beers are permanently highlighted on draft alongside one another, and beers will be positioned along the line from no ABV upwards being easy to choose."
The food, we understand, is a simpler premise: the sourdough pizza mentioned earlier. You can hardly move in London for quality sourdough pizza these days – 50 Kalo, Santa Maria, Zia Lucia, to name just three of dozens of top joints: when done right, it is clearly still a sector worth investing in.